Healthy Butterscotch Pumpkin Gingerbread Bundt Cake with Cinnamon-Spiced Icing and Pecans
Besides that Spiced Pumpkin Maple Ice Cream I made last month, I have never had much luck with pumpkin.  I won't get into the details, but I recall having four failed recipes using pumpkin …  within the last two months …  so sad.
But let's get to the good part (where I finally struck luck with pumpkin):  this cake!  *points to picture above*
After making the Apple Cinnamon Butterscotch Cake, I've been dying to make something else with butterscotch extract.  And so, I gave pumpkin another try.
A very good decision!  Technically, I gave pumpkin two tries.  I mean, could you really see me–of all bakers–making a perfectly good cake in my first trial?  Um, no.  For a cake to taste this good, it is bound to have a dark past  (aka, a failed brother or sister recipe, or, was baked by someone struck with an unlucky "pumpkin curse")
One of the problems I always seem to have with pumpkin, is that the end product always turns out bland.  Since this recipe uses oats, another bland ingredient, I had to try extra hard to squeeze in more flavor without ruining the texture of the cake.  That's what I thought I did in the first trial, but what did I get?  A giant bundt cake with no flavor whatsoever, and along with that, it was much too moist with an almost mushy texture.  Not something I look forward to in a cake!
So along came the second trial.
For a better texture, I removed some of the oat flour and added in whole oats instead, omitted the applesauce and egg replacer, used pureed tofu instead of greek yogurt, and added one teaspoon of baking soda.
For a better flavor, I doubled the cinnamon, nutmeg and butterscotch extract, and added sucanat and maple sugar.  I also added the spiced icing because it felt like the cake was missing something …  or maybe I just wanted some icing …
And just look at what it adds to the cake!  Better looks and better taste!  This makes for a happy baker.  This cake was super moist, but not too moist like the first trial, and struck a perfect balance between soft and firm, something every bundt cake should have.  The icing (obviously) completed the cake, hands down.  It added even more sweetness and deliciousness.  It was simply scrumptious.  I was quite surprised as to how little I tasted the pumpkin, though, since I used a whole can of it!  But this is a good thing for me as I am not a pumpkin fan–I appreciate pumpkin flavor, I just don't love it.  The pumpkin may be more prominent without the icing, but, would anyone sacrifice the icing for more pumpkin flavor?  I certainly hope not!
Healthy Butterscotch Pumpkin Gingerbread Bundt Cake with Cinnamon-Spiced Icing (high altitude)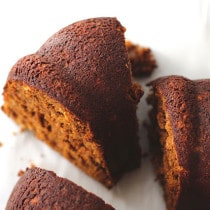 Ingredients:
Cake:
144g (1½ cups) Old Fashioned Rolled Oats, blended to a flour
144g (1½ cups) Old Fashioned Rolled Oats, left whole
160g (1 cup) Brown Rice Flour
120g (1½ cups) Whey Protein Concentrate
96g (½ cup) Sucanat
36g (¼ cup) Pure Maple Sugar
13g (2 tbs) Ground Flaxseed
2 tbs Ground Cinnamon
2 tsp Ground Ginger
⅛ tsp Ground Nutmeg
1 tbs Double Acting Baking Powder
2 tsp Baking Soda
½ tsp Salt
255g (⅗ package) Firm Tofu, drained
one 15oz can 100% Pure Pumpkin Puree
1 cup 100% Apple Juice
84g (¼ cup) Pure Maple Syrup
84g (¼ cup) Molasses
56g (¼ cup) Grapeseed Oil
5 tsp Butterscotch Flavor
5 tsp Stevia Extract
2 tsp Vanilla Extract
1 tsp Natural Butter Flavor (or more Vanilla Extract)
1 tsp Maple Flavor
1 tbs Apple Cider Vinegar
Cinnamon-Spiced Icing:
112g (⅓ cup) Honey
14g (2 tsp) Molasses
40g (½ cup) Whey Protein Concentrate
¼ tsp Ground Cinnamon
1 tbs Chopped Pecans, for topping
Directions:
For the Cake:
Preheat oven to 375 degrees Fahrenheit and thoroughly spray your bundt pan with cooking spray.
In a medium-sized bowl, whisk together the oat flour, whole oats, brown rice flour, whey protein concentrate, sucanat, maple sugar, flax, cinnamon, ginger, nutmeg, baking powder, baking soda and salt.
In a blender, puree the tofu, pumpkin, apple juice, maple syrup, molasses, oil, butterscotch flavor, stevia extract, vanilla extract, butter flavor, maple flavor and vinegar.  Pour the mixture into a large bowl (the larger the better).
Dump the dry ingredients into the wet ingredients and whisk together until there are no clumps. Pour the batter into the prepared pan and bake for ~1 hour, or until the surface is firm to touch.
Flip the pan onto a plate, leaving the pan on top of the cake.  Leave it like that overnight to let the flavors develop.  The next day, top with the icing.
For the Icing:
Warm the honey and molasses for about 10-15 seconds in the microwave, or until it is runny but not too hot.
Stir in the whey protein concentrate and cinnamon until even.  Scoop over cake. I had to spread mine with a knife, but very carefully, as it doesn't want to stick to the cake! It does eventually stick if you go slowly, though.
Press pecans onto icing, then slice and serve. Do not let anything (like plastic wrap or foil) touch the surface of the cake otherwise the icing will come off.
Notes:
*This is a high altitude recipe (for about 2,500 feet), so if you live at sea level don't attempt this recipe without making your own adjustments to the liquid and moisture level!