Healthy Homemade Maraschino Cherries
Ever wondered how to make maraschino cherries at home?  YES, you can make them at HOME!  Here's a recipe for deliciously Healthy Homemade Maraschino Cherries made all natural, fat free, refined sugar free, gluten free, dairy free, and vegan!
These Healthy Homemade Maraschino Cherries are perfect in drinks like shirley temples and boozy cocktails, on desserts like banana splits, parfaits, and Healthy Vanilla Bean Ice Cream, and even yogurt or parfaits.
It goes without saying that these cherries are delicious straight up.
No need for the artificial food dyes, high-fructose corn syrup, or preservatives whatsoever.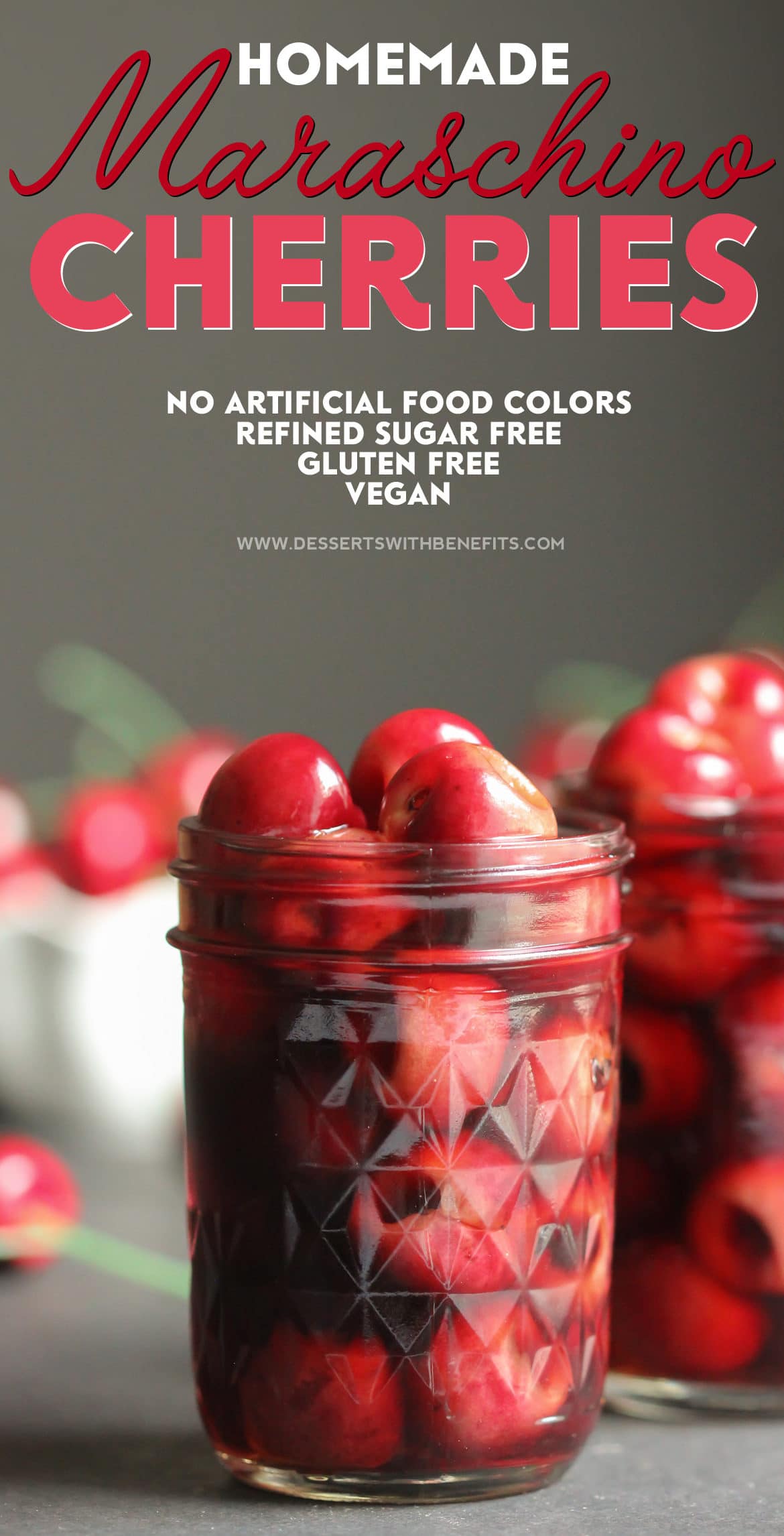 Did you ever look up exactly how storebought Maraschino Cherries are made?  It's actually a complicated, multi-step, utterly horrifying process.  Turns out, the cherries are bleached white, and then dyed artificial red and soaked in high-fructose corn syrup.
*gags*
This recipe takes two weeks to make as the cherries need to soak in a mixture in order to fully infuse with flavor.  Even if you're impatient (like me), this recipe is SO so worth the wait.  Every cherry is sweet and bursts with flavor with every bite.  The boozy finish just brings it over the top!
Healthy Homemade Maraschino Cherries
Prep Time: 20 minutes
Cook Time: 0 minutes
Total Time: 2 weeks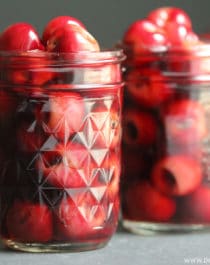 Calories per serving: 90
Ingredients:
Directions:
Wash the cherries and remove their stems. Pit the cherries (I don't own a cherry pitter so I used a boba straw…  hence why my cherries look like olives lol) and place them in a container big enough to hold 64oz (preferably a container where the cherries will be fully submerged once you add the rest of the ingredients).
Pour in the water, vodka, stevia extract, cherry flavor, and almond extract. Gently give it a stir. Seal the container tightly and refrigerate for 2 weeks.
After the 2 weeks, you can portion the mixture into jars, making sure to keep the cherries fully submerged in the cherry liquid.
Notes:
Here's a Non-Alcoholic version for these Maraschino Cherries:
2½ cups (13.5oz) Frozen Cherries, pitted with stems removed
½ cup Lemon Juice
½ cup Water
2 tsp Stevia Extract
2 tsp Natural Cherry Flavor
½ tsp Almond Extract
Natural Red Food Coloring (I used 40 drops; optional)
¼ tsp Salt
In a container, add the frozen cherries, lemon juice, water, stevia extract, cherry flavor, almond extract, natural food coloring, and salt.  Gently give it a stir. Seal the container tightly and refrigerate for 1 week.
The Alcoholic Version is best served within 2 weeks (after the initial 2 week soaking time).  These cherries will keep for a while in the fridge since they're preserved in vodka, however, they DO lose color over time.  Feel free to try adding natural red food coloring to the recipe!  This recipe yields ~5 cups of Maraschino Cherries and ~4 cups of the soaking liquid.
All images and text © .
I like this ingredient list much better than the jars you can get at the store.  Storebought Maraschino Cherries are typically made with the following ingredients:  Cherries, Water, Corn Syrup, High Fructose Corn Syrup, Citric Acid, Natural and Artificial Flavor, Potassium Sorbate and Sodium Benzoate (Preservatives), FD&C Red 40, and Sulfur Dioxide (Preservative).
Basically:  Sugar, Preservatives, Food Dye.
Hmmm…  I'll skip all that, thanks.  Not only because it's unhealthy but because the process of making your own Maraschinos is fun!  And super easy, too.
.
Here is the recipe's nutrition label:
Making a recipe healthier isn't all about calories, fat, carbs, and sugar, it's about the quality of the ingredients used.  Oh, and the flavor of course!  This recipe wins in all aspects.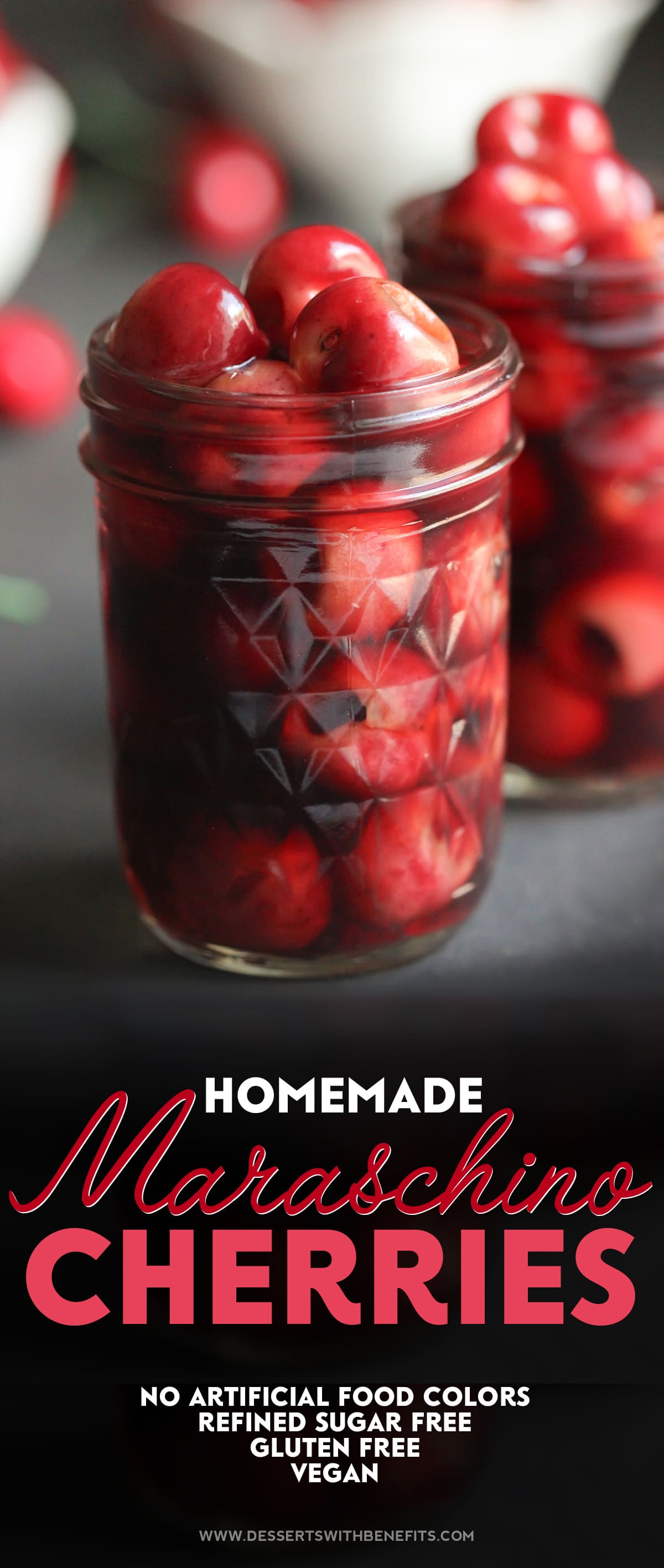 Enjoy!
.
– Jess
.
PS:  If you start a batch these Healthy Homemade Maraschino Cherries soon, they'll be in PERFECT condition come Valentine's Day!
.