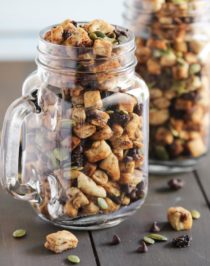 Print Recipe
Pin Recipe
Healthy Muesli Trail Mix
Swap boring trail mix with this Healthy Muesli Trail Mix! It's a fun, nutritious snack filled with pumpkin seeds and baked "muesli" for crunch, soft and chewy raisins for sweetness, and mini chocolate chips for some decadence! (low sugar, dairy free, vegan)
Mix-Ins:
½

cup

Raisins

½

cup

Pumpkin Seeds or Sunflower Seeds

¼

cup

Mini Semi-Sweet Chocolate Chips
Preheat your oven to 350 degrees Fahrenheit.

Slice the Ozery Bakery Morning Rounds into tiny bite-sized pieces (I sliced each round in about 8 slices by 8 slices).  Place the chopped pieces in a large bowl.

To the large bowl, drizzle in the oil, then sprinkle in the coconut sugar and cinnamon.  Toss together until completely combined and even throughout.  Pour the mixture on an unlined baking sheet.  Arrange in a single layer so each piece can bake evenly and get its chance to turn crunchy!

Bake for 10 minutes.  Let cool for 10 minutes and give it a mix.  Bake for another 5-7 minutes or so, then let cool completely.

In a large bowl, mix together the cooled crunchy muesli bites, raisins, pumpkin seeds, and chocolate chips.  Portion the mixture into jars or individual baggies.  Store in the freezer.  The freezer keeps the cereal crunchy!