Healthy Muesli Trail Mix
Swap boring, plain Jane trail mix with this Healthy Muesli Trail Mix!  Grab a handful of this fun and nutritious snack filled with pumpkin seeds and baked "muesli" bites for crunch, raisins for sweetness, and chocolate chips for a little decadence.
It's still back-to-school season and what's a better energy-filled treat to power you through the school day than trail mix?
This Healthy Muesli Trail Mix, of course.  DUH.
This will be a schoolchild favorite, a hiker's go-to snack, a commuter's preferred noshing, and a smoothie bowl-lover's dearest newfound topping.  Every scoop is unique in its own way — you can get a handful of crunchy baked muesli bites, soft and chewy raisins, or decadent mini chocolate chips.  Or you can get all of that together at once.

Healthy Muesli Trail Mix
Prep Time: 20 minutes
Cook Time: 15 minutes
Total Time: 35 minutes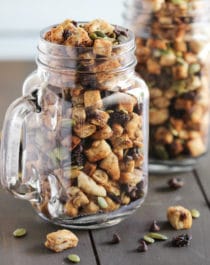 Ingredients:
Crunchy Muesli Bites:
1 tbs Grapeseed Oil
1 tbs Coconut Sugar
1 tsp Ground Cinnamon
Mix-Ins:
½ cup Raisins
½ cup Pumpkin Seeds or Sunflower Seeds
¼ cup Mini Chocolate Chips
Directions:
Preheat your oven to 350 degrees Fahrenheit.
Slice the Ozery Bakery Morning Rounds into tiny bite-sized pieces (I sliced each round in about 8 slices by 8 slices).  Place the chopped pieces in a large bowl.
To the large bowl, drizzle in the oil, then sprinkle in the coconut sugar and cinnamon.  Toss together until completely combined and even throughout.  Pour the mixture on an unlined baking sheet.  Arrange in a single layer so each piece can bake evenly and get its chance to turn crunchy!
Bake for 10 minutes.  Let cool for 10 minutes and give it a mix.  Bake for another 5-7 minutes or so, then let cool completely.
In a large bowl, mix together the cooled crunchy muesli bites, raisins, pumpkin seeds, and chocolate chips.  Portion the mixture into jars or individual baggies.  Store in the freezer.  The freezer keeps the cereal crunchy!
Notes:
All images and text ©
.
Ozery Bakery is known for making alternative bread products with hearty whole grains, fruits, and seeds.  Every ingredient they use is intended to help us eat well and feel good.  Their Muesli morning rounds are toastable breakfast buns full of sweet apples, plump raisins, and a mix of oats, flax seeds, sunflower seeds, and other nutritious grains — all the ingredients you need to fuel your day.
A morning round smeared with both peanut butter and jelly, and gone through the panini press is literally one of my favorite things.
Another favorite to add to the list?  This Healthy Muesli Trail Mix!  It'll be sure to become one of your faves too  🙂

I feel like there are two types of people when it comes to eating granola:  the kind who daintily picks up every cluster with their thumb and forefinger, and the kind who shoves their entire hand in a bag, scoops a giant fistful, and funnels it into their mouth.  I think I'm the latter…
But lemme tell ya, from experience, this Healthy Muesli Trail Mix is 100% funnel-into-your-mouth-like-an-animal-worthy  😉
Enjoy!
.
With love and good eats,
.
– Jess
.
.
This post was sponsored by Ozery Bakery.  All opinions are mine and mine alone!  Thank you for supporting the brands that keep Desserts With Benefits going!