Naughty Or Nice Cookbook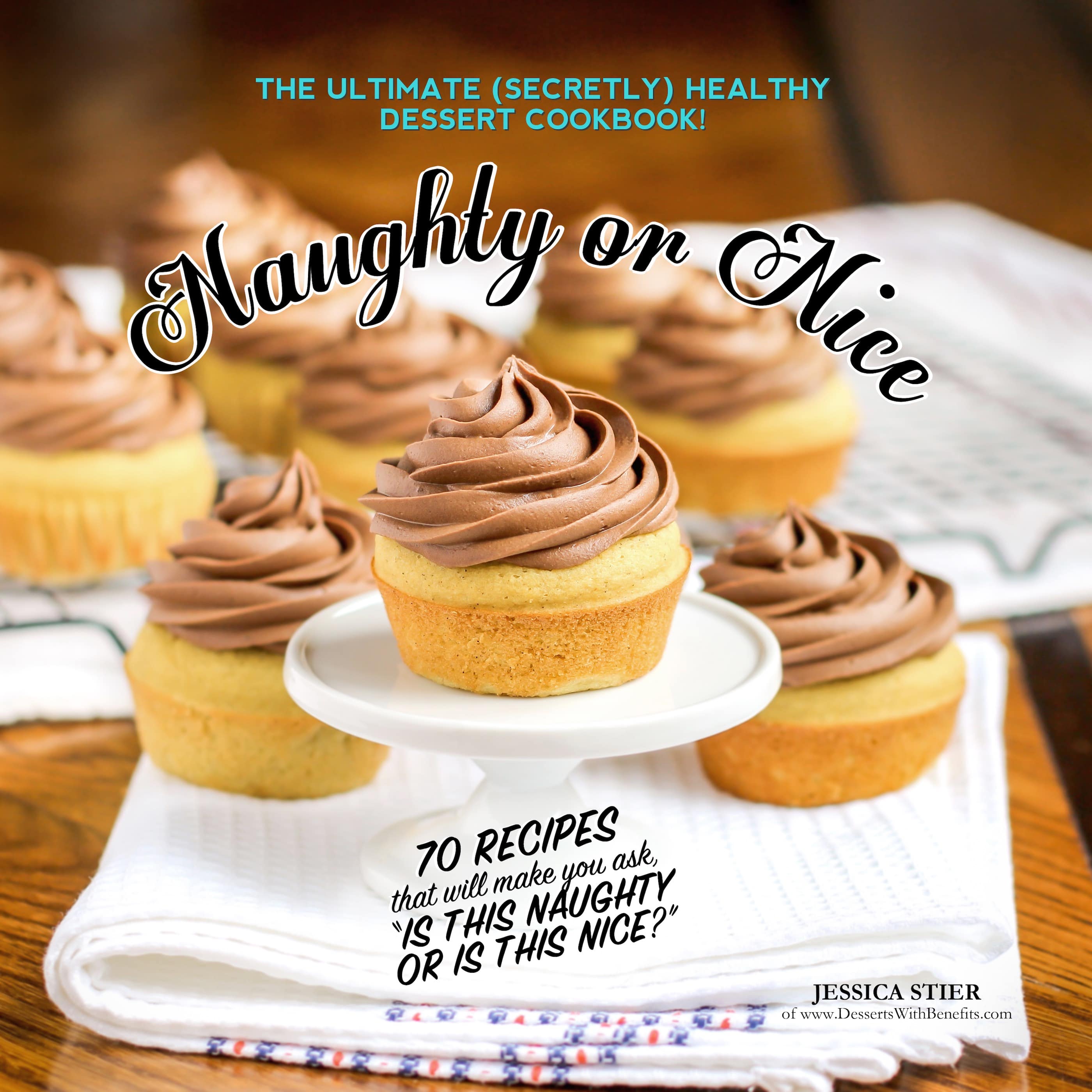 Naughty Or Nice is a collection of 70 healthy dessert recipes made with all-natural, wholesome ingredients.  It's got snacks and treats, cookies and pastries, bars and brownies, cakes, and cupcakes, breads and muffins, cheesecakes and pies, ice creams, and frostings and toppings.
These sweet treats are secretly healthy, though.
One bite and you'll be asking, "Is this naughty or is this nice?"
With gluten-free, nut-free, soy-free, dairy-free, and vegan options, the recipes in the Naughty Or Nice Cookbook are suitable for everyone.  Don't worry, though, these recipes may be "free" of some stuff but they sure aren't "free" of flavor  😀
Every recipe in this cookbook is all-natural (no artificial sweeteners, no synthetic food dyes, no artificial food flavorings, no hydrogenated oils and no preservatives whatsoever…  and that's including the Red Velvet Cake, pg. 94-95).  That list right there is unheard of when it comes to store-bought and bakery-bought desserts.
There are options for everyone, no matter their nutritional preferences:  sugar-free/refined sugar-free, cholesterol-free, low-calorie, low-sodium, high-fiber, and high-protein.
If you have a sweet tooth, then this cookbook was MADE for you.
aughty Or Nice is packed with nutritionally balanced dessert recipes to satisfy your sweet tooth without the excess calories, fat, and sugar.
Sinful or Sinless?
Unhealthy or Healthy?
Naughty or Nice?
With these secretly healthy dessert recipes, you won't be able to tell!
These treats look sinful as ever, but they're sinless. They taste completely unhealthy, but they're healthy. They make you feel naughty, when you're really being nice! These recipes are a total godsend for the health-conscious dessert lovers out there (aka, YOU).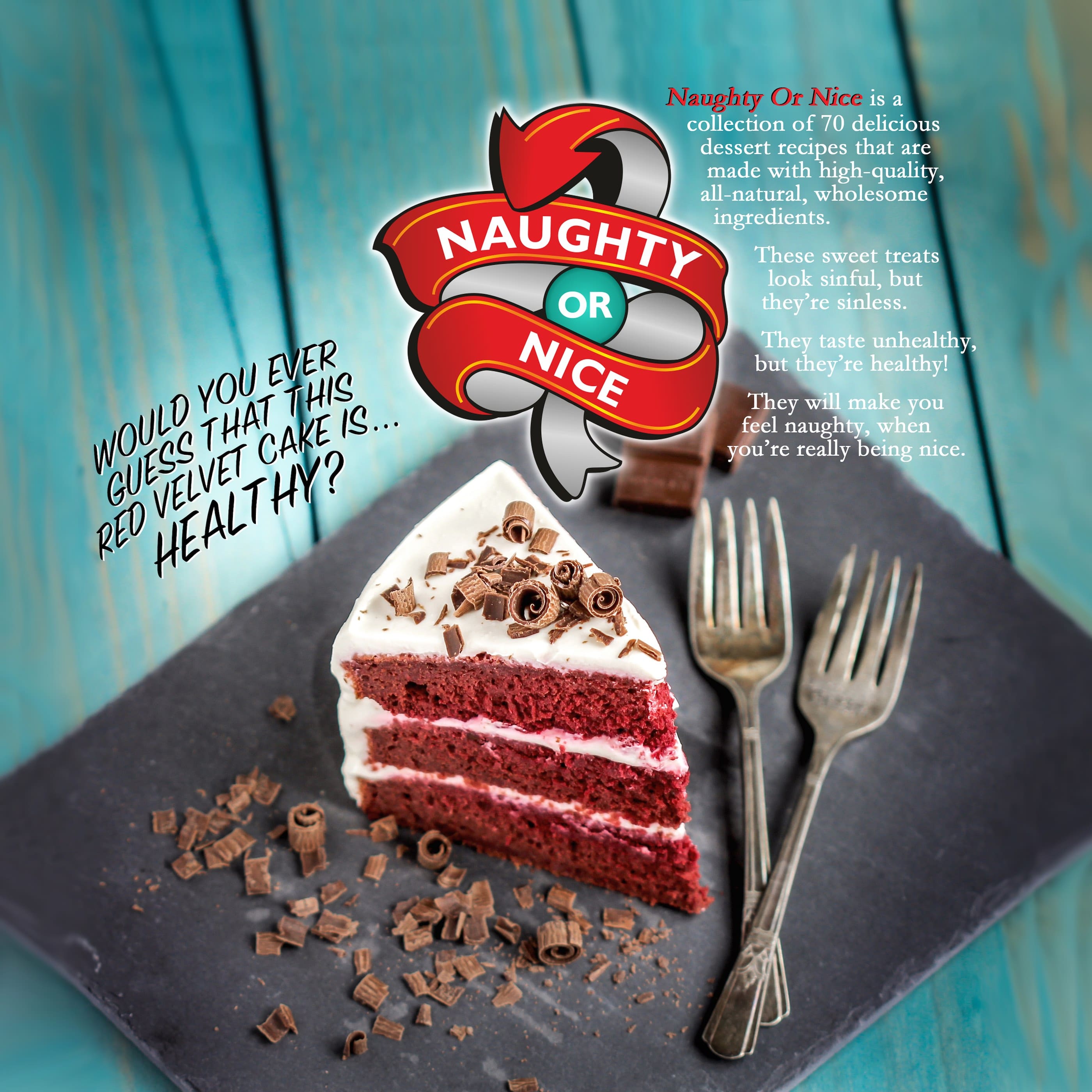 What's Included?
-Full color pictures for every recipe (because, personally, I need my cookbooks to be full-color and show me what the final product is supposed to look like inside and out…  otherwise I'll be totally clueless as to what I'm making is supposed to look like)
-Nutrition labels for every recipe (so you can see how many calories, grams of fat, carbs, fiber, protein, etc. are in each serving).
-Recipes with measurements for both weight (grams) and volume (cups, tablespoons, etc.)
---
Want a little sneak peak inside the cookbook??  Well, here it is!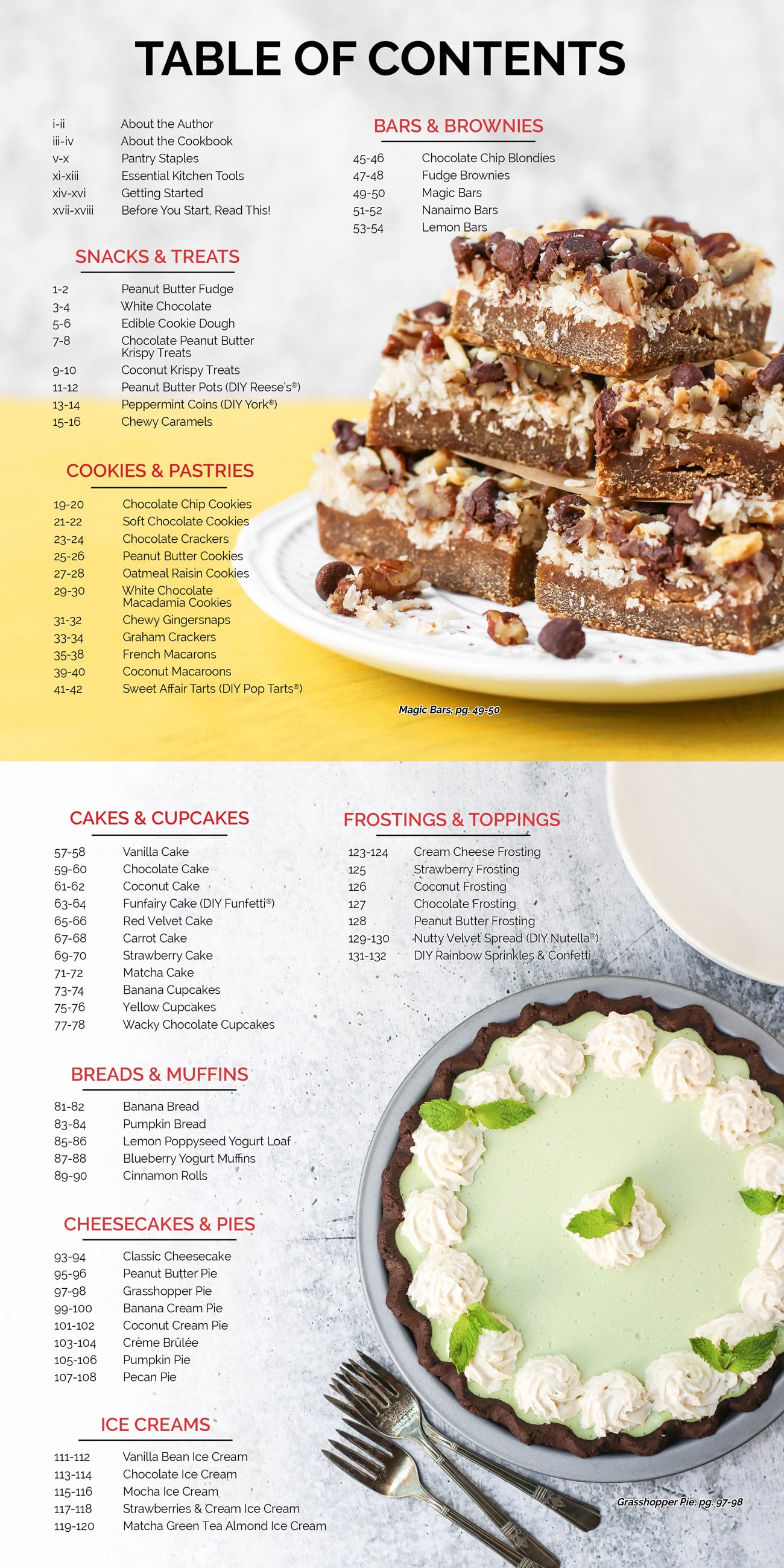 ---
---
.
Get your print copy of The Naughty Or Nice Cookbook — now available on Amazon.com!

.
This book is printed IN THE UNITED STATES. And, it's printed to order (unlike most books, which are printed by the thousands somewhere in China…)
.
---
.
I hope you like/love/ADORE the Naughty Or Nice Cookbook!
I want you to be 100% happy with your purchase.  If you're wondering whether or not to add this cookbook to your collection, here's a little checklist that may help you with that decision:
⇧ If that list is full of checkmarks, then GREAT! (It is for me too.)
Because there's a whole lotta that in Naughty Or Nice!  So go ahead, and add this cookbook to your collection.
.


---
© Desserts With Benefits, all rights reserved.  All content is copyright protected.  Do not republish recipes or images without permission from Desserts with Benefits™
No information is meant to replace professional medical advice, diagnosis or treatment. Always seek the advice of a Physician and Registered Dietician for questions you may have!