Healthy Decadent Chocolate Layer Cake with Chocolate Frosting (To Celebrate My 20th Birthday!)
And unlike last year, I don't have any exams today.  Phew.  But seriously guys, I'm turning twenty today.
TWENTY.  The big 2-O … I've been on Earth for two entire decades?  Damn, I'm old.
So obviously, I celebrated with cake.  A chocolate cake.  Duh.
Satisfyingly sweet, incredibly decadent and supremely chocolatey.  Oh, and did I mention it's guilt free?  Oh yes, I've slashed over half the calories and two-thirds the fat from the original recipe (see nutrition label comparison below!).  While it's definitely not DWB's most conventional recipe, it's definitely an unbelievable improvement from before… you know, from the 10 eggs, 1 cup of butter, and 1+2/3 cups of sugar?
This cake?  It's everything you need in life, right here, right now (and I mean NOW)
Healthy Decadent Chocolate Layer Cake with a Special Chocolate Frosting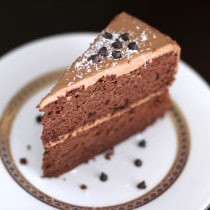 Ingredients:
Cake:
224g (2 cups) Coconut Flour
80g (1 cup) Unsweetened Regular Cocoa Powder
1½ tsp Baking Powder
1½ tsp Baking Soda
1 tsp Salt
7 Jumbo Organic Eggs*
6 Jumbo Organic Egg Whites*
320g (1⅔ cup) Granulated Erythritol Erythritol
1⅓ cups Unsweetened Vanilla Almond Milk
308g (1¼ cups) Unsweetened Applesauce
2 tsp Vanilla Extract
Frosting:**
105g (5 scoops) Chocolate Brown Rice Protein Powder
¾ cup Unsweetened Vanilla Almond Milk
60 drops Stevia Extract
Directions:
For the Cake:
Preheat the oven to 350 degrees Fahrenheit and generously spray two 9" cake pans with cooking spray (make sure you spray/grease the pans well, since this cake is much lower fat than the original recipe the cakes have a tendency to stick).
In a large mixing bowl, sift together the dry ingredients.
In a separate large mixing bowl, whisk together the wet ingredients.
Add wet to dry and stir together (it should look liquidy at first but it gets thicker quickly). When the dry seems fully incorporated, whisk the batter vigorously for ~10 seconds to remove any clumps.
Pour batter evenly between the two prepared pans and flatten the surfaces. Bake for ~55 minutes, or when the surface of the cakes spring back when touched. Let cool in pans.
For the Frosting:
Add the protein powder to a medium-sized bowl and add 9 tbs of the almond milk and stevia. Stir together and add more almond milk when needed, tablespoon by tablespoon.
Lightly frost the first cake layer, then top the next cake layer with the rest of the frosting. Slice and serve!
Notes:
The 7 whole eggs measured 1.5 cups and 410g. The 6 egg whites measured ¾ cup + 2 tbs and 198g.
If you want more frosting, add 2 more scoops of protein powder, ¼ cup more almond milk and ~25 more drops of stevia.
Keep leftovers tightly wrapped at room temp for up to 2 days.  Surprisingly, this cake stays soft and moist for quite a few days! Usually low-fat cakes turn dry and hard as a rock.
Flavor Variations:

Mocha - add 2 tbs of instant coffee to batter
Peppermint - add 1-2 tsp of peppermint extract to batter
Coconut - add 1-2 tsp coconut extract to batter and top frosting with shredded coconut
Almond Joy - add 1 tsp coconut extract + 1 tsp almond extract to batter
Strawberry Chocolate - add strawberry jam + sliced strawberries between cake layers
Now it's time for a nutrition label showdown!
The Original Recipe's nutrition label is on the left,  DWB's nutrition label is on the right:
(labels do not include frostings)
Can you believe the discrepancy between the nutritional labels when the cakes are equally moist, equally sweet and equally decadent?  DWB's version has:
270 less calories
19g less fat (and 12g less saturated)
25% less of your daily cholesterol
less than half the carbs
40g less sugar
infinitely less guilt!
I've never typed the word "less" so much in my life!
In case you were wondering what the nutrition label would be for my cake with the frosting, here it is:
Okay guys, c'mon.  I think it's utterly impossible to feel guilty eating this cake.  A large slice has only 260 calories, 14g of fiber and 22g of protein?!
Oh my, I think this is my best birthday yet.  I think you can guess what I had for breakfast on this lovely day… and let me tell ya, this Healthy Chocolate Layer Cake pairs perfectly with a cup of joe.