Healthy Homemade Peanut Butter Pumpkin Dog Treats (To Celebrate Our Puppy's 1st Birthday!)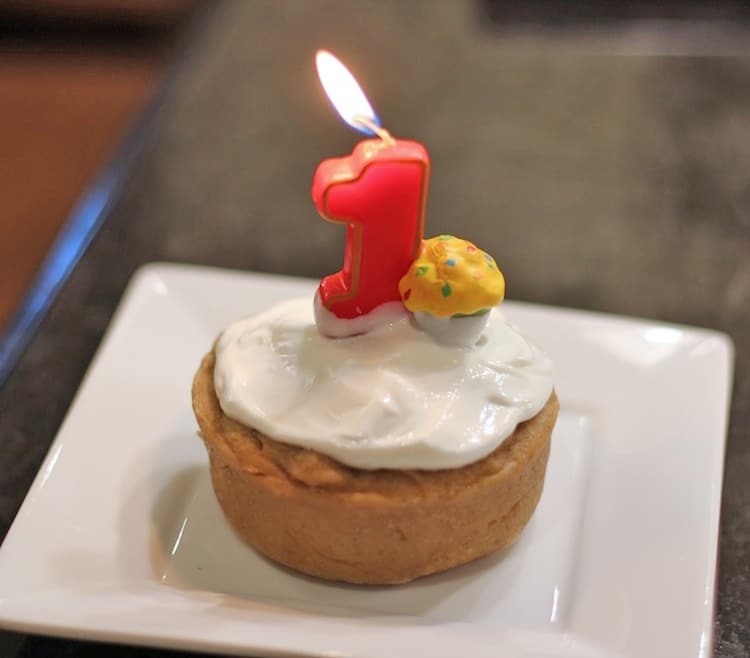 Woohoo!  My little puppy turned one yesterday (or should I say seven, knowing dog years)
It's crazy, his birthday is my half birthday…  ah, we were meant to be  

We got him all dressed up in his jersey and hat, and I baked him his own peanut butter cake suitable for his dietary needs (natural PB, brown rice flour, cinnamon, egg, applesauce, water)
Waiting patiently for us humans to snap our photos so he can shove his face into that cake.
Oooo, fire!  He's mesmerized.
We sang our Happy Birthday song like Marilyn Monroe and he went head first into that cake.
Or should I say, frosting?
Yes, that's my dog.  He likes frosting first.
Food coma ensued.
Because a personal birthday cake only lasts one meal, I wanted to make him some treats that would last him a few days.  I made this super easy, 4-ingredient recipe in no time at all and it was so much fun to make.  I love the little dog bone cookie cutter, I love the healthy and natural ingredients, I love feeding these Healthy Homemade Peanut Butter Pumpkin Dog Treats to my puppy!
Healthy Homemade (Soft) Peanut Butter Pumpkin Dog Treats
Ingredients
1/2 cup Natural Peanut Butter (no sugar or oil added)
1 cup 100% Pumpkin Puree, canned
1/2 tsp Cinnamon
1+3/4 cups Oat Flour (I processed GF rolled oats in a food processor until finely ground)
Instructions
Preheat the oven to 350 degrees Fahrenheit and line a cookie sheet with parchment paper.
In a large bowl, stir together the peanut butter, pumpkin and cinnamon.
Stir in the oat flour 1/4 cup at a time (when all the flour is added, you should be able to knead the dough without it sticking... if it's sticky, just add more oat flour)
Roll the dough out between two sheets of parchment paper until 1/4" thick. Use the cookie cutter of your choice (I used this cookie cutter) to cut out the dough, then place on the prepared pan about 1/2-1" apart. Bake for ~8 minutes. Slide the parchment paper off the pan and onto the counter and let cool completely. Store treats in a jar at room temp for up to two days, then refrigerate it for up to five days after that.
http://dessertswithbenefits.com/soft-peanut-butter-pumpkin-dog-treats-for-my-dogs-1st-birthday/
www.DessertsWithBenefits.com
Sit.  Stay.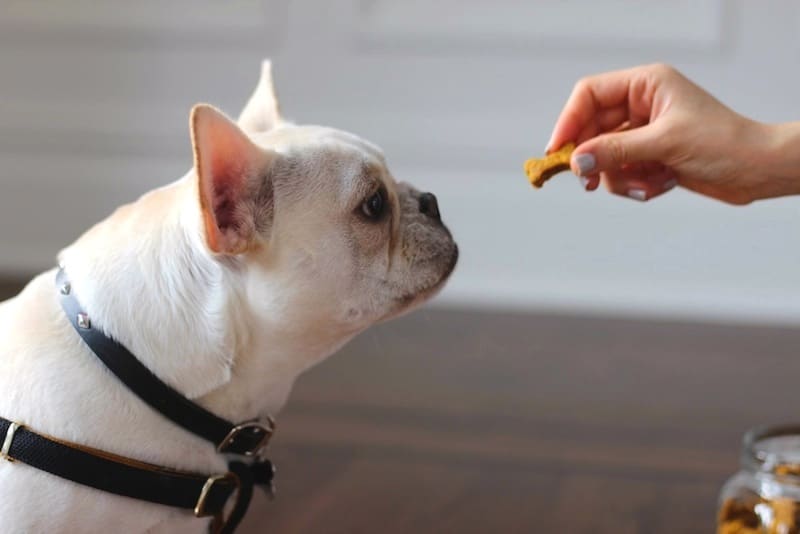 Good boy!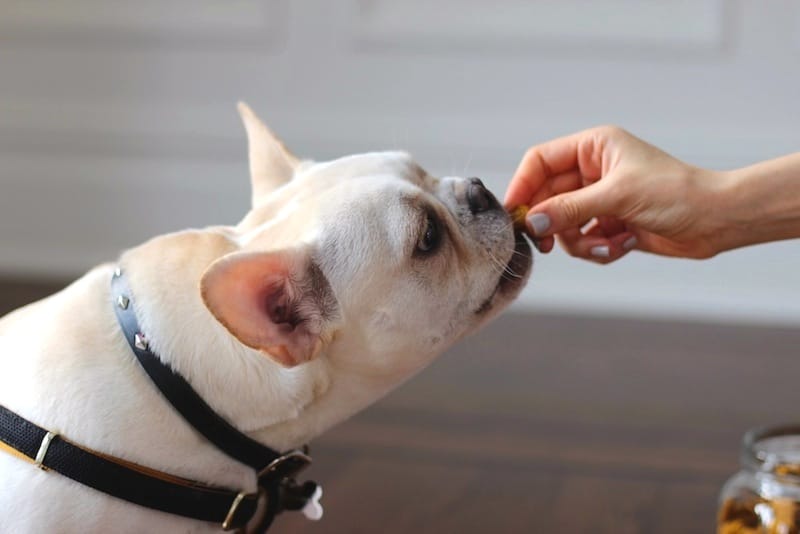 Nom.
Nom.
Nom nom nom.
He will do anything for these peanut butter treats.  Sometimes I'll just look over to find him standing like in the picture above…  like, for 5 minutes straight.  He's adorable and makes my heart melt  

 Now go make these treats for your pup!  (or cat, or bird, or you…  I ate these…  and they were strangely addicting…)