Healthy Almond Joy Candy Fudge
Ohhhh yes.  Almond . Joy . Candy . Fudge.
My heart just skipped a beat!
Ohhhh yes.
Wait, did I say that already?
It appears I did, but would you take a look at that bite?  So smooth, so chewy, so fudgy!
Chocolate and coconut pair like no other, but the almond flavor is what brightens each bite.
You will be in heaven once you sink your teeth into these!
And to make it better, they're healthy but they don't taste healthy at all.  They are just as sweet as the real-deal candy bar, just without the guilt, sugar, trans fats, preservatives and artificial flavors.  I still can't believe it, and I'm the one who made them!
Healthy Almond Joy Candy Fudge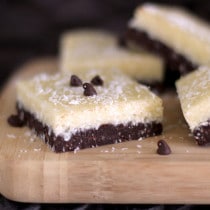 Ingredients:
Chocolate Layer:
128g (½ cup) Raw Coconut Butter
42g (2 tbs) Brown Rice Syrup (or Honey, Pure Maple Syrup or Agave)
¼ cup Light Coconut Milk, canned
½ tsp Almond Extract
48g (1½ scoops) Chocolate Whey Protein Powder
30g (6 tbs) Unsweetened Regular Cocoa Powder
⅛ tsp Salt
Coconut Layer:
Directions:
For the Chocolate Layer:
Line a brownie pan (or loaf pan if you want a taller/thicker fudge) with foil or parchment paper.
Add the protein powder, cocoa powder and salt into a small bowl and set aside.
In a medium microwave-safe bowl, add the coconut butter and brown rice syrup. Microwave for 20 seconds, until coconut butter becomes soft and slightly melted.
Stir in the coconut milk and extract. Then stir in the prepared protein powder/cocoa/salt mixture one spoonful at a time (mixture should look like a dark paste). Scoop this into the prepared pan, spread to the edges and flatten with a rubber spatula. Freeze while you make the coconut topping.
For the Coconut Layer:
In a large bowl, add the coconut butter (it should be somewhat soft, like play-doh or fudge), coconut milk and coconut extract. Stir this mixture until the coconut butter "dissolves" and it looks like a paste.
Stir in the erythritol. Add the protein powder, one scoop at a time, pressing the powder into the coconut mixture with the back of a spoon until it dissolves (it will look like there is too much but it will dissolve soon)
Repeat with the shredded coconut. When mixture is fully mixed, scoop it over the chocolate crust and flatten with a rubber spatula or pastry roller. Refrigerate covered overnight. Slice and serve the next day.
Notes:
Feel free to press whole almonds onto the top layer before refrigerating!
Feel free to drizzle these with chocolate… I have no idea why I just thought of that now (?!?)
Oh well, yet another reason to make these again  😉