Healthy Apple Cinnamon Butterscotch Snack Cake
I was going to add to the post's title, "and a 'Blogiversary,' " because it has already been six months since my first post ever  (woohoo!) …  I mean, if a lovey dovey couple can celebrate their two-month anniversary with balloons, a dinner and loads of chocolate, I can celebrate my six month relationship to this blog and you with a tasty recipe, right?
6 months of happy blogging and 36 delicious recipes so far!  This is a happy day.
Isn't it strange reuniting with something?  In mere seconds, you realize how much you've missed it and how long you've been apart.  No, I'm not talking about a boyfriend, I'm talking about my dorm's oven.  I'm not a freak, I swear.  Okay, I half swear.  I never knew how much I loved that old thing until I baked this cake.  All of these no-bake treats recently have given me cravings to open a door leading to 375 degrees of pure, warm love.  I missed setting my kitchen timer.  I missed using my oven mitts.  I missed my adorable little cake tester!
I think I might be suffering from "baker's withdrawal."  I know that exists.  I swear it does…  or is that the addiction talking?  Anyhow, that totally awesome addiction led me to this recipe (a recipe that required four trials to perfect).  Here is a visual representation of my baking trials:
.
Trial #1:
Mmmm, this smelled so delicious while in the oven!  The cinnamon and the oats made it feel like the season was really here (despite the fact that it's still in the 90s here in Arizona!).  As I brought the cake out of the oven, it looked even better.  When I cut into it, it was moist!  What a surprise right?  I wanted to gobble it all up right then and there, but I had to wait until breakfast since it was 11 at night.  By the time the sun came up, I giddily hopped out of bed and ripped the foil off the cake.  Ah, good … the aroma was still there.  I took a giant fork and demolished about a third of the cake in one swoop, then, chomp.  Hmm, a little bland, but not unbearable.  A few more bites in, I realized the cake was a little on the doughy side.  When I got around to the corner piece, I was saddened to see that it was tough and dry, but that was easily fixed with a drizzle of honey.  After glancing through my pantry, I asked myself, "Why am I making a basic applesauce cake when I have ALL of these extracts?!?"  I have a lot, by the way.  They were the perfect going-away gift for my sophomore year in college.  I have vanilla, maple, almond, hazelnut, chocolate, butter, butterscotch, lemon, orange, coconut, mint and peppermint.  I feel like I'm missing one…  anyways, what matches well with apple?  I don't know about you, but butterscotch definitely stuck out to me.
.
As soon as I opened the bottle of butterscotch extract, me and my roommate were mesmerized by its fantastic scent.  While the cake was baking in the oven, passerby's stuck there heads in with wide eyes and said, "Whooaa, smells good!"It made me happy to know that college students could be attracted to a low sugar, low fat, whole grain cake.  And the flavor?  Insanely good, especially compared to the first trial.  It was soft and moist, not tough and dry, but still needed some work.
.
Finally, the perfected recipe!  Even though this is my blog's first, half-birthday, I felt like it was my own since I was the one eating the cake!  Oh, right.  You're are probably wondering how the cake was.  It was deeeelicious!  😀  So moist and packed with cinnamon and butterscotch flavor, not boring and dry like trial #1.  The flavors worked so well together.  And do you know how to make this cake even better?  Leave it overnight!  I don't know how and I don't know why, but something happens to the cake and it becomes even more moist and even more butterscotchey.
Healthy Apple Cinnamon Butterscotch Snack Cake (high altitude)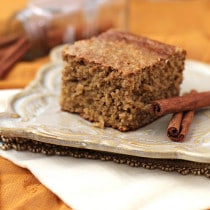 Ingredients:
Dry:
192g (2 cups) Old Fashioned Rolled Oats, blended to a flour (or ~1½ cups Oat Flour)
80g (1 cup) Whey Protein Concentrate
48g (½ cup) Old Fashioned Rolled Oats, left whole
2½ tsp Ground Cinnamon
1½ tsp Double Acting Baking Powder
½ tsp Baking Soda
¼ tsp Salt
Wet:
369g (1½ cups) Unsweetened Applesauce
½ cup Unsweetened Vanilla Soy Milk
84g (¼ cup) Honey
42g (3 tbs) Grapeseed Oil
21g (1 tbs) Molasses
1½ tsp Butterscotch Flavor
1¼ tsp Stevia Extract
1 tsp Vanilla Extract
2 tsp Apple Cider Vinegar
Directions:
Preheat the oven to 375 degrees Fahrenheit and spray an 8x8" brownie pan with cooking spray.
In a large bowl, whisk together all of the dry ingredients.
In a medium bowl, whisk together all of the wet ingredients and let sit for a few minutes. Pour over the dry ingredients and fold together. Whisk the batter vigorously for about 20 seconds to break up any flour clumps.
Pour batter into the prepared pan and bake for ~40 minutes, or until a toothpick comes out clean.
Notes:
*This is a high altitude recipe made at about 2,500 feet. If you live at sea level, do not attempt to make this cake unless you know how to alter recipes to suit specific altitudes!
To make this even more decadent, top with my Classic White Icing!
.
Why is a baker's scale important?  Because I always make my desserts with one.  Especially the baked goods, and for 3 good reasons:
Baking is a very precise practice.  For example, flour is a very temperamental ingredient.  One cup of flour will weigh a certain amount on a humid day and a different amount on a dry day.  The weighing of ingredients allows the results I get in my kitchen to be almost identical to the results you will get in your kitchen.
It uses less material (mixing bowls, measuring cups, measuring spoons, utensils, etc).  Measuring three tablespoon of honey can be a pain.  You have to spray the measuring spoon with PAM, and even then not all of it comes out fully.  With a scale, you just squeeze the honey into the mixing bowl, no spoons needed and there is less dish-washing to do.
It allows you to make accurate nutrition labels.  Many nutrition labels are not accurate, for example, 1/4 cup of cocoa powder will weigh 32g on my scale rather than 20g they say it is supposed to weigh.  Now, you can add up the exact number of calories, fat, fiber, protein, etc)
And healthy baking is a difficult thing to do.  Some of my recipes, like the Citrus Pound Cake and Dark Chocolate Coconut Cake are touchy recipes–a few grams off of flour could ruin the end result!  There is nothing worse than seeing pictures of a delicious cake on a blog, and then when you finally bake it, it doesn't turn out as expected.
Again, if you're at sea-level and can't enjoy this cake, I am very sorry…  but now you have an even better excuse to enter the giveaway and treat yourself!  And to those at 2,500 foot altitude, start baking!  😀