Healthy Butterfly Blue Overnight Dessert Oats
How cool do these BLUE Overnight Oats look?!  They're sweet, naturally blue, 100% delicious, and will keep you full all morning long.  One bite and you won't believe it's sugar free, gluten free, vegan, and all natural!
Oh yes, this is naturally blue — no artificial food colorings whatsoever!
Can you guess what makes it BLUE??  😉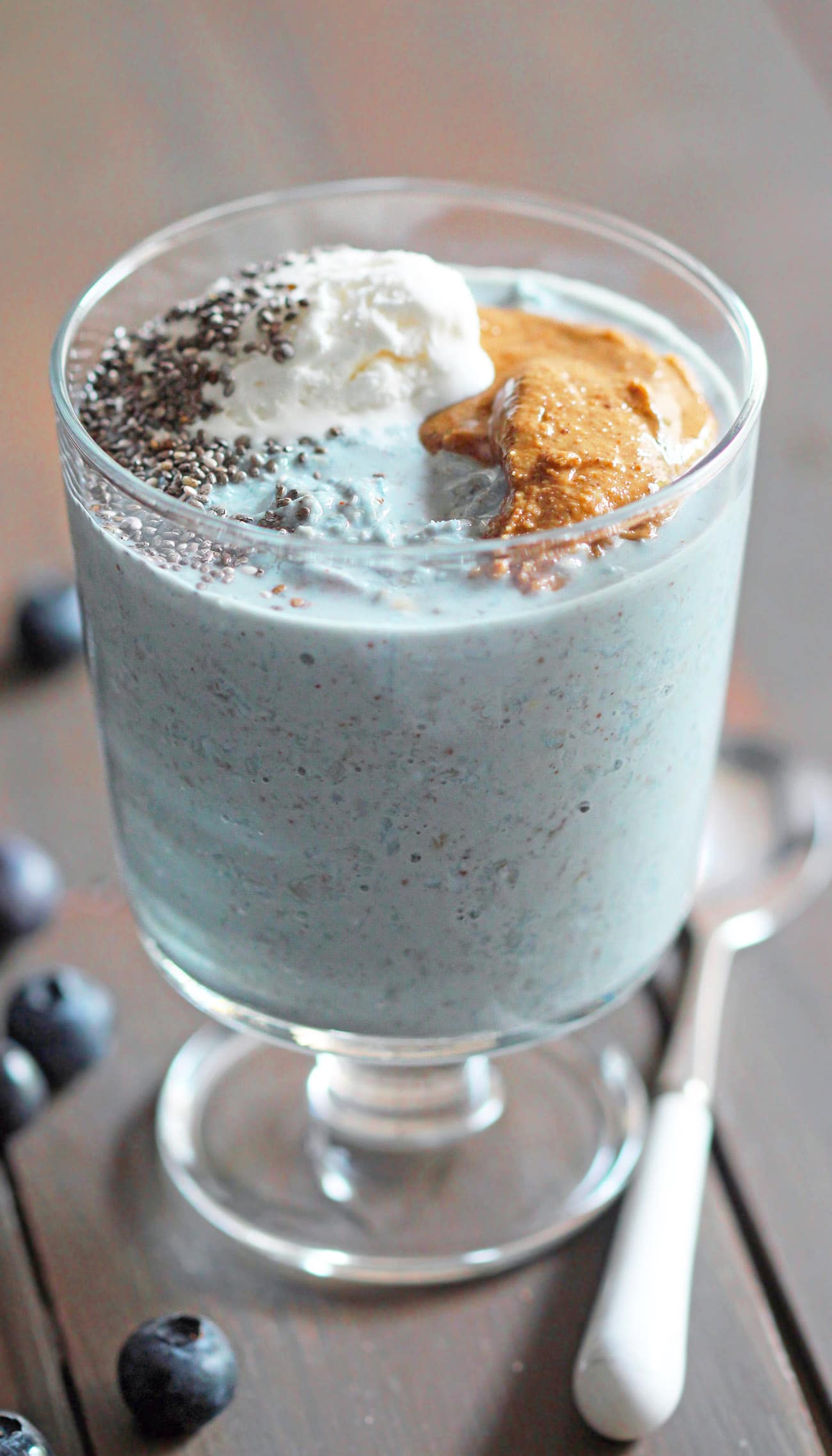 On this fine day, I bring you these BLUE Overnight Oats — they're sweet (yet sugar free), delicious (yet gluten free and vegan), and full of comforting vanilla flavor and nutty almond butter.
Definitely a breakfast favorite of mine these last few mornings.
But I'm sure you're wondering…  what makes it blue??
I'll tell ya.  These oats are naturally dyed blue thanks to butterfly pea flowers!
You start by making butterfly pea "tea" by steeping the bright blue flowers in hot water.  It'll dye the water a vibrant royal blue. You can probably also use this as an all-natural Easter egg dye!  Once you get the blue "tea" you can mix it with almond milk (or any other milk/non-dairy milk you like), almond butter (or whatever nut butter you prefer — peanut butter, cashew butter, etc.), and vanilla extract.  Then stir in the oats, flax or chia, natural sweetener, and salt.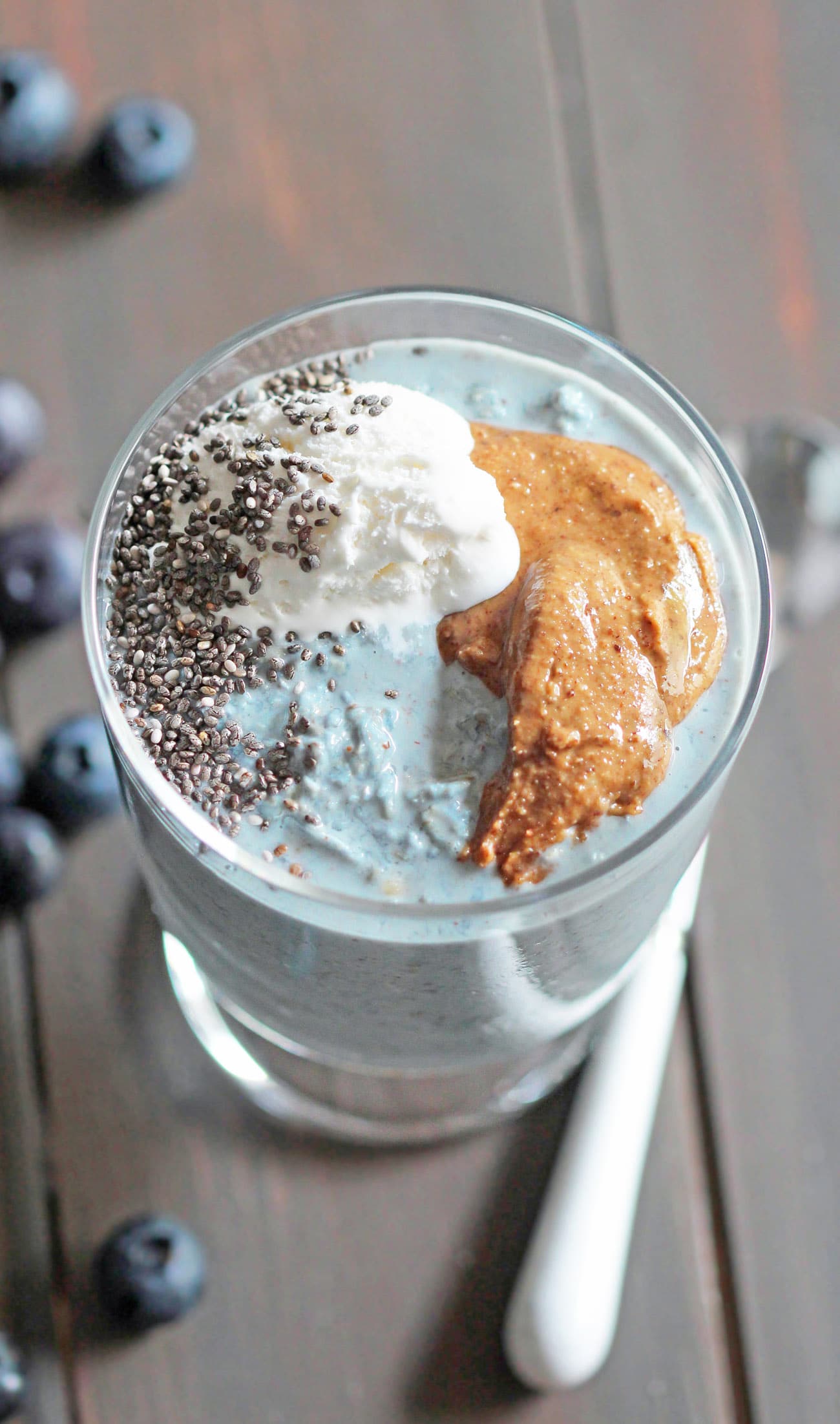 I've made these oats like, 4x already and will probably keep making it at the same rate over the next couple of weeks.  It's so pretty to look at, easy to make, fun to eat, and DELICIOUS!
Made 100% nutritious with whole grain oats, a spoonful of creamy all-natural almond butter (maybe try Blueberry Nut Butter here!), some flax/chia seeds (the secret to making THICK oatmeal!), and a tiny splash of vanilla extract — these oats will satisfy your hunger AND your sweet tooth.
This is one thick and hearty, filling and nutritionally balanced meal  🙂
It's delicious all on its own, but top it with your favorite yogurt, an extra spoonful of nut butter, and a sprinkling of chia seeds, and you've got yourself one helluva winner brekky.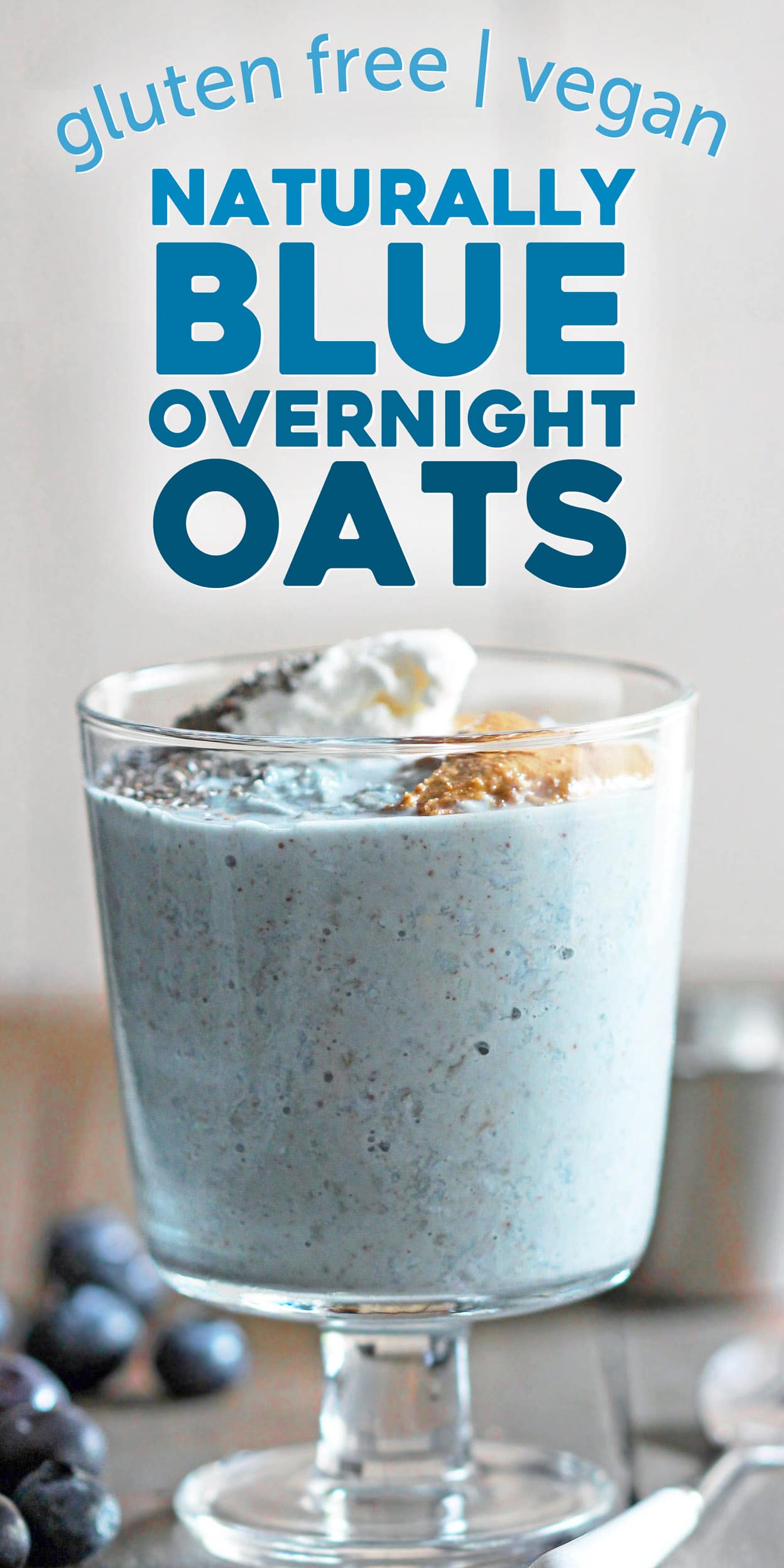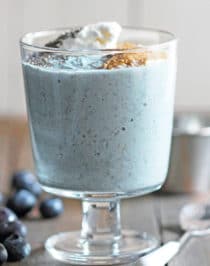 Print Recipe
Pin Recipe
Healthy Butterfly Blue Overnight Dessert Oats
Instructions
For the Natural Blue Dye:
In a mug, add the butterfly pea flowers and pour the boiling water on top. Brew for 5-7 minutes.

Strain the flowers and let cool.
For the Oats:
In a bowl, whisk together the almond milk, blue dye, almond butter, and vanilla extract.

Stir in the oats, milled chia seeds, sweetener, and salt. Cover and refrigerate overnight.

Enjoy in the morning!⠀
Enjoy!
.
With love and good eats,
.
– Jess
.