Healthier Chocolate Avocado Cake
When it comes to baking, the most common ingredients that come to mind include butter, sugar, and flour — whether you're making cake or cookies or bars, or even truffles and frostings!  Well today, I'm here to tell you that those ingredients are totally replaceable — Exhibit A:  this Chocolate Avocado Cake!
This Healthier Chocolate Avocado Cake is made without any butter or oil whatsoever, is made with a better-for-you alternative to regular white sugar, plus it's 100% whole grain!
In this recipe we will use:
Avocado to substitute the butter and oil, while also adding fiber and nutrients.
Truvia® Cane Sugar Blend to replace the regular white sugar (it has 75% fewer calories per serving than sugar!)
Whole Wheat Flour in place of bleached white flour, which not only adds fiber and nutrients, but flavor and texture as well.
Thanks to Truvia® for sponsoring this post, and thank YOU for supporting the brands that keep Desserts With Benefits going! All opinions are mine and mine alone!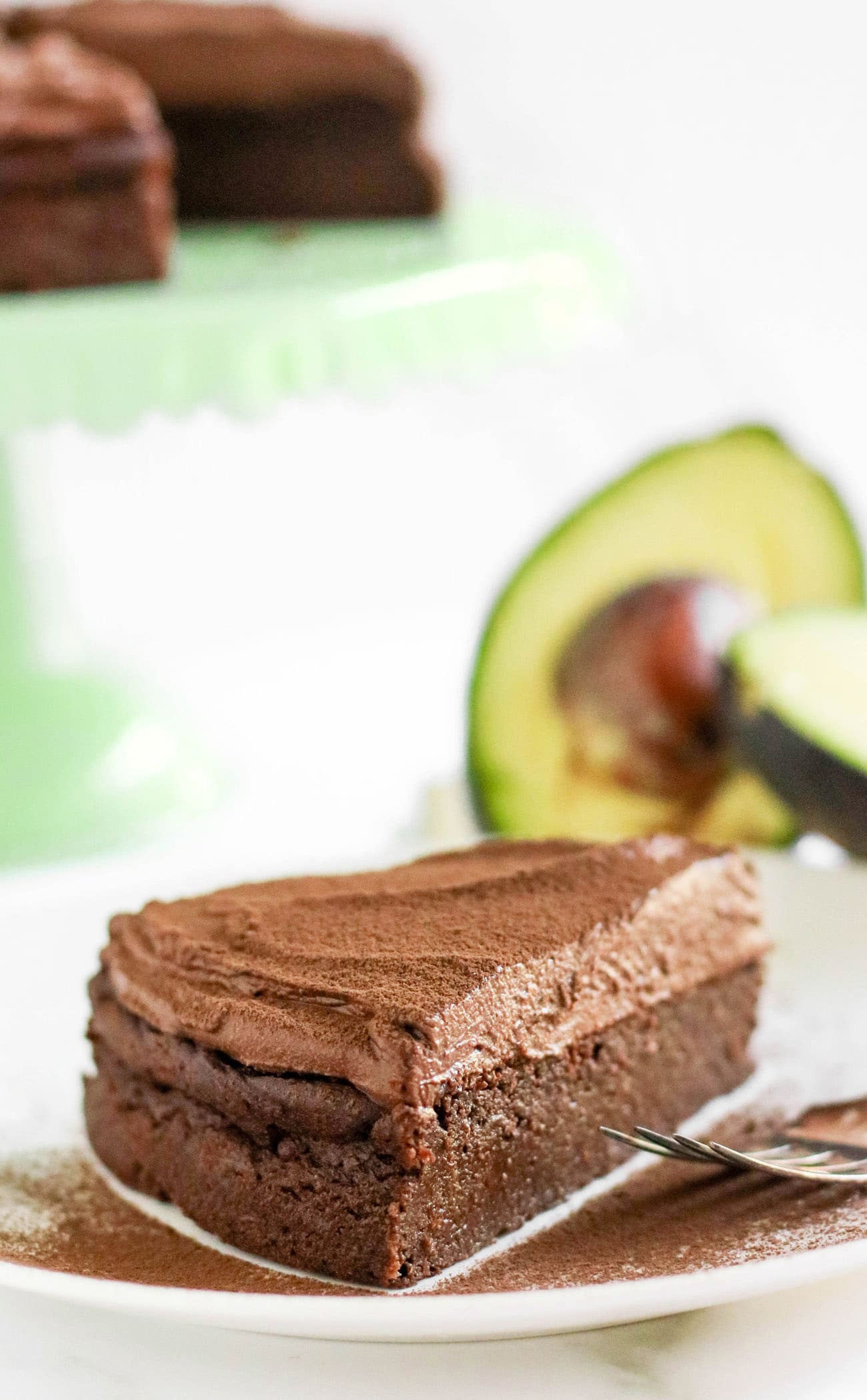 Over the 7½ years that I've been blogging, I've been asked countless times,
"Jessica, what can you use instead of butter?"

"Is there a substitute for oil?"
Yes and yes!
While it's important to mention that it really depends on the recipe — for example, applesauce works great in cakes but not cookies — for this Chocolate Avocado Cake recipe in particular, avocado works like a charm!
Avocados alone have a neutral yet "buttery" flavor.  Plus, they can help lower cholesterol, are full of vitamins, minerals, healthy fats, and antioxidants to protect against cancer.  Sounds a lot better than a stick of butter or cup of oil, right?
*nods head*
Best of all, it works in cake by adding an incredibly moist texture.  And cake is always the way to go  😉
When I first saw a Chocolate Avocado Cake, I was enamored and immediately saved it to my bookmarks.  When I actually looked at the recipe a few weeks later, I noticed it contained 2 cups of sugar, white flour, and only half an avocado.  I feel like if the name of the recipe is "Chocolate Avocado Cake" then avocados should be the main ingredient!
So I decided to develop my own recipe.  A recipe that used a lot less sugar, 100% whole grains, and a lot more avocado!
I went to the grocery store and stocked up on the ingredients I needed.  I used:
Whole wheat pastry flour to replace the all-purpose flour
Truvia Cane Sugar Blend to replace the white sugar
1½ avocados to replace the additional butter
I like to bake using 100% whole grain flour because it contains more fiber and nutrients.  Plus, it keeps you fuller for longer, which means you'll be satisfied after one slice of cake rather than the whole pan (which is exactly how I feel when I eat dessert at a bakery…  I just want more, more, more)!
I also like to bake using less sugar, which is why I used the Truvia Cane Sugar Blend.  It's made with cane sugar as well as Truvia Natural Sweetener (stevia leaf extract, erythritol), and each serving has just ¼ the calories of regular sugar.  You only need to use half as much as you would regular sugar too!  Because the last thing we need is a sugar-rush and sugar-crash.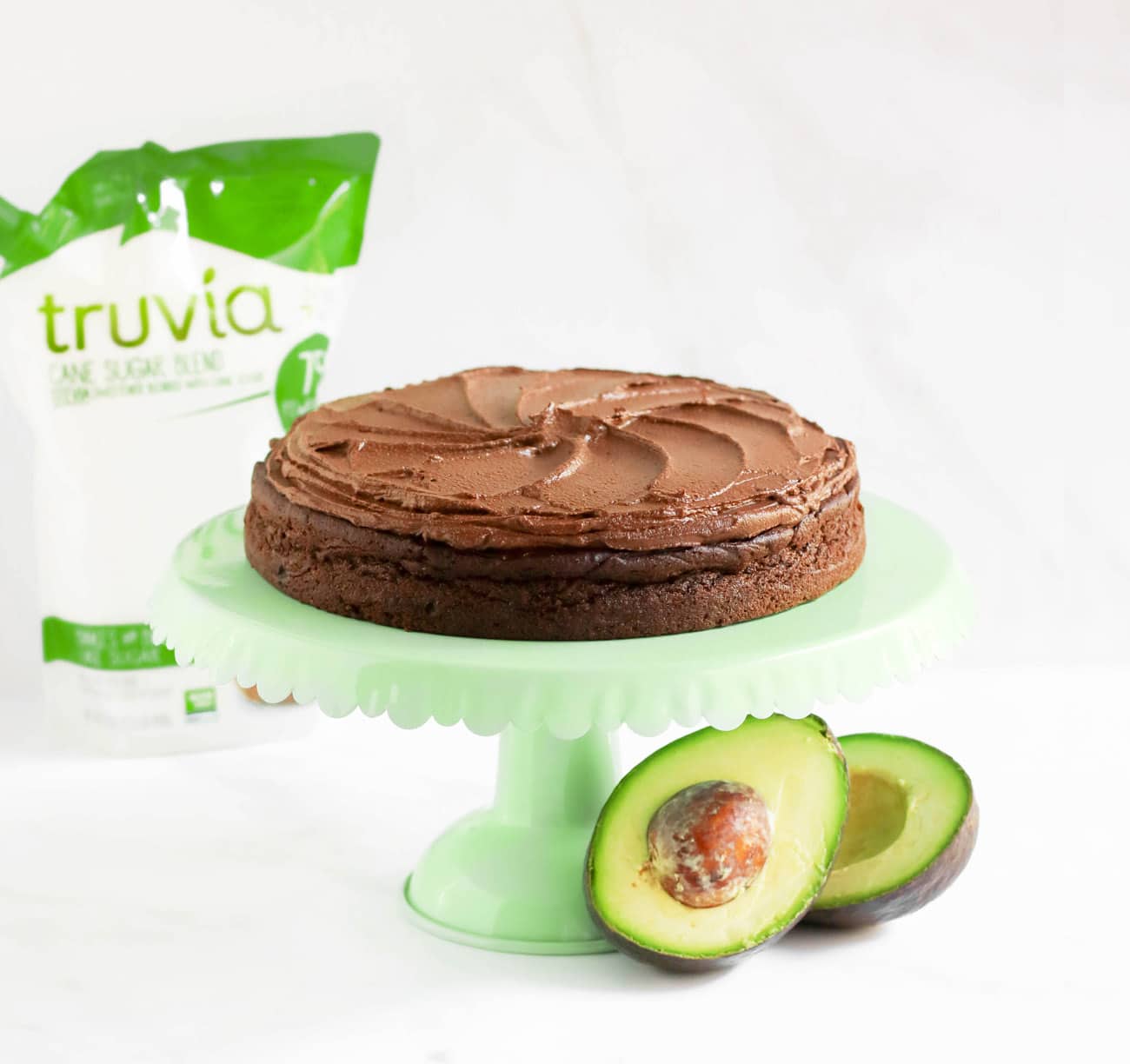 This Chocolate Avocado Cake is super chocolatey, perfectly sweet, and nutritionally balanced with healthy fats, whole grains, lots of fiber, and a hit of protein!
It's so dense and full of flavor, it honestly shocked me…  and I'm the one who baked it.  I'm definitely going to make this during the holidays with my family, and maybe again for my boyfriend's family when I visit them during the holidays!  Heck, I'll probably even make this cake for my friend at her holiday party in a couple weeks.  This is for sure a crowd-pleaser!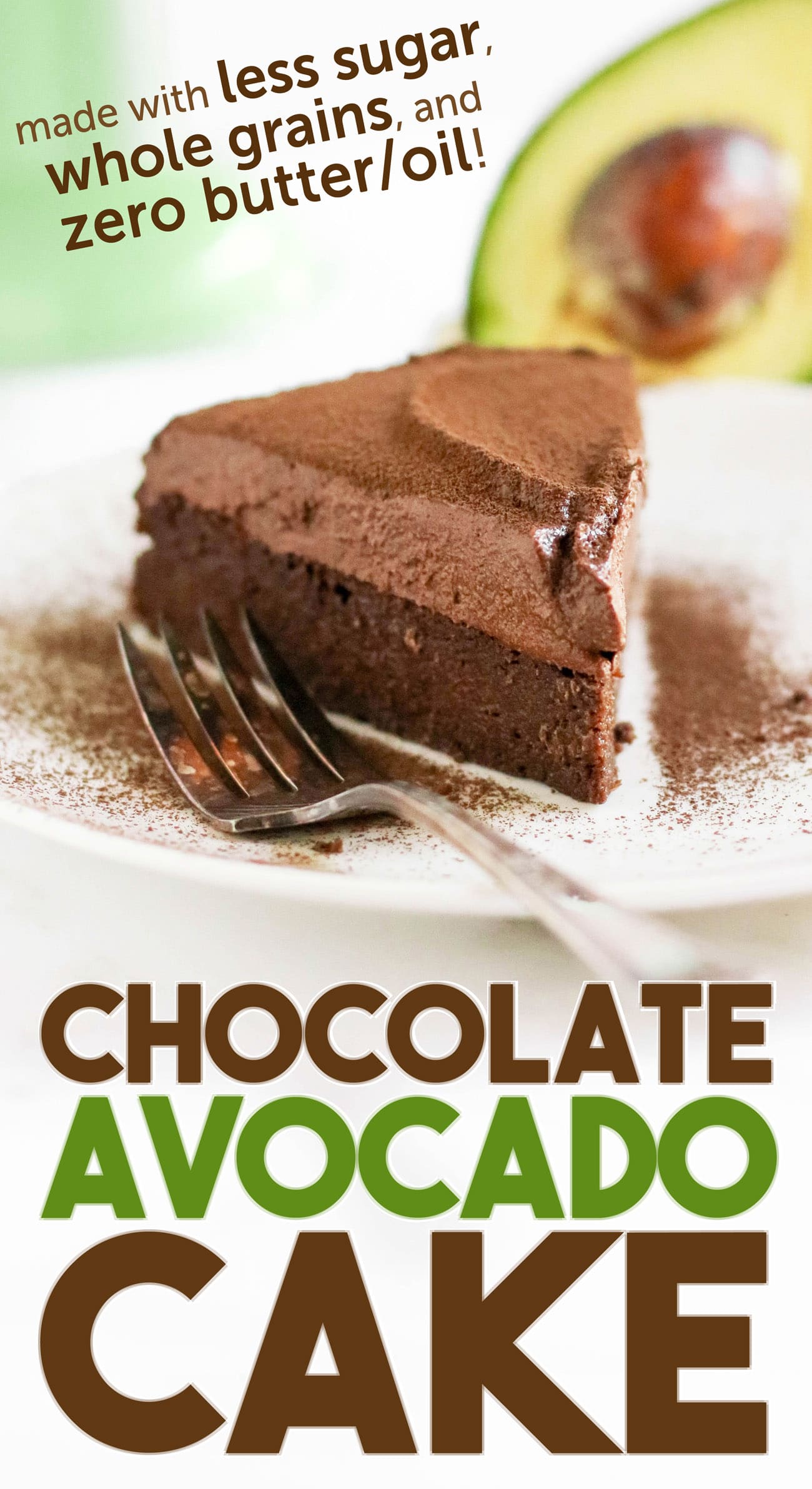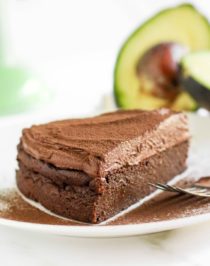 Print Recipe
Pin Recipe
Healthier Chocolate Avocado Cake
This healthier Chocolate Avocado Cake is rich, chocolatey, and sweet, just like classic chocolate cake, except this version is made without the butter, oil, regular white sugar, and bleached flour!
Ingredients
180g

(1½ cups)

Whole Wheat Pastry Flour

96g

(½ cup)

Truvia Cane Sugar Blend

40g

(½ cup)

Unsweetened Dutch Processed Cocoa Powder

2

tsp

Double-Acting Baking Powder

¼

tsp

Salt

280g

(2 medium)

Avocado

¾

cup

Unsweetened Vanilla Almond Milk

2

Large

Eggs

2

tsp

Vanilla Extract
Instructions
Preheat the oven to 350 degrees Fahrenheit and spray an 8" cake pan with cooking spray.

In a large bowl, sift together the dry ingredients.

In a blender, add the wet ingredients. Puree until smooth. Pour over the dry ingredients and fold together until fully incorporated.

Pour the batter into the prepared pan. Bake for 40 minutes, or until the surface springs back when tapped. Let cool in the pan for 30 minutes, then flip over onto a wire cooling rack to cool completely.

Frost with your frosting of choice. Serve and enjoy! Store leftovers in an airtight container in the fridge for up to 4 days.
Nutrition Facts
Healthier Chocolate Avocado Cake
Amount Per Serving (1 serving = 1/10th slice)
Calories 160
Calories from Fat 54
% Daily Value*
Fat 6g9%
Cholesterol 40mg13%
Sodium 175mg8%
Potassium 315mg9%
Carbohydrates 27g9%
Protein 5g10%
Vitamin A 150IU3%
Vitamin C 2.5mg3%
Calcium 200mg20%
Iron 1.8mg10%
* Percent Daily Values are based on a 2000 calorie diet.
.
This healthier Chocolate Avocado Cake is just as sweet, rich, and chocolatey as your favorite classic chocolate cake, except this is made without the butter, oil, regular white sugar, and bleached flour!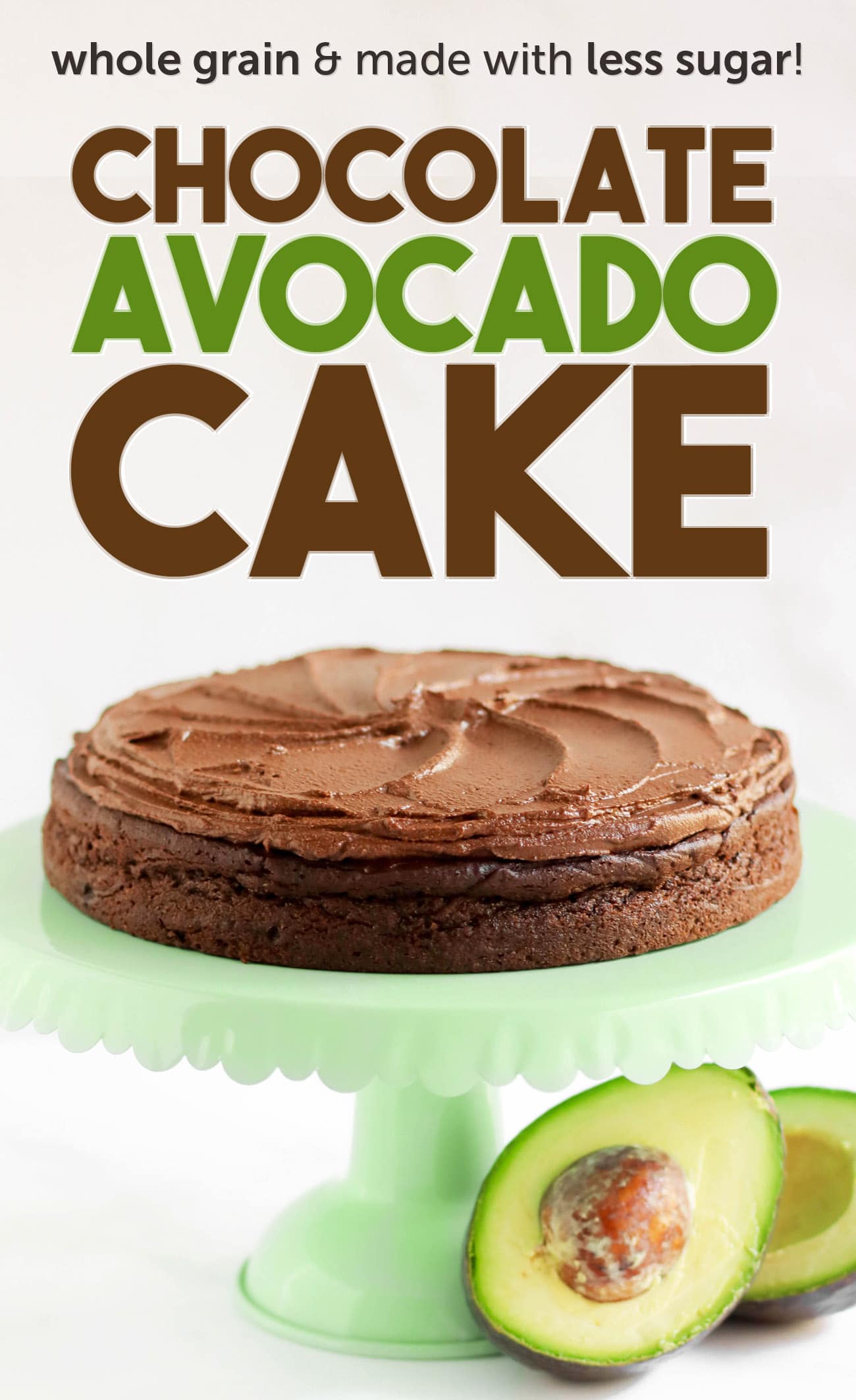 Enjoy!  I think you will  😉
.
With love and good eats,
.
– Jess
.