Healthy Single-Serving Chocolate Buckwheat Protein Cake
Remember the quinoa version of this healthy Single-Serving Chocolate Buckwheat Protein Cake from Tuesday?  Remember how I told you that took, um, fourteen trials to perfect?  What I didn't explain was how many different flours, ingredient combinations, and baking temperatures I used for testing.  I guess I should explain them a little more…
For trials #1-7, I used unflavored protein powder, a flax egg and experimented with baking powder levels.  I wanted these cake bakes to serve as a blank canvas for toppings like nut butters, fruits, spreads, etc, however they were flavorless beyond belief and pretty mushy.  I found that a blank canvas isn't very good for people on the go or in a hurry with no time to sit down to add their own toppings.  I experimented with different sized baking pans such as ramekins, mini loaf pans and a 5″ baking dish (the 5″ dish won).  I also experimented with different oven temperatures, but 350 seemed to be the easiest and fastest.  Too high of a temperature and the bakes would form a dry "crust" and still be mushy in the center.
For trials #8-12, I wished the "science of baking" was a person so I could punch it in the face.  But instead, I finally got a clue and stopped using the unflavored protein powder.  In these trials I used chocolate protein powder, alternated between rice flour, quinoa flour and buckwheat flour.  I was still working on the flax eggs by experimenting with the baking powder levels.
For trials #13 and 14, I really wanted to punch baking in the face, but just started using real eggs (I found out that I'm allergic to chicken eggs so I used duck eggs instead).  The egg created the best texture of all, but I will still shoot for making a vegan version.  Trial #13 was a success, which was the quinoa flour version.  Trial #14 was this buckwheat version, to make a healthy chocolate buckwheat cake!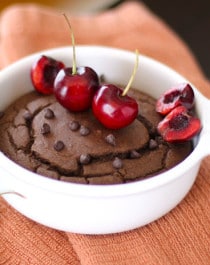 Print Recipe
Pin Recipe
Healthy Single-Serving Chocolate Buckwheat Protein Cake
Instructions
Preheat the oven to 350 degrees Fahrenheit and spray a 5" baking dish with cooking spray.

In a small bowl whisk together the buckwheat flour, protein powder, cocoa powder, sweetener, baking powder, and salt.

In a medium-sized bowl, whisk together the egg and milk. Dump the dry into the wet and mix well.  Pour batter into the baking dish and bake for ~40 minutes, or when the center of the cake springs back when touched. Let cool in the dish and serve as is, or top with your favorite fruit, nut butter, frosting, etc.
Nutrition Facts
Healthy Single-Serving Chocolate Buckwheat Protein Cake
Amount Per Serving (1 buckwheat bake)
Calories 300
Calories from Fat 99
% Daily Value*
Fat 11g17%
Cholesterol 400mg133%
Sodium 700mg30%
Carbohydrates 29g10%
Protein 29g58%
Vitamin A 500IU10%
Calcium 250mg25%
Iron 7.2mg40%
* Percent Daily Values are based on a 2000 calorie diet.
I usually like to bake off two or three of these healthy Single-Serving Chocolate Buckwheat Protein Cakes at the same time so I don't have to use the oven on a daily basis.  Once the extra chocolate buckwheat cake has cooled I wrap it with plastic wrap and leave it on the counter for the next morning…  it gets even more moist and chocolatey!
This healthy Single-Serving Chocolate Buckwheat Protein Cake is just as delicious as the quinoa flour version!  The flavor of this cake is almost exactly the same as the quinoa flour version, but I would say that the buckwheat flour is a little less nutty and more mild than the quinoa flour.
Enjoy!
.
With love and good eats,
.
– Jess
.