Healthy Chocolate Cherry Almond Krispy Treats
So, just like every other day, I was in dire need of a dessert.  You know, something crunchy, yet chewy, something mild in flavor but with a unique, zippy and zingy taste.
I looked in my pantry and found a box of brown rice krispies resting nicely on the shelf.  I was going to make krispy treats.  It was fate.  But what flavors would be the answer to my sugar craving, without providing any guilt to my otherwise healthy diet?
The first thing that popped into my head was:  chocolate  (yes, chocolate can be healthy!)
I grabbed some chocolate protein powder and looked around for something sweet and tart.  I saw a bag of dried cherries on the very top shelf and reached for it.  I'm usually not a fan of cherries (especially dried cherries), but if it was paired with chocolate I was definitely willing to try it out!
I grabbed the brown rice syrup and thought of what nut butter would go well with chocolate and cherries.  The first thing I thought of was:  almond butter  (chocolate, cherry and almond is a classic combo!)
Let me just tell you, these Chocolate Cherry Almond Krispy Treats were amaaazziinngg!!!!  Yes, four exclamation points were necessary.  The chocolate and vanilla created the perfect base for the other flavors, and the almond extract and cherries added the zippy flavor I was looking for.  The cherry flavor did not come through as much as I thought it would, so next time I would add half a cup more.  Overall, though, the cherries definitely provided chewiness and sweetness to the super soft and satisfying krispy treats.
Although I got the zippy flavor from the almond extract and cherries, I was missing the zing.  I looked around my pantry once more and saw the pomegranate powder I recently bought and thought it was perfect!  It created the most flavorful (and colorful) icing I have ever made, not to mention pretty  🙂
I absolutely loved the drizzle.  It added tartness, sweetness and presentation to the Chocolate Cherry Almond Krispy Treats.  It definitely took them to the next level!  The burst of bright pink color makes these look like a decadent, bad-for-you dessert while it's all actually 100% healthy!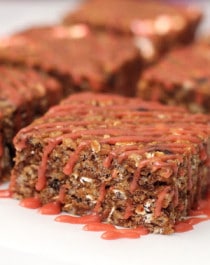 Print Recipe
Pin Recipe
Healthy Chocolate Cherry Almond Krispy Treats
Instructions
Line an 8" brownie pan with parchment paper both ways.

In a large bowl, stir together the crispy rice cereal, oats, flaxseed, and salt.

In a large, microwave-safe bowl, stir together the brown rice syrup, almond butter, cherries, and extracts. Microwave at 20-second intervals, stirring between each one, until mixture is warm and runny. Stir in the protein powder. Dump in the rice cereal mix and fold together.

Scoop mixture into the brownie pan and flatten it out. Refrigerate for 2 hours, then slice.

In a small bowl, whisk together the powdered erythritol, pomegranate powder, and water. Drizzle over the krispy treats. Refrigerate for 1 hour. Serve and enjoy!
.
With love and good eats,
.
– Jess
.