Healthy Chocolate Muscle Milk
Okay, I admit it.  I used to drink Muscle Milk.  You know, those ready-to-drink shakes advertising 20 grams of protein, vitamins and minerals?
Yeah, they have protein, and yeah, they have some added nutrients, but are they 100% healthy?  No, they are artificially flavored and contain quite a bit of that fake sugar, sucralose.  So I made a healthy replacement!  And did I mention that this Healthy Chocolate Muscle Milk is 100% good-for-you?
A thick and creamy shake that is…  wait, what did you say?  LOW CARB?!?  Yup!  For the first time on Desserts With Benefits, a low carb recipe.  So you can drink this luscious chocolate drink and not have to worry about added sugars (or fake sugars).
Is it just me, or is that a bite of delicious chocolate staring you down?  And how lovely, it's within arms reach…  from ME!
Hah, sorry to torture you, maybe you can try grabbing it from the screen?  Okay, okay, I'll stop.  This isn't one of Willy Wonka's inventions!  Ah, if only Wonkavision did exist…
This 5-ingredient Healthy homemade Chocolate Muscle Milk can be made in just a few minutes flat!
Unlike the store-bought kind, which has a whopping 40 ingredients on their label!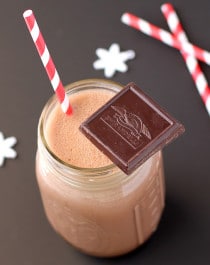 Print Recipe
Pin Recipe
Healthy Chocolate Muscle Milk
Instructions
Add all of the ingredients to a blender and puree until completely smooth.

Enjoy!
Nutrition Facts
Healthy Chocolate Muscle Milk
Amount Per Serving (1.25 cups)
Calories 170
Calories from Fat 54
% Daily Value*
Fat 6g9%
Sodium 180mg8%
Carbohydrates 9g3%
Protein 22g44%
Calcium 60mg6%
Iron 2.7mg15%
* Percent Daily Values are based on a 2000 calorie diet.
Compared to Chocolate Muscle Milk Light, this Healthy Chocolate Muscle Milk recipe contains:
3 less grams of carbohydrate
2 more grams of fiber
2 more grams of protein
much more healthy goodness!
I'm not gonna lie to you guys, I used to think that drinking Muscle Milk would give me some nice, toned arms…  and boy, was I wrong!  You only get results with hard work and good nutrition, and however much effort you give is how much you will appreciate the outcome (aka, those nice, toned arms!)
So drink this shake and flex those muscles!
.
With love and good eats,
.
– Jess
.