Healthy Dark Chocolate Peppermint Tart
When I was a kid and lay in bed at night, unable to sleep, I always wondered who else was awake like me.  Did they wonder the same thing, or was I alone?  Was someone across the world thinking about how I was still awake as they went about their day?
That's actually what I thought about yesterday.  It was 3am and I couldn't sleep, my mind was racing.  My dorm was quiet.  Was I the only one awake?  Was someone across the hall lying in their bed wondering the same thing?  Was I the only one restless enough to cook something?  Yes.  I know I was.
I originally saw chocolate tarts while scouring FoodGawker, and immediately clicked on every picture I saw.  Most of the tart fillings only had two ingredients: dark chocolate and heavy cream.  But, sometimes simplicity does not mean healthy, and I needed to replace the heavy cream with something.  Coconut milk popped into my head right away.  And, since I was going to use 100% cacao chocolate, I needed other add-ins to balance out the bitterness of the chocolate.
I planned on using 1 cup of light coconut milk, agave and coconut butter.  Unfortunately, I was mesmerized by how silky the coconut milk was and poured the entire can into the chocolate-melting pot.  I didn't even realize that I did this until I saw how 4oz of chocolate wasn't thickening the mixture one bit!  I quickly ran back to my room and snatched another chocolate bar  (I may or may not have an abundance of chocolate stashed around my room).  After the second chocolate bar had melted, I had a beautiful, thick and syrupy chocolate mixture.  Unfortunately, the end product was still a little too dark for me, so in the next trial I added some stevia and peppermint extract to boost the flavor.  This Healthy Dark Chocolate Peppermint Tart got my roomies even more excited for winter break just sixteen days away!!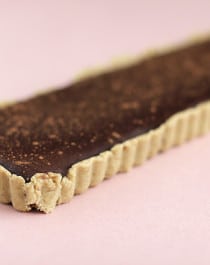 Print Recipe
Pin Recipe
Healthy Dark Chocolate Peppermint Tart
Ingredients
Filling:
1 cup

- 1 tbs

Light Coconut Milk

(canned)

¼

cup

Coconut Sugar

(or sweetener of choice)

3

tbs

Agave Nectar

5

oz

100% Cacao Unsweetened Chocolate

45

drops

Liquid Stevia Extract

½

tsp

Peppermint Flavor
Instructions
For the Base:
In a large bowl, stir together the oat flour, protein powder, and salt.

Add the brown rice syrup, coconut oil, and extracts.  Stir together until the mixture is even.

Roll the dough in between two silicone baking mats or sheets of parchment paper until ½" thick.  Carefully flip the rolled out dough into your tart pan (I used a 4.25" x 13.75" tart pan).  Refrigerate while you make the filling.
For the Filling:
In a small saucepan, add the coconut milk, coconut sugar, and agave. Place over medium heat and stir until the sugar dissolves.

Add the chocolate to the pan and reduce the heat to medium-low. Stir constantly.  When the chocolate is fully melted, remove from the heat and whisk in the stevia and peppermint flavor.

Take the crust out of the fridge and pour in the chocolate filling. Cover and refrigerate overnight. Slice, serve, and enjoy!
.
With love and good eats,
.
– Jess
???
.
Be sure to follow @DessertsWithBenefits on Instagram!  If you try this recipe, make sure to snap a picture of it, tag me @DessertsWithBenefits, and hashtag #DessertsWithBenefits.  I'd love to see it and feature you on #FanFaveFridays!
.