Healthy Frozen Yogurt Covered Blueberries (2 Ways)
Super easy 3-ingredient Frozen Yogurt Covered Blueberries (made 2 ways)! Beat the heat with this guilt-free, fat free, gluten free, and sugar free treat!
Okay.  I really tried to avoid getting obsessed with Pinterest.  At first I was like, how on earth can someone spends hours looking at pictures?  And then, I fell into their trap made my own Pinterest account.  I would spend a few minutes here and there looking at the Food & Drink section, and sometimes the Fitness section.  I didn't get what all the hype was about, but now, I'm hooked.
I'm not even the type of person who likes to spend hours online on sites, such as Facebook, but Pinterest is like a whole different story.  Is anyone else obsessed?!?
ANYWAYS, I saw this recipe on Pinterest about a thousand times, no joke, and had to try it myself.  The original recipe used Dannon's honey yogurt, but I didn't want any added sugar in my version so I used plain, nonfat Greek yogurt and added my own sugar-free/calorie-free sweetener.  They were amazing!  The only problem was that I left the blueberries in the freezer for too long and my freezer feels like it's 5x colder than a normal human being's freezer (I should probably raise the temperature setting…..), so I had to refrigerate them for a whole day until they were edible, aka, not like balls of ice.
Healthy Frozen Yogurt Covered Blueberries (2 Ways)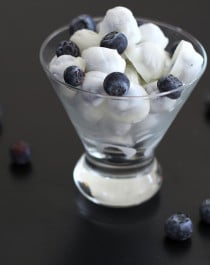 Ingredients:
½ cup Plain, Nonfat Greek Yogurt
40 drops Stevia Extract (or 2 tbs of Honey or Pure Maple Syrup)
⅓ cup Fresh Blueberries, rinsed and dried
Directions:
Line a cookie sheet with a silpat and reserve space in your freezer for the pan, set aside.
In a small bowl, stir together the yogurt and stevia.
Poke a blueberry with a toothpick, dip in the yogurt, and push the berry off the toothpick with another toothpick. Do this with all of the blueberries, and put the pan in the freezer for ~2 hours, or until frozen. Put the blueberries into a sandwich bag and store in the fridge or freezer.
Notes:
All images and text ©
.
The lemon version tastes more like lemon sherbet than a healthy snack!
Mmmm, these Frozen Yogurt Covered Blueberries are deliciously refreshing!  Enjoy 🙂
.
With love and good eats,
.
– Jess
.