Healthy Fudgy Black Bean Brownies
These Healthy Fudgy Black Bean Brownies are secretly refined sugar free, low fat, high fiber, eggless, gluten free, dairy free, and vegan!
I've come across so many Black Bean Brownie recipes, but I don't think I've ever been 100% satisfied with one…  there would either be too much sugar, too much butter, or too many eggs.  All I wanted was a brownie that tasted authentic, sweet and fudgy, like it was from a bakery.  I didn't want black bean taste at all, I didn't want it to be cakey, I didn't want it to be bland.
I got all I asked for with these brownies!
These Healthy Fudgy Black Bean Brownies are super fudgy, super moist, and super chocolatey!!
However, it was no easy task…  these brownies caught me off guard in so.many.ways.  It's actually kind of ridiculous how many mistakes I made in the baking process, how many things I forgot, and how many things I wasn't supposed to do.  But despite all of my mistakes, the end result somehow turned out incredible.
Onto my mistakes, shall we?  First, I wanted to bake these using brown rice flour as the combination of rice and beans create a complete protein.  However, I ran out of rice flour just last week and had to sub in quinoa flour.  Wow, my first mistake and I was already a nervous wreck!  This was my first time using quinoa flour and I didn't know how it would taste or what kind of texture it would provide.
After whisking the dry ingredients I walked to the fridge only to find that I was out of applesauce too!  I did have strawberries and blueberries though.  I chose the blueberries because I knew they were sweet and delicious after digging into them the other day, and possibly the day of  😉
After pureeing the blueberries, I realized that I forgot to preheat the oven.  Panicky little Jessica ran to the oven, pressed a couple buttons and ran back to the mixing bowl.  Frustrated and trying to hurry, I dumped in half a teaspoon of baking soda.  Wait!  Brownies don't use baking soda!!  As of now, I'm just laughing.  Could I do anything else wrong?  Will I trip on my way to the oven and splatter brownie batter everywhere?  Well, if I did, I could totally see myself licking it off the walls…
*wipes tears from eyes*
I never thought this day would come!  A low-calorie brownie that tastes like 1,000 calories…  a brownie that is super fudgy yet low in fat…  a brownie that is full of flavor yet low in sugar.  I seriously couldn't believe how good these were.  Especially after my gazillion kitchen errors.  Feel free to grab an extra brownie, no guilt involved!  I'm in heaven.  These truly taste like bakery-style brownies (especially the corner pieces!).
You. Must. Make. These. ASAP!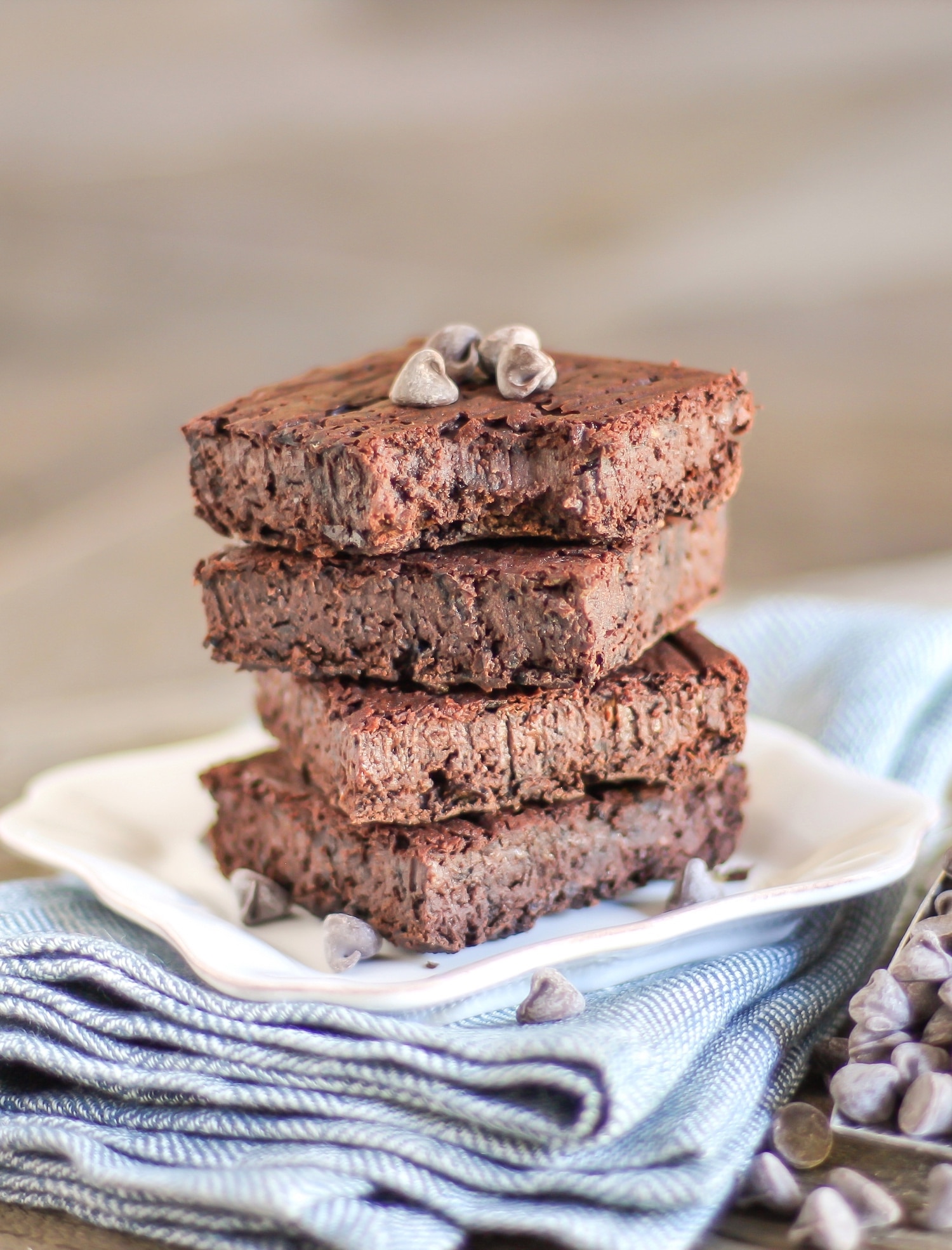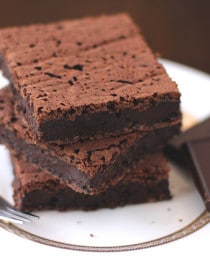 Print Recipe
Pin Recipe
Healthy Black Bean Brownies
These Healthy ULTRA FUDGY Black Bean Brownies are secretly refined sugar free, low fat, high fiber, high protein, eggless, gluten free, dairy free, and vegan too! Oh yes.
Ingredients
Black Beans

Fresh Blueberries

Unsweetened Vanilla Almond Milk

Vanilla Extract

Unsweetened Natural Cocoa Powder

Ground Flaxseed

Double-Acting Baking Powder

Baking Soda

Instant Coffee

Salt
Recipe Notes
I originally wasn't going to share the recipe here because I worked so incredibly hard on publishing Naughty or Nice.  But, I understand not having a recipe here can be frustrating.  So, I'll meet you halfway...  how does that sound?  I'll show you all the ingredients I use in the recipe.  That way, you can determine on your own whether or not the cookbook is for you!
Nutrition Facts
Healthy Black Bean Brownies
Amount Per Serving (1 brownie)
Calories 110
Calories from Fat 41
% Daily Value*
Fat 4.5g7%
Sodium 240mg10%
Carbohydrates 20g7%
Protein 4g8%
Vitamin C 1.7mg2%
Calcium 150mg15%
Iron 2.7mg15%
* Percent Daily Values are based on a 2000 calorie diet.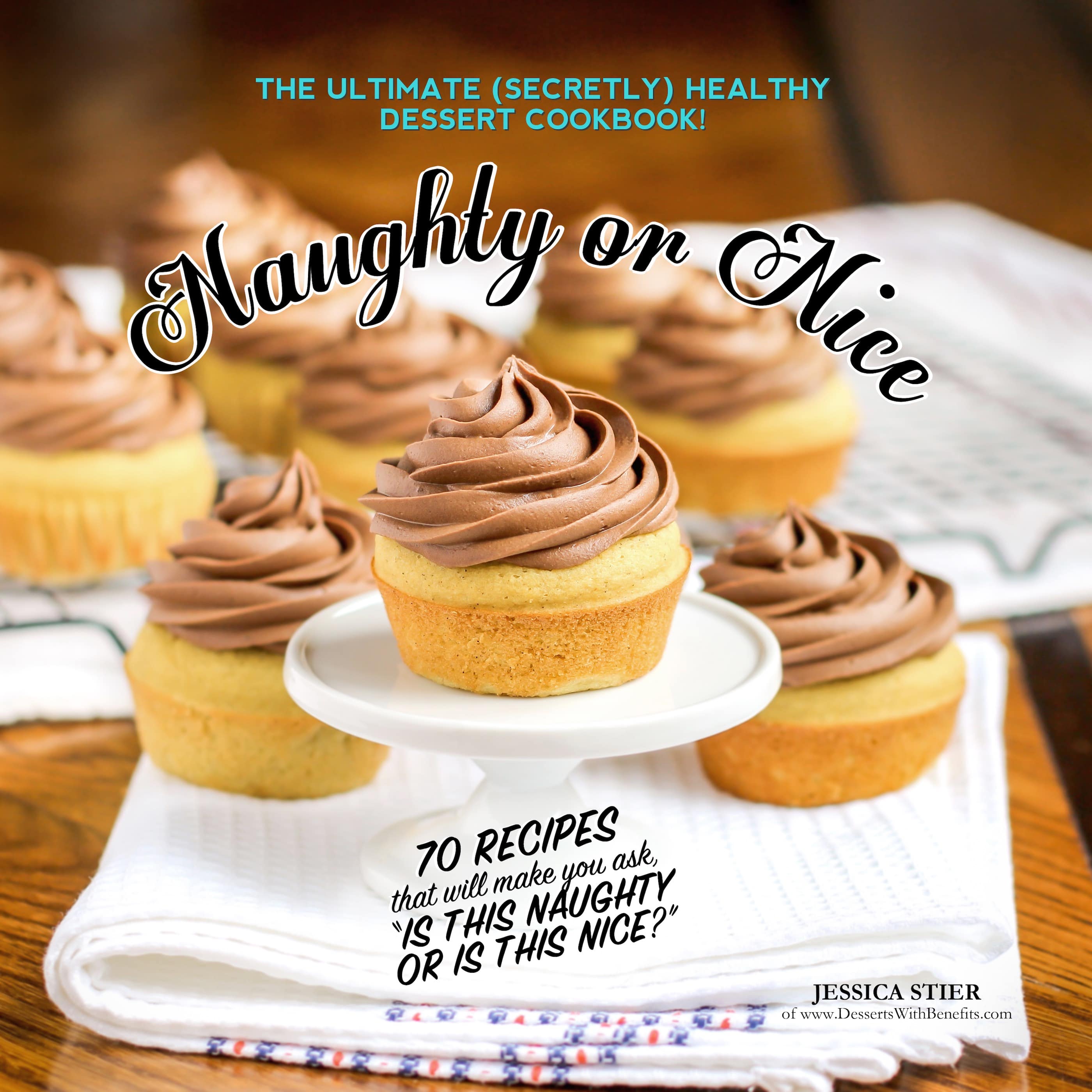 .
Be happy.
Live fully.
Feel naughty, eat nice.
.
– Jess
.