Green Monster #6
I feel like kiwis are a fruit that go somewhat unnoticed.  It isn't a food that most people will run to the store to buy, like I tend to do for foods like pineapples, grapes, bagels, peanut butter, and…  this list could go on and on, but I'll just stop there  🙂
But why do they fade into the background?  (Well, it may be because of how they look:  unappealing!)
BUT, despite the hairiness part, did you know that kiwifruits are super healthy?  (What fruit isn't?!)
One medium kiwi averages out at 70 calories a piece, with 4g of fiber and vital nutrients, such as 115% of your daily recommended intake of vitamin C, 12% of your vitamin E and 45% of your vitamin K.  Plus, it contains minerals, like potassium!  You may think I am crazy when I say this, but, I eat the kiwi skin too…
*gasp!*
Don't worry, my friend said "ew" too.  But the skin is packed full of antioxidants and fiber.  It is part of the fruit, just like the skin of an apple.  It should be left on!  I'll admit, the first bite feels like you're about to bite a chunk of grass out from the ground, but after that, it is just like eating an apple.  If you are still grossed out by the skin, though, simply blend it up into a smoothie!  And since it's green, why not add some avocado?  Oh, and some spinach…
Green Monster #6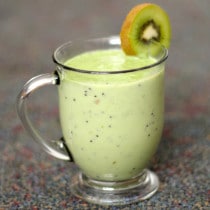 Ingredients:
2 Kiwis (skin left on!)
1 small Avocado
1 cup Fresh Pineapple Chunks
1 handful Baby Spinach
1 cup Unsweetened Vanilla Soy Milk
12 drops Stevia Extract (to taste, optional)
Directions:
Scrub your kiwis gently to remove any dirt, then cut the ends/nubs off.
Put all of the ingredients into a high speed blender and puree until completely smooth.
Be sure to follow @DessertsWithBenefits on Instagram!  If you try this recipe, make sure to snap a picture of it, tag me @DessertsWithBenefits, and hashtag #DessertsWithBenefits.  I'd love to see it and feature you on #FanFaveFridays!
.
I love the little kiwi seed speckles!
.
Have a good weekend.  Slurp slowly  🙂
.
– Jess
🎂🍴💕
.