Healthier Brigadeiros
Have you ever had Brigadeiros?  They're not a very common dessert here in the US, but they're very popular in Brazil.  Made from sweetened condensed milk, cocoa powder, butter, and a generous coating of chocolate sprinkles, it's safe to say they're not the healthiest treat on earth.  But that's about to change (drumroll please!) because I just made a better-for-you version!
These Healthier Brigadeiros are ULTRA fudgy, smooth, and creamy, with a slight crunch from the chocolate sprinkle coating.
Unlike the traditional version, this recipe has fewer calories and fat, is a made with less sugar, thanks to the Truvia® Cane Sugar Blend, which has 75% fewer calories than sugar!
That means we can indulge in one (or three) more Brigadeiros, right?  😉
Thanks to Truvia for sponsoring this post, and thank YOU for supporting the brands that keep Desserts With Benefits going! All opinions are mine and mine alone!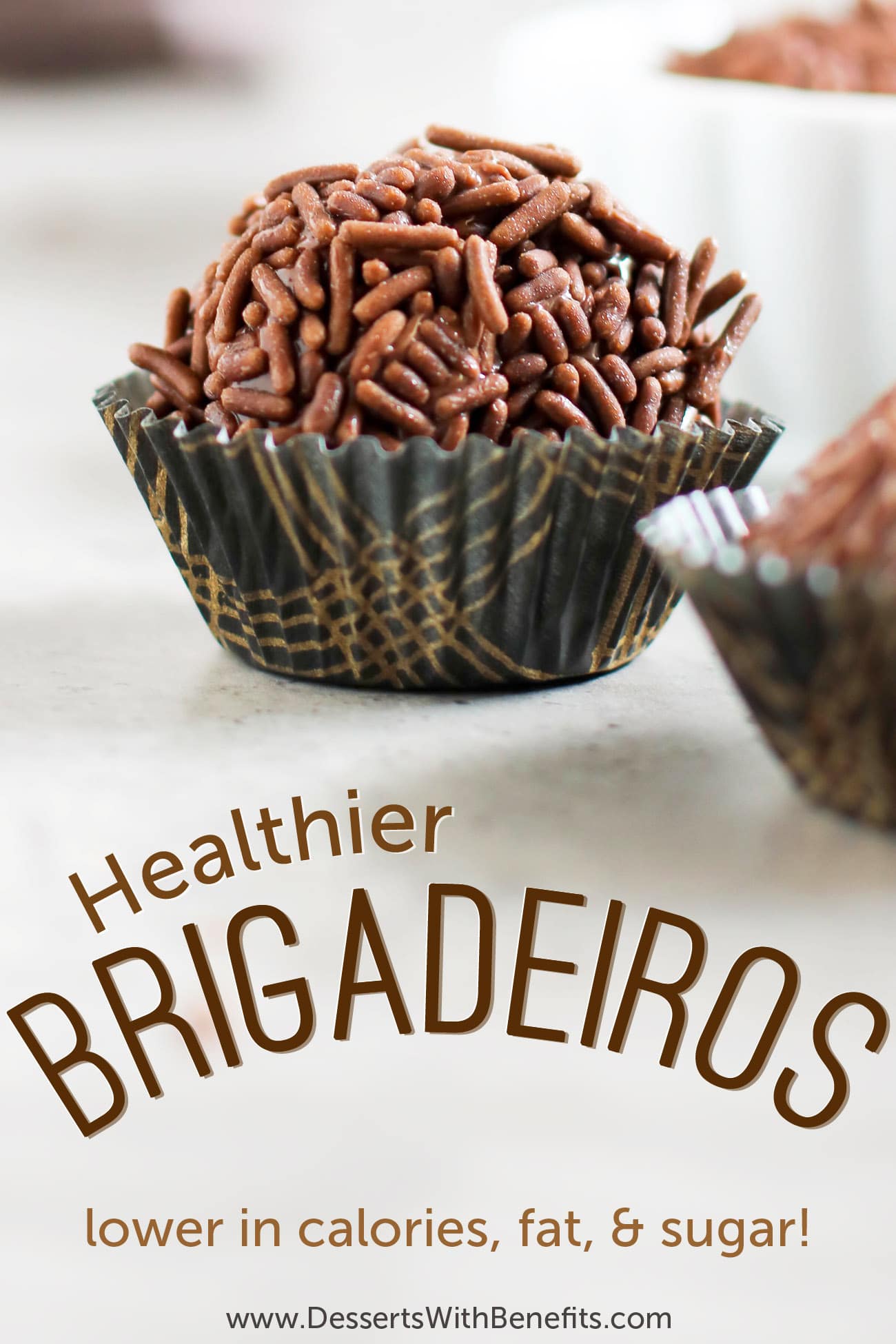 I have a very long history with chocolate truffles.  I guess you could call it a love story?  It began at a very young age (maybe ten?) at a shopping mall, where I found myself inside a chocolatier boutique.  After staring through the glass window at rows and rows of different types of truffles — from salted caramel to almond praliné, hazelnut crunch to creme brûlée, etc. — I picked out five promising flavors.  At checkout, I learned that they had a type of "membership" where you get a free truffle every month.
A FREE TRUFFLE?  EVERY MONTH??  I obviously signed up.  And made damn sure to get that truffle (and maybe a couple extra) every month  😉
As I grew older and started getting more interested in health and nutrition, I realized that I frequented that chocolatier a liiiittle too much.  For most people, chocolates and truffles and candies are "treats" whereas I treated them as regular, everyday foods.  Oops.  But now I know better.  I still treat myself every now and then — because the chocolate truffle obsession lives on — but now I am more aware of what ingredients they're made of (lots of sugar, lots of cream, lots of artificial flavors and food dyes) and why I experience sugar rushes and sugar crashes.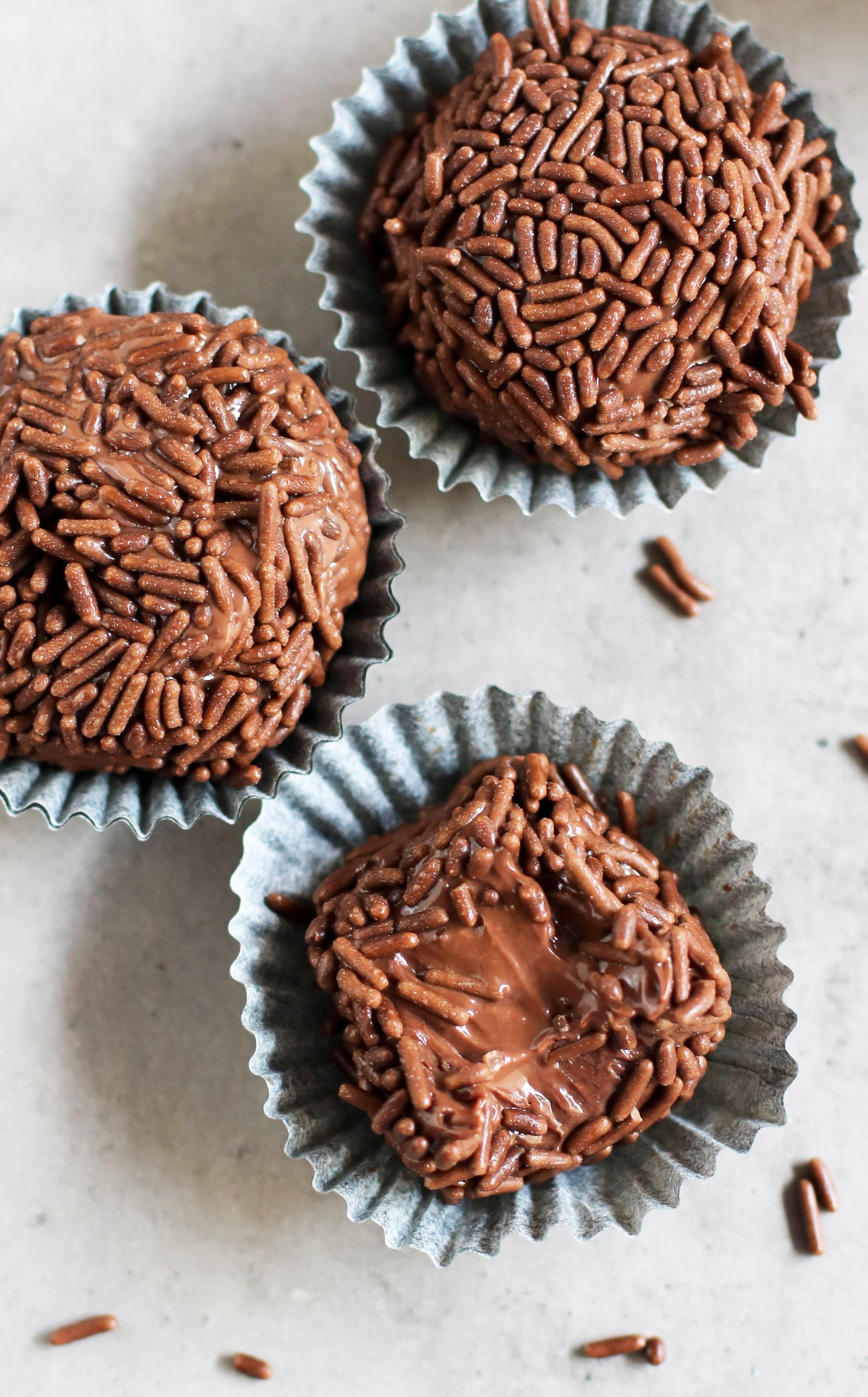 I was walking through the mall just last week looking for some holiday gifts and stopped inside the very same boutique that I used to visit so regularly back in middle school through high school.  I looked through the same glass window at all the different flavors.
After nearly ten years of baking from scratch and eight years of healthy baking from scratch, I wasn't as enamored with the rows and rows of truffles.  At most of the flavors, I thought to myself, "I could make that!"  And, "that would be so easy to make healthier!"
I got home and got started developing a recipe.  Instead of making a traditional ganache-filled truffle, I wanted to check off a recipe that has been on my recipe "wish list" for over four years now — Brigadeiros.
Brigadeiros seemed a little bit more daunting than ganache truffles because the main ingredient, sweetened condensed milk, is difficult to substitute.  Any ingredient that is extremely high in sugar or fat is difficult to substitute, but I managed!
I made my own homemade sweetened condensed milk by whisking together dried milk powder with Truvia Cane Sugar Blend.  This blend is made of both stevia and cane sugar but has just ¼ the calories of regular sugar.  You only need to use half as much as you would sugar.
I can already tell that this recipe is going to be a staple for the holiday season.  Out of the batch I made, I gave a few to my parents and a few to some of my friends.  THEY ALL LOVED THEM.  They raved about these bad boys.  So now I know I can bring these to a holiday party and rest easy knowing that they'll be a guaranteed crowd-pleaser  🙂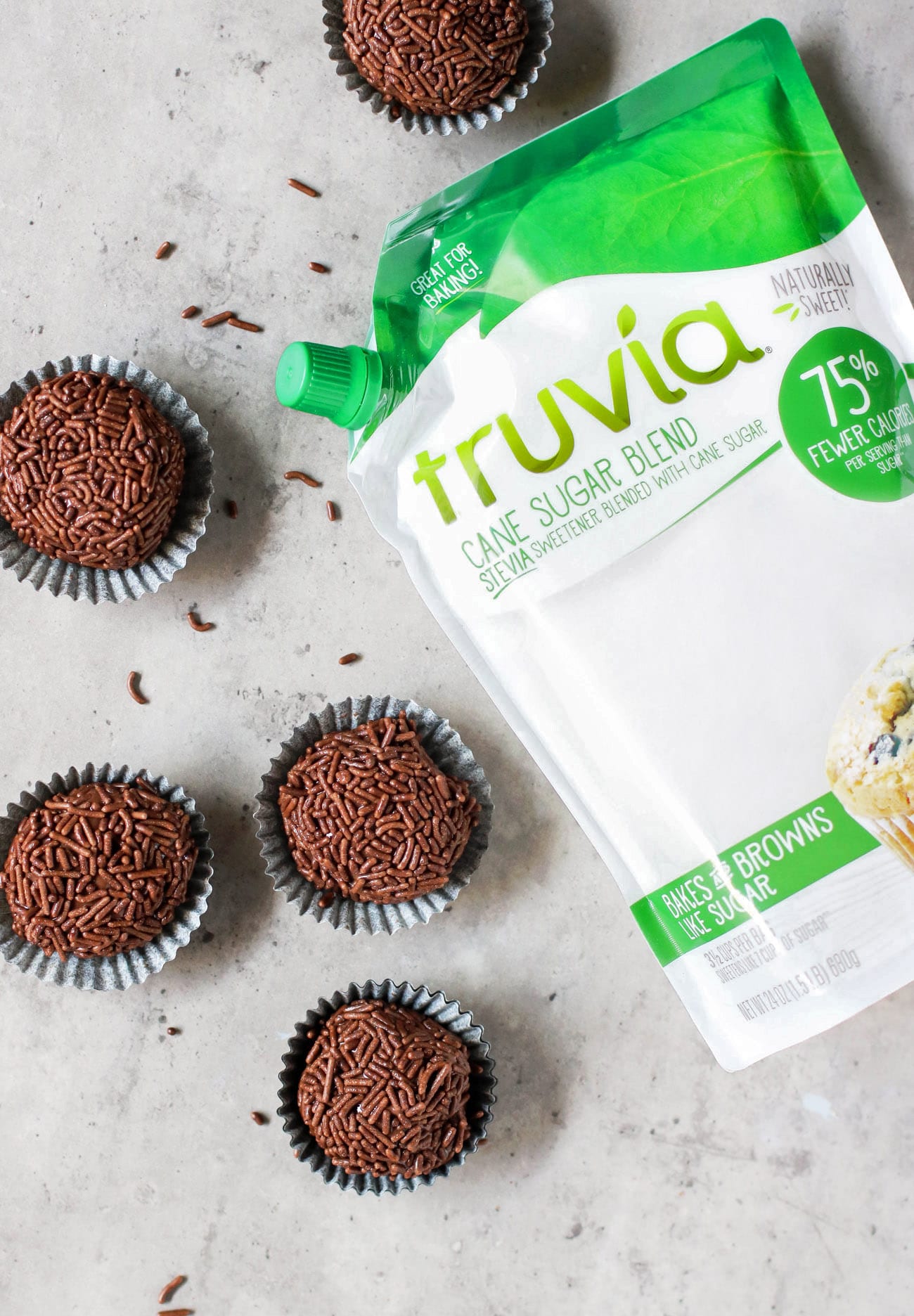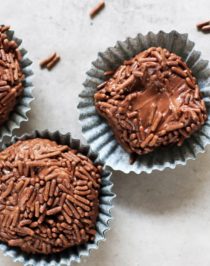 Print Recipe
Pin Recipe
Healthier Brigadeiros
These Healthier Brigadeiros are ULTRA fudgy, creamy, and they melt in your mouth! You'd never know they're lower calorie, fat, and sugar than the original.
Instructions
In a small saucepan, whisk together the Truvia Cane Sugar Blend, dried nonfat milk, and xanthan gum. Whisk in the evaporated milk and place over medium-low heat. Whisk occasionally until warm and the Truvia dissolves completely (~5 minutes).

Add the butter and whisk occasionally until completely melted.

Whisk in the cocoa powder and salt. Whisk vigorously until completely combined.

Add the chocolate and whisk occasionally until completely melted. Remove from the heat and whisk in the vanilla extract. Pour the mixture into a heatproof bowl and let cool slightly. Cover with plastic wrap and refrigerate overnight.

Line a cookie sheet with parchment paper and fill a bowl with the chocolate vermicelli.

Portion out the chilled chocolate mixture using a small cookie scoop, toss in the chocolate vermicelli, and roll to coat. Place the finished brigadeiros on the cookie sheet or in small paper candy cups. Serve immediately or store in an airtight container in the fridge.
Nutrition Facts
Healthier Brigadeiros
Amount Per Serving (1 Brigadeiro)
Calories 135
Calories from Fat 63
% Daily Value*
Fat 7g11%
Cholesterol 4mg1%
Sodium 50mg2%
Potassium 25mg1%
Carbohydrates 14g5%
Protein 3g6%
Vitamin A 100IU2%
Calcium 110mg11%
Iron 0.5mg3%
* Percent Daily Values are based on a 2000 calorie diet.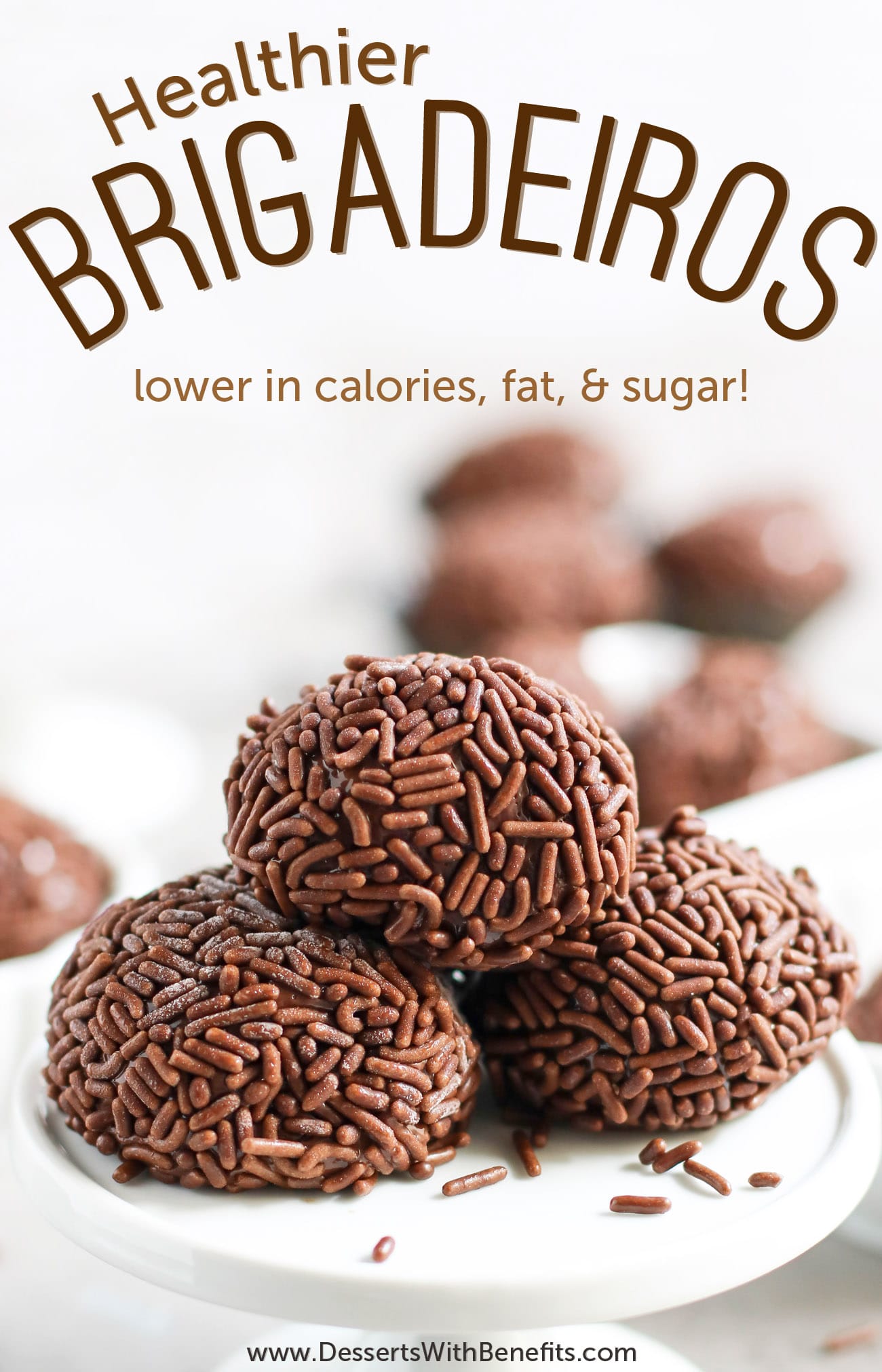 I can't believe I was so intimidated by making Brigadeiros that I let it sit on my recipe "wishlist" for over four years!  I thought the ingredients would be difficult to substitute, but this recipe turned out to be fairly easy.  You just add the ingredients to a saucepan, whisk it over the stove, and you're done in 15 minutes!
Not only are these Brigadeiros surprisingly easy to make, they're super fun to make too.  If you like tossing chocolatey orbs of heaven into chocolate sprinkles, you'll have a blast making these.  You can coat them in anything you like, though!  Chocolate sprinkles not your thang?  Use rainbow sprinkles, toasted coconut, chopped pistachios, slivered almonds, roasted peanuts, mini chocolate chips, grated chocolate, etc.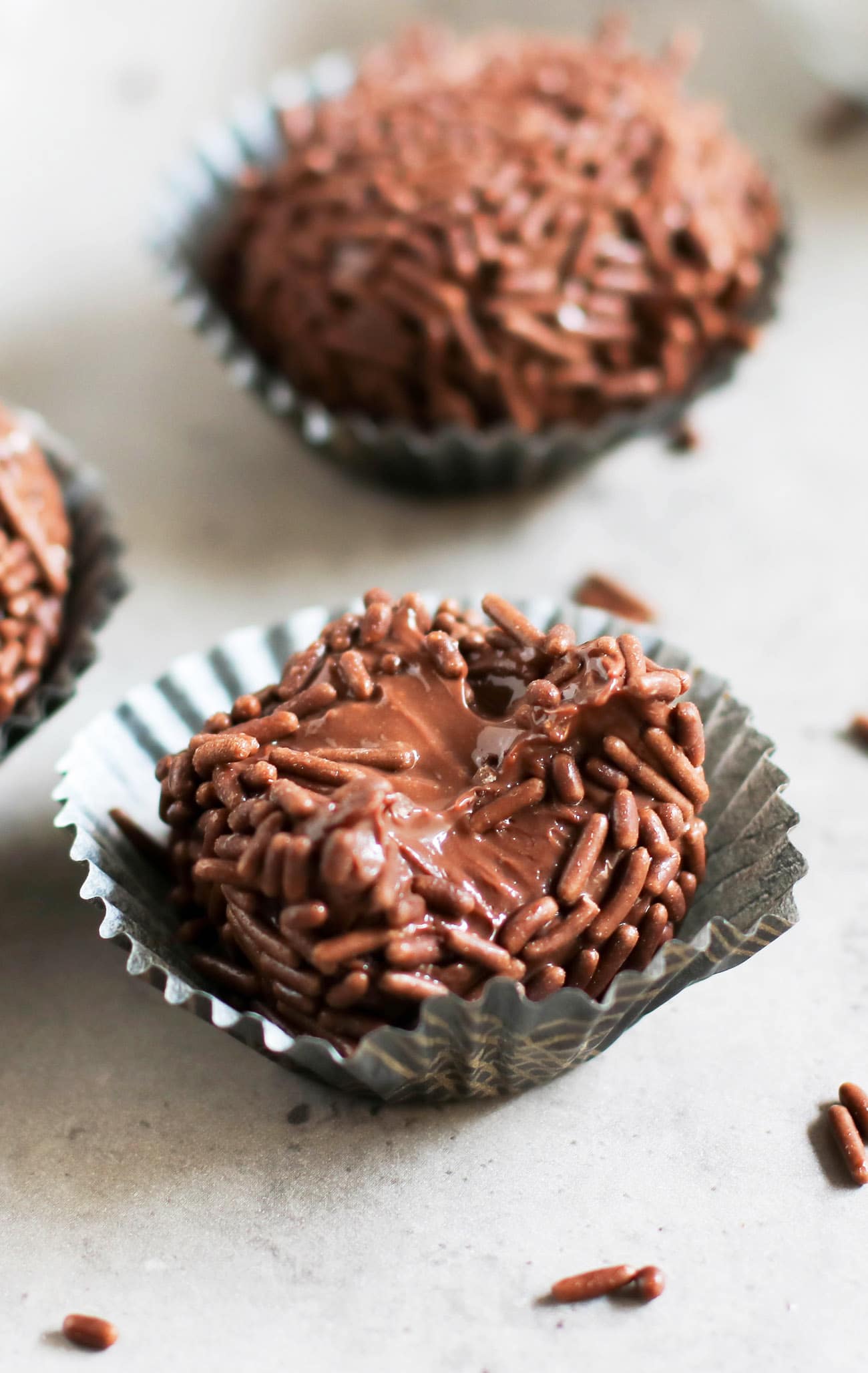 Enjoy!
.
With love and good eats,
.
– Jess
.