Healthy Black Velvet Krispy Treats
I bet you've never seen Krispy Treats like THESE before!  These Healthy Black Velvet Krispy Treats are chewy, crunchy, sweet, and chocolatey.  Flavored like your classic red velvet dessert with both vanilla and a hint of chocolate…  only this one is black instead of red!
Unlike it's innocent counterpart, these are hiding a secret.  A secret ingredient, that is.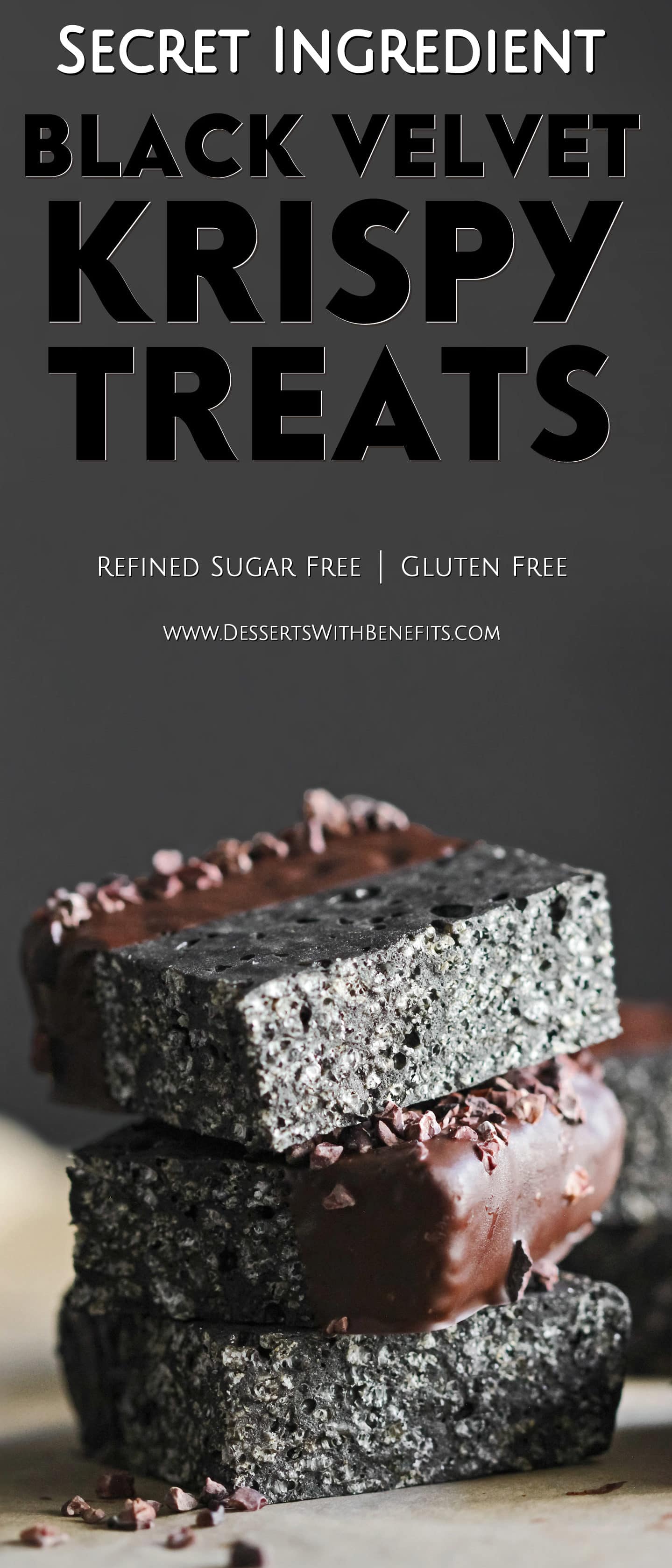 Activated charcoal powder!
Yes, it's edible, and yes, it makes food jet black.  I love it.  I've had so much fun adding it to recipes lately, and you guys seem to be loving it too  🙂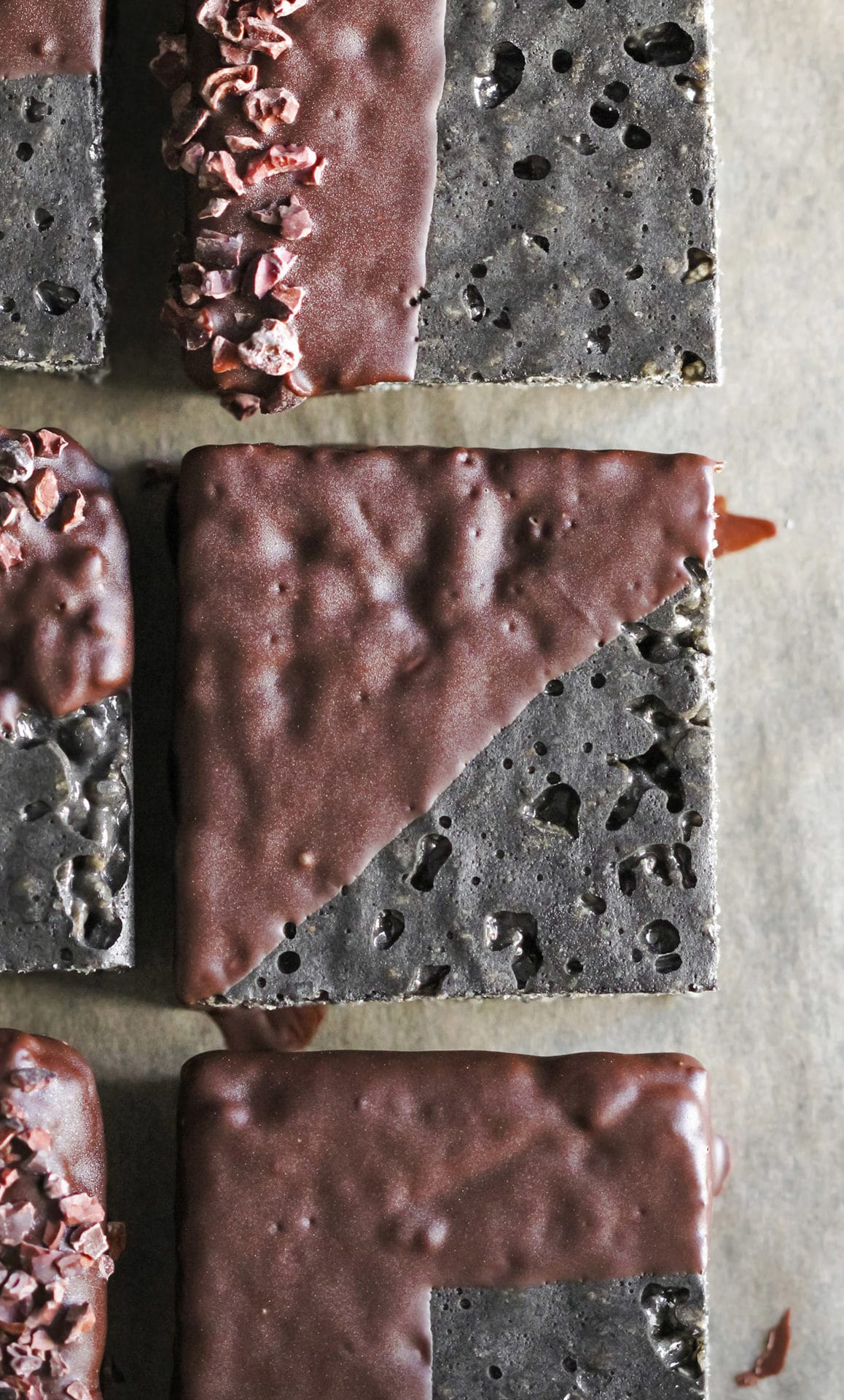 I used my Black Velvet Marshmallows in this recipe instead of your typical white mallows.  They worked perfectly!  No need for the artificial food dyes here.
Come to the dark side — we have Black Velvet Krispy Treats  😉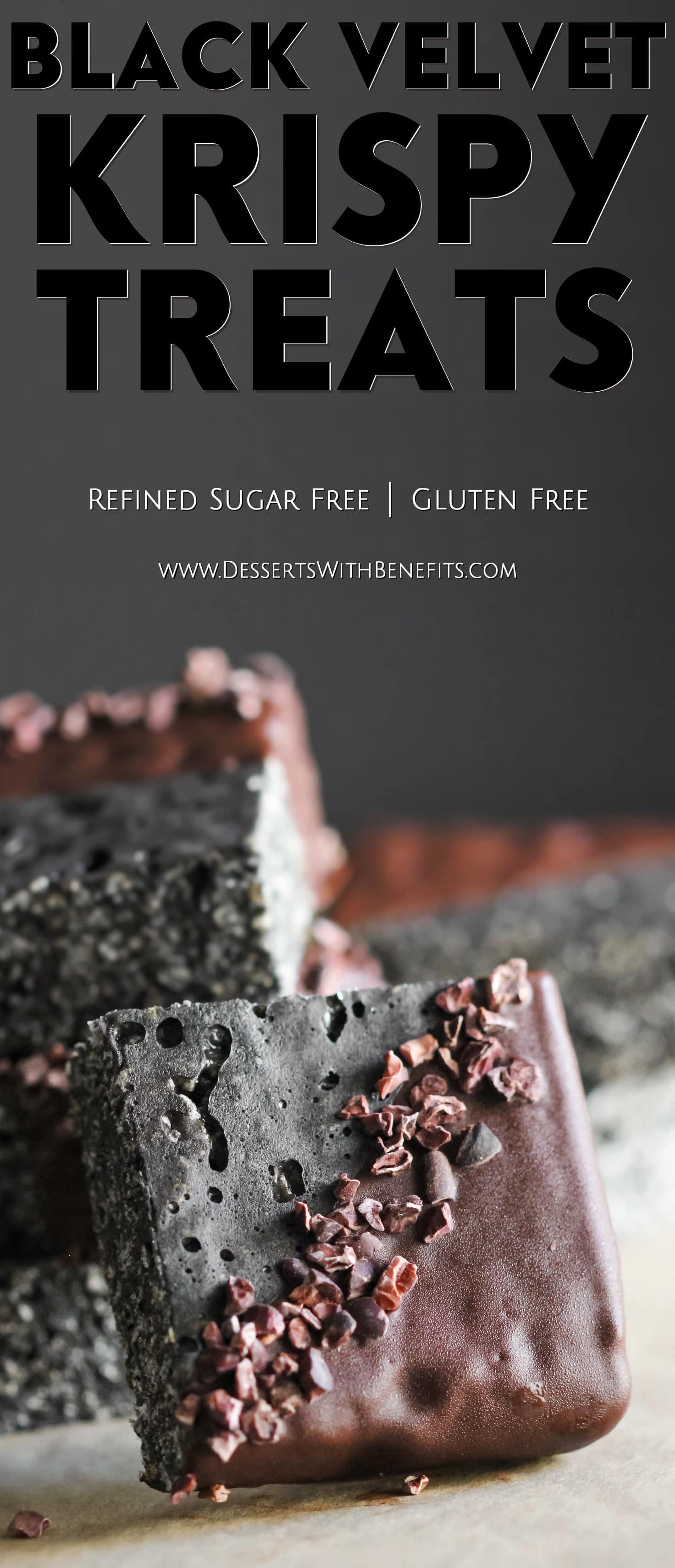 Healthy Black Velvet Krispy Treats
Prep Time: 15 minutes
Cook Time: 15 minutes
Total Time: 30 minutes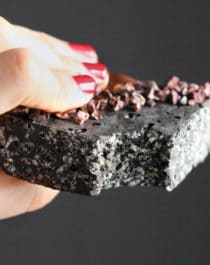 Fat per serving: 11
Calories per serving: 280
Ingredients:
Krispy Treats:
Chocolate Coating:
4oz Dark Chocolate, melted
1 tbs Coconut Oil, melted
Directions:
Line an 8×8″ brownie pan with parchment paper both ways.
In a saucepan, add the coconut oil and place over medium-low heat.  When the coconut oil is completely melted, add the marshmallows.  Gently stir with a silicone spatula until the marshmallows have almost all fully melted.  Remove from the heat.
Stir in the protein powder.
Working quickly now, dump in the rice cereal and gently fold together.  When the mixture is fully incorporated, scoop it into the prepared pan.  Flatten the mixture by laying a sheet of parchment on top of the mixture and pressing down firmly.
Cover with plastic wrap and refrigerate overnight.
The next day, slice the treats and place on a cookie sheet lined with parchment paper.
In a bowl, stir together the melted chocolate and coconut oil.  Dip the krispy treats into the chocolate, and place back onto the cookie sheet.  Refrigerate until firm (~1 hour).  Serve and enjoy!
I gave a portion of the batch of krispy treats to my parents and some to my boyfriend.  I was left with one krispy treat.  ONE.  It's always a sad moment when there's only one krispy treat left  🙁
So I made sure to savor each bite, chewing slowly and calmly.  Just kidding, I devoured it like a wild animal who hadn't eaten for 3 days  😉
You'll be sure to fall in love with these Black Velvet Krispy Treats.  You get the hints of soul-warming vanilla and the powerful, rich chocolate flavor in every bite!
I think we're all in need of something dipped in chocolate today, yes?
Yes.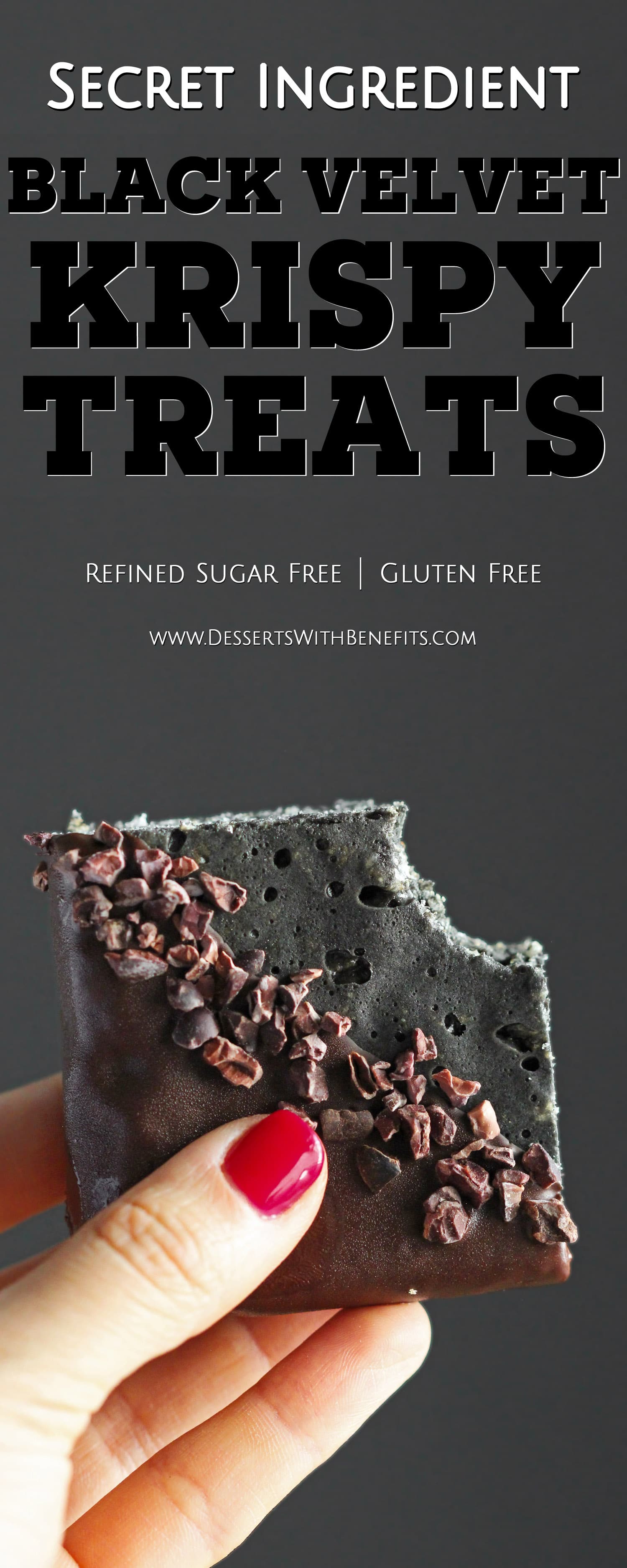 Enjoy!
.
With love and good eats,
.
– Jess
.