Healthier Blood Orange Ice Cream
Blood oranges are in season!!  And what do you do when it's 70 degrees Fahrenheit outside?  YA MAKE ICE CREAM, that's what.  PS:  I love you Texas.
This Blood Orange Ice Cream is sweet, tart, citrusy, and oh so satisfying… and you only need 5 ingredients to make it!
Thanks to Truvia® for sponsoring this post, and thank YOU for supporting the brands that keep Desserts With Benefits going!  All opinions are mine and mine alone!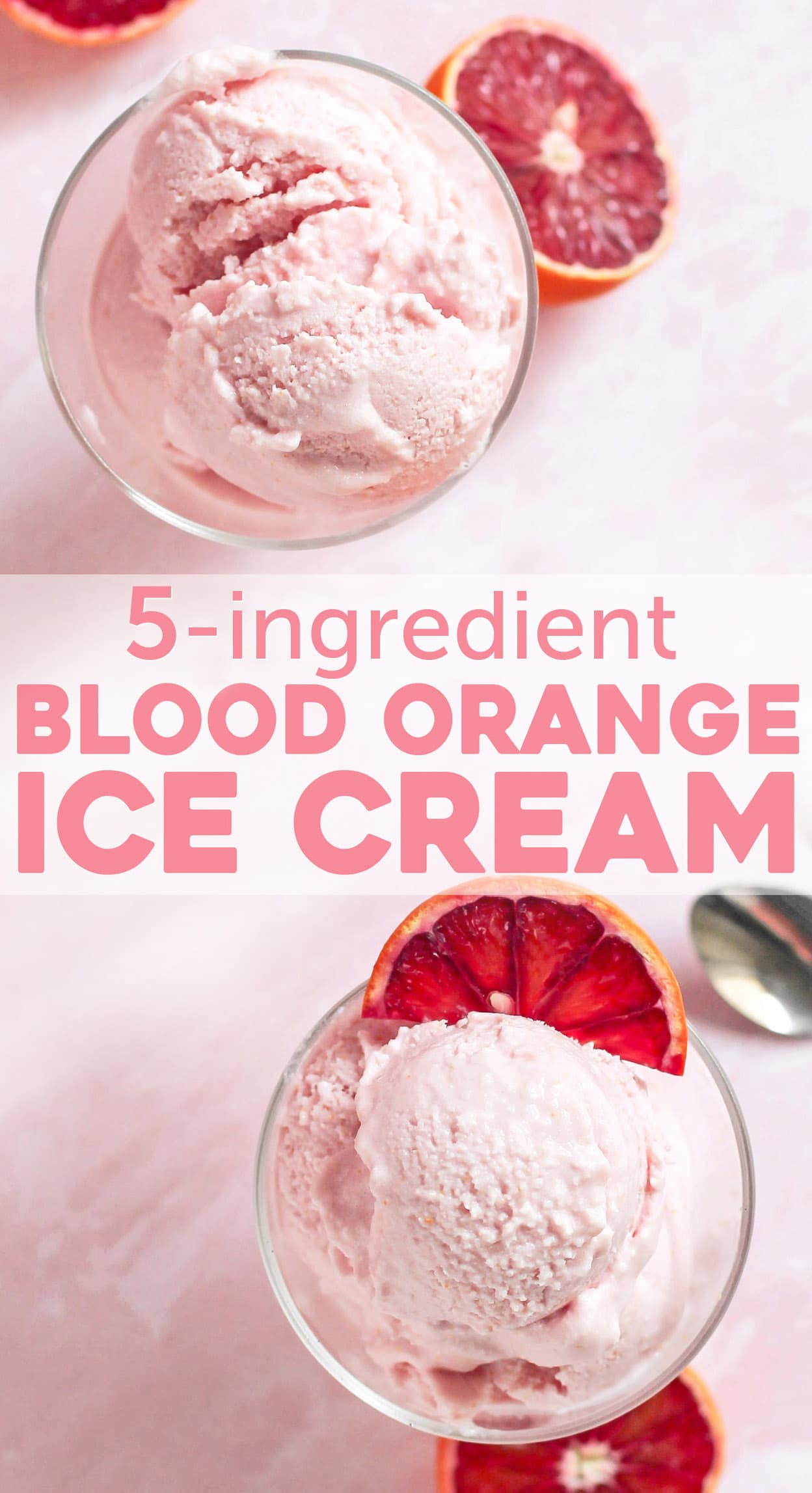 Unlike typical ice cream recipes, which call for heavy cream, white sugar, and eggs, I made a few ingredient swaps to make this Blood Orange Ice Cream something you can feel good about eating.
Instead of heavy cream, I used a combo of Greek yogurt and half and half.  This not only lowers the overall fat and calorie content, but it adds protein too!
Instead of eggs, I used xanthan gum.  And in doing so, you can skip having to cook the mixture on the stovetop!
Instead of white sugar, I used Truvia Natural Sweetener — my favorite zero-calorie, natural sweetener!  It's made from stevia leaf extract, erythritol, and natural flavors.  ¾ teaspoon of Truvia has the same sweetness as 2 teaspoons of sugar, so a little bit goes a long way.  Did I mention it's great in coffee too?
And finally, of course, for the pretty pink color and delicious flavor, I used freshly squeezed blood orange juice and blood orange zest.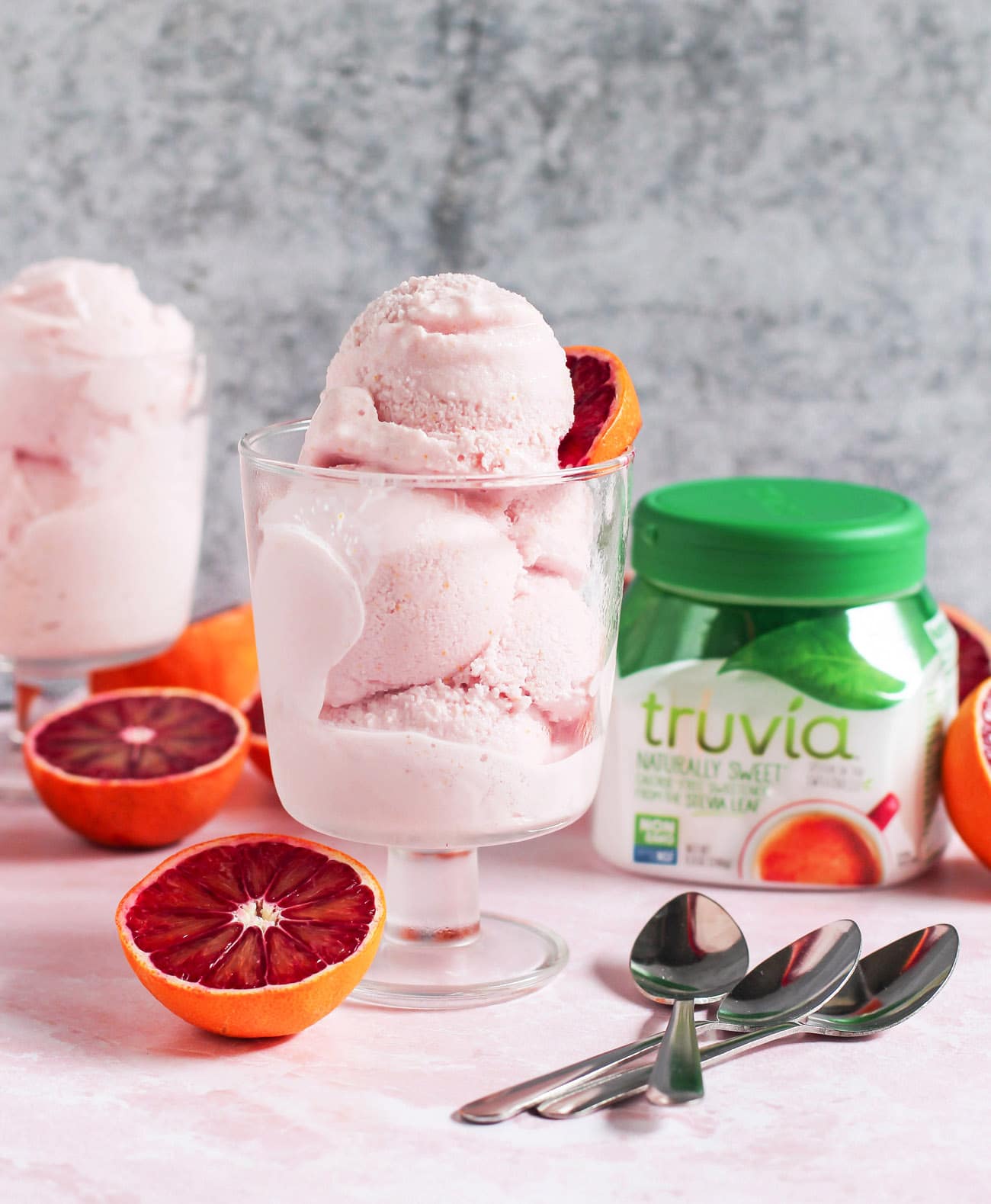 Compared to store-bought ice cream, this 5-ingredient Blood Orange Ice Cream is lower in calories, fat, and sugar, and higher in protein!
Every spoonful is super creamy and flavorful.  It seriously doesn't taste like a better-for-you treat.
This baby pink ice cream would be great served at a pink-themed party, during Valentine's Day, or any day, for that matter.  Because it's that good.  And there is always a time for ice cream.
Wanna know what I did?  I ate this ice cream first thing in the morning.  It's totally healthy enough to be breakfast!
Why?  Because I said so.
I mean, it's got yogurt and oranges, how could this NOT be a suitable breakfast item??  Life is awesome when you wake up to ice cream in your comfy pajamas  😉
This Blood Orange Ice Cream has the perfect amount of bright and citrusy, sweet blood orange flavor.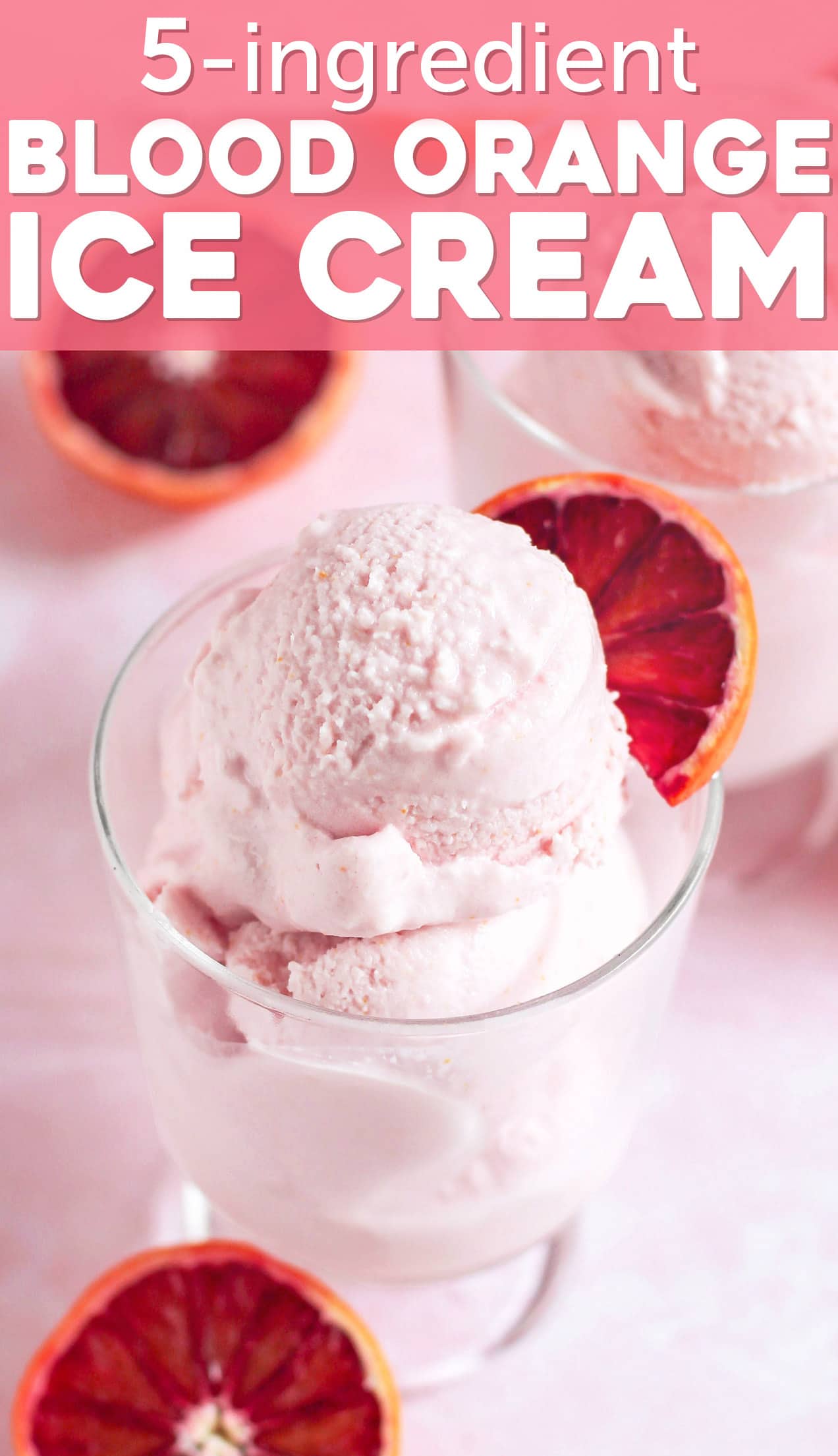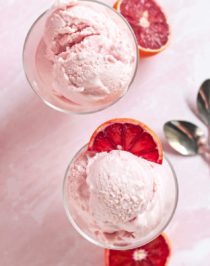 Print Recipe
Pin Recipe
Healthy Blood Orange Ice Cream
This 5-ingredient Blood Orange Ice Cream is sweet, tart, citrusy, and oh so satisfying. No need for the heavy cream, white sugar, artificial flavors, and artificial food dyes! This is the perfect ice cream to indulge in! Compared to store-bought ice cream, this is lower in calories, fat, and sugar, and higher in protein!
Ingredients
32

oz

Plain, Nonfat Greek Yogurt

16

oz

Half and Half

⅔

cup

Truvia Spoonable

1

cup

Blood Orange Juice

(freshly squeezed**)

1

tbs

Blood Orange Zest

½

tbs

Xanthan Gum
Instructions
In a blender, add the yogurt, half and half, and Truvia. Blend until smooth.

Add in the blood orange juice and zest and blend again.

Lastly, add in the xanthan gum and blend until completely smooth.

Place the frozen ice cream maker attachment onto the stand mixer and turn on the "stir" speed. Pour the ice cream "batter" into the ice cream bowl and churn (I let it run for about 25 minutes).

Transfer the mixture into a freezer-proof container (I used two 32oz soup containers), cover, and freeze until it's the texture you prefer. Scoop into bowls and serve!
Recipe Notes
**This was 7 blood oranges for me. Mine were fairly small, but in my experience, no matter what the size, blood oranges just aren't very juicy, especially compared to regular oranges.
This ice cream freezes hard... which is normal when you don't use a bunch of heavy cream and sugar. All you gotta do is let it thaw on the counter for ~30 minutes before scooping or in the fridge for ~6 hours.  You can also add 2 tbs of vodka to the recipe (because alcohol doesn't freeze).
Nutrition Facts
Healthy Blood Orange Ice Cream
Amount Per Serving (1 cup)
Calories 160
Calories from Fat 54
% Daily Value*
Fat 6g9%
Cholesterol 25mg8%
Sodium 80mg3%
Potassium 295mg8%
Carbohydrates 10g3%
Protein 13g26%
Vitamin A 250IU5%
Vitamin C 19mg23%
Calcium 190mg19%
Iron 0.2mg1%
* Percent Daily Values are based on a 2000 calorie diet.
Can you believe 1 cup of this Blood Orange Ice Cream has roughly ⅓ fewer calories and 5x the protein of typical ice cream recipes?  I recently found a recipe with 520 calories plus 30g of fat and 48g of sugar per serving.
I'll let those nutrition facts sink in a little.  Oh gosh, NO thank you.  I'll take a cup (or two) of my healthier Blood Orange Ice Cream instead.
That's insane!  Who needs the unhealthy version when this one is so easy to make?  I'm ALL for indulgence, but not foolish indulgence.  Why consume excess white sugar when there are healthier replacements to stand in and saved the day?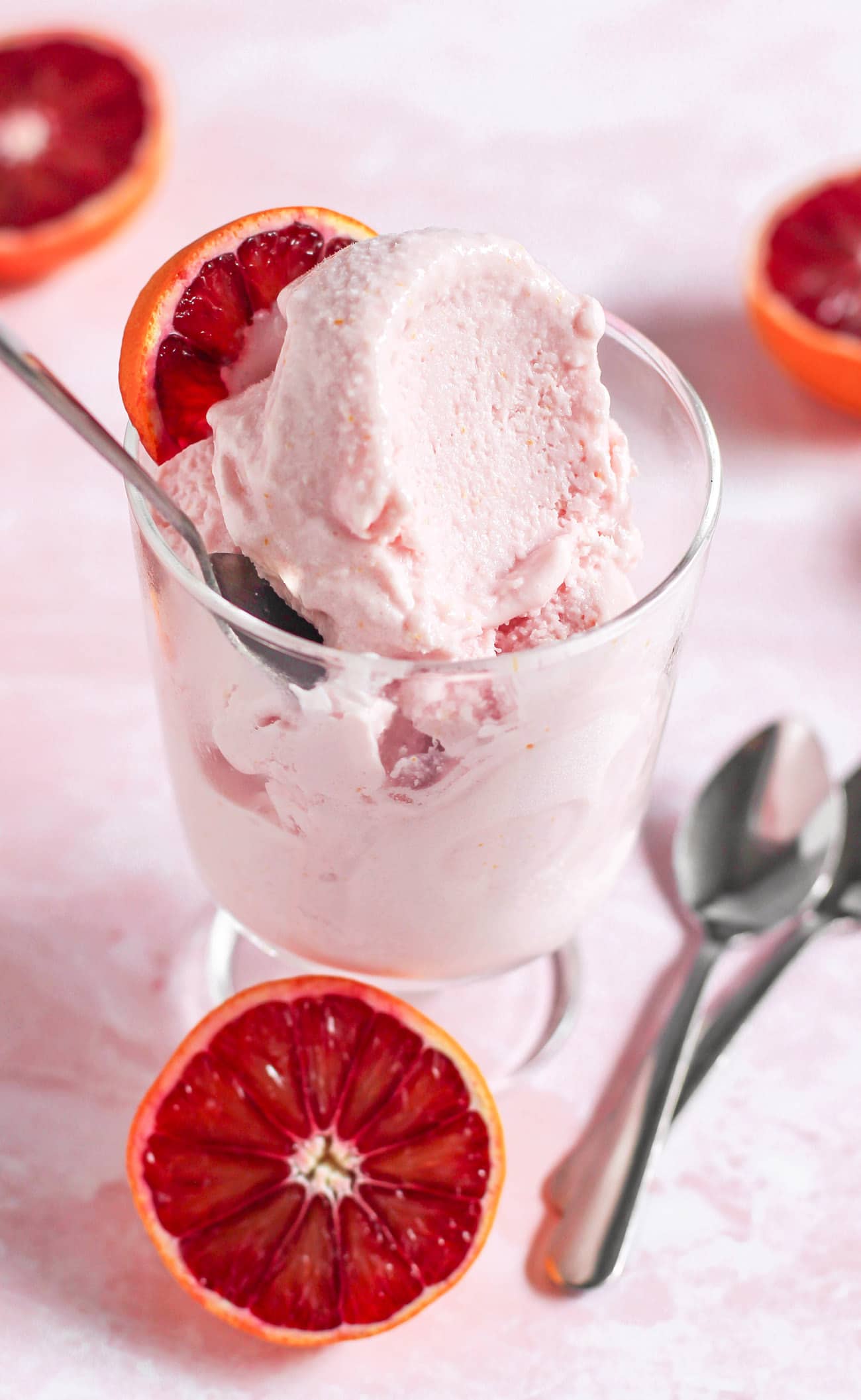 I hope you're enjoying your 2019 so far!  It's been busy busy busy over here, but I can't complain when I've got 70-degree weather and lots of ice cream  😉
Hope you enjoy the recipe!
.
– Jess
.