Healthy Homemade Butterscotch Pumpkin Spice Syrup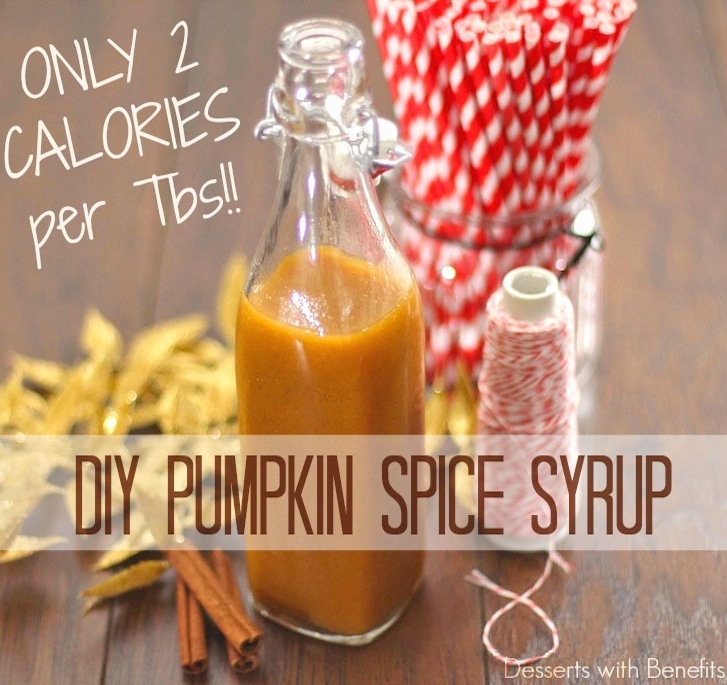 I've said it before but I'll say it again — I'm not a huge fan of pumpkin…
Did I just hear you gasp??
Well, it's true.  I can tolerate it but it's just not my favorite flavor, I would take vanilla and chocolate any day over pumpkin!  Sadly, I'm pretty much alone on this one because everyone else in the world seems to go head over heels for that giant orange squash!
Despite my aversion to pumpkin, I fell in love with this Healthy Homemade Pumpkin Spice Syrup!  I figured out a way for me to tolerate pumpkin:  add some spices and other complimenting flavors!  In this recipe I added both pumpkin pie spice and cinnamon, but I also added butterscotch flavor.  Butterscotch is so warming, comforting, creamy and rich, it not only rounds out the overall flavor, it masks the "veggieness" of the pumpkin.
Oh, and it's only 2 calories a tablespoon.  HELLLL YEAH!!  I'll take the whole bottle, thank you!
Healthy Homemade Butterscotch Pumpkin Spice Syrup (sugar free, low carb, gluten free, vegan)
Ingredients
Instructions
In a large bowl, whisk together the water, pumpkin, stevia and butterscotch extract.
In a small bowl, whisk together the pumpkin pie spice, cinnamon and xanthan gum. Slowly add this to the wet ingredients while whisking vigorously.
When all is incorporated, whisk normally for a few minutes, until mixture is really smooth and even. Give it a taste and add more stevia/spices to taste. Pour into serving bottles and refrigerate to store.
Notes
This recipe is: fat free, sugar free, low carb, gluten free, vegan!
https://dessertswithbenefits.com/healthy-butterscotch-pumpkin-spice-syrup/
www.DessertsWithBenefits.com
I decided to compare the nutrition labels of my Pumpkin Spice Syrup and the popular (super sugary and unhealthy) Torani version.
Torani's nutrition label is on the left,  DWB's nutrition label is on the right:
Yes, 80 calories versus 5 calories!!  And if you're like me, you use wayyy more than 2 tbs for whatever you're using syrup for, so this is a huge calorie saver.  Not only are you saving calories, you are saving yourself from a bunch of high-glycemic, non-nutritious sugar.
Smooth, syrupy goodness.
This syrup is so good.  I haven't tried it in coffee because I don't like spices with coffee, but you can try it out if you like!  I used most of it to top homemade pancakes and healthy protein waffles, it's so much better than maple syrup.