Healthy Caramel Macchiato Overnight Dessert Oats
Healthy Caramel Macchiato Overnight Dessert Oats — get your coffee and breakfast in one fell swoop with this sweet and satisfying, rich and filling, deliciously caffeinated breakfast!  ☕️
Thanks to Silk for sponsoring this post, and thank YOU for supporting the brands that keep Desserts With Benefits going!  All opinions are mine and mine alone.

Ask anyone I know whether I like coffee, and they'll probably laugh out loud and tell you I don't "like" coffee, I "LOVE" it.
But, to tell you the truth, I was never a coffee drinker until I went to college in 2010.
After just one month into my very first semester freshman year, I was incredibly stressed and starting to have some serious trouble sleeping.  I could fall asleep just fine, but my cortisol levels were whack so I'd wake up at 3am every morning feeling wide awake and ready to start the day.  I was never able to fall back asleep, and my schedule made it almost impossible to take naps.
I was exhausted from the heavy workload, tired from the lack of sleep, and completely unmotivated.  I didn't even want to go to college in the first place, I was across the country from my family, and living in a state I had never even step foot in prior, with THE worst roommate…  probably ever…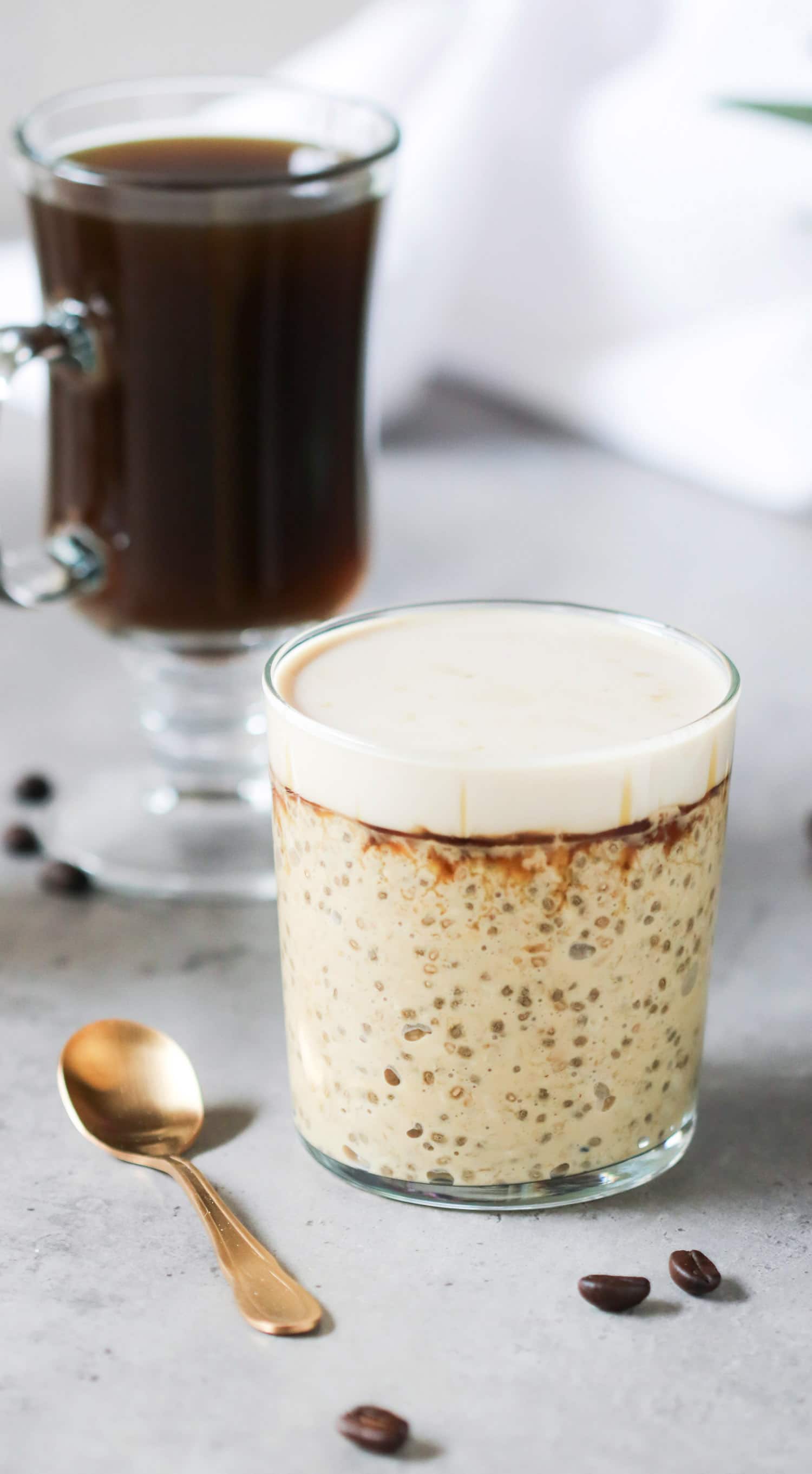 Since my insomnia was kicking in full force, I was never late to my 8am chemistry lecture, about a mile walk from my dorm.  On my walk over to lecture, I stopped by the mini mart on campus.  It was basically like a mini gas station, just without the gas.  You got the baked goods, you got the unhealthy snacks and candy bars, and the hot coffee in those giant coffee urns.  The scent of freshly brewed coffee instantly hits you the second you walk in the door.  I ain't complaining!
Coffee had always smelled great, but whenever I had taken a sip of other people's drinks, it was incredibly harsh and bitter.  But, I really needed to start focusing in my chemistry lecture, and I was tired of being tired all the time, so I went to the coffee station and poured myself a cup.  I knew I'd hate it if I drank it black, so I tried to find a creamer.  All that was available were those creamers in big jugs with pumps — you know, the ones that are basically pure sugar, hydrogenated oils (aka, dangerous trans fats), and artificial flavors?  As a nutrition major with a vendetta against hydrogenated oils, there was no way I was going to put that in my body.  I walked through the aisles and ended up getting a vanilla protein shake from the fridge (it was either that or a gallon of milk, which I was most certainly NOT going to carry into lecture and on my mile walk home lol).
As a coffee newbie, I had no idea what to do.  How much "creamer" do I add?  Will it be bitter still?  How can I make it sweet and creamy?
I sat down, poured some of the protein shake into my coffee, and took a sip.
EW.  Yep, definitely still bitter.
*pours in more of the protein shake*
*sips*
*cringes at the bitterness*
Repeat that probably like, three times, until the coffee is so diluted it's basically 1 part coffee:2 parts protein shake.  But dang guys, it tasted pretty good!  And there you have it folks — the beginning of my intense, never-failing love affair with coffee.
Thankfully, nowadays there are better options for coffee creamers if protein shakes aren't your thang.  While I currently drink my coffee like this:  2 cups coffee, 1½ cups unsweetened vanilla almond milk, ~6 packets of stevia — I do try out new, natural coffee creamers from time to time.  I recently tried Silk's Sweet & Creamy Almond Creamer and became an instant fan.  Made with responsibly sourced California almonds, cane sugar, and all-natural ingredients, you can swirl this into your coffee knowing you've made a good choice  🙂
GUYS IT'S JUST SO CREAMY AND DELICIOUSSSSS.  I honestly like it so much that I wanted to use it in something other than coffee.  And that's where these Healthy Caramel Macchiato Overnight Dessert Oats come in!
These Caramel Macchiato Overnight Dessert Oats consist of a sweet, coffee-infused oatmeal base and the most perfect topping in the world:  coffee creamer + caramel!
*drools*
These overnight oats take just a few minutes to prepare and BAM!  Your breakfast is all ready for you in the morning.  All you do is stir, cover, refrigerate overnight, and nom nom nom in the morning!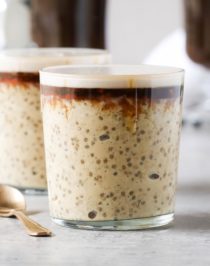 Print Recipe
Pin Recipe
Healthy Caramel Macchiato Overnight Dessert Oats
Get your coffee and breakfast in one fell swoop with these sweet and satisfying Caramel Macchiato Overnight Dessert Oats. You'd never know it's healthy!
Ingredients
OATMEAL:
"FOAM" LAYER:
Silk Sweet & Creamy Almond Creamer
CARAMEL OPTIONS:
Instructions
In a large bowl, stir together the oats, chia seeds, sweetener and salt.

Stir in the almond milk, coffee, and vanilla extract.  Cover and refrigerate overnight.

In the morning, drizzle on the creamer and caramel, to taste.  Enjoy!
Recipe Notes
Yogurt (dairy yogurt, soy yogurt, coconut yogurt, etc.) or all natural whipped cream/coconut cream can also be used in the "foam" layer! 
Recipe inspired by Athletic Avocado.
Nutrition Facts
Healthy Caramel Macchiato Overnight Dessert Oats
Amount Per Serving
Calories 240
Calories from Fat 54
% Daily Value*
Fat 6g9%
Sodium 200mg9%
Carbohydrates 35g12%
Protein 10g20%
Vitamin A 200IU4%
Calcium 250mg25%
Iron 2.7mg15%
* Percent Daily Values are based on a 2000 calorie diet.
Wow, that's a pretty amazing nutrition label, yes?  Yes, I'LL TAKE IT!  With 9g of filling fiber, 10g of satiating protein, and healthy fats and omega-3 fatty acids from the chia seeds, you'll have long, sustained energy all morning.  I think I know what my breakfast is going to be for the next week.  Or two weeks…  😉
I've also tried this recipe using ground flaxseeds instead of chia seeds.  It tastes just as good, you just gotta add an extra tablespoon of flax to get the same thickness as the chia seeds.
If you're on the lookout for a new breakfast recipe that tastes BOMB and will keep you full all morning, you've sure found it!  It's hard to espresso how much I truly love these Caramel Macchiato Overnight Dessert Oats.

Enjoy!
.
With love and good eats,
.
– Jess
.