Healthy Chocolate Cashew Popcorn
Healthy Chocolate Cashew Popcorn — it's sweet, it's salty, it's crunchy, it's delicious and it sure is addictive.  One bite (or bowl) and you'd never suspect that this is a wholesome snack full of whole grains, healthy fats, fiber and protein!
You say it's gluten free, sugar free, dairy free, AND vegan too, huh?  Oh yes, but you'd never know it  😉
I just Googled "popular Super Bowl snacks" and was shocked (buuuuut not really) at how unhealthy this huge event can be…
Chips — from fried potato chips to corn-based chips (Doritos) and tortilla chips
Queso — that artificially orange melted plastic lava-like "stuff"
Buffalo Dip — ranch dressing, cream cheese, and more cheese…
Buffalo Wings — battered and fried messy little things, they're like spicy bars of soap that slip and fall all over the place haha
Pizza — no description necessary for this guy right here.
Cookies — often storebought, and filled with hydrogenated shortening/margarine, butter, oil, white sugar, brown sugar, etc.
Beer — this liquid gold just makes you crave more of…  ALL OF THE ABOVE.
The only healthy, yet classic, choice is…
Guacamole — creamy and chunky, delicious and nutritious!
Thankfully, now we can add this Healthy Chocolate Cashew Popcorn to that super short "nice" list.  Switch it up a little bit and swap this in place of the cookies!
Just keepin' things healthy and exciting.
All you need to make this recipe?  4 simple ingredients + 1 BIG bowl.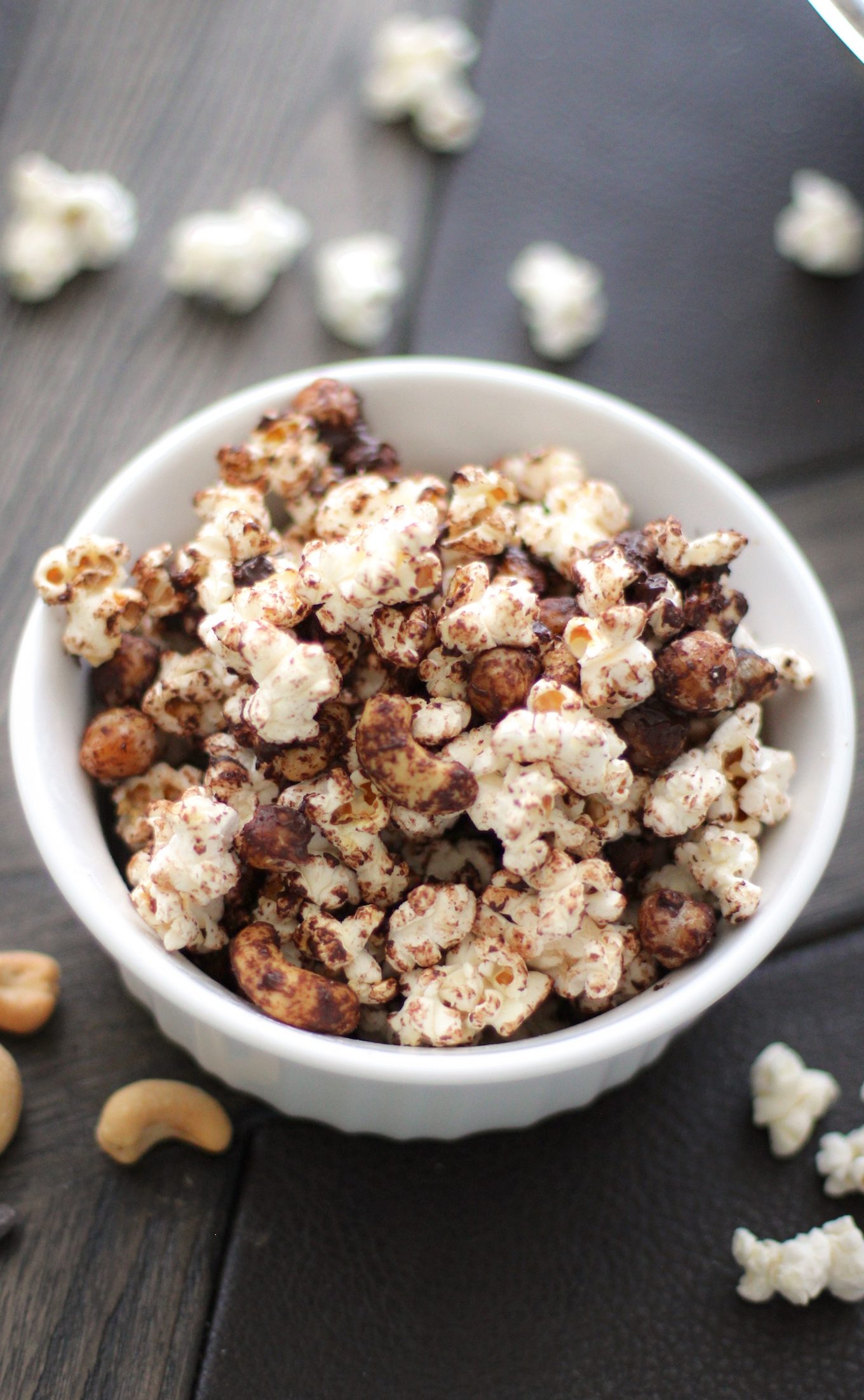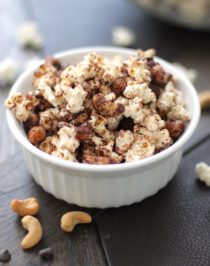 Print Recipe
Pin Recipe
Healthy Chocolate Cashew Popcorn
This Chocolate Cashew Popcorn is sweet, salty, crunchy, and delicious. One bite and you'd never suspect that this is a wholesome snack full of whole grains, healthy fats, fiber, and protein!
Ingredients
⅓

cup

Roasted Salted Cashews

1½

cups

Roasted Salted Chickpeas

(I followed a basic recipe I found online)

¼

tsp

Salt

8

cups

Sea Salt Popcorn

(I used BoomChickaPop)
Instructions
In your largest microwave-safe bowl, melt the chocolate chips.

Stir in the cashew halves, crunchy roasted chickpeas, and salt.

Fold in the popcorn until everything is evenly coated.  Enjoy!
I added roasted chickpeas to the recipe to provide some protein and fiber to the mix.  If you don't feel like roasting chickpeas, you can throw in peanuts, pretzels, more chocolate chips, or basically anything you want instead  🙂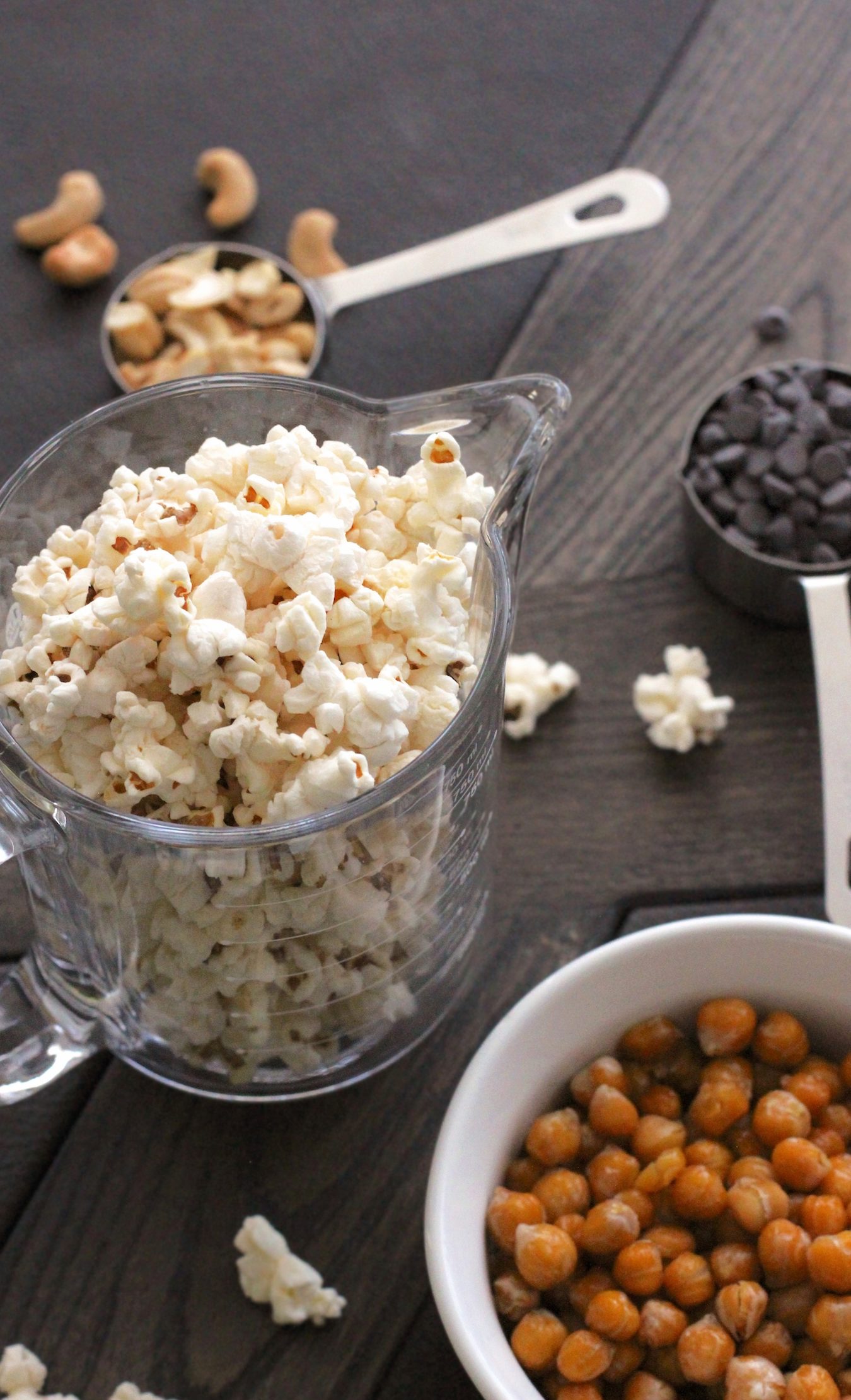 This east 5-ingredient recipe works as a deliciously addicting snack for everyone to enjoy on Game Day.  Or family game night.  Or during party planning.  The list goes on.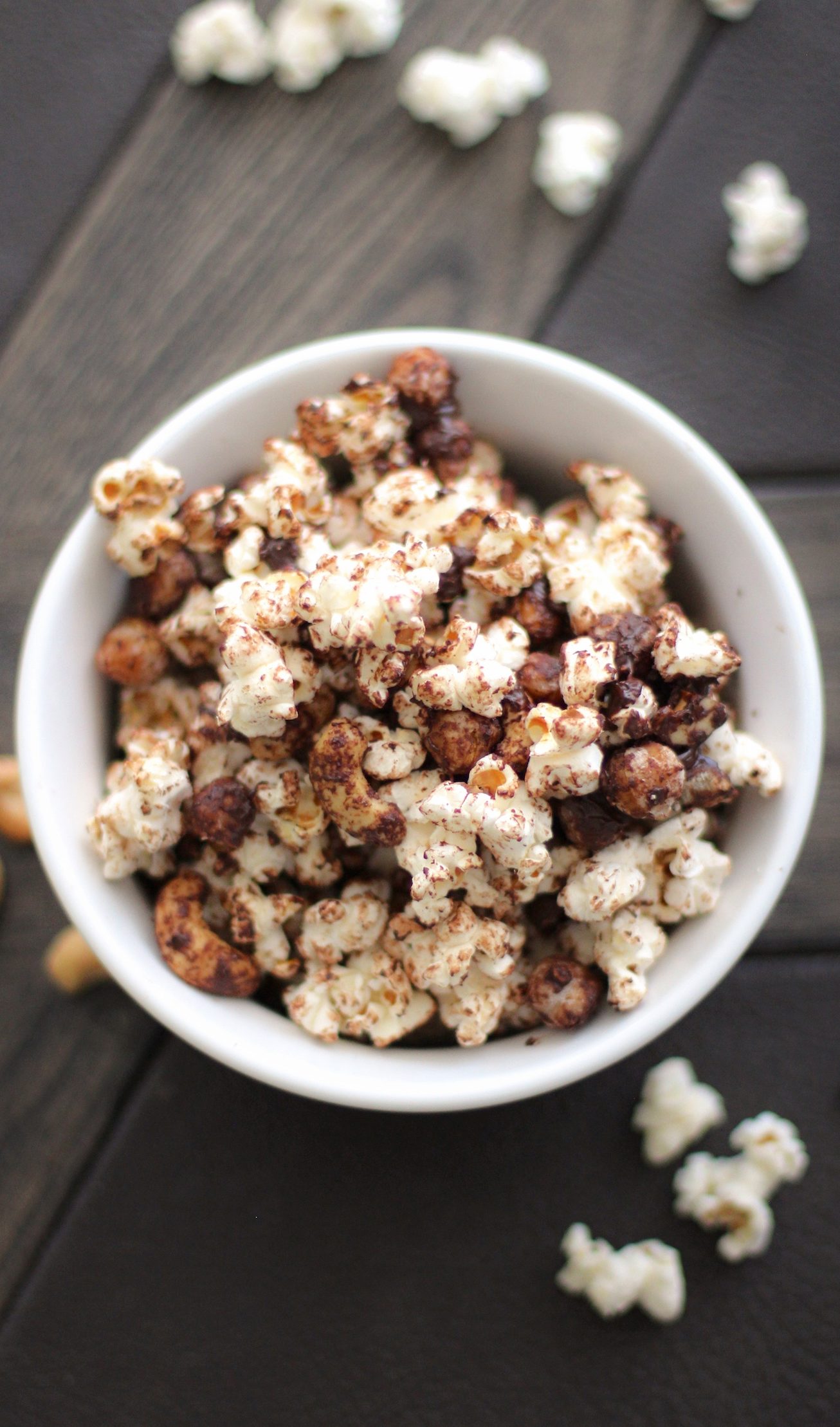 Enjoy!
.
With love and good eats,
.
– Jess
.