Healthy Chocolatey Peanut-Covered Honeycomb Treats
I'm sure you've eaten honey at some point in your life, but have you ever eaten honeycomb?!?  To be totally honest, prior to this week, I had no idea honeycomb was even edible, let alone freaking delicious.  Ya learn somethin' new every day.  I celebrated that realization with this recipe — Healthy Chocolatey Peanut-Covered Honeycomb Treats!
This post was sponsored by Collective Bias, Inc. and Don Victor.  All opinions are mine and mine alone!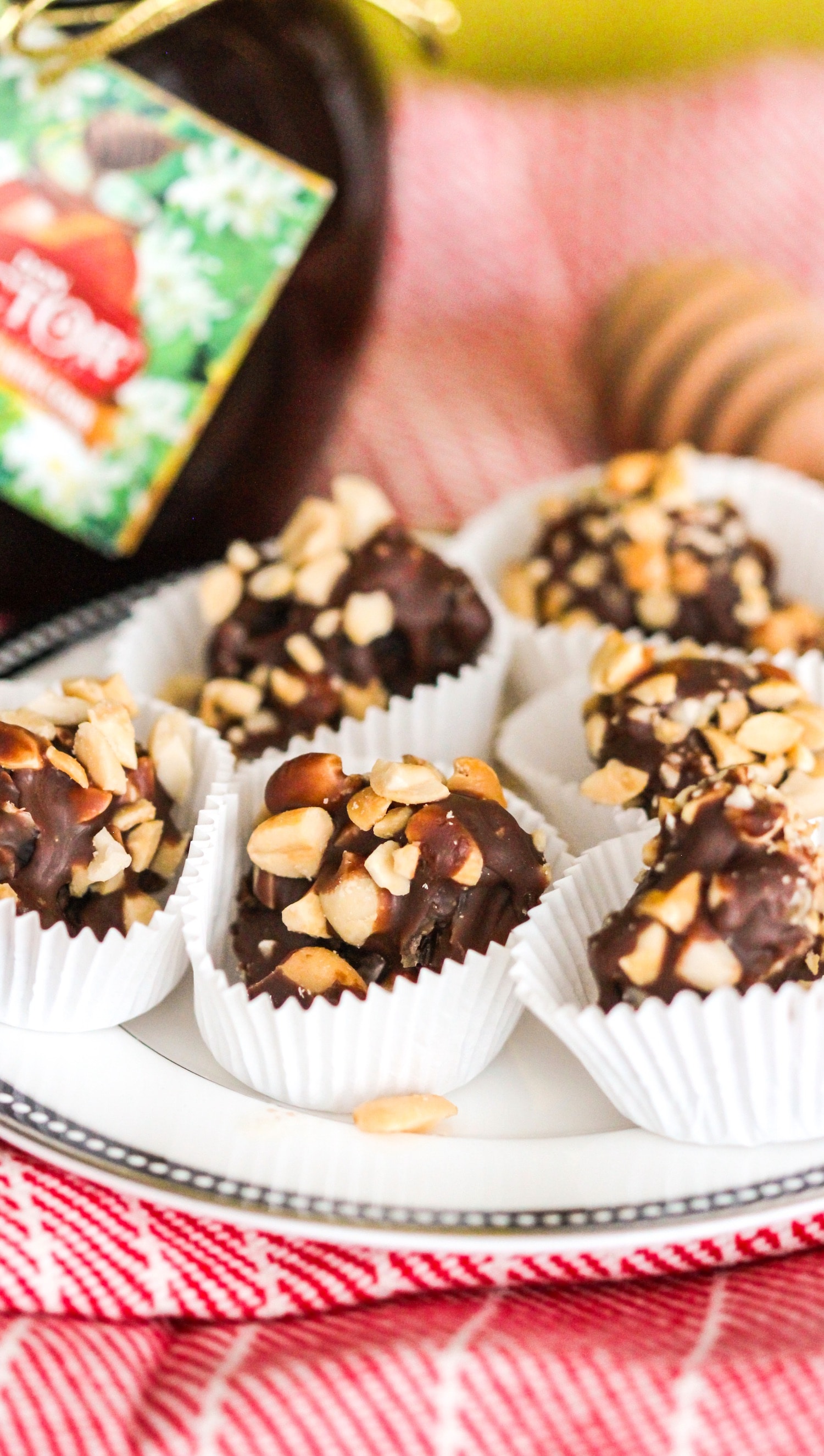 They're seriously addicting.
The sweet honey, the crunchy peanuts, the rich chocolate — it's heaven…  it's HONEY HEAVEN.
I absolutely love yogurt, so finding new treats for toppings and stir-ins is secretly a TON of fun for me  😉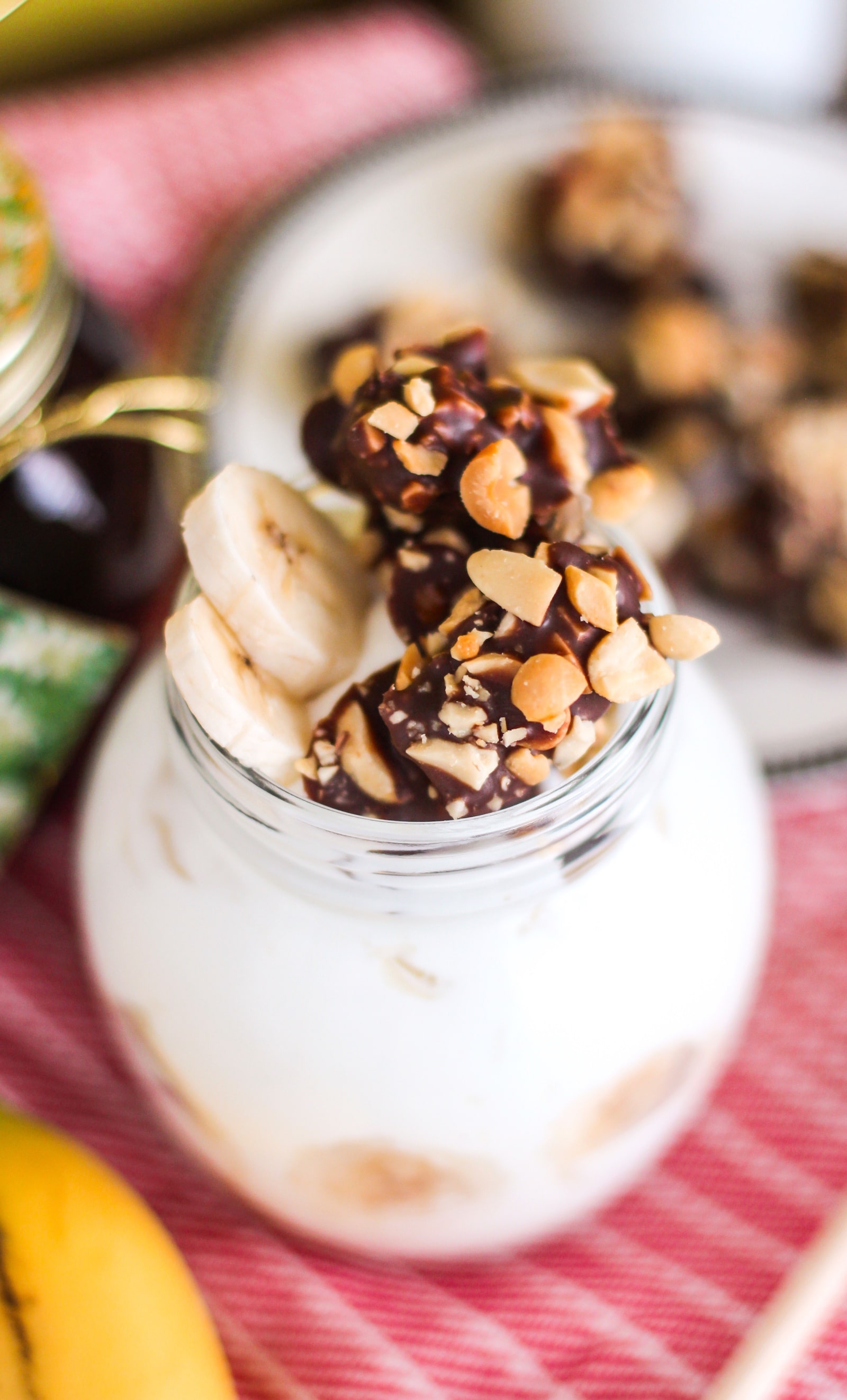 I decided to top my yogurt with these Chocolatey Peanut-Covered Honeycomb Treats and sliced bananas.  Together, they add sweetness, chewiness, crunchiness, and deliciousness.
You can totally eat these on their own too.  They will make you weak at the knees.
To make these Chocolatey Peanut-Covered Honeycomb Treats, you need real honeycomb.  The second you open a jar of honey with the comb, you get a waft of a sweet, warming, comforting honey scent.  I like to use raw honey (not that clear stuff you find in those plastic bears).
Spread some honey onto a hot slice whole grain toast, freshly made pancakes, even French toast.  Cut off a piece of the honeycomb and add that on top as well.  I like to drizzle honey and peanut butter onto crunchy toast.
Pure. Goodness. Right. There.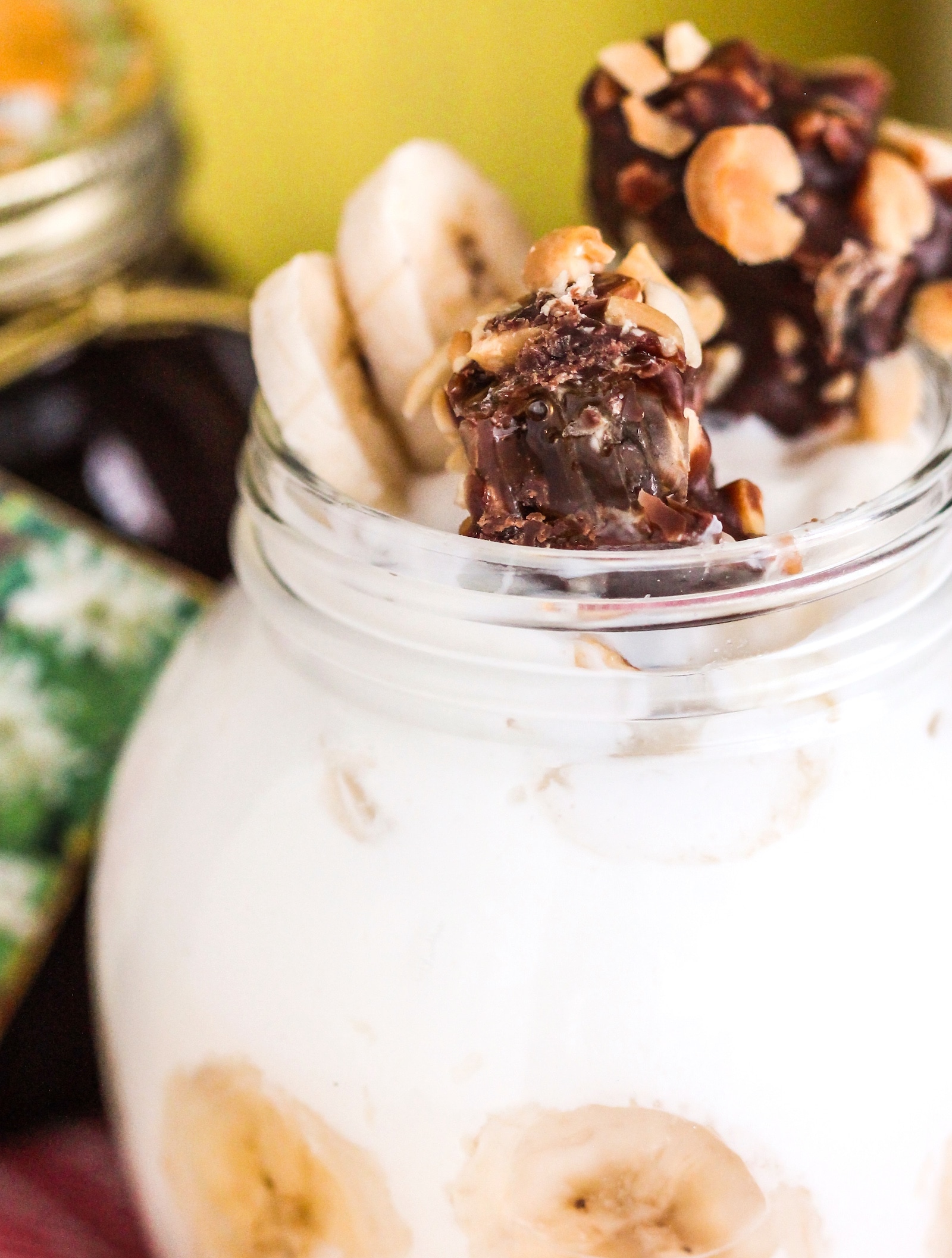 CHOMP! The center of these treats oozes with sweet, glossy honey.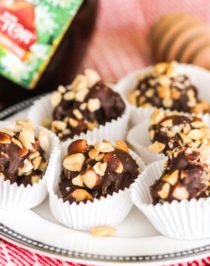 Print Recipe
Pin Recipe
Healthy Chocolatey Peanut-Covered Honeycomb Treats
Instructions
Line a cookie sheet with parchment paper, then place a wire rack over a bowl.

Using a fork, transfer the honeycomb from the jar onto the wire rack.  Let the excess honey drain out (if it's full of honey, it's going to be difficult to coat with chocolate... but you don't want it empty either, so don't press on it).

After about 20 minutes of letting the comb sit on the rack, transfer the honeycomb to a clean plate and pour the drained honey back into the jar.  Slice the comb into pieces of desired size (I sliced my comb into 11 pieces).

Melt the chocolate.

Transfer the sliced honeycomb onto the prepared cookie sheet with parchment paper.  Spoon the melted chocolate over the honeycomb pieces then sprinkle on some of the peanuts.  Refrigerate until firm.

Flip the honeycomb pieces and coat the other side with chocolate, then sprinkle on the peanuts.  Refrigerate until firm.

Repeat step #6 until all the chocolate and peanuts are used up.  Serve and enjoy!
Recipe Notes
Make sure to store your honey at room temperature.  Honey doesn't need to be refrigerated, and when it is, it may crystallize.  If your honey ever crystallizes at room temp, no worries!  Just place the jar in a shallow dish full of hot water, then stir the honey until it melts back into a liquid.
.
Honey is an incredibly versatile ingredient.  Honey with the honeycomb is not only versatile, but it's absolutely beautiful and aromatic, and adds great presentation to any dish.
Next time you serve cheese (like cheddar or brie) and crackers, and maaaaybe some wine, serve it all alongside a jar of honey with some honeycomb.  A little drizzle and a little comb with each bite will go a long way!
I'm still in awe of my first honeycomb experience.  I kinda just want to spread the word — HONEYCOMB IS EDIBLE AND IT'S AHHHHMAZING!!
When I visit family for the holidays, I'm going to make my friends and family little baking bundles to make this recipe.  I'll include a jar of the honey, a couple bars of chocolate and a small jar of roasted peanuts.  That way, this recipe will be easy and painless for them to make 🙂
.
This was my first time ever using and eating honeycomb.  Have you eaten honeycomb before?  What'd you think about it?
.
With love and good eats,
.
– Jess
.