Healthy Coconut Cake with Coconut Frosting
Coconut Cakes are NOTORIOUS for being INSANELY bad for you.  I mean, I love Ina Garten and her show, Barefoot Contessa, but just look the main components of her Coconut Cake recipe:
¾lb Butter (that's three sticks…  oh, plus more for greasing the cake pans)
2 cups White Sugar (that's 32 tablespoons aka 1,536 empty calories)
4oz Sweetened Shredded Coconut (yes, more sugar…)
3 cups All-Purpose Flour (bleached, white and refined)
And that's just for the cake.  Please, don't get me started on the frosting!  Ina's recipe is not nutritious in any sense of the word…  sure it might be tasty, but it is detrimental to the human body.  So I made my own!
This Healthy Coconut Cake recipe is actually good for you.  It is made without the refined sugar and butter!
*gasp*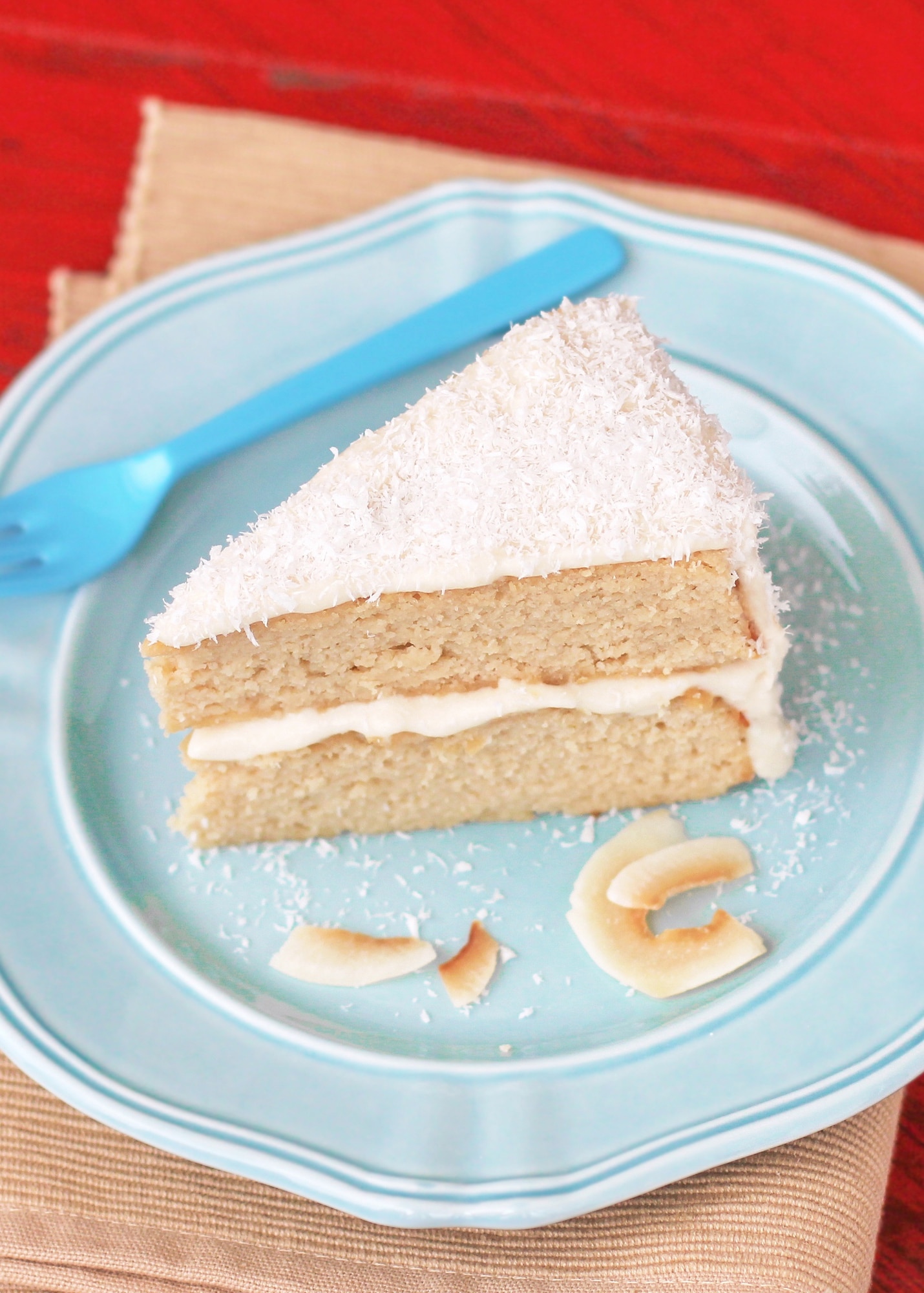 Yeah, no butter whatsoever in this Healthy Coconut Cake!  Sorry, not sorry, Ina!  But don't worry, this guilt-free cake has an amazing texture — it is soft and moist and tastes very similar to a decadent and sweet vanilla cake, but with a natural coconut flavor.  This is definitely one of the best gluten-free cakes I have made in my life (as claimed by my taste-testers).
Because I explained how typical coconut cakes are known for being crazy unhealthy in the beginning of the post, I thought I would share a little bit about Ina Garten's coconut cake recipe.  Check out her cake's nutrition label here.  I don't know if you noticed, but the nutrition label for Ina's cake's is for 1/16th of the recipe.  That's tiny.  Seriously though, I don't even know what to think of Ina's nutrition label.  At first I was shocked, I couldn't believe a tiny slice of cake could conceal 5 tablespoons of sugar and nearly 3 tablespoons of butter inside of it.  It looks so pretty on the outside, but when you take the time to analyze the ingredients, it's just plain old sad  🙁
After my initial state of shock, I started laughing.  The number of calories Ina stuffed into that cake is simply comical.  After a few seconds of laughter, I got offended.  I know for sure that I am taking this wayyy too personally, but in my opinion, I think it is rude to hand someone a slice of cake full of ingredients that are processed beyond belief.
In my college career I have learned a great deal about the destructive effects of refined ingredients (particularly sugar) within the human body.
If I were to hand someone a slice of Ina's cake, I would feel like I am, essentially, slapping them in the face saying, "Here, enjoy this cake along with some health repercussions!"  Ugh.  I know I am taking it a little far, but it is only because of my personal experience with sugar.  Throughout my entire childhood I ate sugary, nutrient-deprived food like chocolate bars, cakes, cookies and brownies.  And I have suffered the consequences of my poor food choices.  Just as an example, in high school, my LDL cholesterol level was in the "very high risk" range and because of the lifestyle changes I have implemented my total cholesterol levels today are lower than my LDL level alone just a few years ago.  So please, pardon my nagging and emotional feelings!  Gahh.  Rant over.
I hope you enjoy this Coconut Cake with Coconut Frosting — it is sweet, moist, flavorful and best of all, healthy.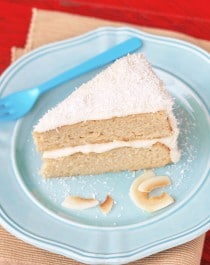 Print Recipe
Pin Recipe
Healthy Coconut Cake with Coconut Frosting
Ingredients
Coconut Flour

Double-Acting Baking Powder

Salt

Unsweetened Applesauce

Light Coconut Milk

(canned)

Plain, Nonfat Greek Yogurt

Eggs

Natural Coconut Flavor

Vanilla Extract
Recipe Notes
I originally wasn't going to share the recipe here because I worked so incredibly hard on publishing Naughty or Nice.  But, I understand not having a recipe here can be frustrating.  So, I'll meet you halfway...  how does that sound?  I'll show you all the ingredients I use in the recipe.  That way, you can determine on your own whether or not the cookbook is for you!
Nutrition Facts
Healthy Coconut Cake with Coconut Frosting
Amount Per Serving (1 serving = 1/10th of cake)
Calories 200
Calories from Fat 72
% Daily Value*
Fat 8g12%
Cholesterol 125mg42%
Sodium 270mg12%
Carbohydrates 23g8%
Protein 11g22%
Vitamin A 200IU4%
Vitamin C 5mg6%
Calcium 150mg15%
Iron 0.7mg4%
* Percent Daily Values are based on a 2000 calorie diet.
Enjoy!
.
Be happy.
Live fully.
Feel naughty, eat nice.
.
– Jess
.