Healthy Homemade Fortune Cookies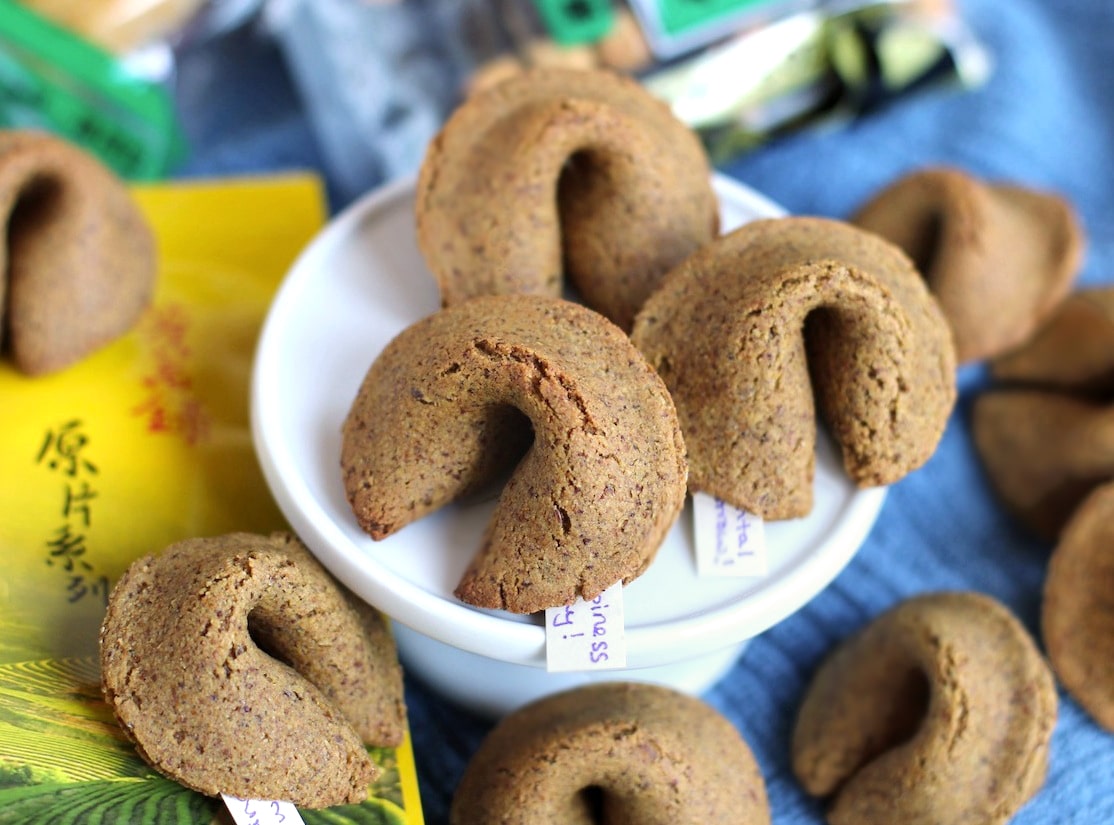 These aren't really like the fortune cookies you'd get at a Chinese restaurant.  These Homemade Fortune Cookies are actually good tasting and good for you.  And they are also completely different in both taste and texture.  Sorry, I tried to make it as close to the original as possible — crunchy, orange and both sweet and salty — but the dough just wasn't havin' it.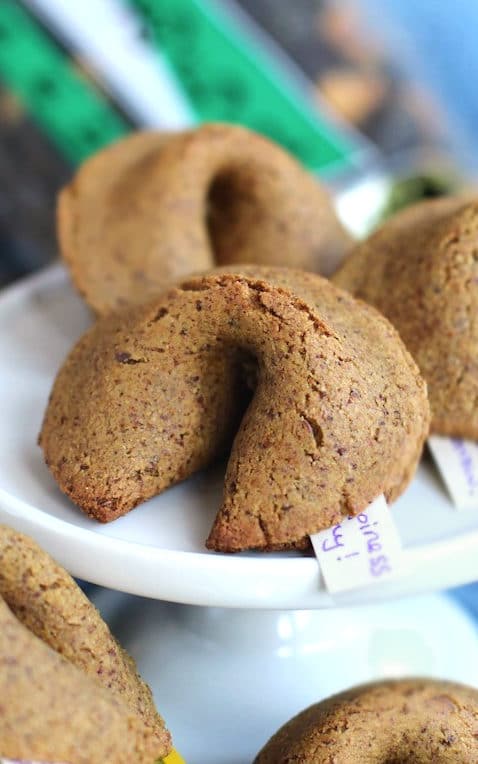 These homemade fortune cookies are freaking delicious, soft and more sweet rather than salty.  Oh, and they're addicting.  Everybody ate either three or four in a row (including me)…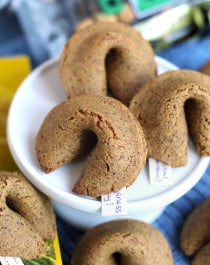 Print Recipe
Pin Recipe
Healthy Homemade Fortune Cookies
Ingredients
2½

tbs

Agave Nectar

1½

tbs

Water

1

tbs

Unsweetened Applesauce

½

tbs

Grapeseed Oil

60g

(½ cup)

Oat Flour

60g

(¼ cup + 2 tbs)

Brown Rice Flour

¼

cup

Date Sugar

(or dry sweetener of choice)

1

tbs

Ground Flaxseed

¼

tsp

Ground Turmeric

¼

tsp

Baking Soda

⅛

tsp

Salt
Instructions
Preheat the oven to 350 degrees Fahrenheit, line a cookie sheet with parchment paper.

In a stand mixer bowl with beater attachment, add the agave, water, applesauce, and oil. Mix on low.

In a small bowl, whisk together the oat flour, brown rice flour, date sugar, flaxseed, turmeric, baking soda, and salt. Dump the dry ingredients into the stand mixer and mix until fully incorporated. Scrape down the sides of the bowl if necessary.

Take the bowl off the mixture and form the dough into a ball. Roll the dough in between two silicone baking mats until ⅛" thick.

Use a 3" circle cookie cutter and cut circles out of the dough. Gently fold the circle in half, trying to enclose as much as as you can, and gently press on the outer edges of the dough to create a pocket.

Take the corners of the pocket and gently bring them together to form the classic fortune cookie shape. Do this with the rest of the circles and bake for ~14 minutes, or until cookies are firm. Let cool on the baking sheet.

Cut index cards into thin strips and write your fortunes on them. Carefully slide the fortunes into the cooled cookies. Serve and enjoy!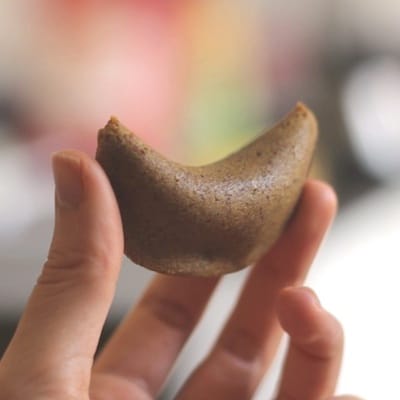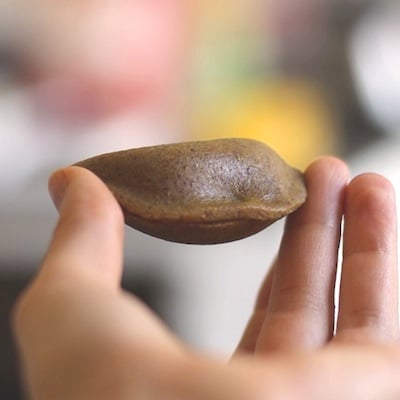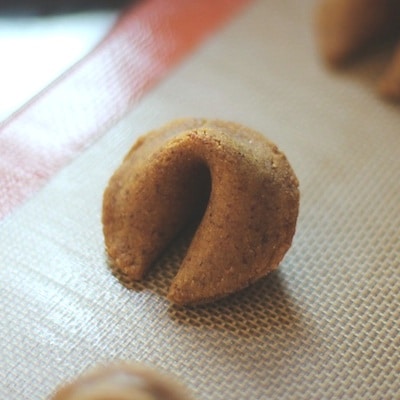 The fortune cookies you get at Chinese restaurants are not only unhealthy, but they are actually dangerous for your body.  These are the ingredients:
Yuck!  Bleached flour, sugar, artificial food coloring and artificial flavor.  And even worse, the cookies I get at my favorite Chinese restaurant contain partially hydrogenated oils (trans fats).  So please don't eat them, it's for your own safety!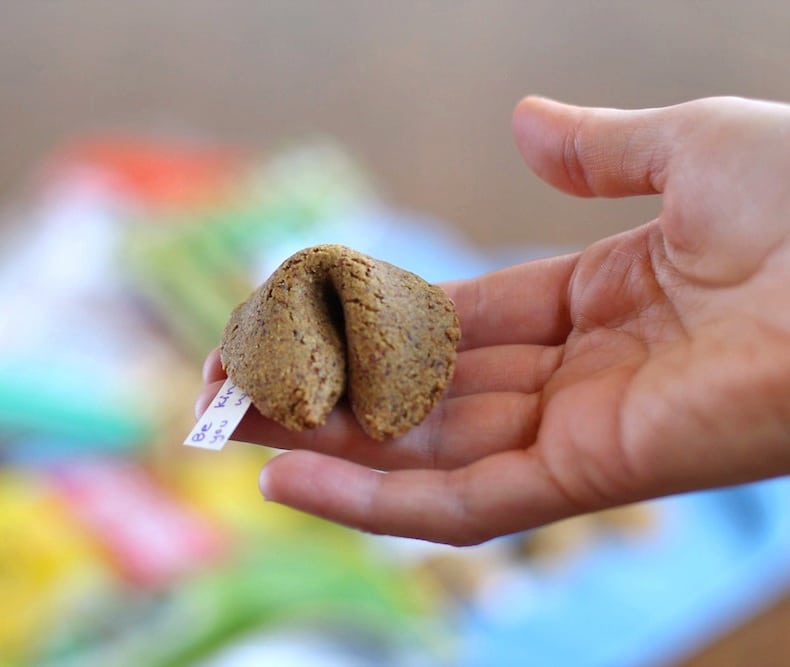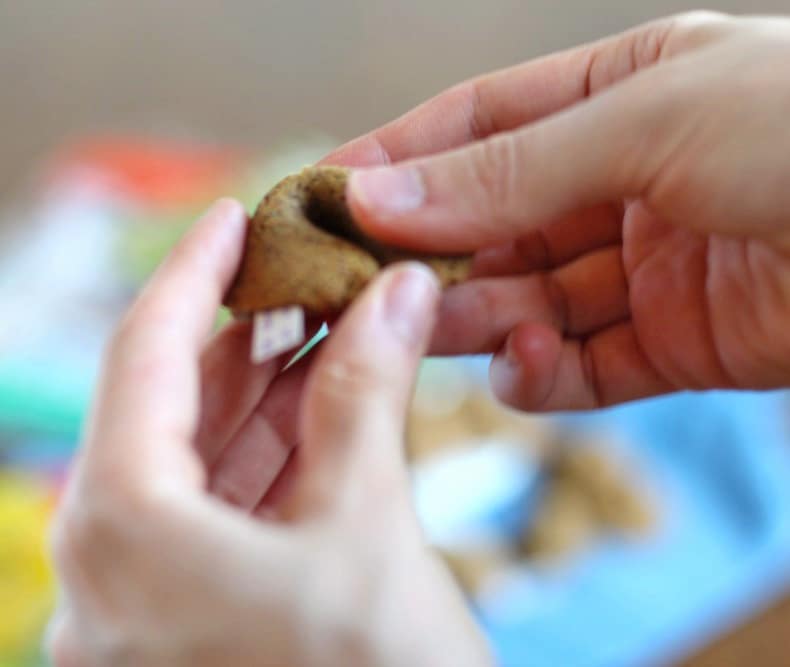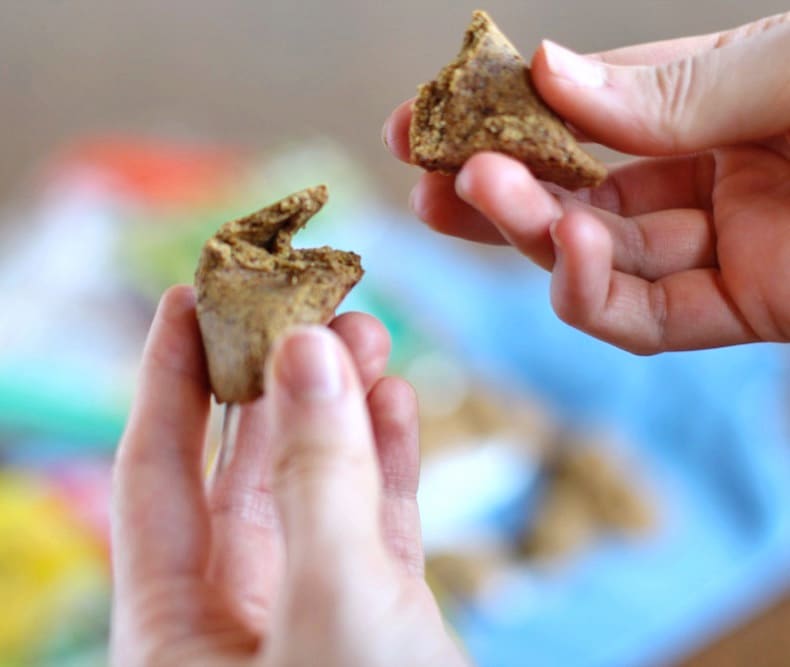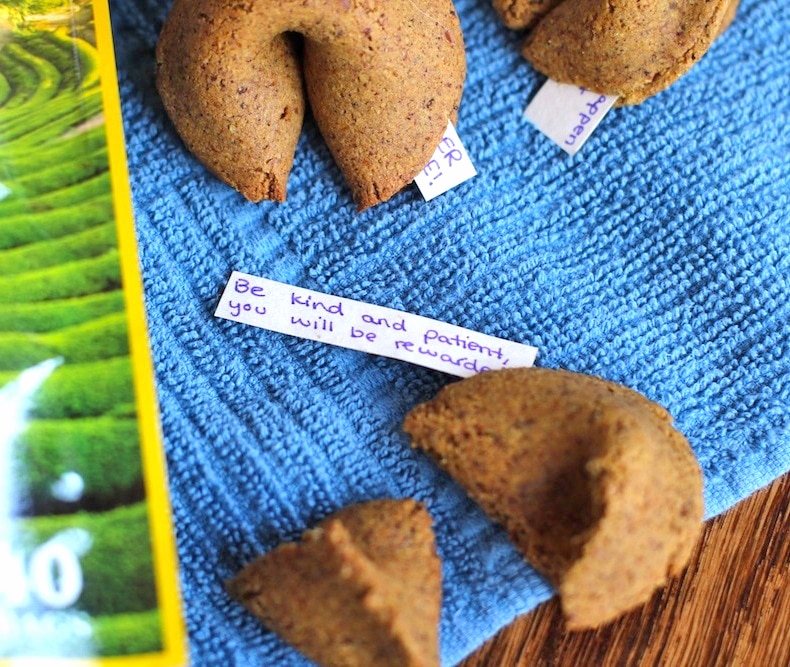 While I put nice and cute fortunes in my fortune cookies, it's so close to Halloween that I probably should have put horrors in them rather than fortunes!
These are perfect little treats for a Halloween spread  🙂
.
With love and good eats,
.
– Jess
.