Healthy Homemade Grenadine Syrup
Have you ever had Grenadine before?  It's a pomegranate syrup used in Shirley Temples and quite a few cocktail recipes.  It's bright red, very sweet and slightly tart.  That being said, it usually has a ton of artificial red food dye, high-fructose corn syrup and preservatives.  Too bad there isn't a healthy version because it's darn delicious…  JUST KIDDING!  Because I made that healthy version  🙂
This Healthy Homemade Grenadine Syrup is sweet, flavorful and syrupy, yet it's made without the white sugar, corn syrup and artificial ingredients!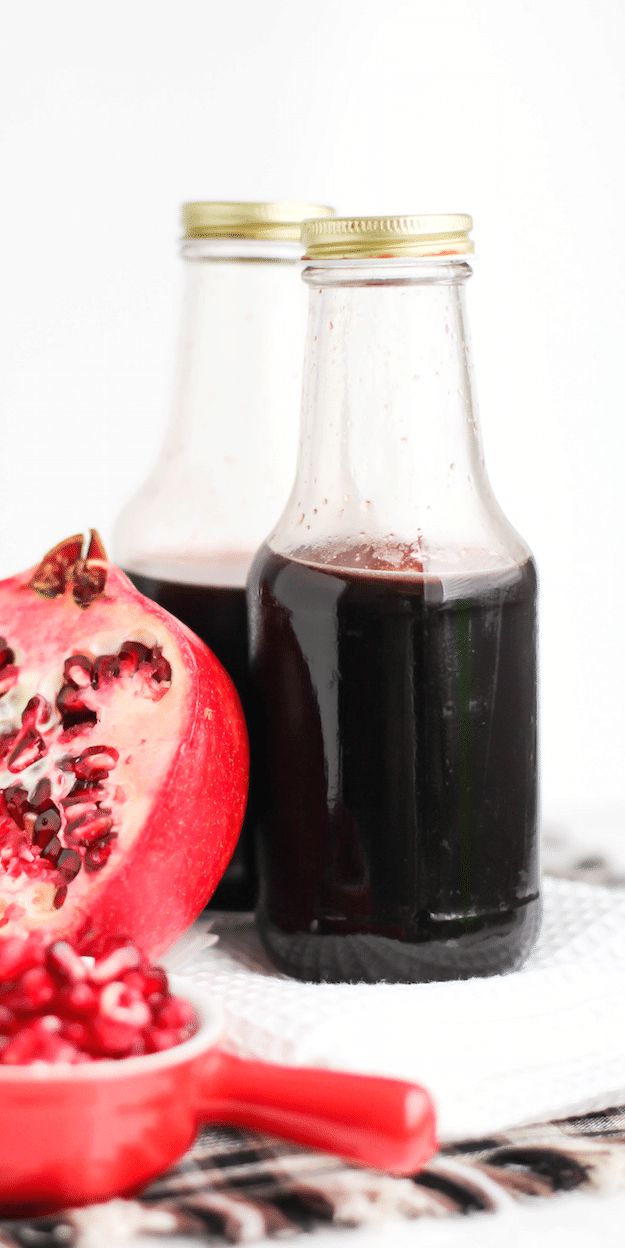 This is the ingredient list of storebought Grenadine:
High Fructose Corn Syrup, Water, Citric Acid, Sodium Citrate, Sodium Benzoate (Preservative), Red #40, Natural and Artificial Flavors, Blue #1.
Hmmm…  no thank you!  All I can see in that list is:
Sugar, Preservatives, Artificial Food Dye, Artificial Flavors.
YUM!  (That was sarcasm)
This flavorful Healthy Homemade Grenadine Syrup is incredibly versatile — it's perfect mixed into cocktails and Shirley Temples, and it's delicious swirled into yogurt and drizzled over Vanilla Bean Frozen Yogurt!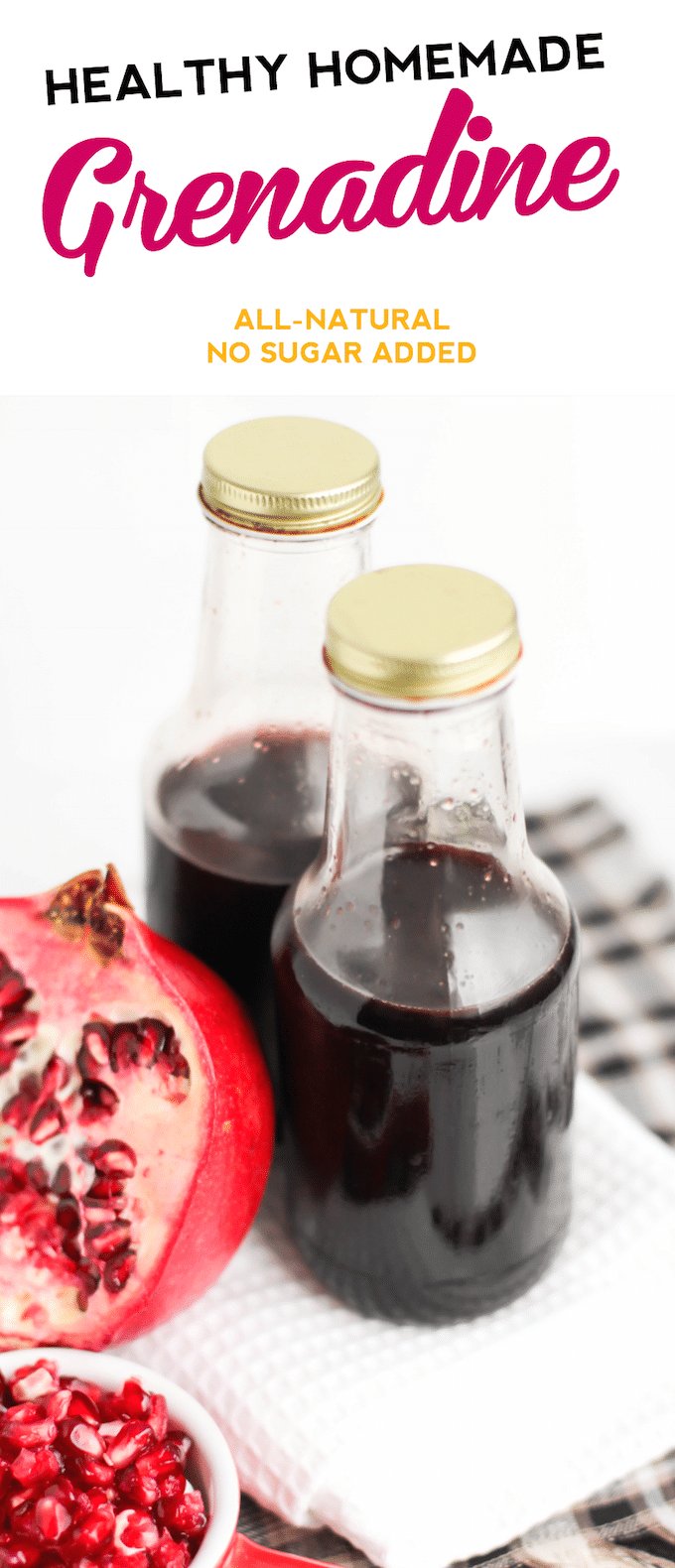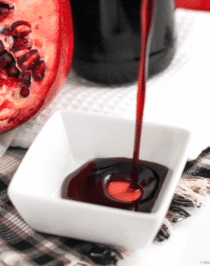 Print Recipe
Pin Recipe
Healthy Homemade Grenadine Syrup
This Healthy Homemade Grenadine (aka pomegranate bar syrup) is made without the refined sugar, corn syrup, artificial colorings, and artificial flavorings!
Instructions
In a medium saucepan, whisk together the pomegranate juice and Truvia. Place over medium/medium-low heat and simmer uncovered for 3 hours, whisking occasionally, until the mixture has reduced and thickened slightly.

Remove from the heat and whisk in the natural food coloring, orange flavor and lemon flavor.
Nutrition Facts
Healthy Homemade Grenadine Syrup
Amount Per Serving (1 serving = 2 tbs)
Calories 30
% Daily Value*
Sodium 5mg0%
Potassium 120mg3%
Carbohydrates 7g2%
Vitamin C 0.8mg1%
Calcium 10mg1%
* Percent Daily Values are based on a 2000 calorie diet.
Typical Grenadine recipes call for artificial ingredients and way too much sugar.  Like, cups and cups of sugar  🙁
I wasn't planning on making the recipe any time soon, but as I walked down the grocery store aisle I saw a liter of organic 100% pomegranate juice for only $2.49…  that was how much a tiny bottle of POM costed.  I grabbed the bottle and put it into my shopping cart, no thinking involved.  Then I rushed home to make this recipe.  It suffices to say that I'm super frugal and get really excited over deals like this.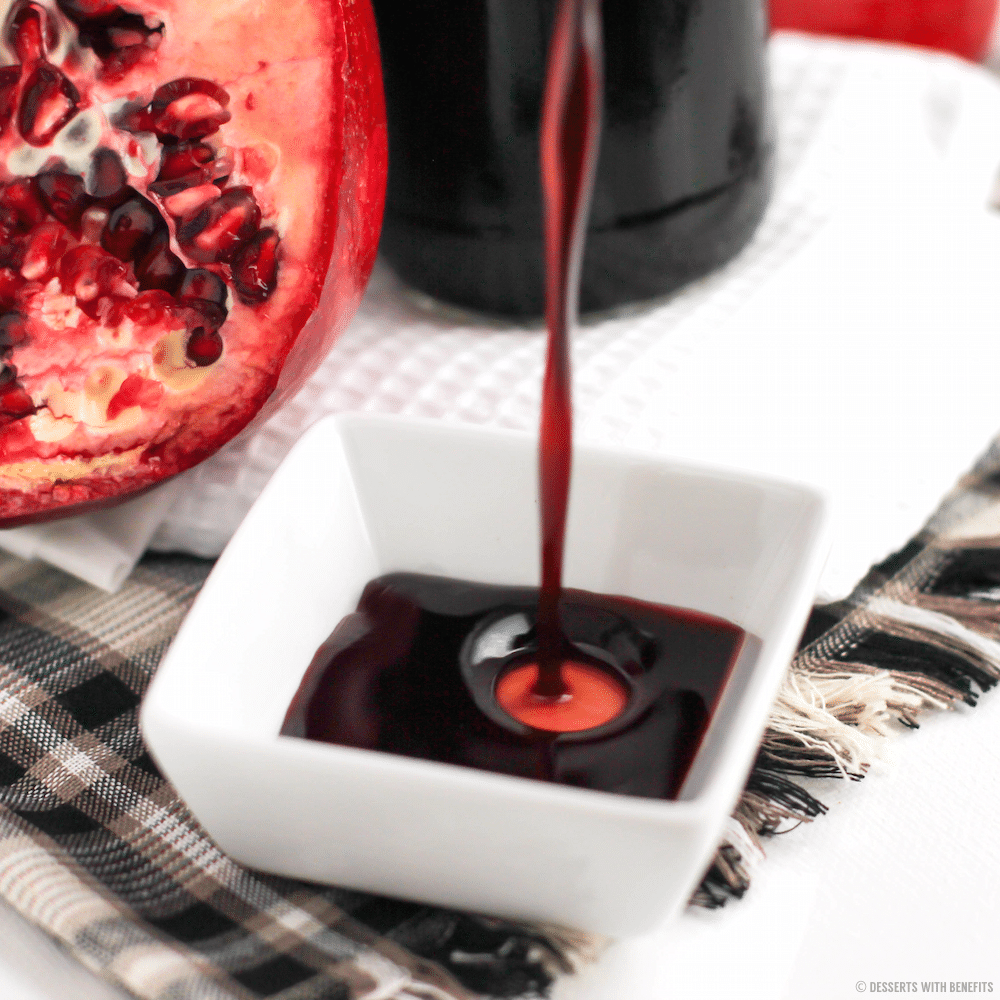 Enjoy!
.
With love and good eats,
.
– Jess
.