Healthy Homemade Sugar Free Maple Syrup (+ Video!)
This Healthy Homemade Sugar Free Maple Syrup tastes just like maple syrup, except it's sugar free, low carb, and only 2 calories per tablespoon!  Perfect for topping pancakes, waffles, oatmeal, yogurt, and more…  the possibilities are endless!
I'm the kind of person who likes to have dessert on a daily basis.  It's all I think about, breakfast, lunch, and dinner.  I just want dessert.  PLEASE, GIVE ME DESSERT AND NO ONE GETS HURT!
Almost every night last week, I was struck with a serious craving for pancakes.  And, as a true Canadian, the only way I can eat pancakes is with maple syrup (of course).  I douse it alllll over my pancakes.
While I love pure maple syrup — it's wholesome, all natural, and even good for you (in moderation) — it's still sugar.
And, all that sugar before bedtime doesn't sit well with me.  Sugar makes me suuuper hyper (no one wants to see that…), so it makes it difficult for me to fall asleep.
So, I made a solution — Healthy Homemade Sugar Free Maple Syrup!

Yeah, I know this didn't come pouring out of a maple tree, but just like pure maple syrup, this DIY version is all natural, fat free, gluten free, and vegan.  It's the perfect substitute for those who are also avoiding excess sugar, such as diabetics or those entering fitness competitions.
This Homemade Sugar Free Maple Syrup tastes like pure maple syrup, just without the excess calories, carbs, and sugar.
Soooo, what does that mean?  PANCAKES FOR DINNER!!!
Let's all indulge in those beloved pancakes that we crave so much.
Another reason why I love this Homemade Maple Syrup is because it's great to pour over single-serving microwave cakes and ice cream.  It's even good when added to smoothies.  This is a much better option than the sugar-free syrups on the market nowadays, which are filled with aspartame, artificial Splenda, artificial food coloring, artificial flavoring, and preservatives.  No one wants that crap on their pancakes or in their body.  Nope.  I'd rather have my HEALTHY Homemade Sugar Free Maple Syrup which is sweetened with organic stevia extract instead of high-calorie white sugar or empty-calorie high-fructose corn syrup.
This Healthy Homemade Sugar Free Maple Syrup is something you can feel good about chugging serving  😉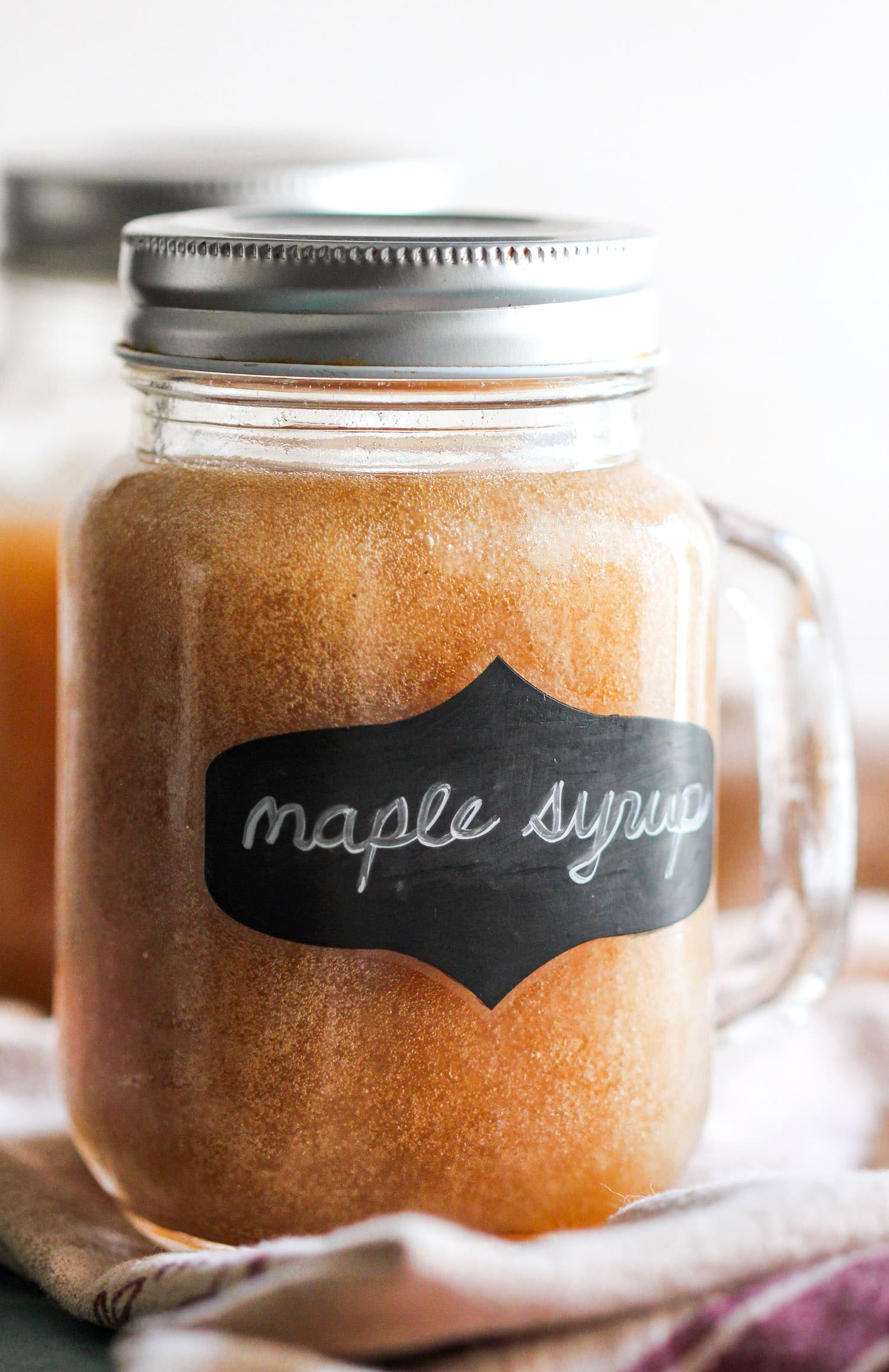 Healthy Homemade Sugar Free Maple Syrup
Prep Time: 5 minutes
Cook Time: 0 minutes
Total Time: 5 minutes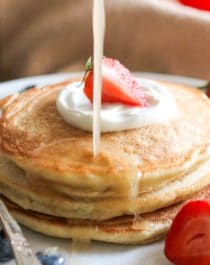 Calories per serving: 8
Ingredients:
Directions:
In a large blender (I used my Vitamix), add the water, maple flavor, and stevia. Blend on low speed.
While the blender is running, remove the lid and slowly add the xanthan gum and salt. Once everything is incorporated and completely smooth, pour into pretty serving jars, tightly seal, and refrigerate overnight.  Ready to use the next day!  Refrigerate to store, and shake before using.
Notes:
**I've made this recipe for YEARS with mixed results, because it really all comes down to the maple flavoring.  I used to use Frontier, but it seems like they altered their recipe because their current maple flavor tastes NOTHING like maple.  Now I use Olive Nation.  So beware, if your bottle doesn't smell like real deal maple syrup, then this syrup sure won't TASTE like maple syrup.  Smell your maple flavoring before you use it (take it from me)!  If you find another brand you like, be sure to let me know!  I'm disappointed in Frontier's new recipe 🙁
All images and text ©
.
.
Here is the recipe's nutrition label:
Technically, this recipe contains 8 calories per ¼ cup serving but the label maker rounds it up.  But seriously, 2 calories per tablespoon???  That's like nothing.  BRING ON THE [enter meal here]!!
For me right now, that's [PANCAKES].  Who knows, tomorrow it will probably be [OATMEAL] or [WAFFLES] or [SINGLE-SERVING CAKE].
Who wants to see this Healthy Homemade Sugar Free Maple Syrup in action?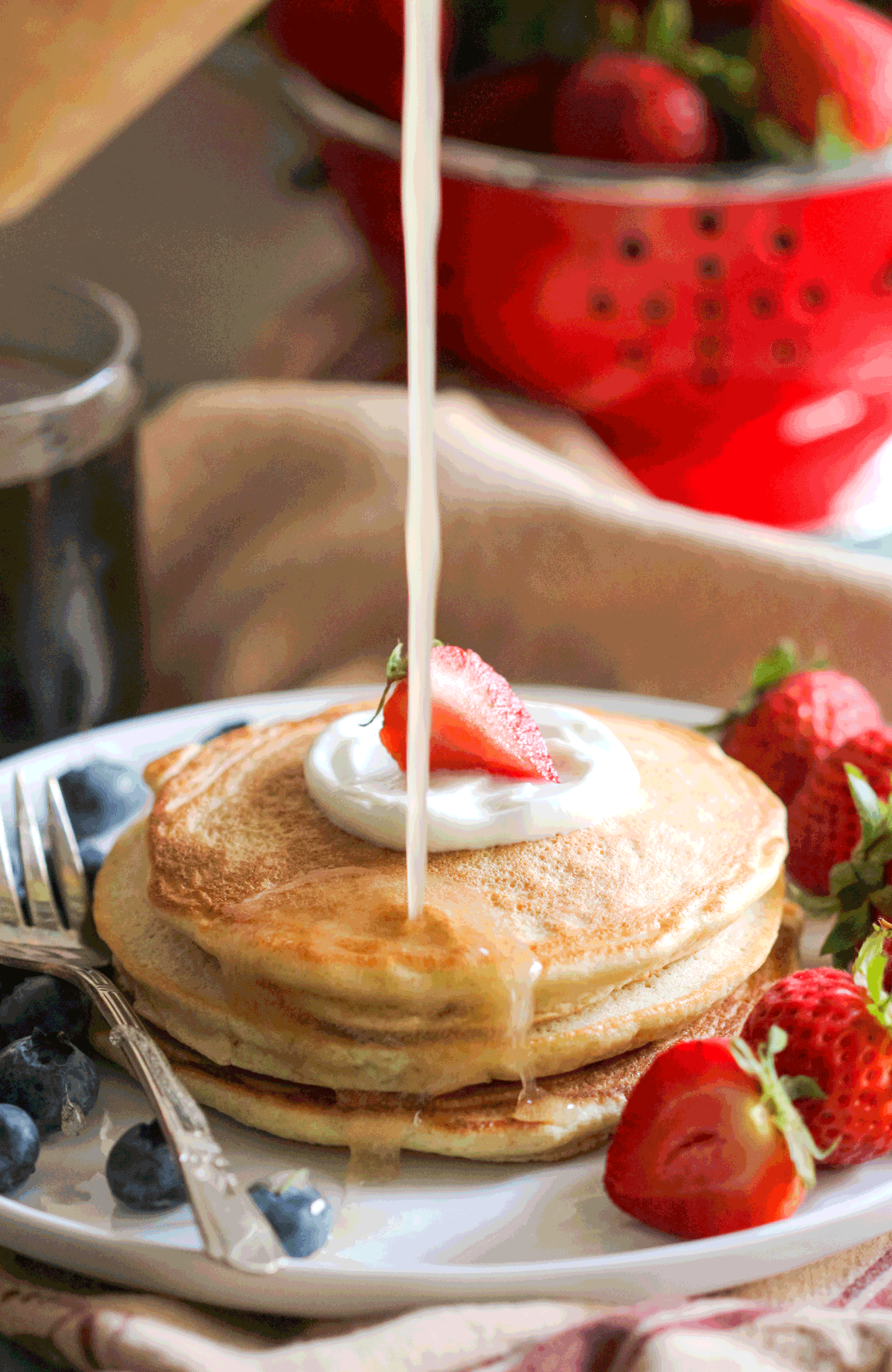 Yassssss.
Now where's my fork?
.
– Jess
.