Healthy Homemade Psyllium Fiber Supplement (like Metamucil)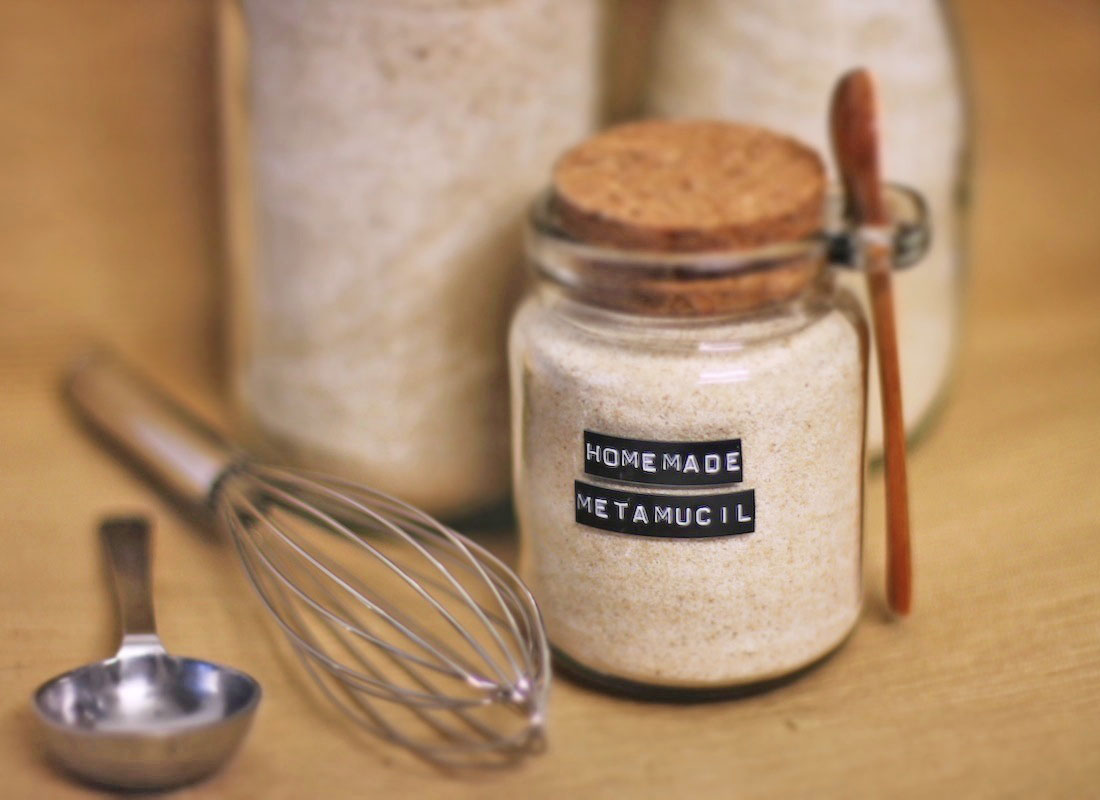 I don't like psyllium.  Never did, never will.  When it's dissolved into water, juice, smoothies, etc it turns into this disgusting gel-like goo.  Not to mention, it clumps up and feels like you're swallowing that bubble tea that everyone seems to like (except me, of course…  I'm the pickiest eater of all).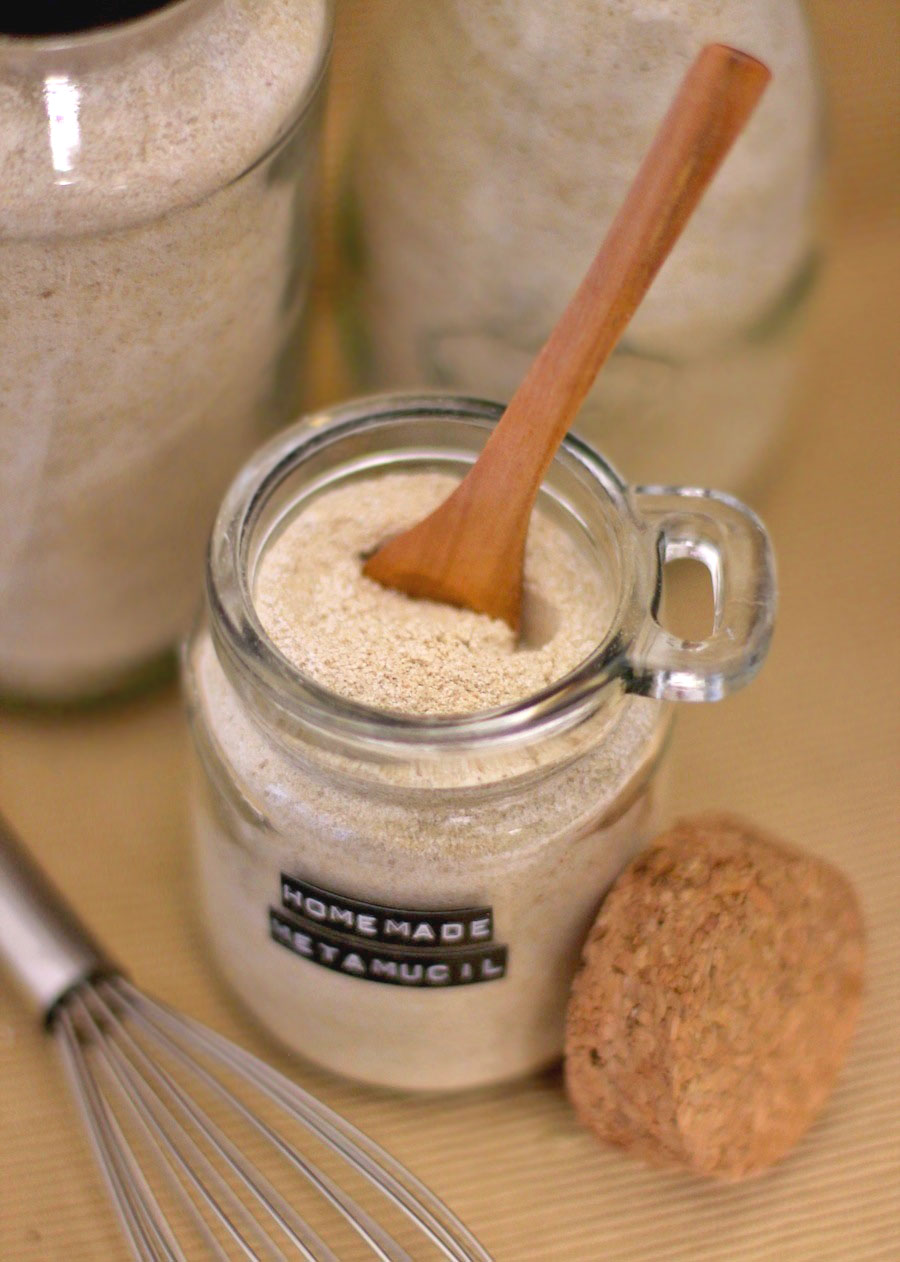 I guess that's why companies make psyllium more palatable by adding quite a few other ingredients (i.e. refined white sugar, aspartame, artificial food flavorings, artificial food colorings and preservatives).  Yuck.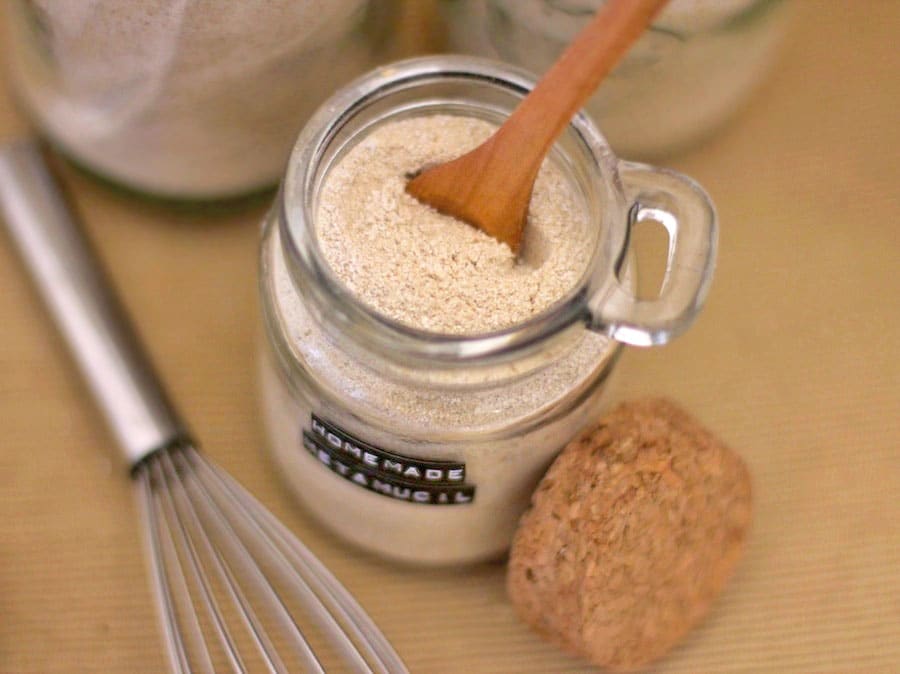 But not this healthy homemade version.  This all-natural recipe is zero-calorie, fat free, low carb, gluten free and vegan.  This DIY psyllium fiber supplement dissolves just as easily as the storebought stuff and isn't spit up-inducing like psyllium powder alone (sorry for the graphic language, but it's true…  swallowing chunks of psyllium goo is just plain old grrrross!)
Healthy Homemade Psyllium Fiber Supplement (like Metamucil)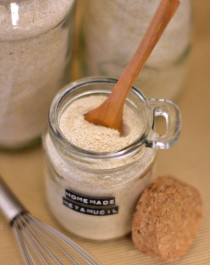 Ingredients:
Directions:
Whisk together the ingredients in a very large bowl.
Transfer the mix into jars, tightly seal, and store in a cool, dark place, such as the pantry. To use, add 1 tsp of the mixture into a blender or shaker cup along with 1 cup of liquid (water, milk, juice, etc.).
Blend or shake vigorously. It will thicken the longer the mixture sits, so add more liquid if you don't like it like that.
Notes:
Serving suggestion: 1 tsp – 1 tbs
**Powdered Erythritol may be able to substitute for the Stevia In The Raw, but I haven't tried it
All images and text ©
.
Make sure to drink lots of water when taking a psyllium fiber supplement.  Always ask your doctor if fiber supplements are safe for you to consume.  Every body is different, and your body is your temple.  Take care of it and love it unconditionally  🙂
.
With love and good eats,
.
– Jess
???
.
Be sure to follow @DessertsWithBenefits on Instagram!  If you try this recipe, make sure to snap a picture of it, tag me @DessertsWithBenefits, and hashtag #DessertsWithBenefits.  I'd love to see it and feature you on #FanFaveFridays!
.