Healthy Matcha Coconut Truffles
Matcha and coconut pair together as well as peanut butter and chocolate…  or apples and cinnamon…  or sprinkles on donuts.  The matcha is earthy and slightly bitter while the coconut is rich with a natural sweetness — they're just meant to be together.  That's why I combined them in these Matcha Coconut Truffles!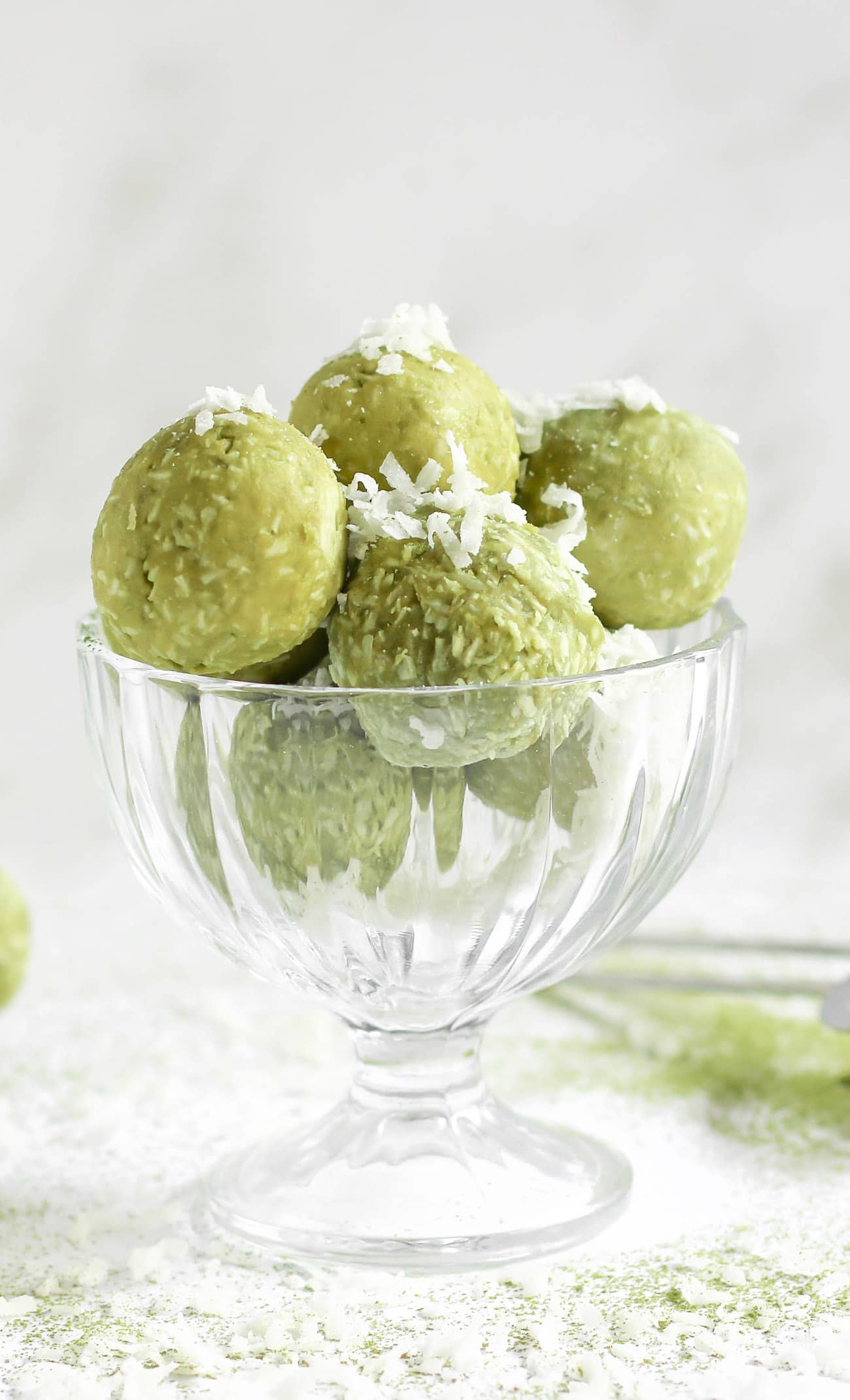 These easy, no-bake Matcha Coconut Truffles are dense, fudgy, and surprisingly filling!
And they require only 6 ingredients to make.  Unlike regular truffles, which call for butter, heavy cream, sweetened condensed milk, and sugar, these truffles are made with healthier swaps so you can enjoy the sweet taste of dessert without the unhealthy ingredients.
Instead of butter, I used coconut butter.
Coconut butter is basically the white flesh of the coconut that has been ground up, similar to how peanuts are ground to make peanut butter.  It's ultra rich and when it's soft, it spreads like butter.  When it's melted, it looks like frosting (it's not as sweet as frosting, but dang I could still eat it straight up as if it were)!
Instead of heavy cream, I used coconut milk.
Coconut milk is thick and creamy, just like heavy cream, so it makes for a perfect substitute!
Instead of sugar, I used stevia extract.
I love using stevia extract because it's all natural, sugar free, and calorie free.  And a little goes a long way!  You only need 1 tsp of stevia for the entire recipe, whereas if you used sugar, you'd probably need to use 1 cup or more.  I mean, why not save yourself from an extra 750 (empty) calories and a sugar crash?  😉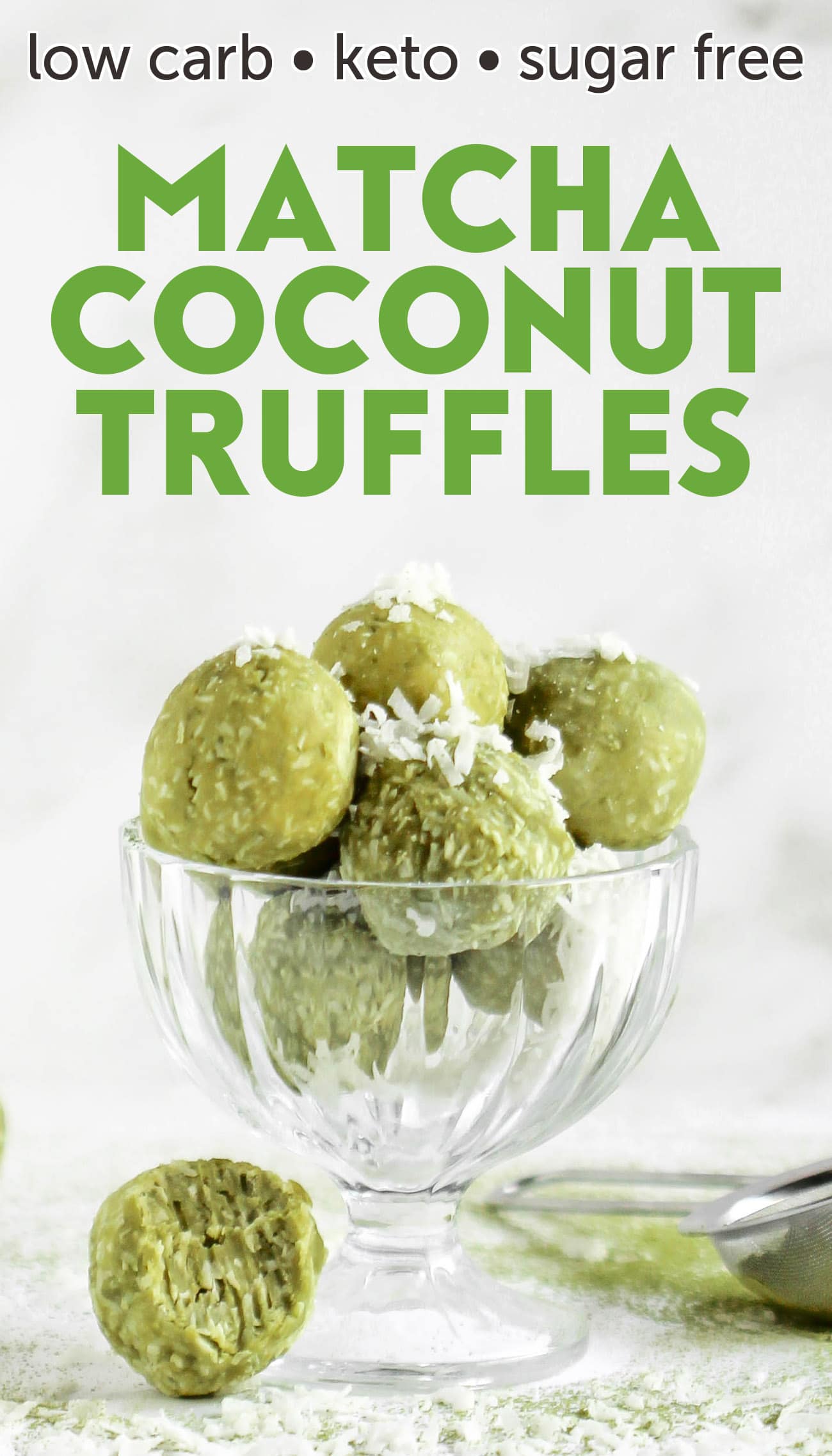 To make these matcha-coconut flavored, I added 2 tsp of matcha powder.  This is the perfect amount for both a good color and great flavor.  Finally, I mixed in 1 cup of shredded coconut.  It brings everything together into a scoopable dough.  I love the chewy texture it adds to the truffles!
It's hard to believe these rich and sweet Matcha Coconut Truffles are made without butter, heavy cream, and sugar!
Best of all, they're keto-friendly, low carb, sugar free, and gluten free too!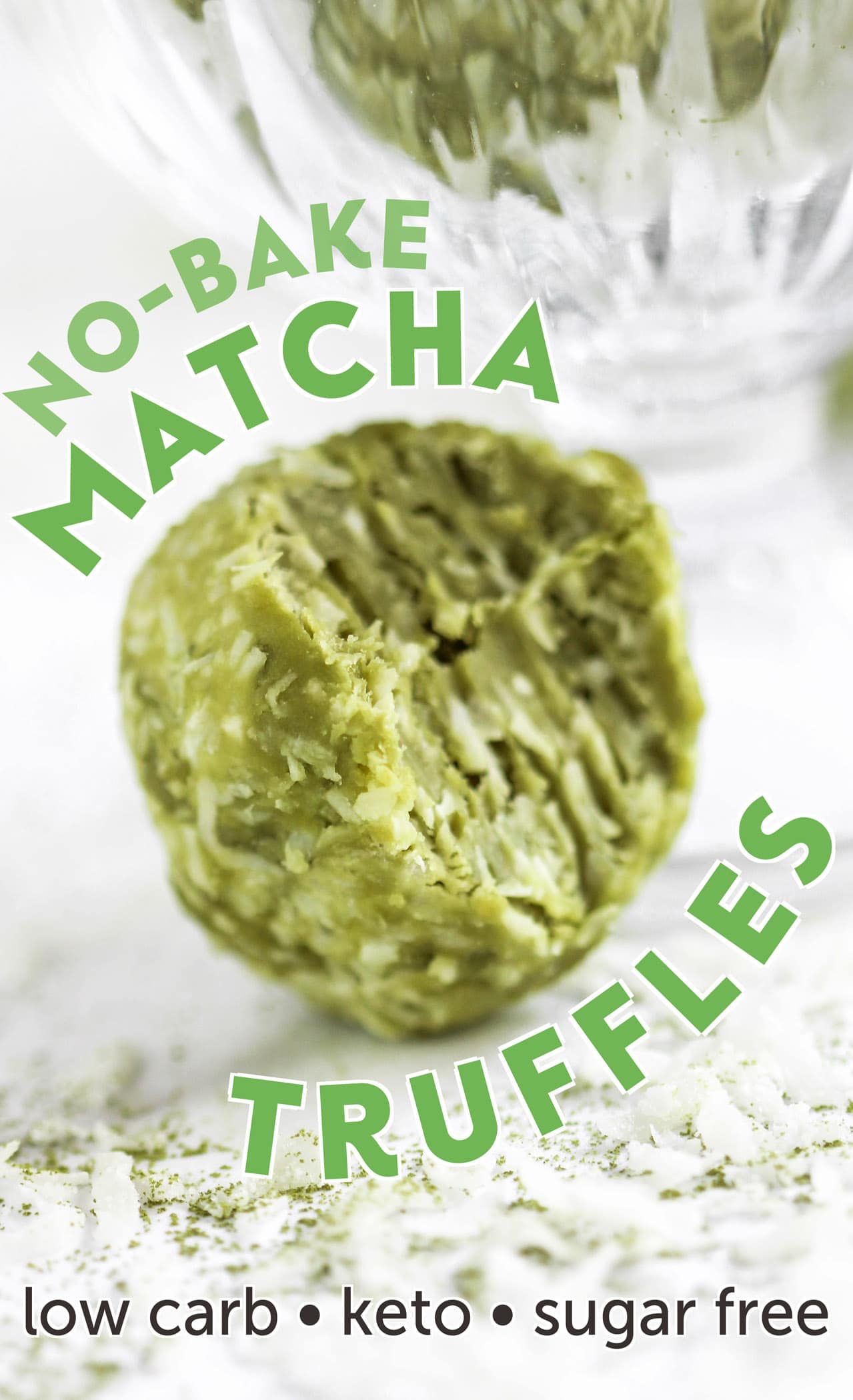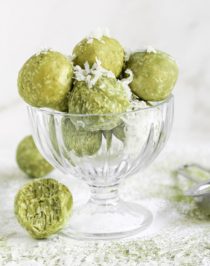 Print Recipe
Pin Recipe
Healthy Matcha Coconut Truffles
Easy, no-bake, 6-ingredient Matcha Coconut Truffles made healthy! They're rich and sweet yet made without butter, heavy cream, and sugar. They're keto-friendly, low carb, sugar free, and gluten free too!

Instructions
In a large microwave-safe bowl, add the coconut butter. Microwave at 20-second intervals, stirring between each one until melted.

Whisk in the coconut milk and stevia extract.

In a small bowl, whisk together the protein powder and matcha powder. Dump into the wet ingredients and fold together.

Add the shredded coconut and fold again.

Use a small cookie scoop to scoop the dough out onto a parchment-lined baking sheet. Roll the scoops between your palms so they're spheres. Cover and refrigerate for 2+ hours. Serve and enjoy!
Nutrition Facts
Healthy Matcha Coconut Truffles
Amount Per Serving (1 truffle)
Calories 155
Calories from Fat 99
% Daily Value*
Fat 11g17%
Cholesterol 20mg7%
Sodium 25mg1%
Potassium 75mg2%
Carbohydrates 5g2%
Protein 6g12%
Vitamin A 50IU1%
Calcium 30mg3%
Iron 0.7mg4%
* Percent Daily Values are based on a 2000 calorie diet.
.
These Healthy Matcha Coconut Truffles are so sweet, dense, and fudgy, one bite and you'll ask how they're sugar free and low carb too!
Enjoy  🙂
.
With love and good eats,
.
– Jess
.