Healthy No-Bake Oatmeal Fudge Bars
You've gotta try this super easy Oatmeal Fudge Bars recipe!  It's the perfect breakfast or midday treat to satisfy your sweet tooth — totally guilt-free.
One bite and you'd never know it's gluten free, dairy free, and vegan too!  Best of all, these squares of rich chocolate and comforting oats are super easy to make and don't require any baking whatsoever.  All you need are eight simple ingredients, a few bowls, and a big appetite!
Thanks to Nuts.com for sponsoring this post, and thank YOU for supporting the brands that keep Desserts With Benefits going!  All opinions are mine and mine alone.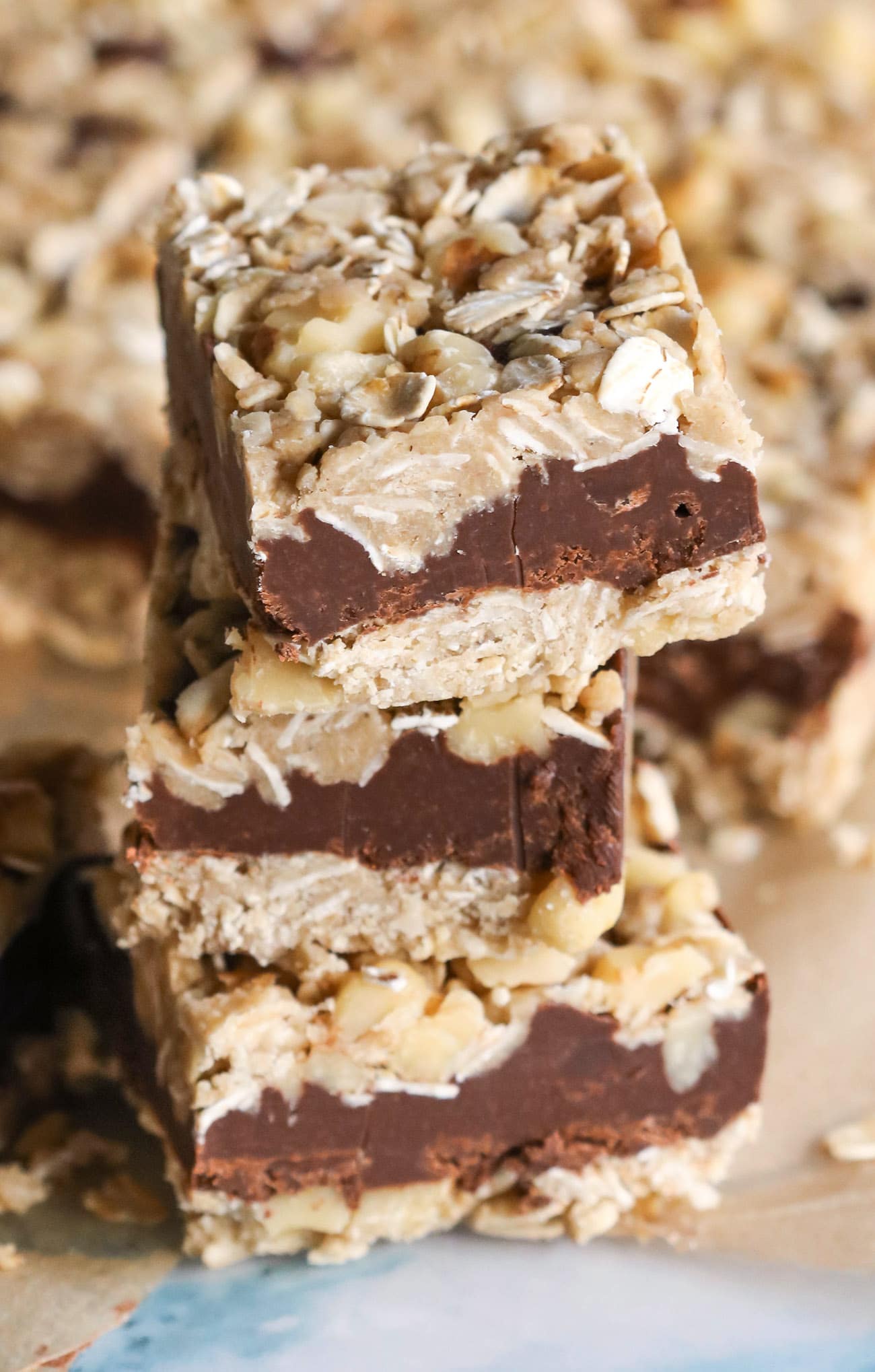 In the first bite, you are instantly hit with the intense dark chocolate flavor from the fudge filling.  Then, you get the heartiness from the oats, crunch from the walnuts, and slight sweetness from the pure maple syrup.
Unlike your typical Oatmeal Fudge Bars recipe, this is made entirely without the white sugar, brown sugar, sweetened condensed milk, eggs, and butter!  So go ahead, have another bar  😉
As the recipe's base, I used a mixture of oat flour, oats, coconut oil, and walnut pieces from Nuts.com.
I used a combo of both oat flour and oats because these are called "Oatmeal Fudge Bars" and I really wanted a pronounced oatmeal flavor.  The oat flour acts just like regular flour and works as a great base ingredient to bind all of the ingredients together, while the oats provide a nice chewy texture.  The walnuts add an uber rich, buttery flavor and some crunch to every bite.  Then, the coconut oil and maple syrup help bind it all together, providing both flavor and natural sweetness.  All of these ingredients together provide a ton of nutrition in these bars.  We get healthy fats, whole grains, slow-digesting fiber, and low-glycemic sweetness (no sugar rush and sugar crashes here)!
Next up, the filling — made with just 2 ingredients:   chocolate chips and coconut milk!
You can see in the cooking video above how smooth, thick, and delicious the filling gets after you whisk together the melted chocolate and coconut milk!  It's really like magic  😉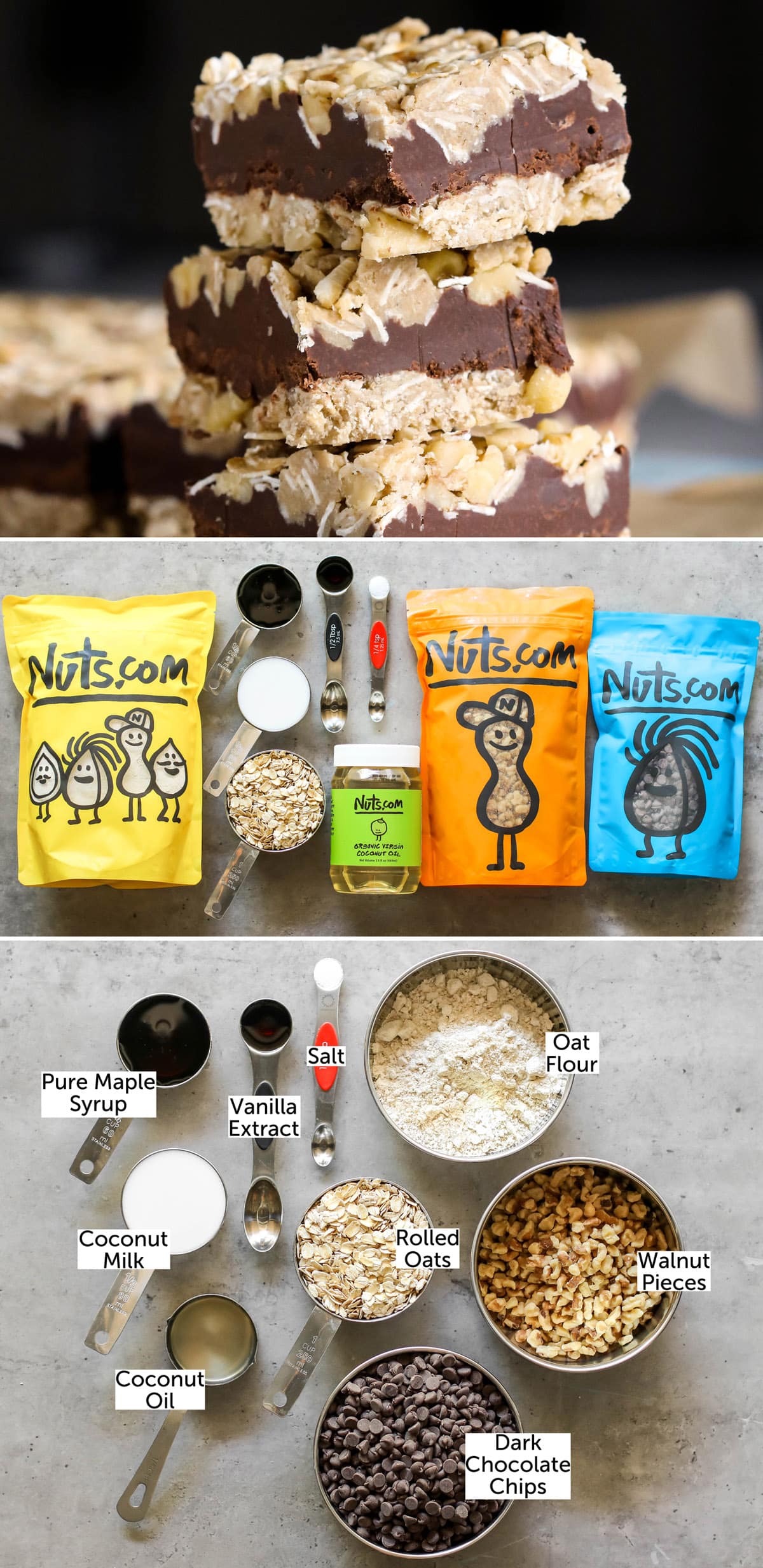 These Oatmeal Fudge Bars will surely be your new go-to healthy dessert recipe.
Or snack…
Or breakfast…  😉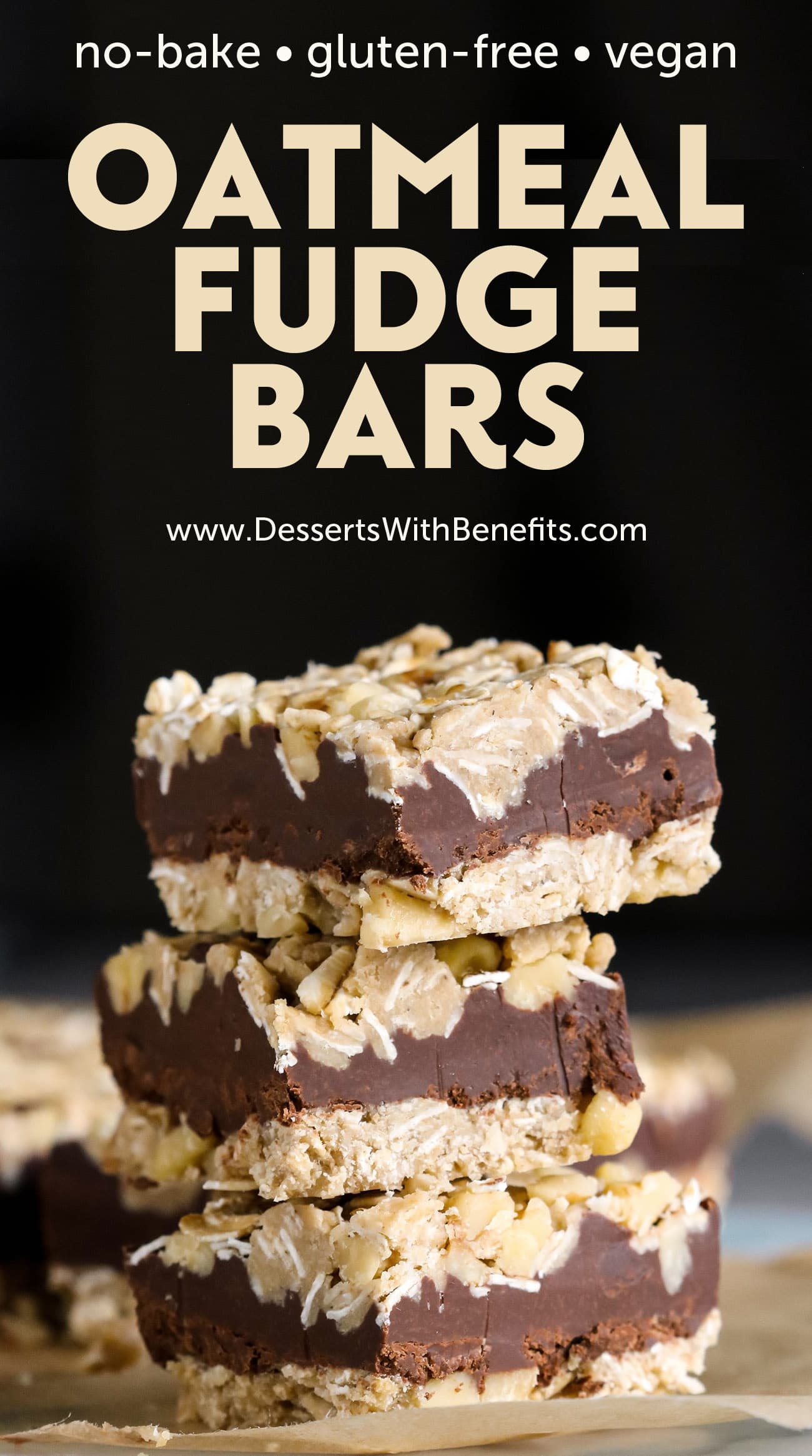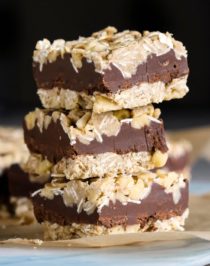 Print Recipe
Pin Recipe
Healthy No-Bake Oatmeal Fudge Bars
You gotta try this easy no-bake Oatmeal Fudge Bars recipe! It's the perfect healthy breakfast or midday treat to satisfy your sweet tooth -- guilt-free!
Ingredients
Fudge Layer
1lb bag

(3 cups)

Nuts.com Dark Chocolate Chips

⅓

cup

Light Coconut Milk
Instructions
Spray an 8x8" brownie pan with cooking spray and line with parchment paper both ways for easy removal later.

In a large bowl, stir together the oat flour and 1 cup of the oats.  Add the melted coconut oil, maple syrup, vanilla extract, and salt.  Mix until thoroughly combined

Fold in the walnuts pieces.  Reserve 1⅓ cups of the mixture into a small bowl.  Dump the remaining base mixture into the prepared pan and flatten it out.

In a medium-sized microwave-safe bowl, add the chocolate chips.  Microwave at 30-seconds intervals, stirring between each one, until completely melted.  Whisk in the coconut milk.  Mixture should thicken and turn into a smooth ganache.  Spread the mixture over the base (I used an offset spatula).

To the bowl with the reserved base mixture, stir in the remaining 2 tbs of oats.  Sprinkle this over the chocolate layer and press it into the surface.  Feel free to press in some more walnut pieces if you're craving some additional crunch!  Cover and refrigerate overnight.

Bring the bars out of the fridge 20 minutes before slicing to soften.  Slice, serve, and enjoy!
These delicious bars are soft, fudgy, sweet, and delicious, it's hard to believe they're gluten free, dairy free, vegan, and don't require any baking.  Perfect for the hot summer months ahead.
And if you're in Texas, like me, then these bars are perfect RIGHT NOW.  It's already so hot out, and I believe all next week the temperature will be in the triple digits.  I don't think I'll be stepping near my oven for the next few months…  I'll be indulging in all the no-bake treats my heart can handle!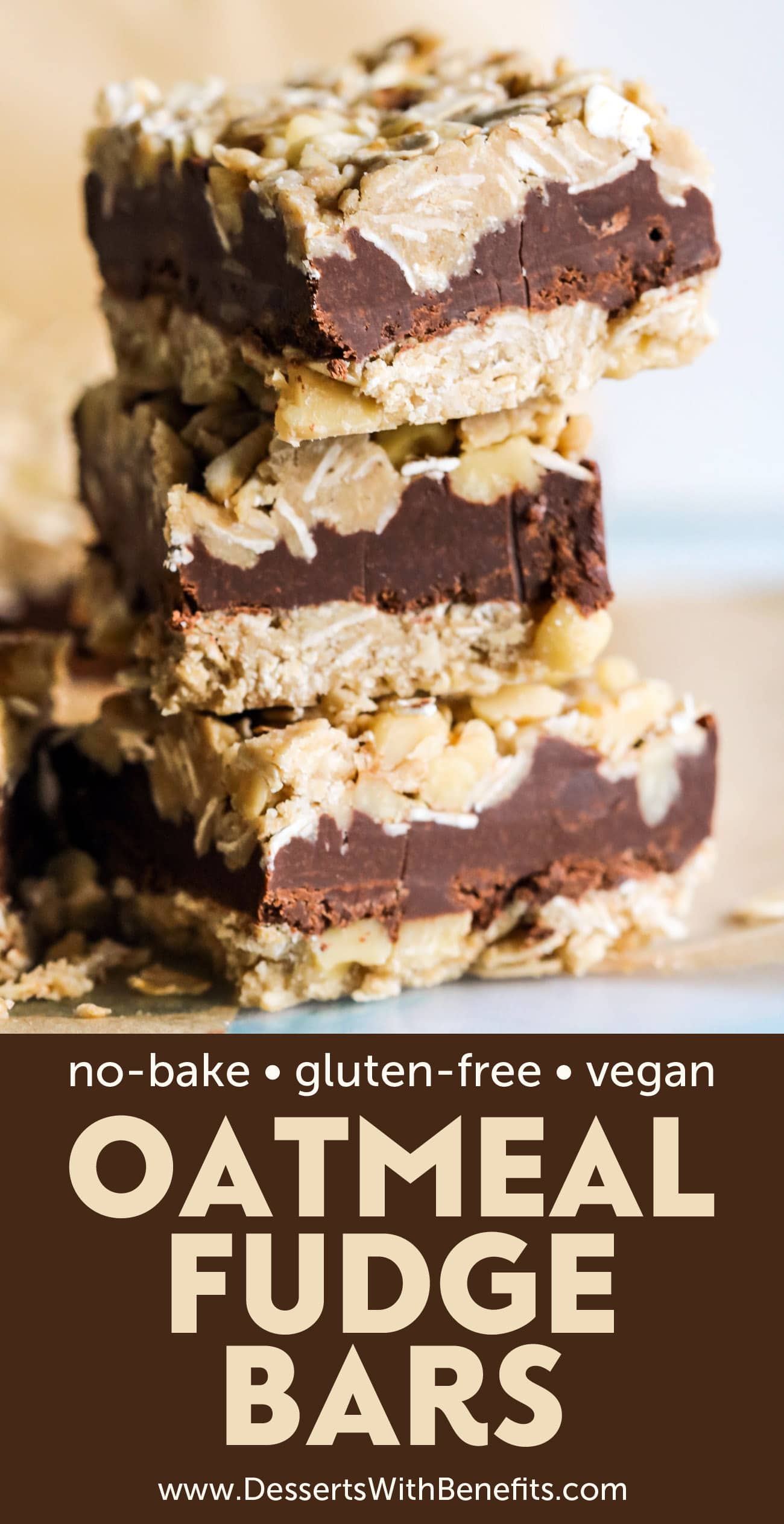 Enjoy!
.
With love and good eats,
.
– Jess
.