Healthy Peanut Butter Pancakes
Healthy Peanut Butter Pancakes — fluffy, cakey, sweet, and peanut buttery, these don't taste sugar free, low fat, high protein, high fiber, gluten free, and vegan IN THE SLIGHTEST!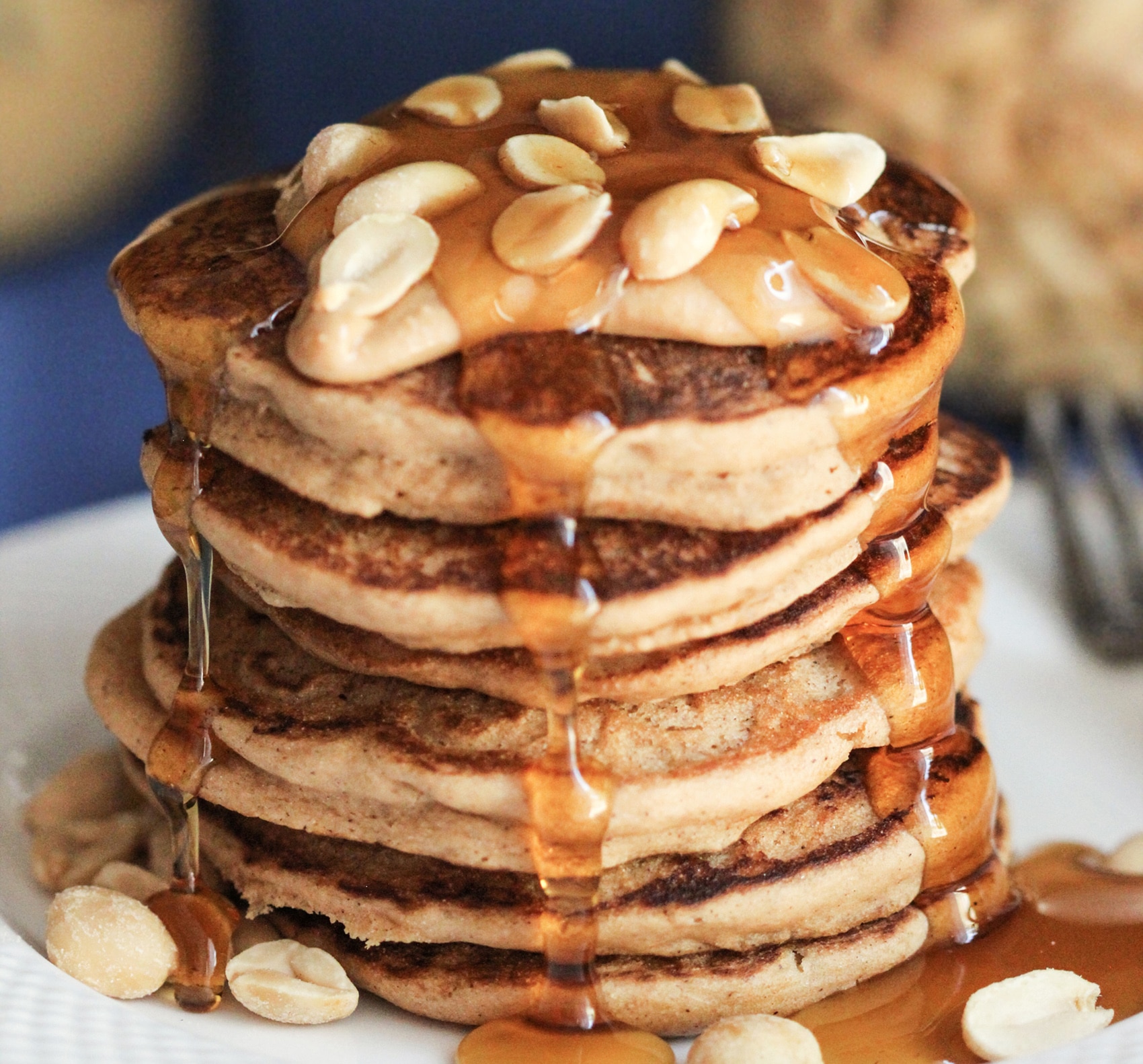 Ever since I was a kid, I have been a pancake FIEND.  They are SO totally freaking awesome, I thoroughly believe they are one of man's greatest innovations 👌
If we take a step through "Pancake History," we learn that pancakes used to be made with whole grains and natural ingredients, such as teff, spelt, buckwheat, even lentils!  Only within the last few decades did pancakes turn the opposite, unhealthy way.  Now, typical pancakes at a diner or prepackaged in a box at the grocery store will contain refined flour, white sugar, and oil, only to be topped off with artificially flavored "maple" (aka corn) syrup.
*slumps over and cries*

I can't believe I used to eat like that when I was younger.  I would DROWN my pancakes in that fake Aunt Jemima stuff to the point where there was more syrup on my plate than pancakes (I probably should've used a bowl to eat my pancakes, not a plate).
Thankfully, there's a better option for ya today:  these Healthy Peanut Butter Pancakes — they're made with whole grain sorghum flour and peanut flour, and they're naturally sweetened to boot!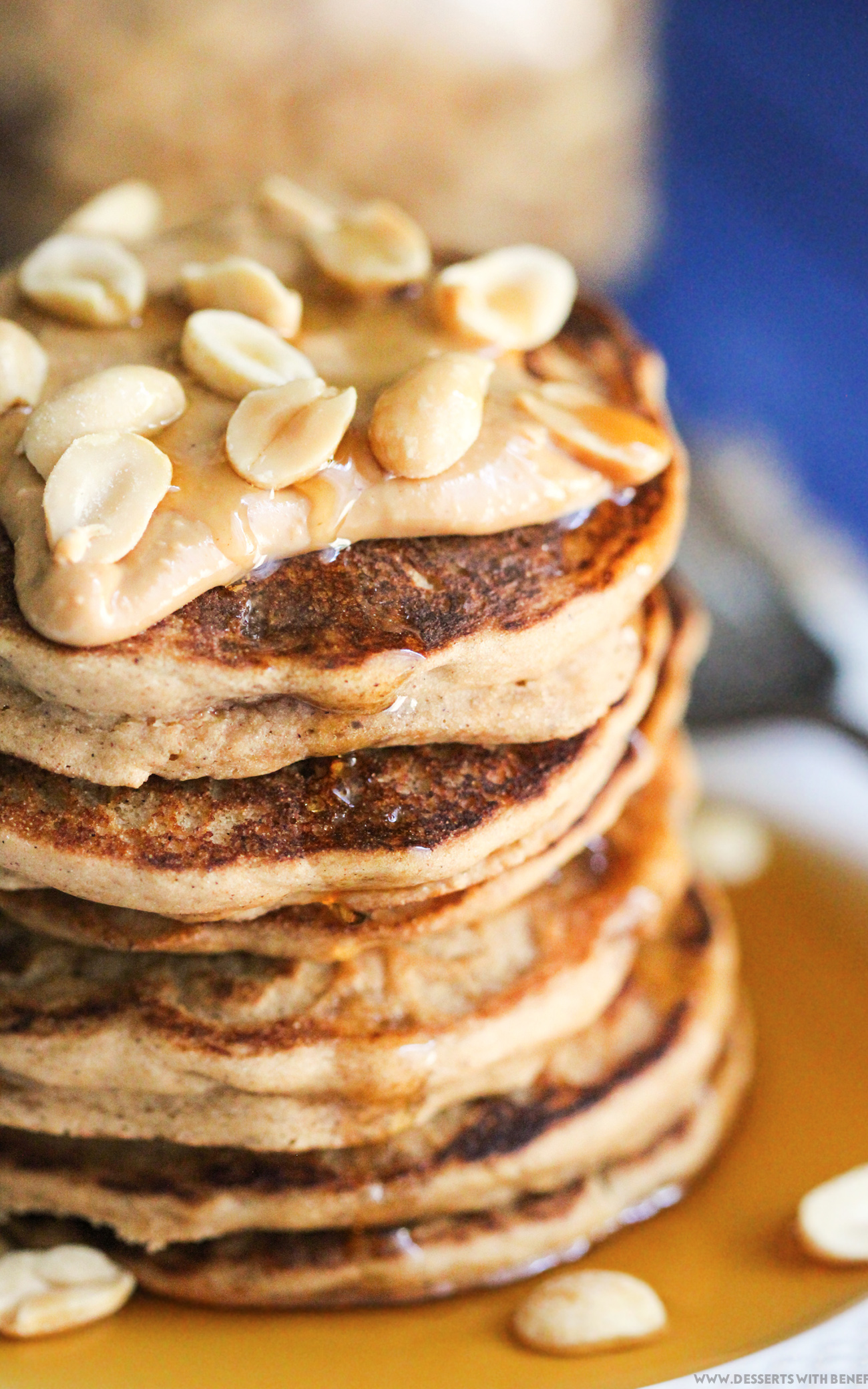 Healthy Peanut Butter Pancakes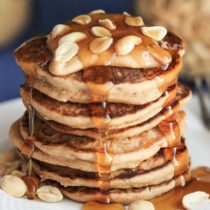 Ingredients:
Directions:
Spray a nonstick griddle with cooking spray and place over medium heat.
In a small bowl, whisk together the sorghum flour, peanut flour, baking powder, sweetener, and salt.
Pour in the almond milk and vanilla and whisk together.
Scoop ~¼ cup of the batter onto the griddle.  Cook until bubbles appear on the surface of the pancake and the edges appear dry.  Flip and cook the other side. Continue this until all the batter is used up.
Serve immediately with the drippiest natural peanut butter you can find and a big drizzle of pure maple syrup, and/or Healthy Peanut Butter Icing.
Be sure to follow @DessertsWithBenefits on Instagram!  If you try this recipe, make sure to snap a picture of it, tag me @DessertsWithBenefits, and hashtag #DessertsWithBenefits.  I'd love to see it and feature you on #FanFaveFridays!
.
Here is the recipe's nutrition label:
The ENTIRE batch of pancakes has just 290 calories and 6g of fat!  Not to mention, 8g of fiber and 22g of protein.  For decadent PEANUT BUTTER PANCAKES?!?  I'll take it.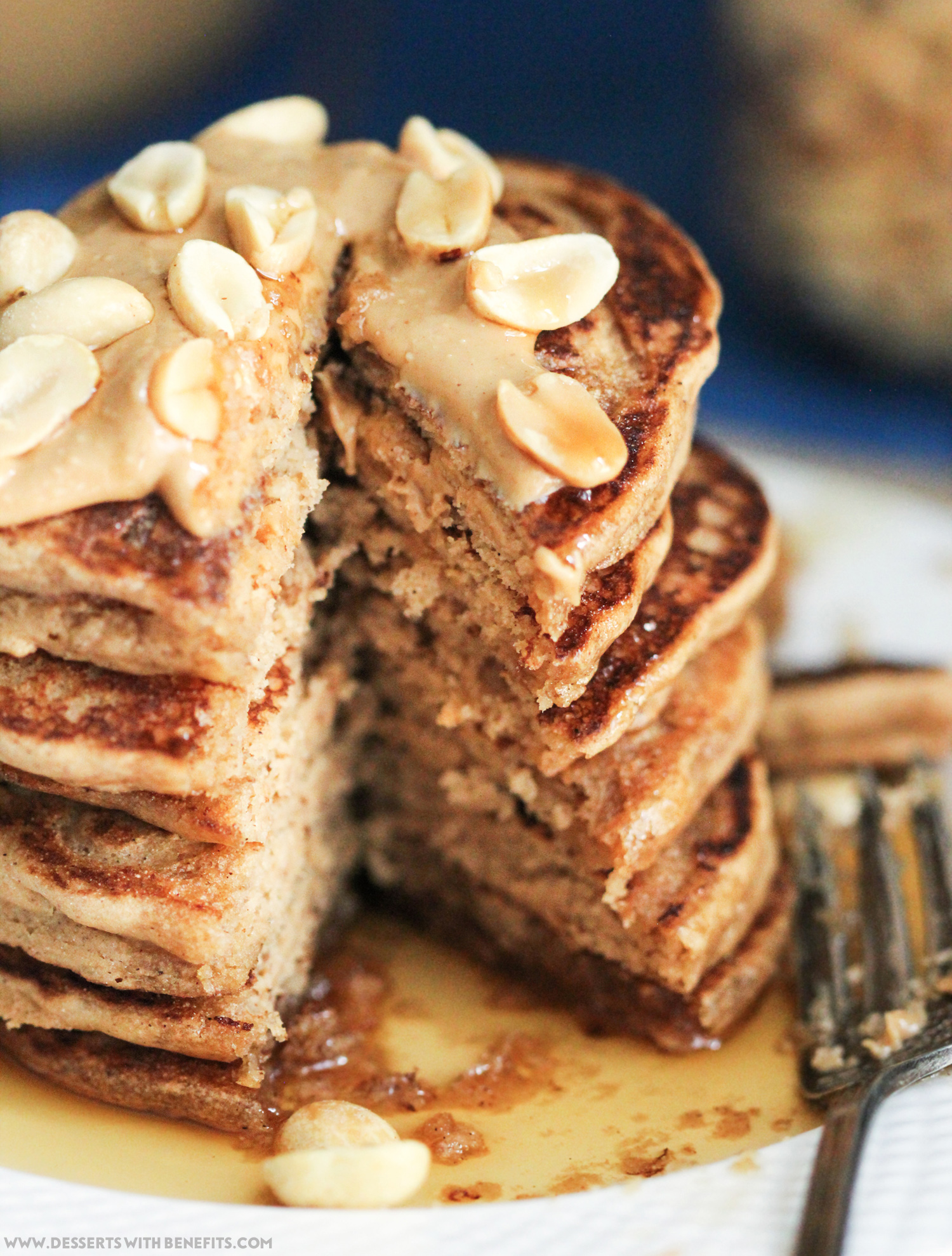 LOOK. AT. THAT. FLUFFY. DECADENCE.
I could eat these Healthy Peanut Butter Pancakes alllll day long.

Enjoy!
.
– Jess
🎂🍴💕
.