Healthy Peanut Butter Pie
Hold on to your seats people.  This (secretly) Healthy Peanut Butter Pie is going to BLOW your mind!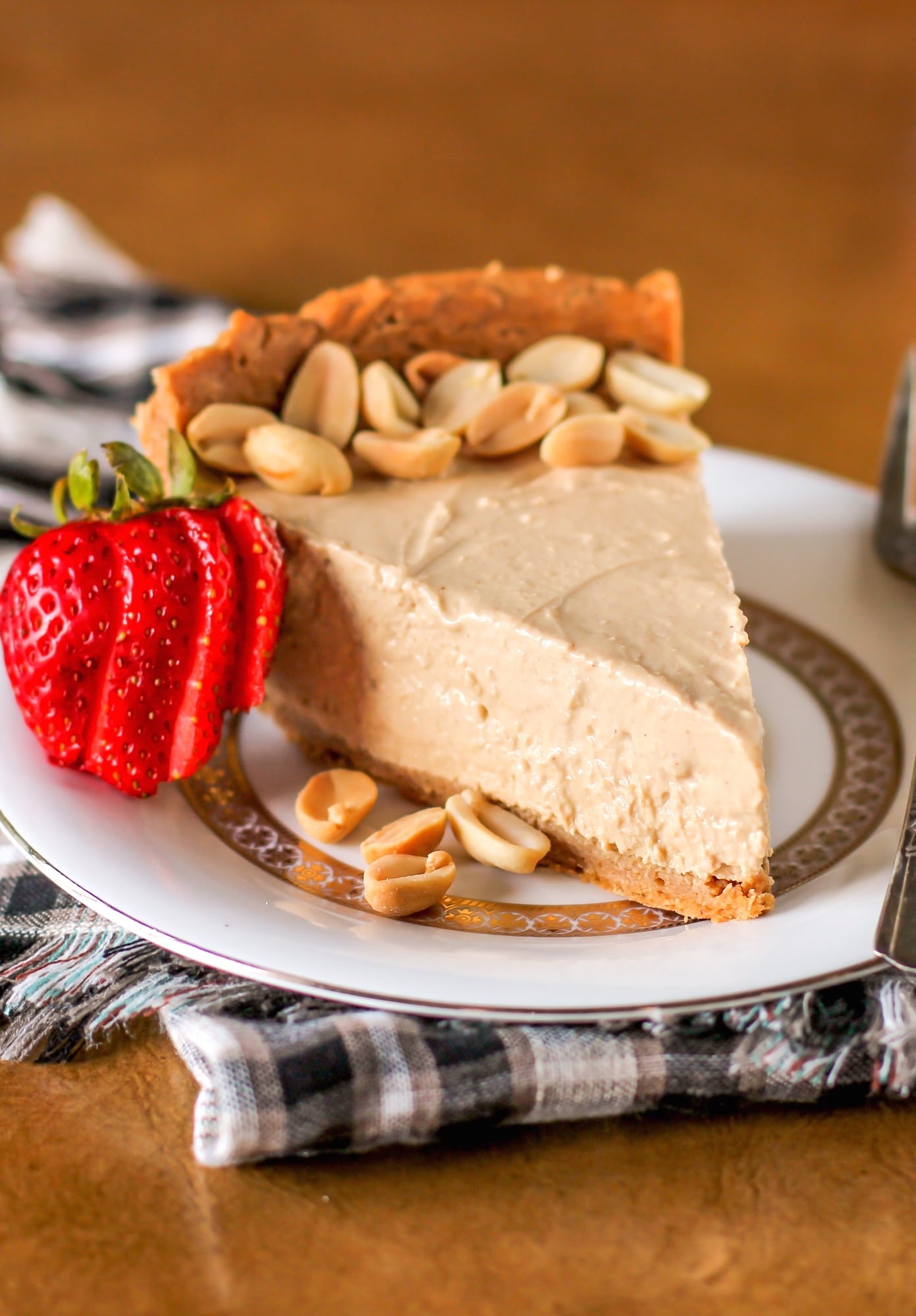 Believe me when I say this:
This ultra rich, super creamy and amazingly decadent Peanut Butter Pie with a soft Peanut Butter Cookie Crust is healthy.
YES, it's HEALTHY.  No heavy cream, no countless sticks of butter, no trans fats, and best of all, no refined sugars!!  So what used to be a heart attack in a pre-made trans-fat-filled graham cracker crust (I'm talking about you Keebler and Honey Maid!) is now a nutritious, low sugar and high protein snack…  I would even consider it a meal.  Filled with healthy fats, complex carbohydrates, fiber, complete proteins and an array of vitamins and minerals, this pie is so nutritious that you can eat it for breakfast…  if you are so inclined…  like me  😉
So good, so addictive…  so good for you that it's addictive!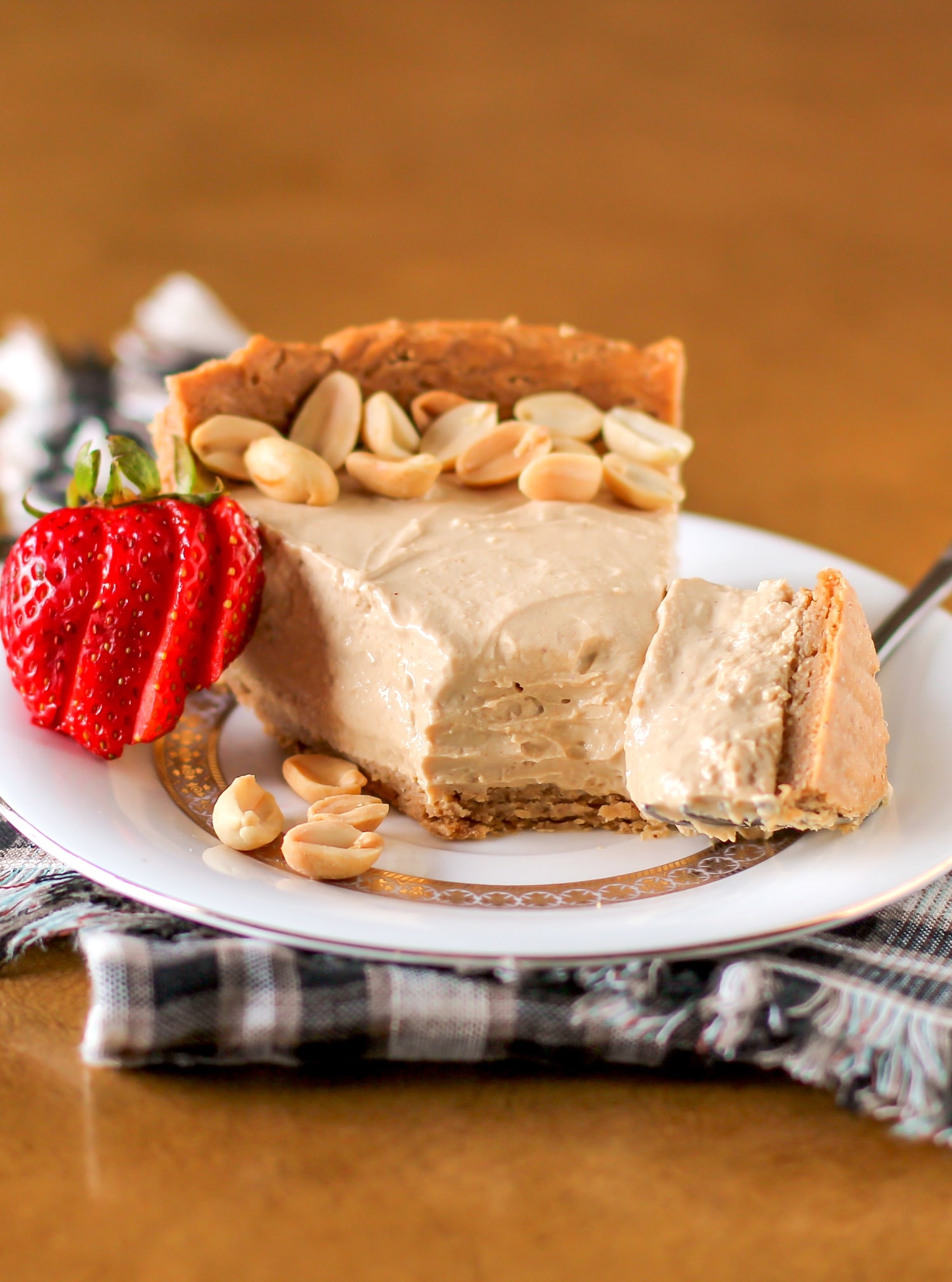 Print Recipe
Pin Recipe
Healthy Peanut Butter Pie
Ingredients
Double-Acting Baking Powder

Salt

Unsweetened Vanilla Almond Milk

Plain, Nonfat Greek Yogurt
Recipe Notes
I originally wasn't going to share the recipe here because I worked so incredibly hard on publishing Naughty or Nice.  But, I understand not having a recipe here can be frustrating.  So, I'll meet you halfway...  how does that sound?  I'll show you all the ingredients I use in the recipe.  That way, you can determine on your own whether or not the cookbook is for you!
Nutrition Facts
Healthy Peanut Butter Pie
Amount Per Serving (1 slice = 1/10th of recipe)
Calories 250
Calories from Fat 72
% Daily Value*
Fat 8g12%
Sodium 180mg8%
Carbohydrates 11g4%
Protein 36g72%
Calcium 200mg20%
Iron 1.8mg10%
* Percent Daily Values are based on a 2000 calorie diet.
I calculated the nutrition facts for the Pioneer Woman's Peanut Butter Pie recipe along with my Healthy Peanut Butter Pie recipe.  I was totally surprised at how nutritionally balanced my recipe was, I was seriously expecting a lot more calories and fat to be in it knowing how rich and peanut buttery it tasted.  But that wasn't my only surprise…  I was absolutely horrified when I saw the Pioneer Woman's nutrition label.
Her recipe is still a calorie-/fat-/trans fat-/sugar-bomb.  Seriously now, a tiny 1/12th slice of her pie has 450 calories, 29g of fat (and on top of that, it contains deadly trans fats), plus 26g of sugar.  It's a little disconcerting to me.  Not one ingredient in that pie is healthy, balanced or nutritious…  it's just sad  🙁
To make myself feel better I'm going to have a slice of my pie…  be right back!
…
PHEW!  Okay, I feel better now.  Life is good.  Would you ever guess by looking at it, that this Peanut Butter Pie is sugar free, low carb, high fiber, high protein and gluten free?!  It sounds like I'm describing something like broccoli and steamed chicken, but I assure you, this pie tastes nothing like boring vegetables or dry and overcooked chicken boobs  😉
About a week after making the pie my family requested the pie to be made again.  I mean, that's no surprise because that pie was damn delicious.  It was magnificent.  And addicting.  And peanut buttery.  I'm sorry if my brain isn't really functioning enough to form a cohesive sentence, peanut butter is on my mind.  Obviously, a peanut butter coma ensued.
.
With love and good eats,
.
– Jess
.