Healthy Peanut Butter Surprise Cookies
These healthy Peanut Butter Surprise Cookies are so fudgy, rich, decadent and sweet that you'd never know they're sugar free, high protein, gluten free, vegan, and made without butter!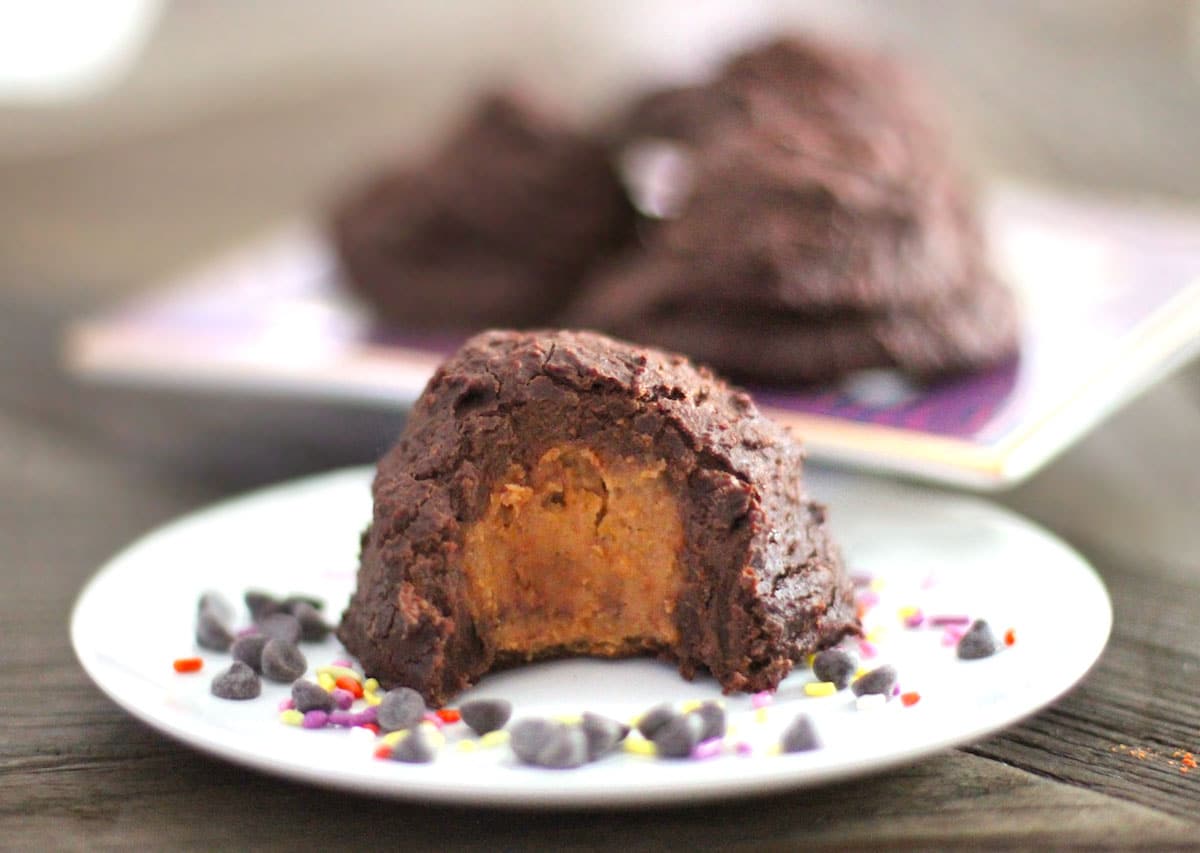 While these cookies kind of look like giant plops (yes, I'll admit it), they sure don't taste like it…  these are SUPER chocolatey, INCREDIBLY peanut buttery, TOTALLY addicting and PERFECTLY sweet.  Oh, and they're huge and fudgy and amazing.  I'm not sure if you can tell from the pictures but these jumbo cookies are like the size of your palms (my friend called them "giant volcano cookies" haha)
Seriously, you need to make these Peanut Butter Surprise right now.  They'll be gone in no time.  That's not a problem though, they're low calorie, low fat, and 100% healthy.
Healthy Peanut Butter Surprise Cookies
Prep Time: 30 minutes
Cook Time: 15 minutes
Total Time: 45 minutes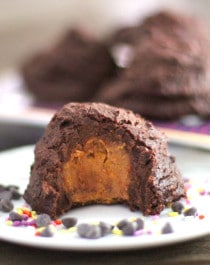 Fat per serving: 3.5
Calories per serving: 130
Ingredients:
Chocolate Cookie:
102g (¾ cup) Quinoa Flour
96g (½ cup) Granulated Erythritol (or dry sweetener of choice)
60g (½ cup) Peanut Flour
40g (½ cup) Unsweetened Natural Cocoa Powder
1 tsp Double-Acting Baking Powder
¼ tsp Salt
½ cup Unsweetened Vanilla Almond Milk
100g (6½ tbs) Unsweetened Applesauce
1½ tsp Stevia Extract
1 tsp Vanilla Extract
Peanut Butter Filling:
Directions:
Preheat the oven to 350 degrees Fahrenheit and line two baking sheets with silicone baking mats.
In a small bowl, whisk together the quinoa flour, erythritol, peanut flour, cocoa powder, baking powder, and salt.
In a large bowl, whisk together the almond milk, applesauce, stevia extract, and vanilla extract.  Dump the dry ingredients into the wet ingredients and stir the mixture very well (it should look like muffin batter).
In a medium-sized bowl, stir together the peanut flour and packeted sweetener.  Pour in the almond milk and stir together (it will be very thick). Portion the mixture into 9 pieces and roll into balls.
Spoon 9 tablespoons of the chocolate cookie dough/batter onto the prepared cookie sheets, each tablespoon about 3″ apart. Place a peanut butter ball over each spoonful. Spoon the remaining chocolate cookie dough/batter over the peanut butter balls and smooth out with a spoon, so that the ball is completely enclosed. Tap the pan on the counter a couple times to help smooth the surface.
Bake for ~13 minutes, or until the surface is no longer wet/doughy looking. Let cool on the pan. Serve and enjoy!
All images and text ©
.
.
Here is the recipe's nutrition label:
Considering how big these cookies are, I'm really happy with the nutrition label.  Only 130 calories and 3.5g of fat for the fudgiest, richest cookies ever?  Plus 10g of protein and 5g of fiber??  I'LL TAKE IT!  Especially compared to the nutrition label for original recipe via Post Punk Kitchen.  I've been wanting to make these cookies for so long now it's crazy.  I think I first saw PPK's recipe over four years ago.  They looked so delicious but they weren't healthy…  like, at all.  But thankfully, I healthified it.
These super rich and fudgy Peanut Butter Surprise Cookies are like the epitome of a secretly healthy dessert!
No butter, no oil, no sugar and no white flour…  it's totally okay to eat more than one.  I did, and I don't feel bad about it ONE. BIT.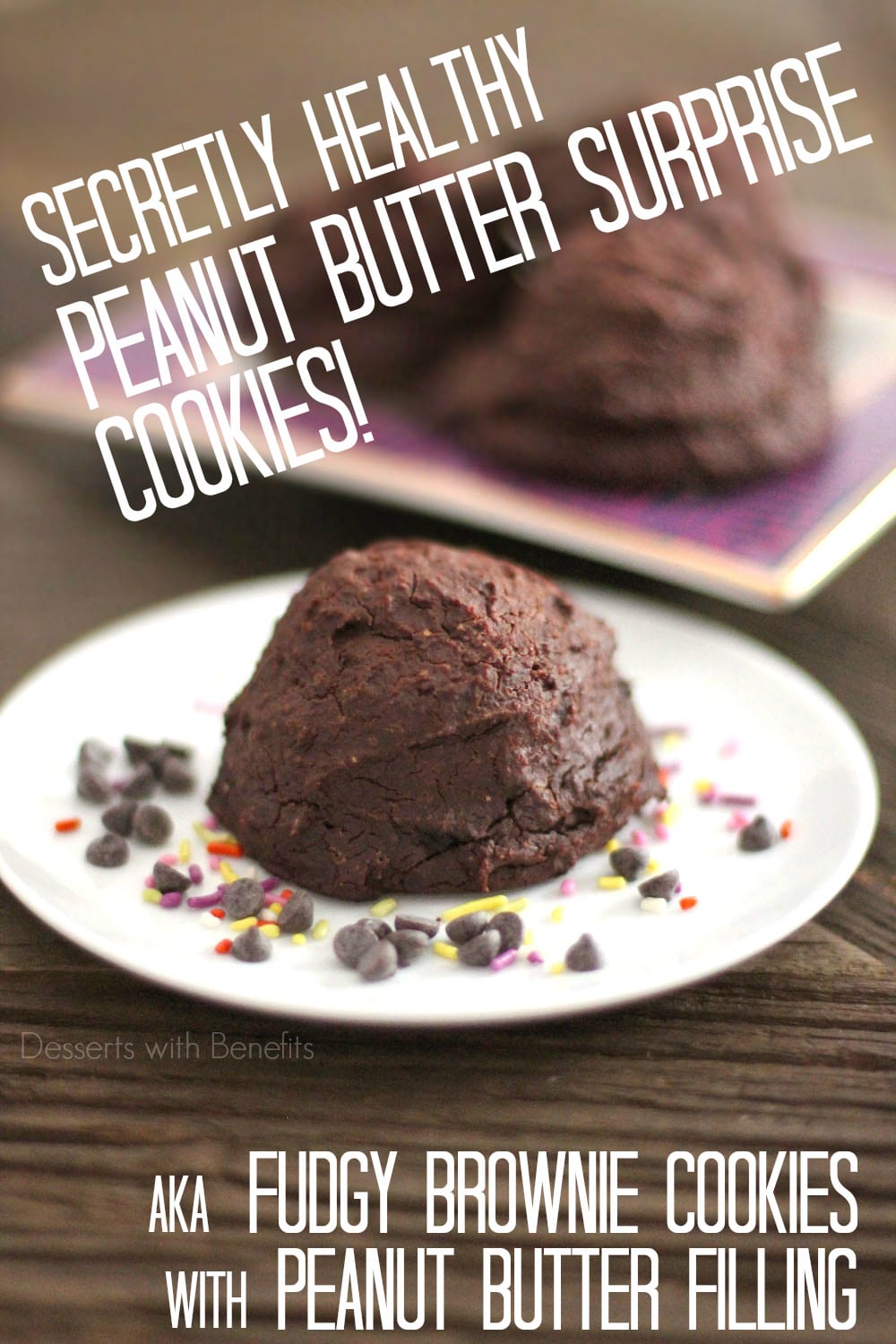 Today is the perfect day to bake up some healthy cookies.
But really now, when is there a wrong time to make cookies??  Never.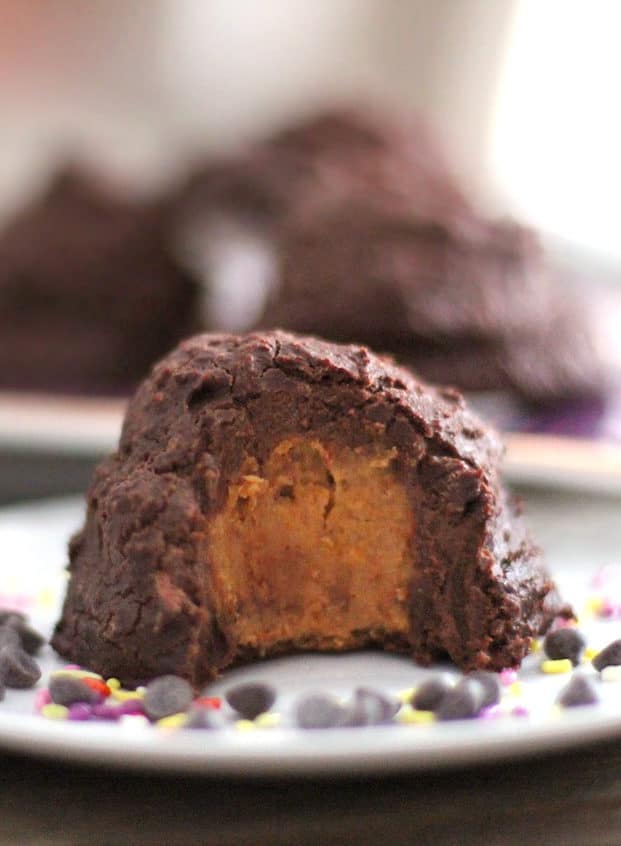 This is as good as healthy dessert can get.  Seriously.  Fudgy, chewy, peanut buttery and mouthwatering…  these are HEAVEN.
Oh, be still, my heart!
.
With love and good eats,
.
– Jess
.