Healthy Pumpkin Pancakes
Healthy Pumpkin Pancakes — they're soft, they're fluffy, they're delicious!  You'd never know they're sugar free, low fat, high protein, high fiber, gluten free, and dairy free too.  Shhhh 😏
These are probably the healthiest pancakes in the WOOOOOORLD!  They're super easy to make too.  Easy peasy.  We don't need the highly refined white sugar and nutritionally deficient white flour to make delicious pancakes.  Here, I used a mix of whole grain sorghum flour, egg whites, pure pumpkin puree, and ground cinnamon to create light and fluffy pancakes full of pumpkin flavor and warming cinnamon.
These Healthy Pumpkin Pancakes are anything and everything you could ever want.  They're perfectly sweet on their own, but if you wake up in the morning with a hankering sweet tooth like me, then a little big drizzle of pure maple syrup or Homemade Maple Syrup will make all your dreams come true.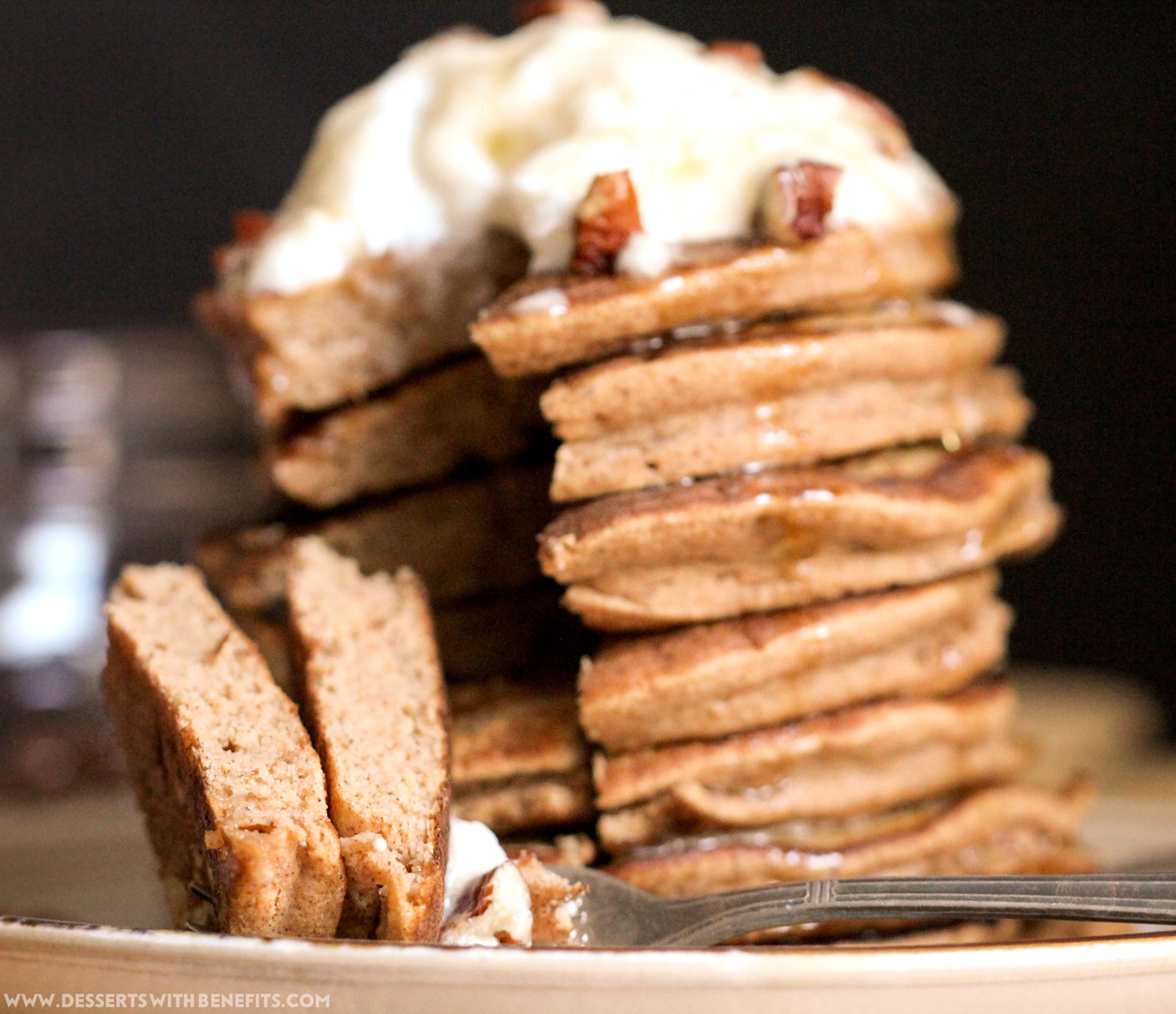 Healthy Pumpkin Pancakes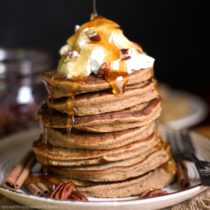 Ingredients:
90g (⅔ cup) Sweet White Sorghum Flour
1 tbs Ground Cinnamon
1 tsp Double Acting Baking Powder
¼ tsp Xanthan Gum
pinch of Salt
123g (½ cup) 100% Pure Pumpkin Puree, canned
4 Large Organic Egg Whites
½ cup Unsweetened Vanilla Almond Milk
2 tsp Vanilla Extract
Directions:
Spray a nonstick griddle with cooking spray and place over medium heat.
In a small bowl, whisk together the sorghum flour, cinnamon, baking powder, xanthan gum, sweetener, and salt.
In a medium-sized bowl, whisk together the pumpkin and egg whites. Whisk vigorously, until the egg whites are completely incorporated.  Whisk in the almond milk and vanilla.
Dump the dry ingredients into the wet ingredients and whisk vigorously.
Scoop ~¼ cup of the batter onto the griddle.  Cook until bubbles appear on the surface of the pancake and the edges appear dry.  Flip and cook the other side. Continue this until all the batter is used up.
Serve immediately with pure maple syrup or homemade maple syrup, your favorite nut butters, all natural whipped cream (be careful, some brands contain hydrogenated oils! I use Soyatoo Rice Whip), chocolate chips, etc.
Notes:
The recipe above is my revised recipe.  I originally posted a Pumpkin Pancake recipe back in 2015 but felt like it could use some work on the flavor and texture.   Just in case you wanted to see the previous recipe and/or the changes I made, I'm providing the old recipe here:
123g (½ cup) 100% Pure Pumpkin Puree, canned
2 Large Organic Eggs
½ cup Organic Egg Whites
1 tsp Vanilla Extract
4 packets Natural Sweetener (stevia, Truvia, etc.)
14g (2 tbs) Coconut Flour
½ tbs Ground Cinnamon
½ tsp Double-Acting Baking Powder
⅛ tsp Salt
Be sure to follow @DessertsWithBenefits on Instagram!  If you try this recipe, make sure to snap a picture of it, tag me @DessertsWithBenefits, and hashtag #DessertsWithBenefits.  I'd love to see it and feature you on #FanFaveFridays!
.
Here is the recipe's nutrition label:
Yes, a serving of these deliciously Healthy Pumpkin Pancakes has just 240 calories and 2g of fat, plus 7g of filling fiber, 12g of protein, and no added sugar.
BOOM SHAKALAKA 👊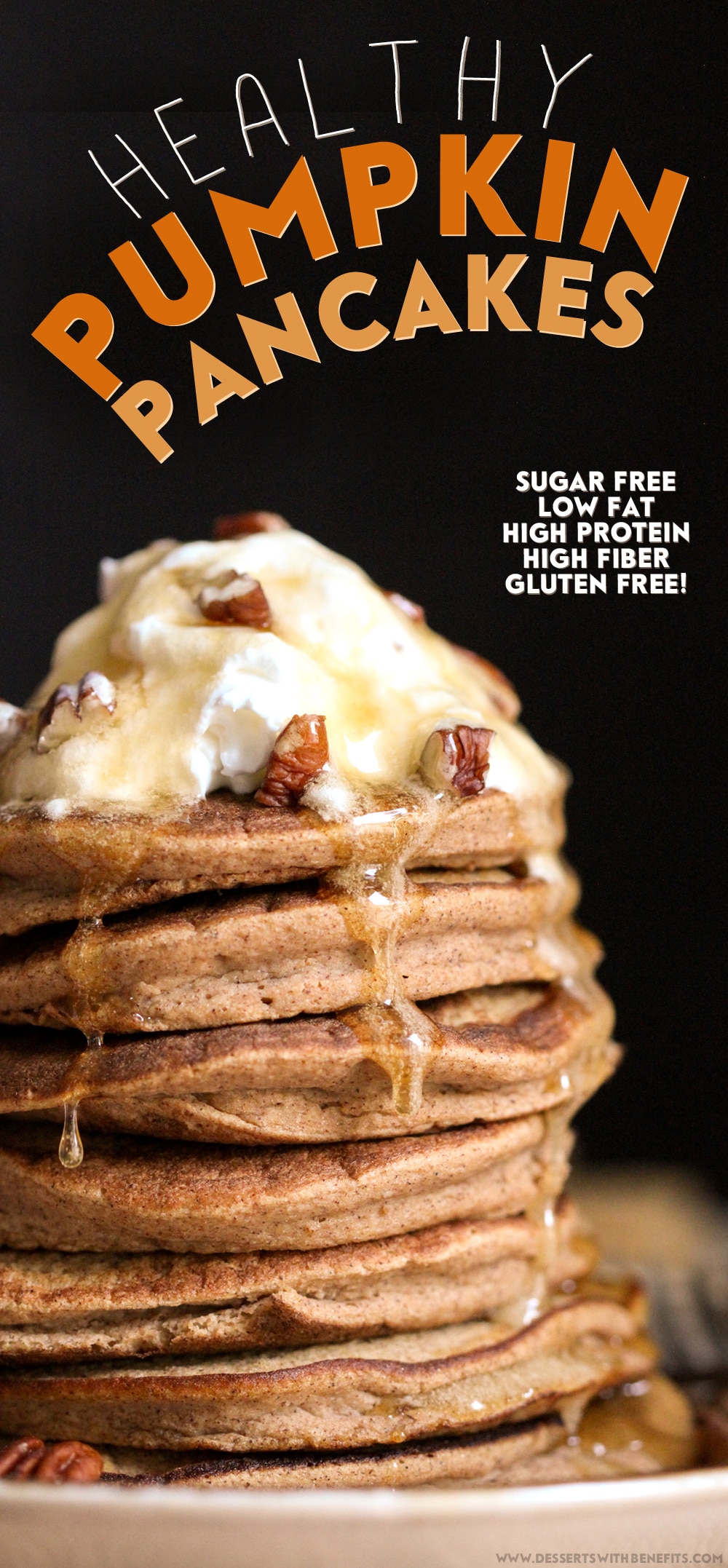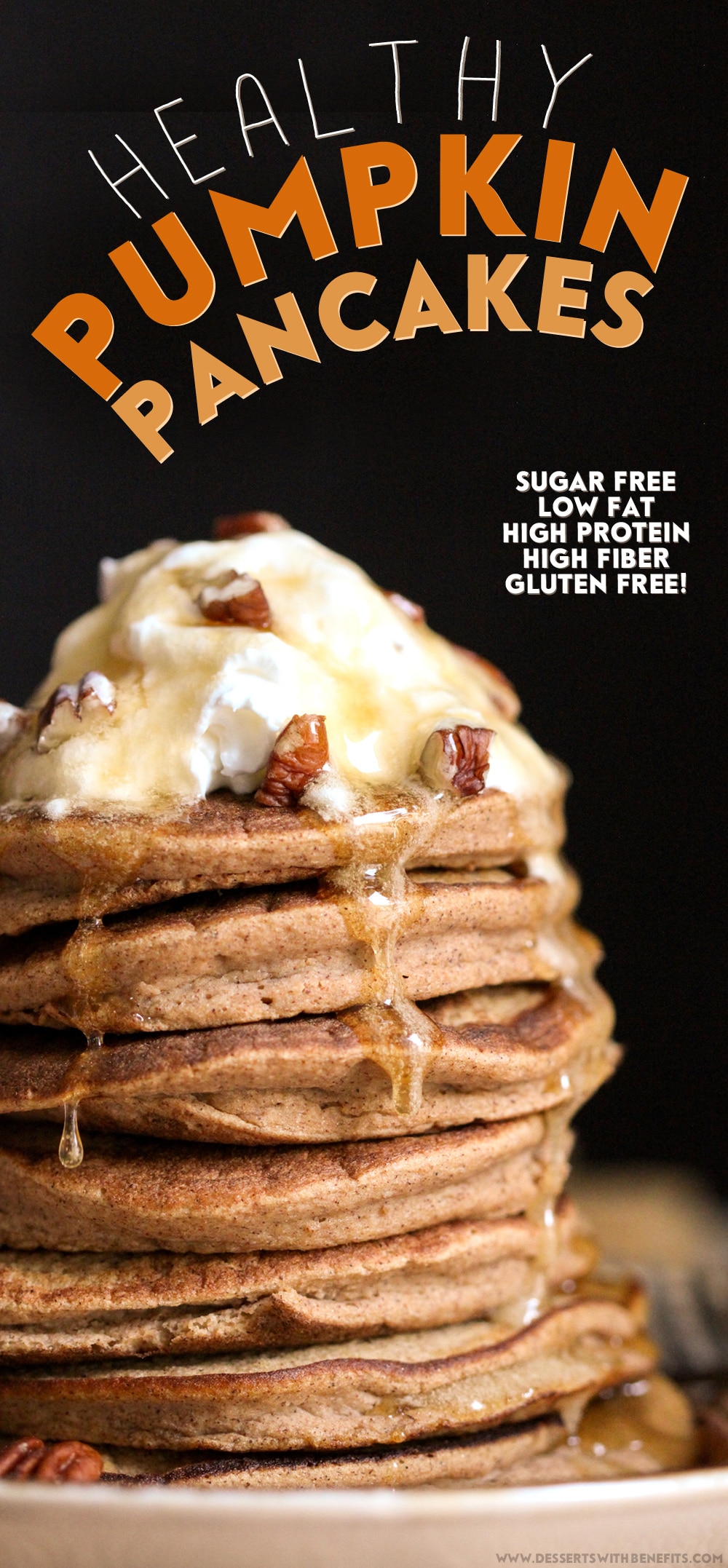 And it goes without saying these pancakes are BOMB alongside a big ol' jug cup of coffee.  DUHHHH ☕️👌
Enjoy!
.
– Jess
🎂🍴💕
.