Healthy Pumpkin Pie Energy Bites
It's nearly October but I can't really "get into" the pumpkin season mentality…  it's SO hot here in Texas!  I'm still wearing shorts, tank tops, and flip flops.  Probably will be for another couple of months.  But, I know some people out there are dying for some pumpkin goodies.  Here, I have the solution for both me and ye pumpkin lovers:  Healthy Pumpkin Pie Energy Bites!  They've got all the flavor of pumpkin pie, but in a portable, bite-sized form.  You'd never know they're refined sugar free, high fiber, gluten free, and vegan.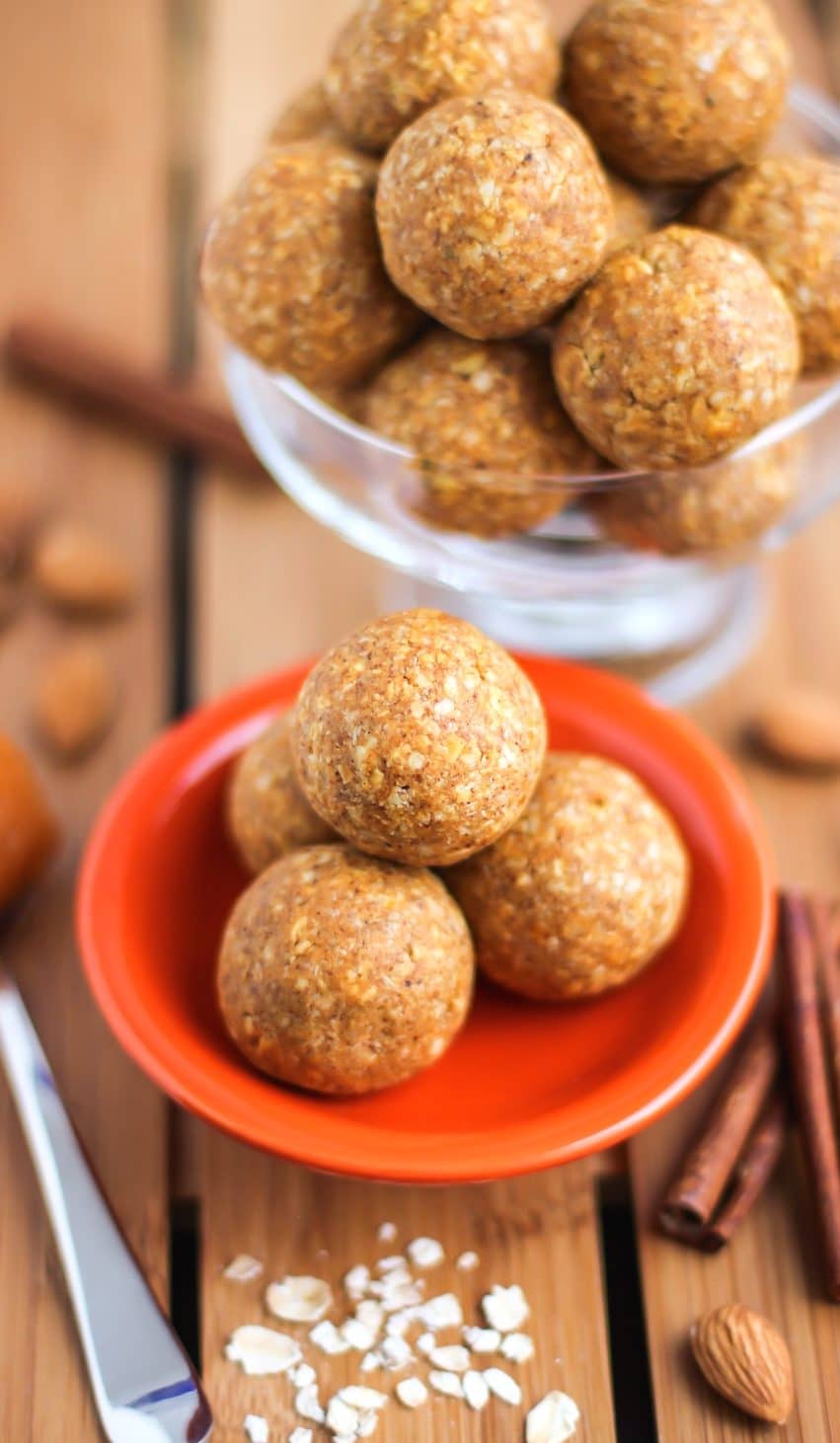 So, why do I need a yummy portable snack?
Because I GOT A JOB!  *gasps*
Well, technically, another one.  Although I'm currently a full-time blogger, I have been wondering what the next step in my life will be for quite some time.
My dad wants me to open a bakery or maybe even establish a food truck.
My mom wants me to stick with blogging and cookbook publishing.
My sister wants me to create a healthy dessert product that you can buy in stores.
And me?  I don't know, I just want to be happy (and eat dessert all day, of course).
I decided to test out these options one by one.  Just last week, I got a job at a local restaurant I love, making desserts with the fellow bakers.  The restaurant is primarily gluten-free, with a ton of dairy-free and vegan options (nearly all of the ingredients are local, organic, sustainable, grass-fed, etc.).
I love the job, but I'm SO not used to the 8-hour shifts of almost constant running around the kitchen (my feet are killing me, slowly but surely).  I'm used to sitting on the couch with my feet propped up and coffee mug beside me, editing photos, writing posts, responding to emails, and so on.  When I feel like taking a break, I turn on some TV, take Cherry for a walk, or go workout.  When I get hungry, I take five steps into the kitchen.
On the other hand, at the restaurant, I need to go on break to snack my face off.  I like me some snacks, so I like to bring in bite-sized treats that are easy to make and can sustain me for the remainder of my shift.  I brought in my Strawberry Shortcake Energy Bites a couple times, but seeing as it's almost October, I felt like I should step up my "pumpkin game" a little bit…  So what about Pumpkin Pie Energy Bites?
Um, YES.
These fudgy Healthy Pumpkin Pie Energy Bites are easy to make, pack, store, and eat — the perfect solution to a super hungry girl who is new to super long shifts!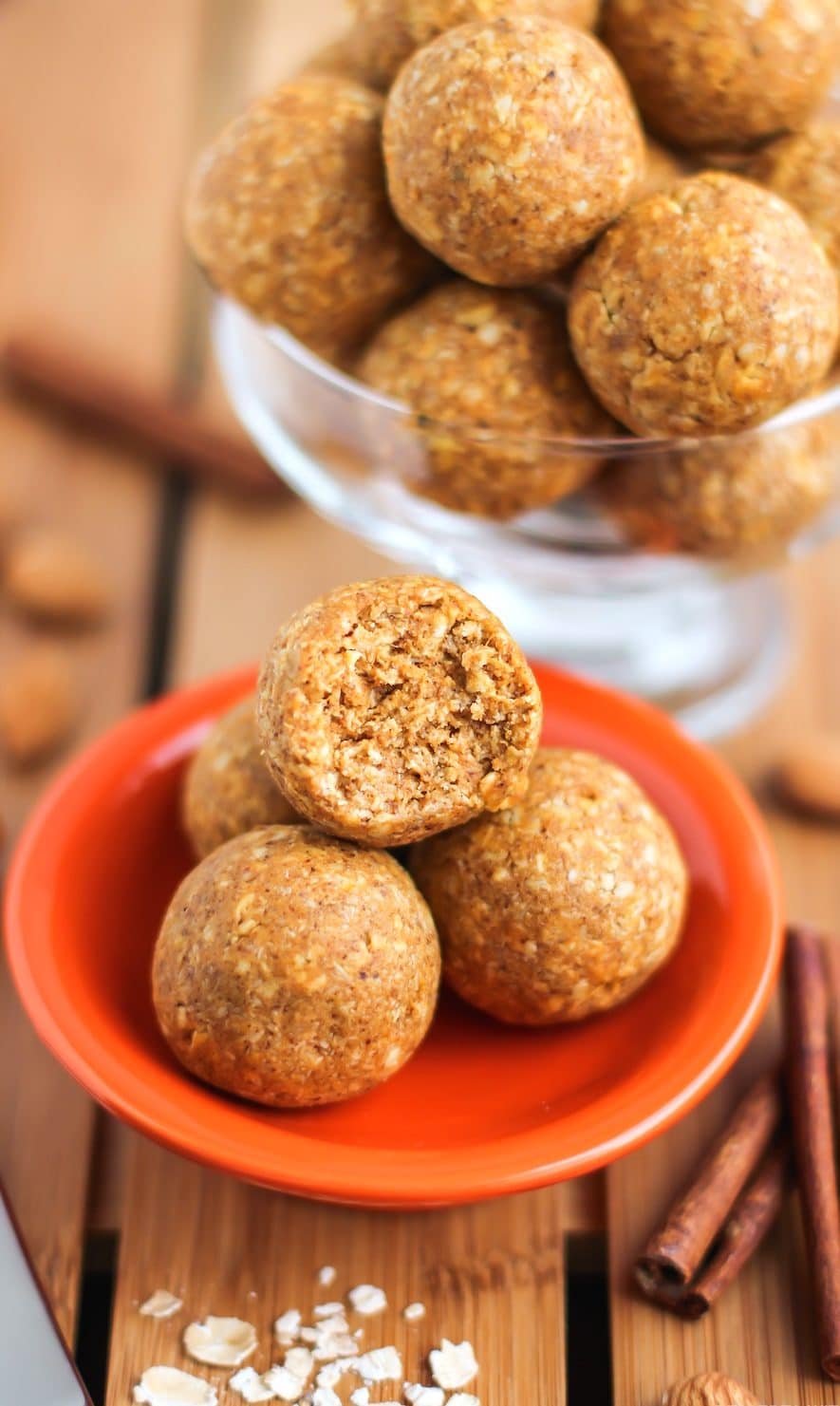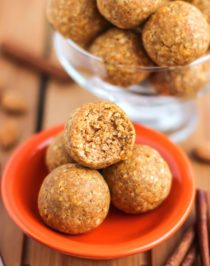 Print Recipe
Pin Recipe
Healthy Fudgy Pumpkin Pie Energy Bites
Healthy Fudgy Pumpkin Pie Energy Bites -- all the flavor of pumpkin pie in a portable, bite-sized form! (refined sugar free, high fiber, gluten free, dairy free, vegan)
Instructions
In a stand mixer bowl fitted with a beater attachment, add the pumpkin puree, almond butter, stevia extract, cinnamon and salt. Mix on low speed.

While mixing, add the quinoa flakes and oats.

Scrape down the sides of the bowl and mix one last time. Cover the bowl and refrigerate for 30 minutes.

Line a cookie sheet with parchment paper. Use a cookie scoop to portion out the dough and place on the prepared cookie sheet.  Roll the dough into balls.  Serve immediately or cover and refrigerate for later!
Recipe Notes
**If you don't have Quinoa Flakes, you can try using all Quick Cooking Oats instead.  I haven't tried this, but it should work just fine!
Nutrition Facts
Healthy Fudgy Pumpkin Pie Energy Bites
Amount Per Serving (2 energy bites)
Calories 150
Calories from Fat 72
% Daily Value*
Fat 8g12%
Sodium 60mg3%
Carbohydrates 16g5%
Protein 6g12%
Vitamin A 3000IU60%
Iron 1.1mg6%
* Percent Daily Values are based on a 2000 calorie diet.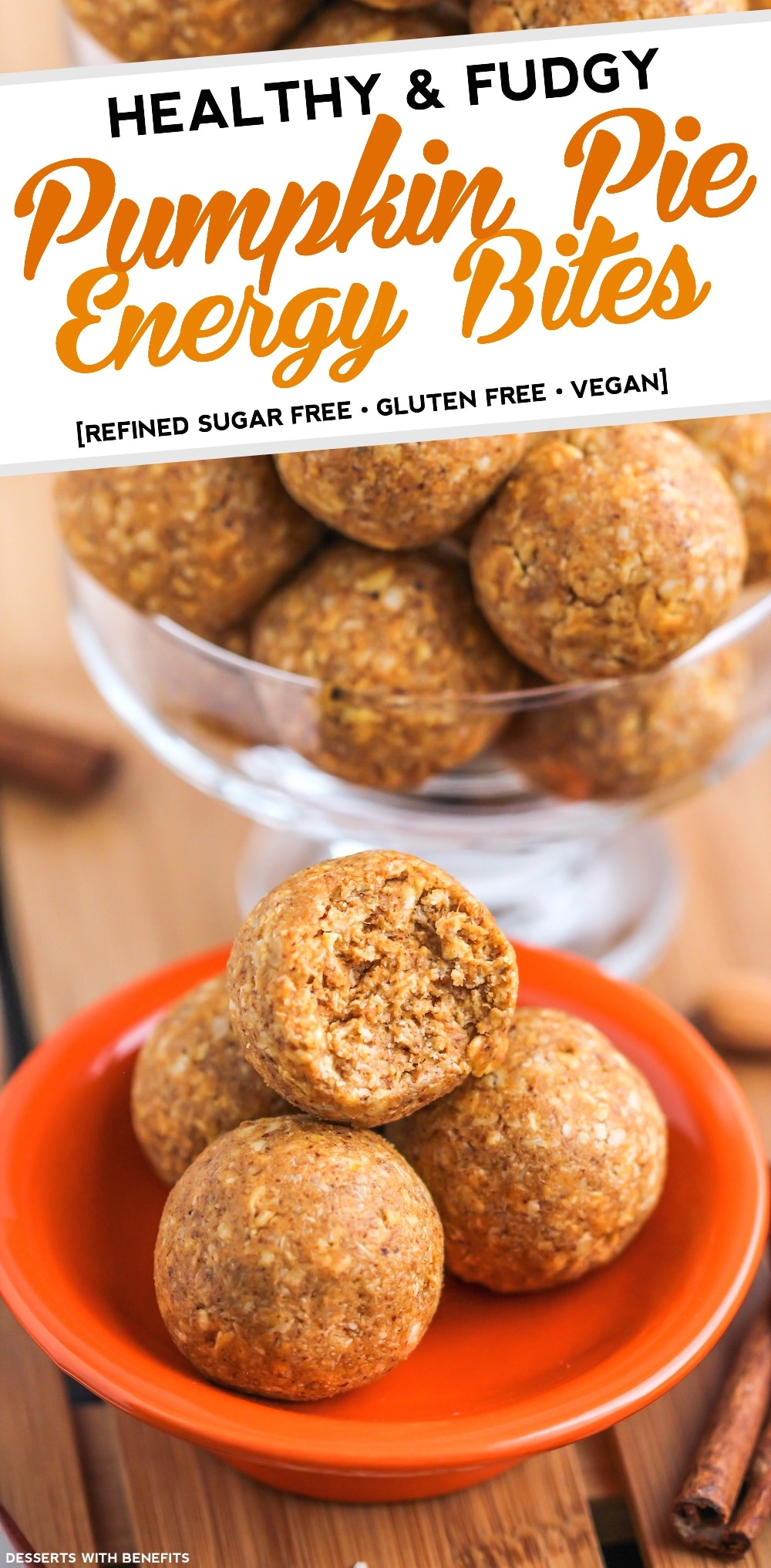 I have so many new recipes to try out and can't wait to share them with you.  Expect some more snack-ish recipes soon!
Be excited.  Be very excited.
.
With love and good eats,
.
-Jess
.