Healthy Red Velvet Gooey Butter Cookies
Healthy Red Velvet Gooey Butter Cookies – like Red Velvet Cake but in a palm-sized cookie, and without any butter, oil, refined white sugar, bleached flour and artificial food coloring!  And only 67 calories a cookie?
Go ahead, have another one, no guilt involved!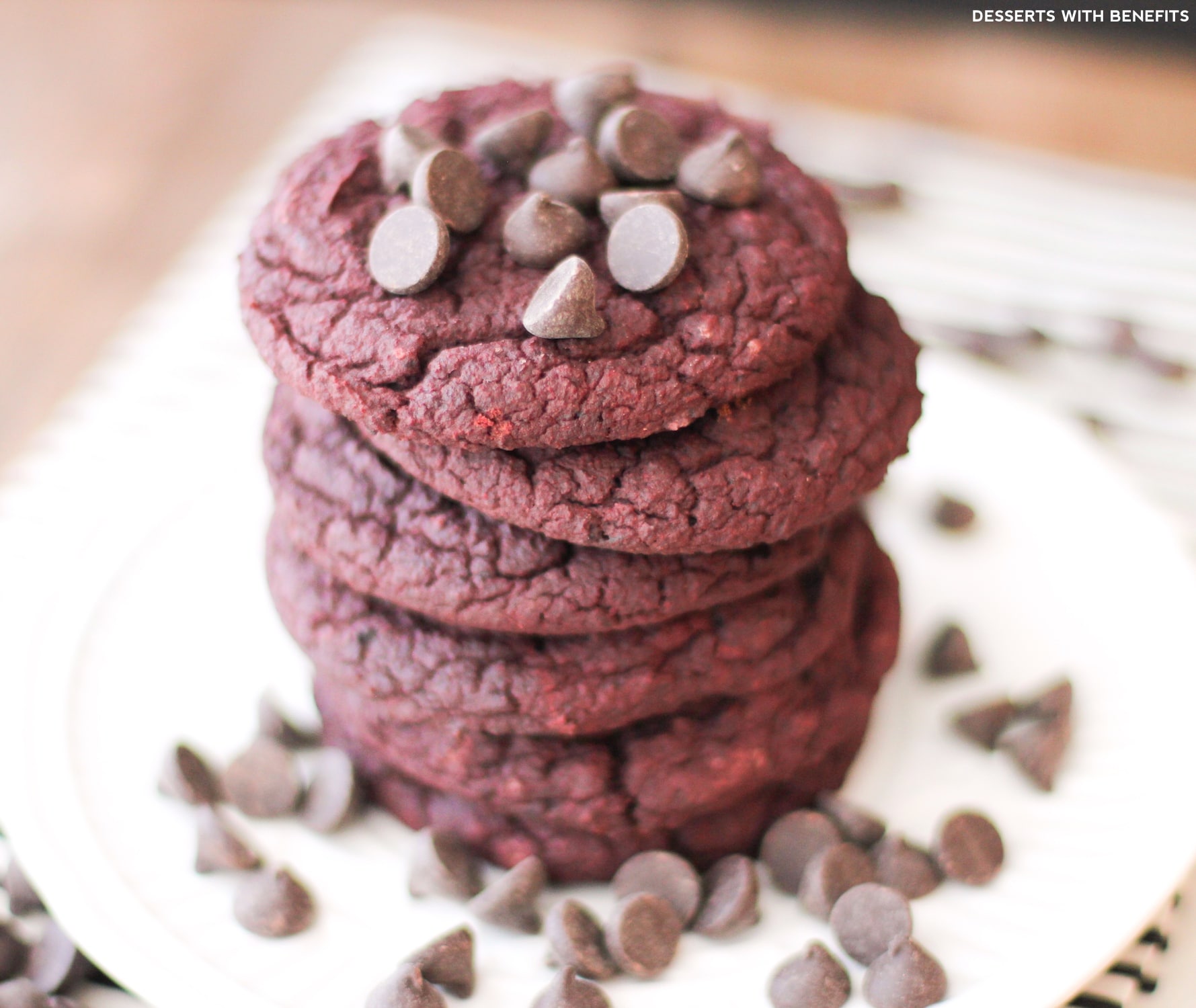 Just the other day as I was standing at the checkout line at Costco, the checkout employee asked if I liked to eat healthy.
I guess my purchase stood out just a tad compared to the typical Costco customer's purchase (maybe it was my pound of organic spinach, or the organic eggs, guacamole, maple syrup, Greek yogurt and vodka unsweetened almond milk that tipped him off?)
I replied with a simple, "Yes," and we talked about how it's important to eat healthy.  After a couple of minutes he said it's hard for him to eat healthy because he doesn't like "rabbit food."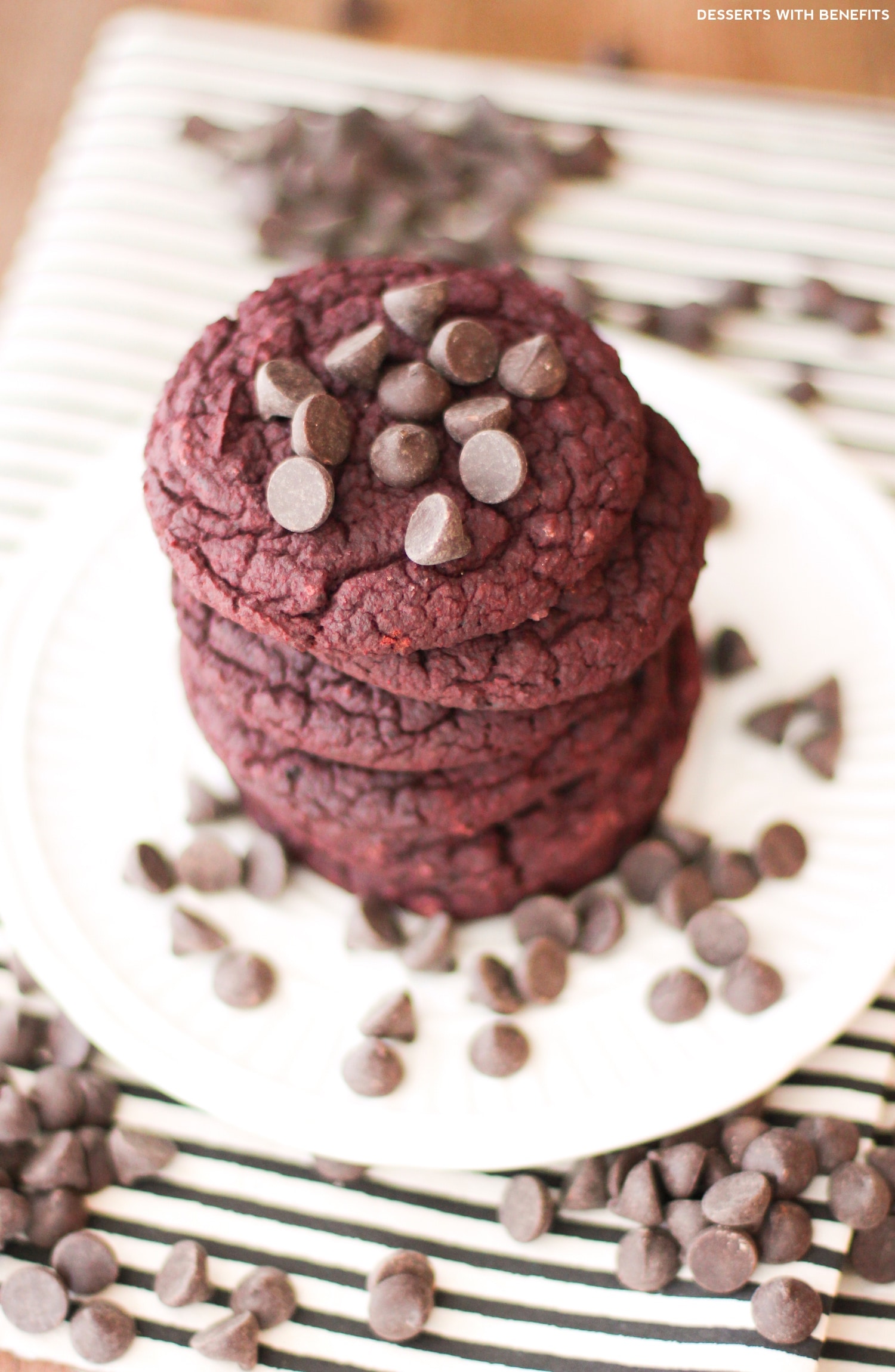 I was a little shocked.
Did he consider my Costco purchase to be rabbit food?  Do other people think I eat like a rabbit?
My initial shock turned into confusion (mostly because I didn't even buy carrots, aka bunny food, haha) because I don't feel like I eat bunny chow.  I mean, as I unloaded the groceries into my car, I could see how boring and plain everything looked, but that's because it hasn't been prepared yet!  I don't like buying pre-made food because it's always super processed, artificial, overly salted, overly sweetened…  basically overly everything.  I wish I could show people (especially that Costco employee) that when prepared correctly, healthy food can taste good damn delicious.
OH WAIT, that's why I made this blog!  *smacks self in head*
I used Earth Balance's Organic Whipped Buttery Spread in these cookies to provide a nice texture and flavor, as a contribution to their Make Me Mindful campaign.
As I mentioned back in January, I made a New Year's resolution to "Eat better — more homemade treats, less storebought stuff…  and go vegetarian.  Not only do I want to eat healthier foods, I want to eat more responsibly sourced and sustainably produced foods.  I want a fridge, freezer and pantry stocked with organic, non-GMO ingredients.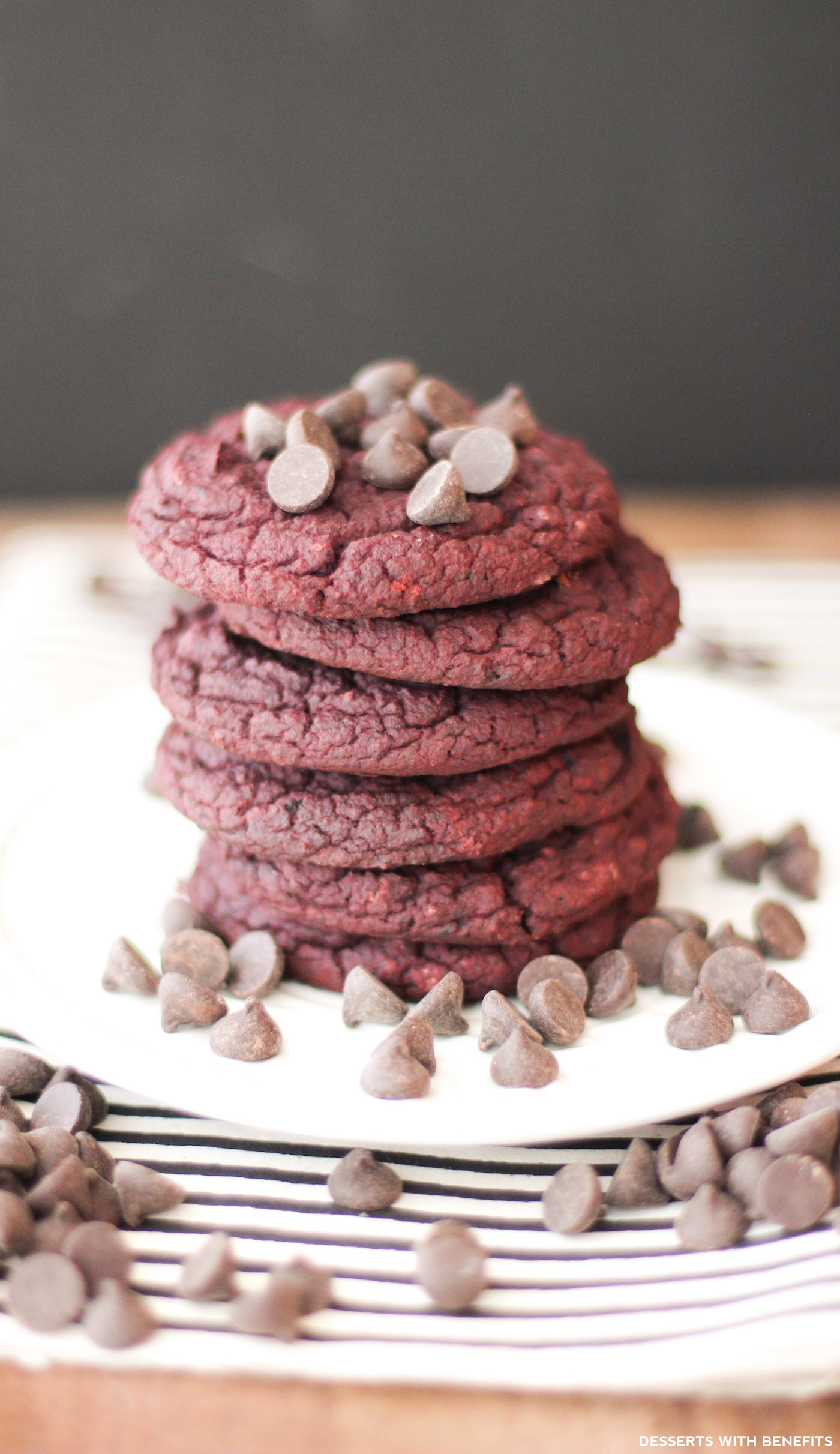 These Healthy Red Velvet Gooey Butter Cookies fit the bill.  And it ISN'T rabbit food.  So make these chewy, chocolatey, rich and delicious cookies.  Because dessert is for humans, carrots are for rabbits.
Healthy Red Velvet Gooey Butter Cookies
Prep Time: 2 hours
Cook Time: 20 minutes
Total Time: 2 hours 30 minutes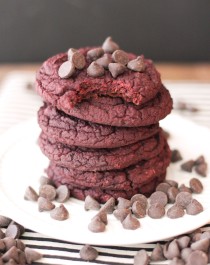 Fat per serving: 7g
Calories per serving: 130
Ingredients:
262g (1½ cups) Garbanzo Beans, drained and rinsed well!
144g (¾ cup) Granulated Erythritol
124g (½ cup) Roasted Beet Puree (see Directions)
⅓ cup Unsweetened Vanilla Almond Milk
44g (¼ cup) Organic Whipped Earth Balance Buttery Spread
2 tsp Vanilla Extract
2 tsp Natural Butter Flavor
1 tsp Stevia Extract
53g (⅔ cup) Unsweetened Natural Cocoa Powder
30g (¼ cup) Oat Flour
13g (2 tbs) Ground Flaxseed
2 tsp Double-Acting Baking Powder
¼ tsp Salt
1 tsp White Vinegar
Directions:
FOR THE ROASTED BEET PUREE:
Preheat the oven to 400 degrees Fahrenheit.
Rinse and gently scrub a medium beet, then wrap it in foil.
Place the beet on a jelly roll pan and bake for 1 hour, or until a fork pierces through the center with ease. Carefully unwrap the beet and let cool for 30 minutes.
Scrape off the beet skin (they should peel off easily) and chop into chunks. Add the beet chunks to a food processor and purée until completely smooth.
FOR THE COOKIES:
Add the garbanzo beans, erythritol, roasted beet puree, almond milk, Earth Balance and extracts to a high speed blender (I used my NutriBullet) and puree until very smooth (batter should be a bright fuchsia).
Preheat the oven to 350 degrees Fahrenheit and line two cookie sheets with parchment paper.
Scoop the mixture out of the blender and into a large bowl.
In a small bowl, whisk together the cocoa powder, oat flour, flax, baking powder and salt. Dump this over the wet ingredients and whisk together well.
Whisk in the vinegar. The dough/batter should be like muffin batter, not thick like cookie dough or thin like cake batter.
Use a cookie scoop to portion the batter onto the prepared cookie sheets.  I used a 2″ cookie scoop.  Flatten the batter "domes" into cookie shapes by swirling your finger gently on the surface.  Bake for ~19 minutes, or until the cookies are no longer wet or shiny looking. Lightly tap the center of the cookies, if they are mushy in the middle then bake them for another minute or two.  Let cookies cool ON THE PAN.  Serve once they're completely cooled and set.
All images and text ©
.
The Healthy Red Velvet Gooey Butter Cookies will be extremely delicate when they're hot out of the oven, so don't man handle them…  yet  😉
.
Here is the recipe's nutrition label: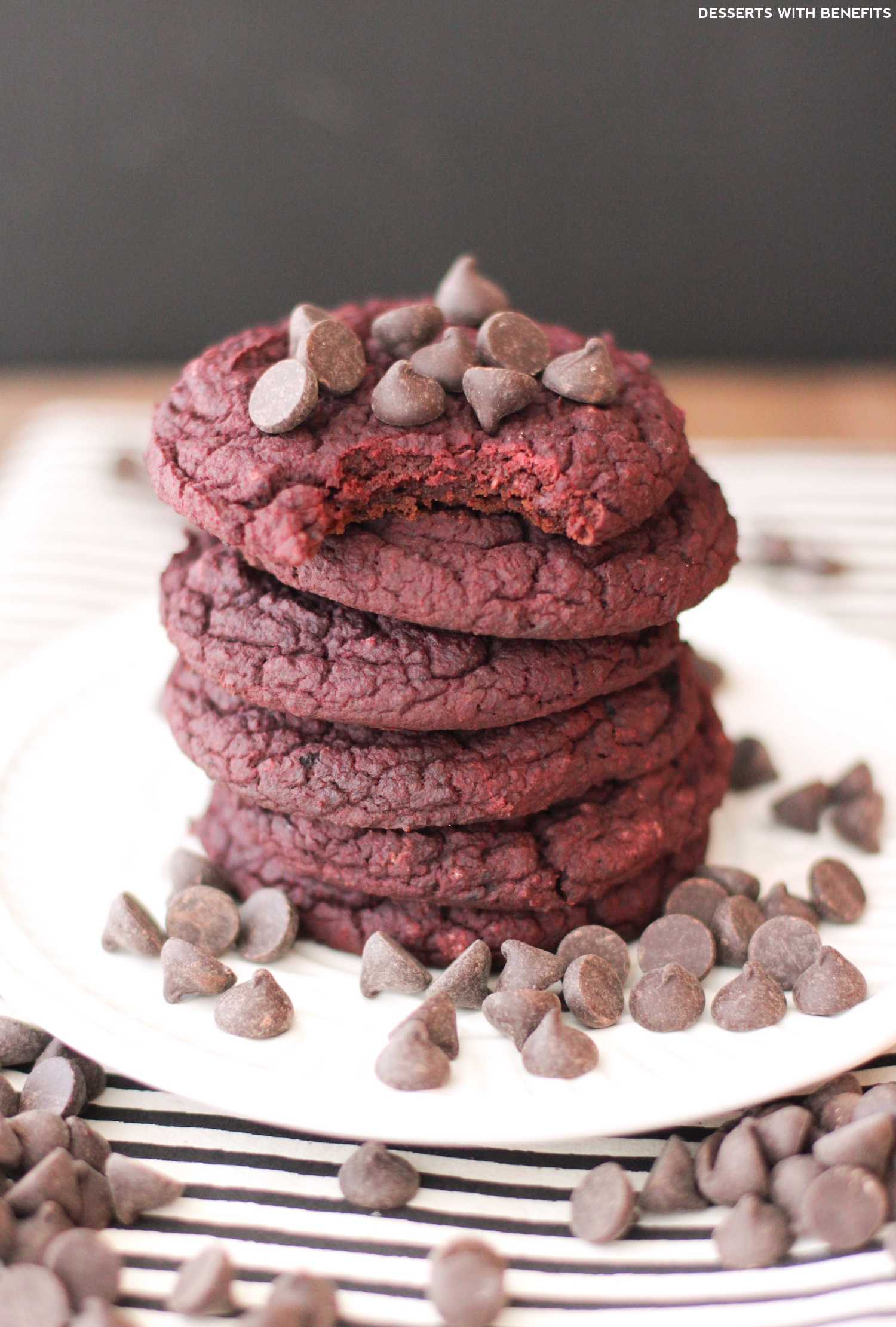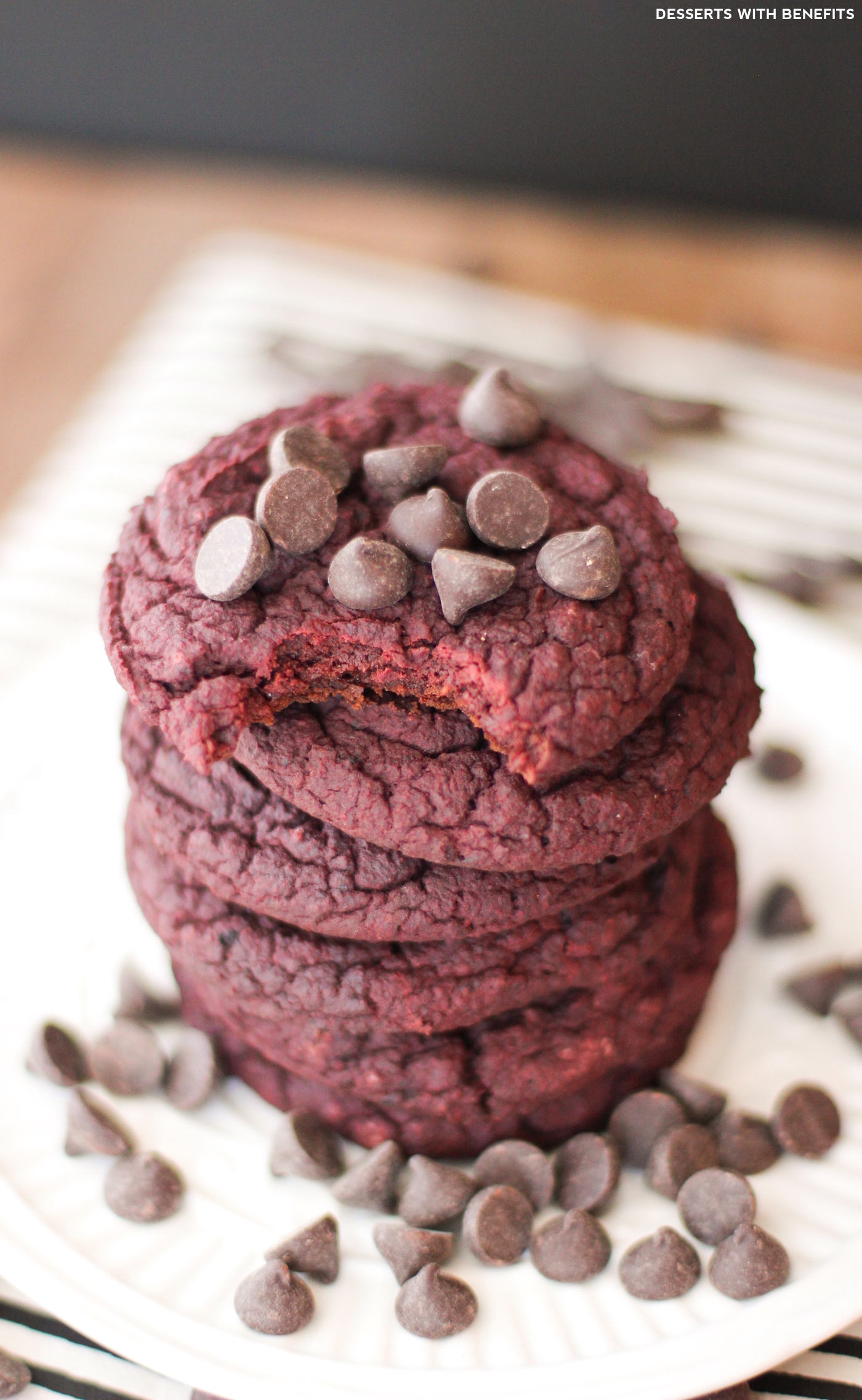 Mmmmm!  Fudgy Red Velvet goodness  🙂
.
With love and good eats,
.
– Jess
.
.
This conversation is sponsored by Silk. All opinions and text are my own!
Comments submitted may be shown on websites owned by Earth Balance.