Healthy Red Wine Ice Cream (To Celebrate My 5th Blogiversary!)
Today is the day that Desserts With Benefits turns FIVE!  5 YEARS OLD!
I can't believe that I've been blogging for that long already.  And I just recently posted my 500th post too.  Proud mama moment for me right now.  So many "life events" for my widdle bloggy (and me) lately.  I've graduated college, became a dog mom, moved to a new state, and truly begun a new life.  I've come to a point in time where I need to make some big decisions.  BIG life decisions (like possibly getting my own place and a mortgage and real adult stuff like that).  More on this another time, though.  Because right now, it's time for Healthy Red Wine Ice Cream.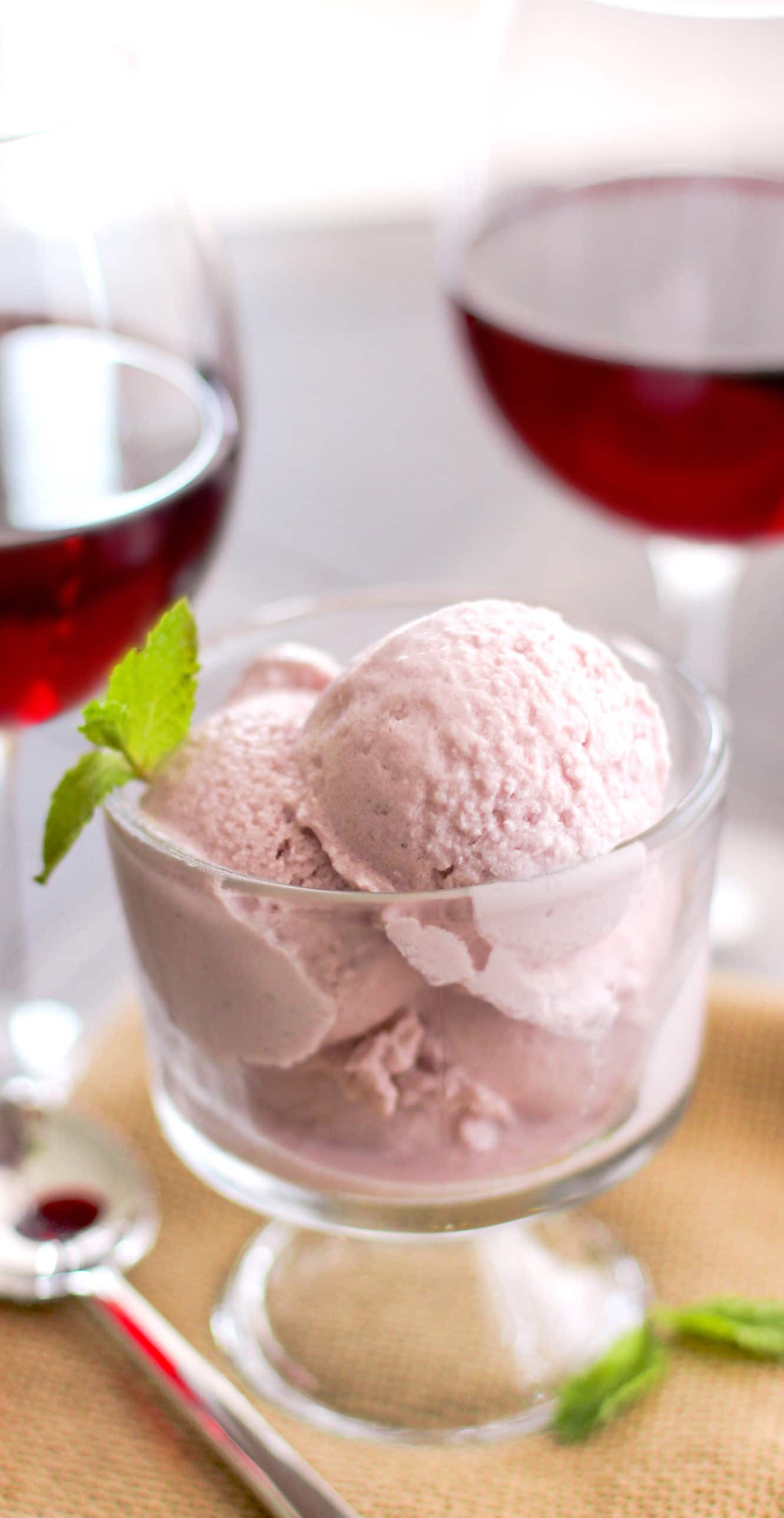 HEALTHY Red Wine Ice Cream??  Yes, really!  This creamy, sweet, alcoholic dessert is all natural, reduced fat and high protein, with no sugar added.
Oh, and did I mention it's boozy?  Like, seriously boozy.  You can probably get drunk off of it.
Because Alcohol + Dessert = BEST OF BOTH WORLDS!!
Am I right or am I right?
Yes, Jessica!  You are right!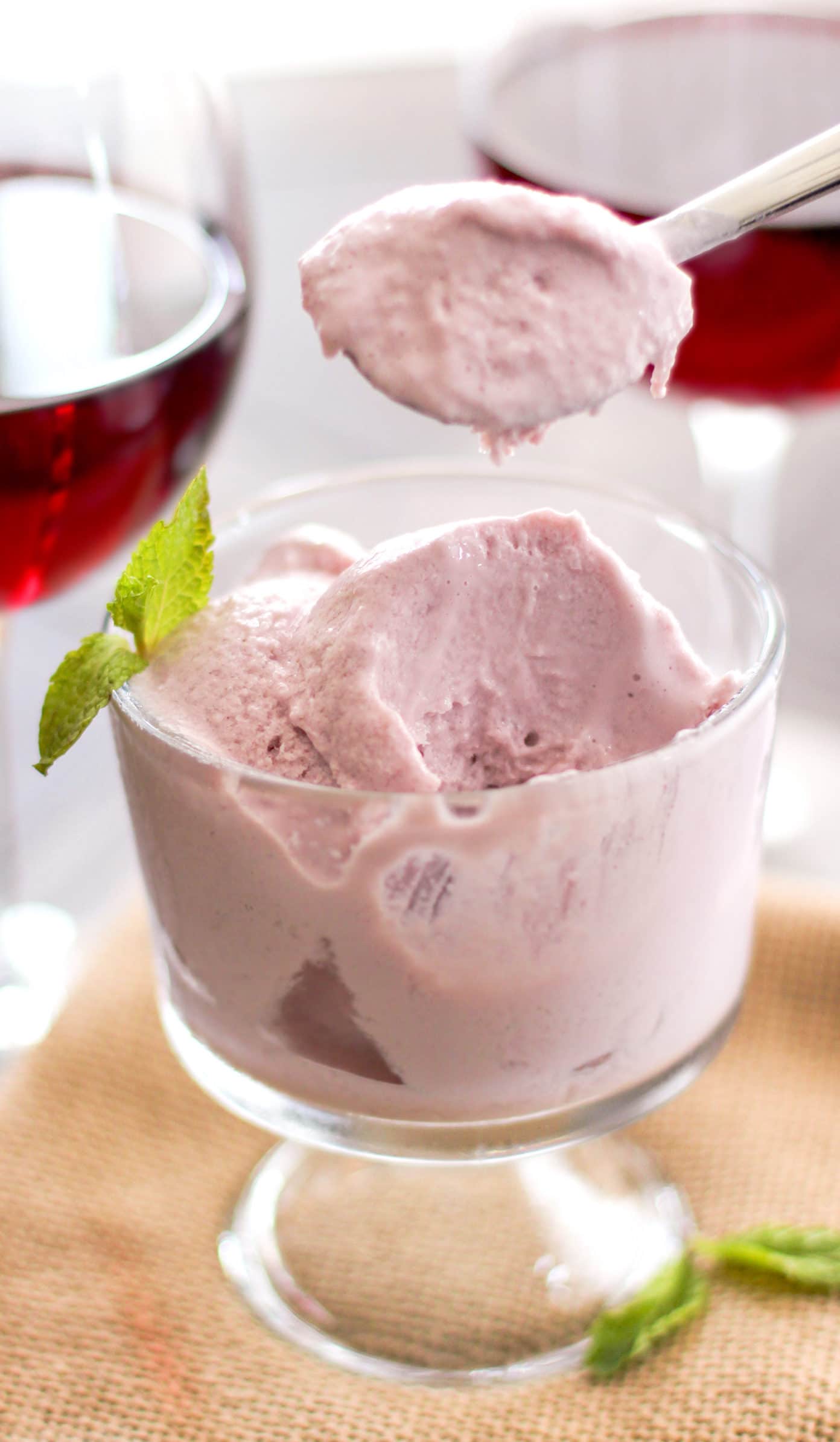 Look at dat!  What a beauty.
This Red Wine Ice Cream full of antioxidants, protein, healthy fats, and yummy delicious booze.
(But really now, when you're getting drunk off eating this sweet and creamy deliciousness, it's not like you'll be focusing on the healthiness of this ice cream anyways).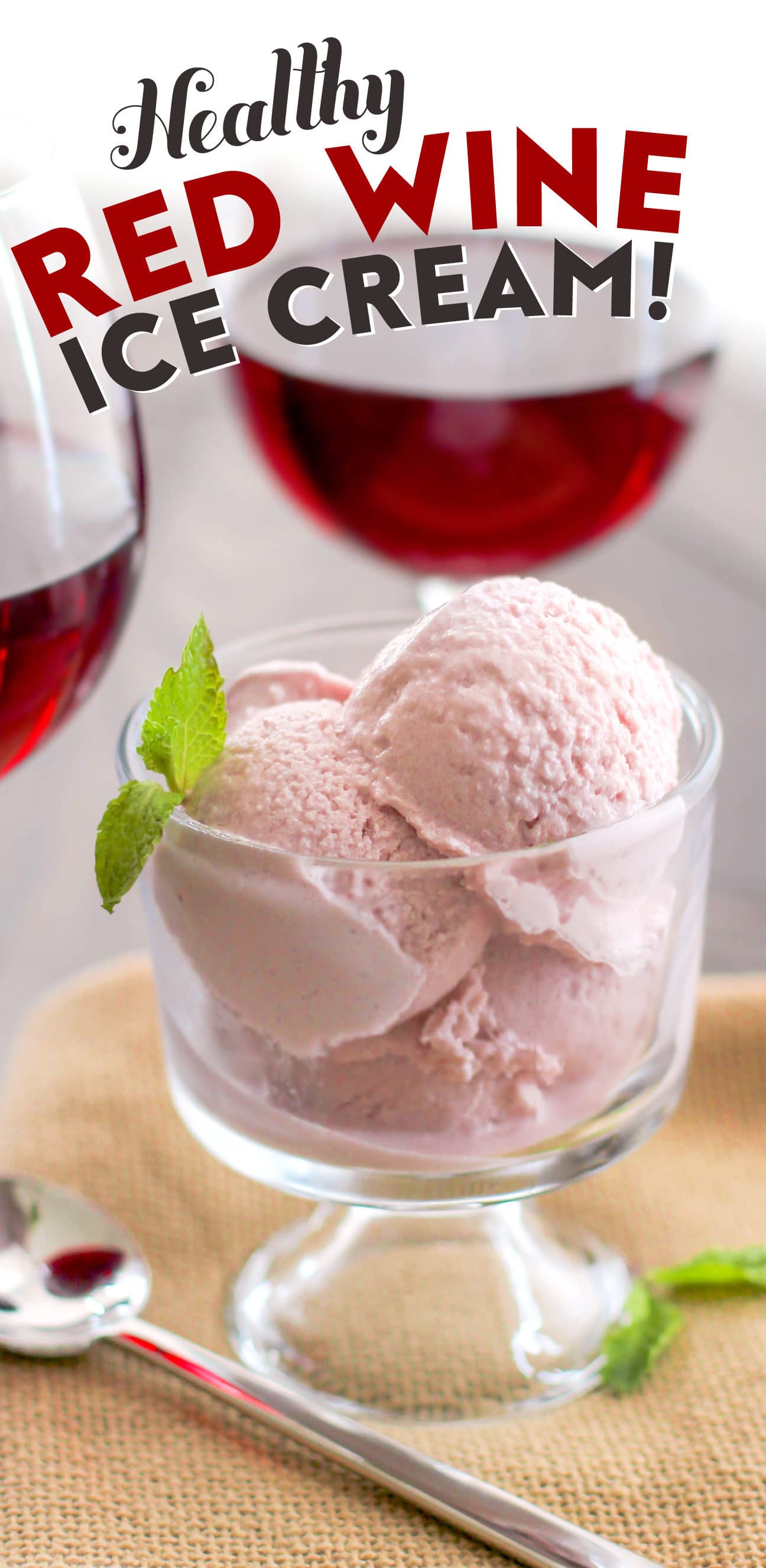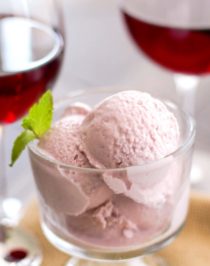 Print Recipe
Pin Recipe
Healthy Red Wine Ice Cream
This Red Wine Ice Cream full of antioxidants, protein, healthy fats, and yummy delicious booze!
Ingredients
32

oz

Plain, Nonfat Greek Yogurt

16

oz

Half and Half

1

tsp

Xanthan Gum

24

oz

Your Favorite Pinot Noir!

(I used Black Box Wine)

1

tbs

Vanilla Extract

2

tsp

Liquid Stevia Extract

¼

tsp

Salt
Instructions
In a large blender, add the yogurt and half and half.  Turn the blender on, and while it's running, slowly add the xanthan gum.  Pour the mixture into a large bowl.

Whisk in the wine, vanilla extract, stevia extract and salt.  Mix until the mixture is even and completely smooth.

Churn according to your ice cream makers' instructions** (I used my 

KitchenAid Ice Cream attachment

).  I churned the mixture for about 15-20 minutes, but it never turned into a soft-serve consistency like my normal ice cream recipes do (probably due to the alcohol content).  Anyhow, pour the mixture into a freezer-safe container and freeze until it has the consistency you like (~4 hours). Serve!
Recipe Notes
**This is quite a large batch of ice cream, so make sure your ice cream maker is equipped for 2 quarts or more.  If you have a smaller scale ice cream maker, feel free to half the recipe.
When I was deciding on a wine to use in this ice cream recipe, I chose to use a Pinot Noir.  Partly for the lovely color it would add to the ice cream, and partly for its flavor profile.  A Cabernet Sauvignon or Merlot might taste a little too strong and dry (for me, anyways).
This Healthy Red Wine Ice Cream was MADE for parties and all types of entertaining.
Game time?  YES.
BBQs, picnics and potlucks?  ABSOLUTELY.
Girl's night?  HELL TO THE YEAAHHH.
It's really perfect for any on-the-go entertaining this summer.
So, let's raise a glass to growing up, and a spoonful of ice cream to our faces for coping with all that comes with adulthood.  Can't wait to see what's in store for DWB's future. Whatever it is, I hope you LOVE it!  🙂
.
– Jess
.