Healthy Strawberry Cake with Strawberry Frosting
This Healthy Strawberry Cake is moist, fluffy and infused with fresh, juicy strawberries.  The cake is topped with a rich and buttery Strawberries and Cream Frosting – aromatic, naturally colored and loaded with flavor, yet free of refined sugar, butter and white flour!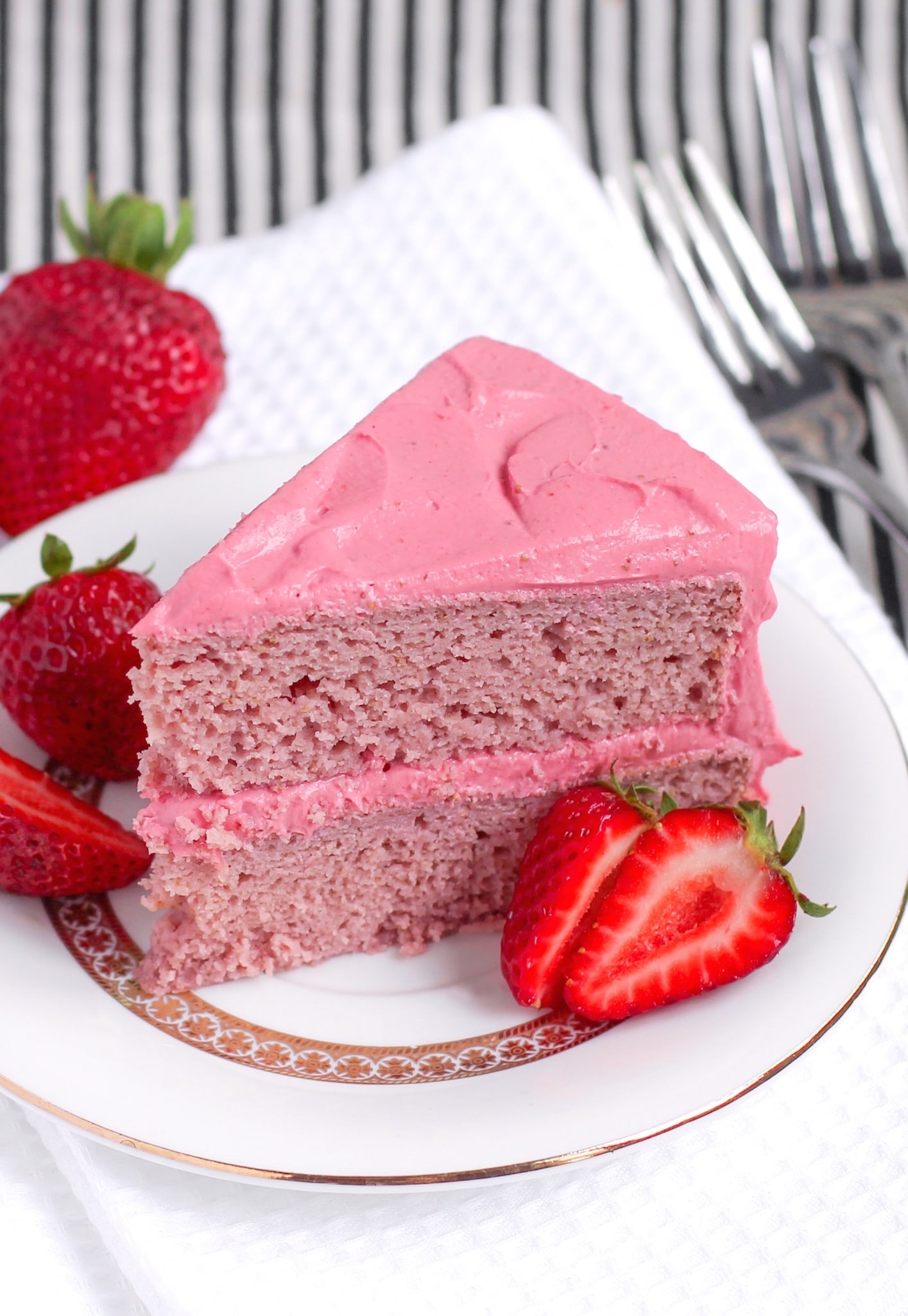 This dessert will be loved by everyone and it's excellent for any time of day, from breakfast to lunch to dessert!  Yes, I said it…  this cake is totally okay to eat for breakfast!  You might ask, "How is that even possible??"  Well, it's jam-packed full of fresh strawberries and whole grains, and it's all topped off with a frosting made of yogurt and even more strawberries.
Why have a boring bowl of oatmeal when you can have CAKE?  Cake WITH FROSTING.  So decadent, so sweet, so rich, and yet so healthy.
One slice of Paula Deen's strawberry cake has 1,020 calories and 148g of sugar.  That's more than ¾ cup of sugar in one sitting.
Okay, I think I'm starting to overcome the initial shock and can finally find some words to describe that nutrition label…  how about, insane, ridiculous, unhealthy, an utter joke.  Is she trying to kill us?  Wait, never mind, I know the answer to that…
So make a healthier version of the classic Strawberry Cake with Strawberry Frosting.  You can get all that delicious strawberry flavor you love so much without the trans fats, artificial flavorings, artificial colorings, preservatives, gelatin, white sugar, butter and bleached flour…  right here, right now  🙂
Healthy Strawberry Cake with Strawberry Frosting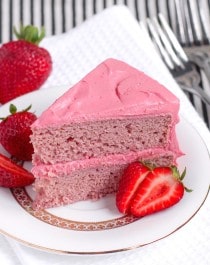 Fat per serving: 9
Calories per serving: 200
Ingredients:
Strawberries
Oat Flour
Arrowroot Starch
Double-Acting Baking Powder
Salt
Unsweetened Vanilla Almond Milk
Egg Whites + Egg
Coconut Oil, liquid
Strawberry Flavor
Vanilla Extract
White Vinegar
Directions:
Notes:
I originally wasn't going to share the recipe here because I worked so incredibly hard on publishing Naughty or Nice.  But, I understand not having a recipe here can be frustrating.  So, I'll meet you halfway…  how does that sound?  I'll show you all the ingredients I use in the recipe.  That way, you can determine on your own whether or not the cookbook is for you!
All images and text ©
.
.
Here is the recipe's nutrition label:
Enjoy!
.
Be happy.
Live fully.
Feel naughty, eat nice.
.
– Jess
.