Healthy Homemade Peppermint Mocha
My friend (an employee at Starbucks) got me hooked on Starbucks' Peppermint Mochas.  They taste like hot chocolate rather than coffee, and the peppermint is just so refreshing.  It's starting to get cold here in Arizona, and sometimes, green tea just doesn't cut it when it comes to warming up on your way to class.
Okay, that's a lie.  I just like chocolate and coffee   😉
But every time I stood in that infamously long Starbucks line, I was in a bit of a dilemma:  should I get a fat- and sugar-laden peppermint mocha that will give me a sugar-rush and sugar-crash, or, get a Splenda-laden peppermint mocha?
I chose the Splenda-laden option (aka, "skinny" peppermint mocha) to save myself from the 500 calories, 18g of fat and and 68g of sugar.  Oh yeah, did I mention I order ventis?  170 calories, 2g of fat and 18g of sugar sounded a lot better to me…  until my friend told me that a skinny venti peppermint mocha has 12 pumps of syrup.  I think a packet or two of Splenda may be okay on occasion, but 12 pumps in one drink is kinda over the top, don't you think?  And um, did I also mention that I was ordering these for about two weeks straight?  Hey, I was having finals!
And who knows what kind of effect(s) 168 pumps of Splenda-syrup did to my body.  That's why I made this DIY coffee creamer.  First of all, it's Splenda-free, second, it tastes exactly the same as the Starbucks version, and third, I don't have to wait in a long line with pushy, impatient, red-eyed students in dire need of caffeine!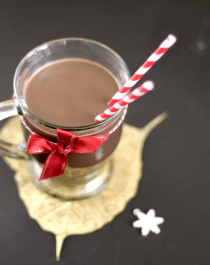 Print Recipe
Pin Recipe
Healthy Homemade Peppermint Mocha
Skip the Starbucks line and make this Healthy Homemade Peppermint Mocha! This DIY recipe tastes just like the original, but it's sugar free and low fat!
Ingredients
3

tbs

Dried Nonfat Milk

2

tbs

Unsweetened Dark Cocoa Powder

2

cups

Hot Coffee

10

drops

Peppermint Flavor

15

drops

Liquid Stevia Extract
Instructions
Add all of the ingredients to a blender and puree until smooth. Enjoy!
Nutrition Facts
Healthy Homemade Peppermint Mocha
Amount Per Serving (1 serving)
Calories 54
% Daily Value*
Cholesterol 2mg1%
Sodium 61mg3%
Potassium 284mg8%
Carbohydrates 8g3%
Protein 5g10%
Vitamin A 250IU5%
Vitamin C 0.8mg1%
Calcium 150mg15%
Iron 0.7mg4%
* Percent Daily Values are based on a 2000 calorie diet.
Now that my first semester is officially over, I can finally reunite with my family from across the country and relax with my Healthy Homemade Peppermint Mocha in hand.  Haven't had that in a long while…
.
With love and good eats,
.
– Jess
???
.
Be sure to follow @DessertsWithBenefits on Instagram!  If you try this recipe, make sure to snap a picture of it, tag me @DessertsWithBenefits, and hashtag #DessertsWithBenefits.  I'd love to see it and feature you on #FanFaveFridays!
.