Healthy Homemade Turtles
Turtles and I go way back.  Whenever I see a package at the grocery store I immediately recall a Christmas holiday with my family back when I was a kid.  My mother bought me a large tin with two layers of the stuff.  I loved those special edition tins because after you finish the turtles on the top layer, you lift off the separation tray and long and behold, there is a new layer for you to plow through enjoy!
An hour after receiving the tin the first layer would be gone and out of sight (if you ignored the melted chocolate on my cheeks and my sticky caramel-coated fingers…).  An hour after that, the tin would be missing.  I usually hid the empty container so I wouldn't get any flack from my mother.  She usually yelled at me for eating all the turtles in a short two-hour time frame, or because I consumed too much sugar, or because I would get a stomachache, or because blah blah blah.  I never really cared, though.  Those turtles were so damn good, the momentary sense of euphoria outweighed any pain from a bellyache.
Oh yeah, and just for clarification, Turtles are candies that contain creamy and chewy caramel, mild and crunchy pecans and a thick coating of sugary milk chocolate.  Disregard this if you already know what Turtles are, I just feel the need to explain because whenever I mention to people how much I looove eating Turtles there always seems to be one person in the crowd that looks mortified.
No, I'm not talking about eating those adorable and living turtle animals, I'm talking about the absolutely friggin delicious candy I'm so shocked you've never heard of!  Although quite amazing, Turtles are also quite unhealthy.  The first ingredient is sugar and just two pieces contain 180 calories, 9g fat and 16g sugar!
So save yourself from the excess calories, sugar rush and aching stomach from consuming too much unhealthy stuff by making Turtles at home.  These Healthy Homemade Turtles are authentic, guilt-free and just as addicting as the storebought stuff  🙂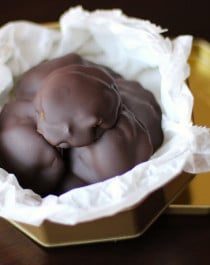 Print Recipe
Pin Recipe
Healthy Homemade Turtles
Instructions
Melt the chocolate in a double boiler or other deep bowl.

Spoon the melted chocolate onto wax paper or parchment paper and make circles (~2" like real Turtles). Sprinkle on the pecans, making sure to reach close to the edges of the melted chocolate. Refrigerate ~20 minutes.

Top the pecans with the caramel.

Transfer a chocolate "disc" onto a fork and dunk entirely in the chocolate. Rest back on the paper. Do this with the rest of the "discs" and refrigerate for ~40 minutes, or until completely firm.
.
With love and good eats,
.
– Jess
.