Healthy Jelly Bars
Yum, yum, and YUM!
I am currently swamped with homework assignments and I'm prepping (or at least trying to) for the exams just a couple weeks away!  I gotta have some free time though, which I love, because I get to make sweet, delicious food  🙂
I have always wanted to make bars like these (it was even on my Recipe Wishlist for quite some time), but every other recipe I found required baking.
And I don't want to bake — it's too dang hot!  I guess that's Arizona for ya…
Us Arizonans need to cool off somehow, though.  Most people turn to ice cream, but I prefer ice-cold drinks (although, I did turn to ice cream the other day with that Peanut Butter and Jelly Ice Cream…)
But, I need something new, something easy and fast!
With those other recipes I found — along with having to turn on the oven — their crusts and crumble-toppings used sticks and sticks of butter.  Just because it's being combined with oats and fruit jam, does not make it okay to pack on an unnecessary amount of unhealthy fats!
Just b-e-a-u-tiful!
I had to make these Healthy Jelly Bars twice to get them right.  It's hard to make a no-bake crust without a stick of butter, a lot of coconut oil, or a bunch of dates.  Dates are healthy fruits and all, but they are also high-glycemic.  When you're sitting in a chair for most of the day (in my case, in class or at my desk), low glycemic foods are choice.  Pie crusts and no-bake crusts either use crushed crackers or ground almonds as part of a base, both of which provide some volume and a likable texture.  As I have no cookies or almonds in my pantry, I decided to use crushed Crispy Brown Rice Cereal (a healthier version of Rice Krispies).  Although, in the end, they didn't provide much texture (at least I don't think) they provided flavor.  I absolutely love these Brown Rice Krispies, they taste exactly like the Rice Krispies in the blue box!  I used to eat cups and cups of the stuff as a kid…
I like these Healthy Jelly Bars because they serve as the perfect snack:  adequate fat and fiber, healthy and high-protein.  In the twelve bars I made, each bar has 4g fat, 2g fiber and 7g protein!  I ate three, hehe… but for something so sweet and tasty, I'm glad it's nutritionally balanced!  It doesn't make me feel guilty, as I would probably feel if I ate one jelly bar made in a bakery storefront!
Version #1:
The crust smelled a little… boring… so I added ½ tsp of cinnamon, and BAM, it smelled awesome.  I flattened the mixture into a rectangle container, covered it with my strawberry filling (strawberry jam plus 1 tbs agave) and topped with a crumble made with 1/2 cup rolled oats, 1 tsp coconut oil and 1 tsp agave.  I just blended the oats in my Magic Bullet until it became a flour, then blended again with the coconut oil and agave… it even turned out like a real crumble!
After refrigerating and slicing up the bars, they felt more like bite-sized slices that should have been served to Alice in Wonderland… they were just too small!  I was picturing bites the height of petit fours:  little cubes of fruity, oaty goodness, similar to the size of these Maple Oat Petit Fours.  They were as thin as can be.  Unfortunately, the height of the bites wasn't the only thing wrong–who told me that cinnamon tasted good with fruit jam?!  Um, no one.
Reminder to self:  don't mix cinnamon with strawberry jam.  It tastes… strange…  Thus, the second trial came along!
Version #2:
I omitted the cinnamon in the crust and the agave from the strawberry layer (it was too liquidy).  I doubled the crust recipe to add some height, and changed up the crumble recipe (but I don't know why, the crumble was perfectly fine the first time around!)  I really like these bars.  The crust was really moist and chewy and the strawberry jam just completed the dish.  The crumble — I have to admit — is pretty unattractive, so I'll give you the crumble recipe from the first version.
I told myself to refrigerate the bars for at least 30 minutes, but I took it out after 5… they were just so cute I had to try one!  Okay, okay… maybe I just have issues with patience, but they were delicious and I was glad I didn't wait out those 25 minutes of torture when these babies were all alone, waiting to be eaten!).  The bars were a little "bendable" after 5 min, but If refrigerated for longer they would be firmer.  I'm just telling you this in advance, because, you know… you might not wait 30 minutes either!  😉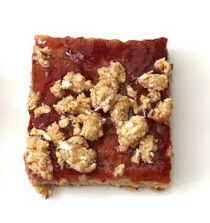 Print Recipe
Pin Recipe
Healthy Jelly Bars
Ingredients
Jelly Layer:
5

tbs

100% Fruit Strawberry Spread
Crumble:
½

cup

Old Fashioned Rolled Oats

2

tsp

Coconut Oil

(melted)

1

tsp

Pure Maple Syrup

10

drops

Liquid Stevia Extract
Instructions
For the Base and Jelly Layer:
Blend the brown rice cereal and oats in a blender until it turns into a flour, then pour into a stand mixer bowl. Add the protein powder, flax, and salt, and mix on low speed.

Add the melted coconut oil, maple syrup, vanilla and stevia. Stir on low until fully incorporated.

Line an 8" brownie pan with parchment paper both ways and dump the mixture into the pan. Press it down to flatten.

Scoop the fruit spread onto the base and spread it out.
For the Crumble:
In a blender, pulse the oats until they're just broken up. Pour into a bowl.

With a fork, mix in the coconut oil, maple syrup, and stevia. Grab a handful of the crumbles and sprinkle over the bars to your liking (I don't like too much... I like to see the jam). Refrigerate for 1 hour to firm up. Slice and serve!
I'm so glad I finally made these Healthy Jelly Bars.  I can finally cross it off my Recipe Wishlist!
Now all I need to do is cross off "STUDY CHEMISTRY!!!" in my agenda planner …  *exhales*
.
With love and good eats,
.
– Jess
.