Healthy Low Carb Coconut Flour Pancakes
These Healthy Low Carb Coconut Flour Pancakes are THE best way to start your day.
One bite and you'll wonder how these Paleo Pancakes are sugar free, low carb, high protein, high fiber, gluten free, and dairy free too!
Coconut Flour Pancakes have been on my recipe wishlist for FAR. TOO. LONG.  Like, I've pinned probably a dozen recipes and found about another dozen bookmarked on my computer.  When I finally realized how many recipes I saved I took a closer look at each and every one of them.  They looked so thick and fluffy, but I wasn't a fan of how complicated the recipes were or the ingredients they called for — SO much butter, SO many eggs, a little too much maple syrup or honey, full fat coconut milk, and even cream cheese.
Maybe I'm just lazy, but I'm not going to open a can of full fat coconut milk just to use ⅓ cup of it.  I prefer to use the whole can…  it's hard to figure out what to do with the rest of it, and I hate wasting that goodness!  And the same thing goes with cream cheese.
After looking at all the recipes I bookmarked, I started to piece together a coconut flour pancake recipe of my own.  I'm glad I finally got around to making these because daaaayuuummm gurlllll they fine as hell!
Not only are these Low Carb Pancakes fluffy, cakey, sweet, and delicious, but they're also packed with protein, fiber, and healthy fats, with none of the added sugar, gluten, or dairy.
Oh, and they're SUPER filling too.  These will keep you full and satisfied for hours (unlike typical pancakes made with refined white flour and white sugar, leaving you hungry again in 30 minutes).
Up the ante and add some crumbled nuts or mini chocolate chips!  Serve it with sliced bananas, or just douse your stack with enough pure maple syrup to run Canada dry.  The REAL stuff, not that fake Aunt Jemima shit.  As a Canadian, that's what I do.  It's delicious and I can't recommend it enough  😉
Are you ready for the fluffiest, puffiest, sweet, and heckin delicious pancakes of your life?!  Oh yes, yes you are.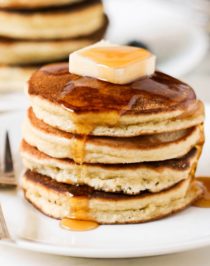 Print Recipe
Pin Recipe
Healthy Low Carb Coconut Flour Pancakes
These Low Carb Coconut Flour Pancakes are so fluffy and delicious, you'll wonder how these paleo pancakes are sugar free, high protein, and gluten free!
Ingredients
Instructions
Spray a nonstick griddle with cooking spray and place over medium/medium-high heat (like, a notch above medium).

In a small bowl, whisk together the coconut flour, sweetener, baking powder, and salt.

In a large bowl, whisk together the almond milk, eggs, and vanilla extract.  Dump the dry ingredients into the wet ingredients and whisk together until completely combined.  Batter will be thick, like muffin batter.

Use a muffin scoop to scoop the batter onto the griddle, and the round side of the scoop to form a circle pancake.  These take a while to cook thoroughly (~3 minutes each side), so be patient!  When the edges appear dry, flip and cook the other side.  Continue this until all the batter is used up.

Serve with natural whipped cream, yogurt, homemade maple syrup, sugar-free chocolate chips, a pat of butter, or whatever toppings you like.  Enjoy!
Nutrition Facts
Healthy Low Carb Coconut Flour Pancakes
Amount Per Serving (4 pancakes)
Calories 220
Calories from Fat 90
% Daily Value*
Fat 10g15%
Cholesterol 280mg93%
Sodium 420mg18%
Carbohydrates 17g6%
Protein 15g30%
Vitamin A 500IU10%
Calcium 300mg30%
Iron 1.4mg8%
* Percent Daily Values are based on a 2000 calorie diet.
Awwww yeahhhhh!  These Paleo Pancakes have just 220 calories per serving, plus a whopping 11g of filling fiber, 15g of satiating protein, and zero added sugar per serving.  BOOM SHAKALAKA.
Healthy fats, complex carbs, lots of fiber, and tons of protein — this is the kind of breakfast we can feel good about indulging in.  Especially when it doesn't taste sugar free, low carb, high protein, high fiber, gluten free, dairy free, or paleo IN THE SLIGHTEST.
This is a pancake stack you can count on.

LOOK. AT. THAT. FLUFFY. DECADENCE.
JUST LOOK AT IT!!  Okay, okay, I'll calm down now.  But seriously, you need dis in yo face.  Like, yesterday  😉
Enjoy!
.
With love and good eats,
.
– Jess
.