Healthy Maple Oat Petit Fours
These are not granola bites, and they are not cubed cookies.
They are soft, they are chewy.  They are moist, they are tasty.
Edit:  they are dang tasty!
And they don't need to be baked!  Who wants to turn on an oven when its 105 degrees outside?  Um, not me.  And probably you too… unless you live in a fridge.
I was originally trying to make Oatmeal & Fruit Jam Bars, but I didn't feel like cutting up pieces of parchment paper and lining a brownie pan (silly reason I know), so instead, I pressed the mixture meant for the crust into a chocolate mold.  As I was eating a petit four, I realized that the texture was really soft, similar to Larabars.  The petit fours were moist from the oat flour and maple syrup, making these cute like cubes low-glycemic and more likely to sustain your energy and hunger for a longer time.  They were really nutty due to the flax, and I immediately wanted another one.
Quantity control, Jessica, control!  Let's just say I took another one.  Or three.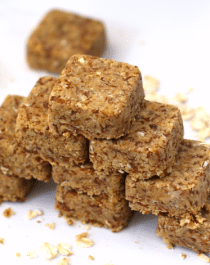 Print Recipe
Pin Recipe
Healthy Maple Oat Petit Fours
Instructions
Add the oats and cereal to a blender and blend until it's almost a flour. Dump the ingredients in a small bowl. Stir in the protein powder, flax, cinnamon, and salt.

In a large bowl, stir together the maple syrup, melted coconut oil, vanilla extract, stevia extract, and maple flavor. Mix into the dry ingredients.

Line a loaf pan with parchment paper (or use

this chocolate mold

), and press the mixture inside until compact. Refrigerate for 2 hours, then slice and serve!
PS:  Now that I think of it, what would be great is a petit four dipped slightly into dark chocolate… similar to those Nature Valley Granola Thins… yum!
.
With love and good eats,
.
– Jess
.