Healthy Matcha Green Tea Muddy Buddies (or Puppy Chow)
I'm pretty sure Muddy Buddies (or Puppy Chow, whatever you call it!) don't come to mind when you're thinking of a healthy snack idea…  but that's about to change, thanks to this HEALTHY Matcha Green Tea Muddy Buddies recipe!

These Matcha Green Tea Muddy Buddies are crunchy and delicious bite-sized flavor bombs!
Unlike classic Muddy Buddies/Puppy Chow, which is made with chocolate and peanut butter, this green variation is made with Homemade Matcha White Chocolate and almond butter!  It's seriously so damn good, I'm wondering if I'll ever go back to the chocolate-peanut butter version…
Yes, the idea of not going back to the chocolate-peanut butter version seriously crossed my mind and I'm not even ashamed of it.  Nope, not one bit.  Because once you taste this, you'll understand too.  Every bite is full of earthy matcha, nutty almond butter, and sweet white chocolate flavor.  This healthy snack is simple, crunchy, satisfying, and delicious!
Classic Muddy Buddies/Puppy Chow recipes are made with:
9 cups Chex Cereal
1½ cups Powdered Sugar
1 cup Semi-Sweet Chocolate Chips
½ cup Peanut Butter
¼ cup Margarine
Let's start off with the cereal.  Chex is made with low-quality, genetically modified ingredients.  Powdered sugar is a highly refined, bleached, high-calorie, and high-glycemic ingredient with zero nutritional value.  Margarine is an imitation "butter" made of hydrogenated oils, preservatives, and artificial flavors (basically, pure trans fats — the most dangerous fat that contributes to cardiovascular disease, stroke, inflammation, etc.).
I love Muddy Buddies/Puppy Chow just as much as the next person, so that's why I made this super fun (and healthy!) five-ingredient recipe.  Here's how I did it:
These five-ingredient Matcha Green Tea Muddy Buddies are super fun and easy to make.
Just shake 'n' bake chill!

Healthy Matcha Green Tea Muddy Buddies
Prep Time: 30 minutes
Cook Time: 0 minutes
Total Time: 30 minutes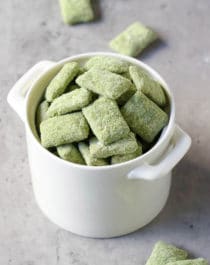 Ingredients:
8 cups Shredded Wheat Cereal**
1 cup Powdered Erythritol**
4 tsp Matcha Powder
pinch of Salt
128g (½ cup) Roasted Almond Butter
Directions:
In a small bowl, whisk together the powdered erythritol, matcha powder, and salt.  Dump the mixture in a gallon-sized sealable plastic bag.
In your largest microwave-safe bowl, add the matcha white chocolate and almond butter.  Microwave at 15-second intervals, stirring between each one, until both are completely melted and smooth.  Add the cereal and fold together until completely coated.
Dump the coated cereal into the bag, seal, and shake until completely coated.
Pour the mixture onto a large cookie sheet and refrigerate uncovered for 3 hours, or until dried and crunchy.  Divide the batch into individual baggies for express, portion-controlled snacking, and store in the freezer.  You can (and totally should) eat this straight from the freezer  😉
Notes:
**I used Grain Berry's Shredded Wheat With Onyx Sorghum Cereal (literally just 2 ingredients:  wheat and sorghum).  If you use a pre-sweetened cereal like Chex or Puffins, take that into account and use less powdered erythritol!
.
Here is the recipe's nutrition label:
Click here to see the nutrition label for a typical (aka unhealthy) Muddy Buddies recipe.  For the same serving size, my recipe has:
less calories, fat, and carbs
zero added sugar (saving you from a whopping 33g of sugar… nearly 3 tbs worth)
more fiber and protein
This is a snack you can feel good about eating!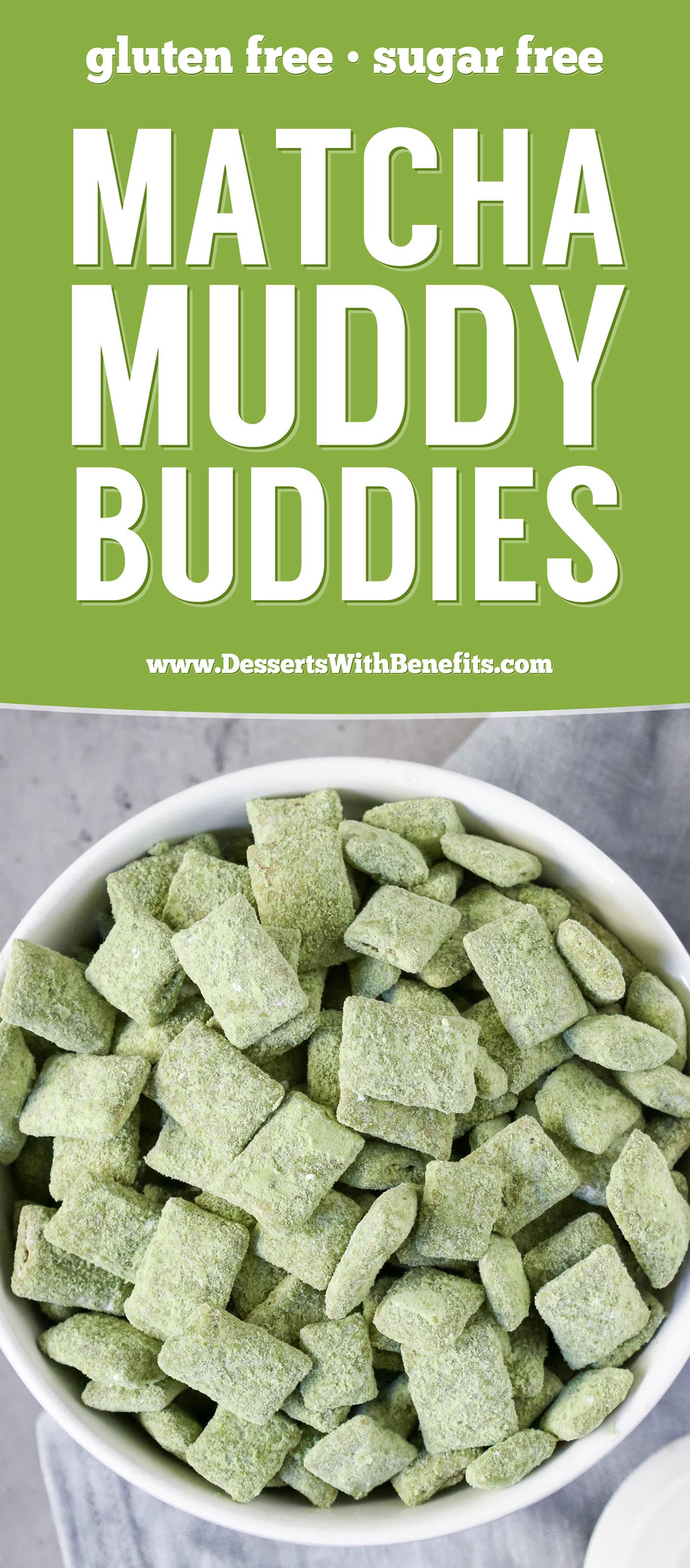 These Matcha Green Tea Muddy Buddies are the perfect, crunchy snack to satisfy the snack monster in you!
Enjoy  🙂
.
With love and good eats,
.
– Jess
.