Vegan Mini Chocolate Hazelnut Pies (+ Video!)
I present to thee:  Vegan Mini Chocolate Hazelnut Pies!!!  They are of epic epicness.  You NEED these scrumptious single-serving pies in your life ASAP.
These Vegan Mini Chocolate Hazelnut Pies have the pure essence of rich, sweet, chocolatey, and hazelnutty Nutella, but without the refined bleached sugar, palm oil, and artificial vanilla flavoring.
Thanks to Rigoni Di Asisago for sponsoring this post, and thank YOU for supporting the brands that keep Desserts With Benefits going!  All opinions are mine and mine alone.

Inside of a buttery pie crust, we've got a silky smooth and creamy chocolate-hazelnut filling.  And the best part?  These are MINI Chocolate-Hazelnut Pies.
Which (obviously) means…
No need to share!  😉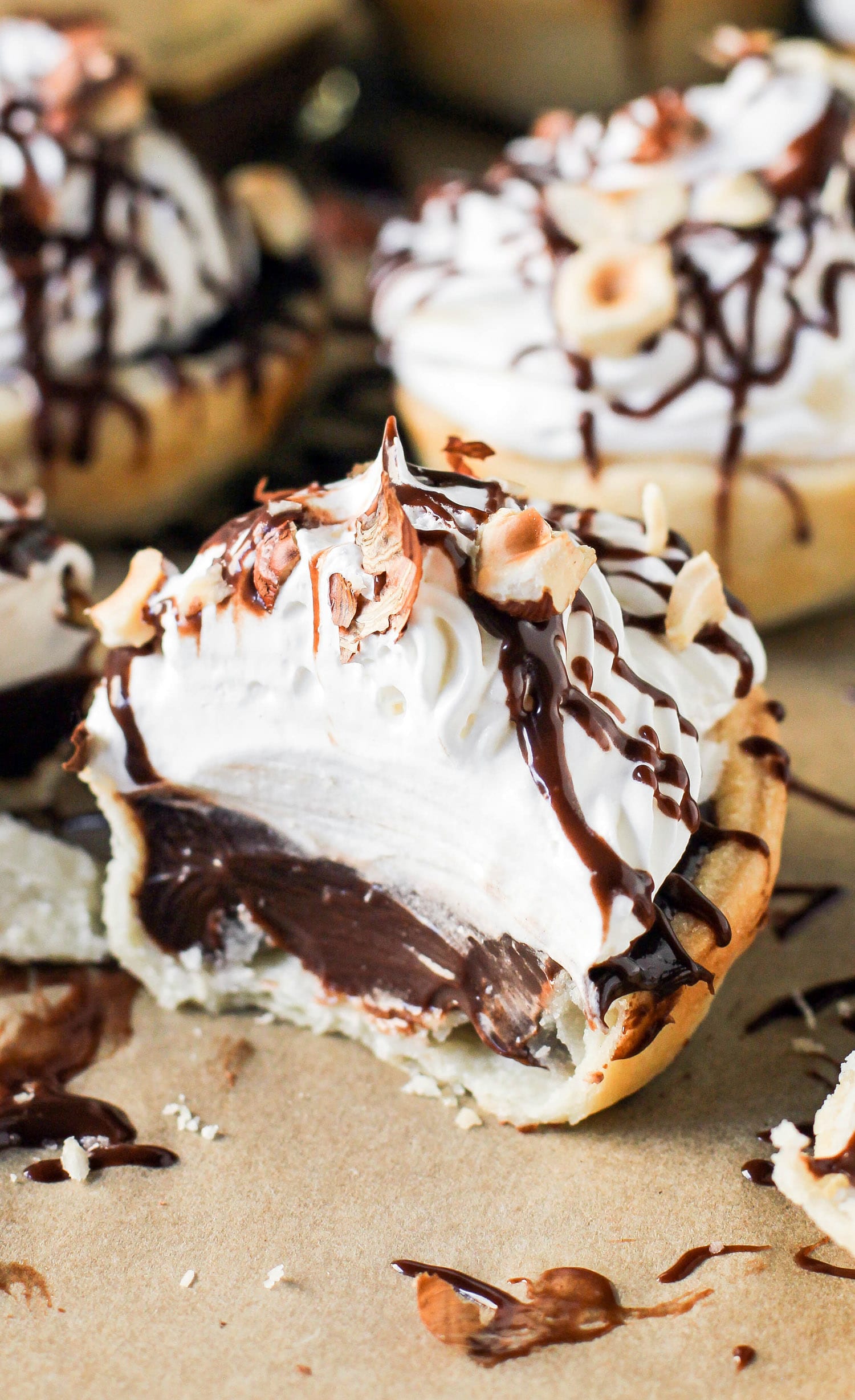 I made these Mini Chocolate Hazelnut Pies with Rigoni di Asiago's Nocciolata Dairy Free.  Nocciolata comes in two varieties:  original and dairy free.  I used the dairy free version here to make the recipe vegan-friendly, but both will work!  I've tried both varieties and can honestly say DANG Y'ALL, I'm impressed.
You've probably seen Nocciolata at Whole Foods.  I know I have.  I really dig the fact that, not only is Nocciolata totally addicting and worthy of eating straight off the spoon, but it's made with only 7 simple ingredients, including organic cane sugar, organic hazelnut butter, and organic cocoa powder.
Why buy the other chocolate-hazelnut spread at the grocery store (that's made with refined bleached sugar, palm oil, and artificial vanilla flavoring) when you've got Nocciolata (that's made with organic cane sugar, zero palm oil, and organic vanilla extract)?!
But seriously.  I can't think of a single reason.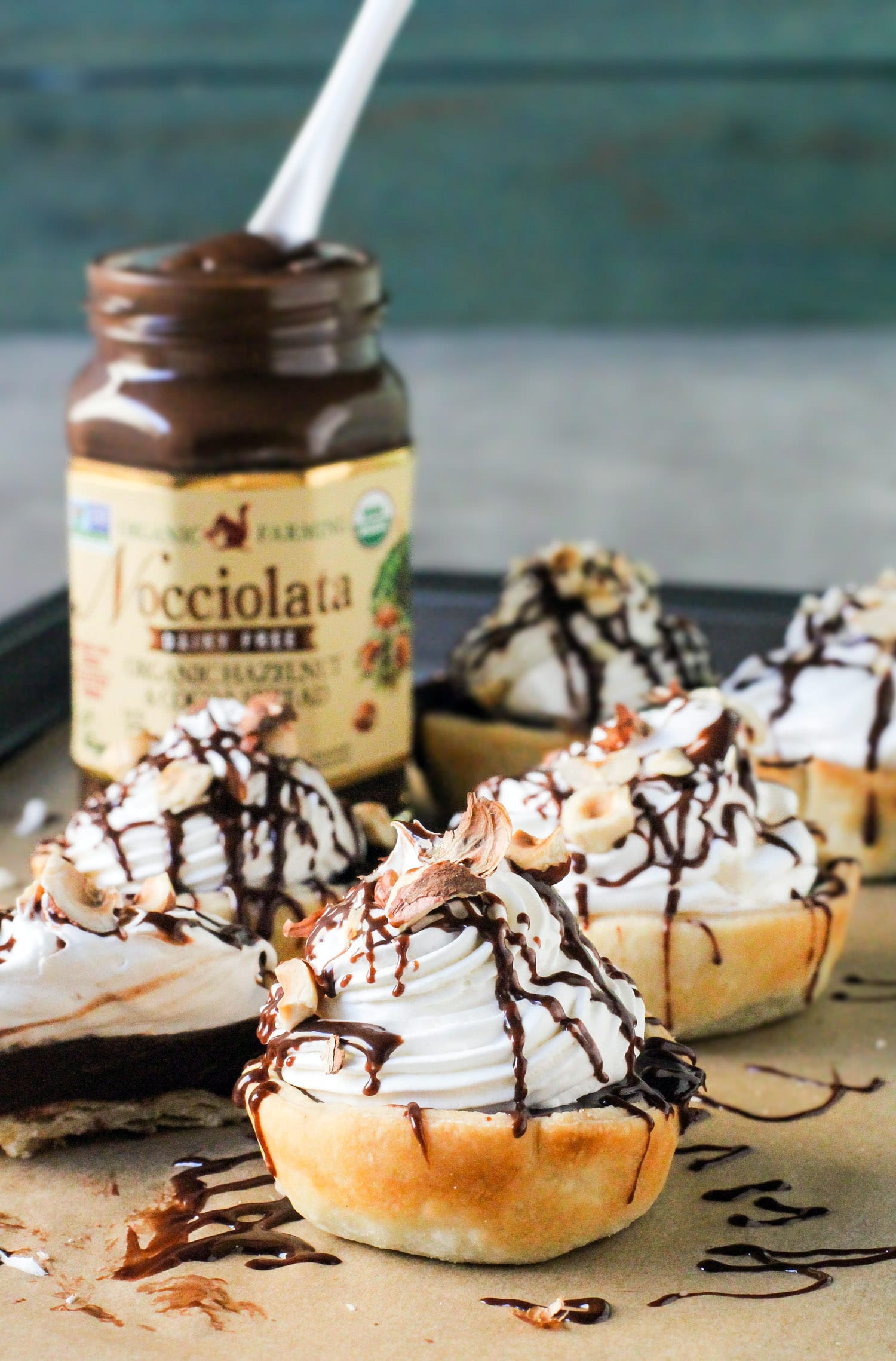 So my peeps.  Get your pie on with these Mini Chocolate Hazelnut Pies.  You will regret NOTHING.

Vegan Mini Chocolate Hazelnut Pies
Prep Time: 15 minutes
Cook Time: 12 minutes
Total Time: 45 minutes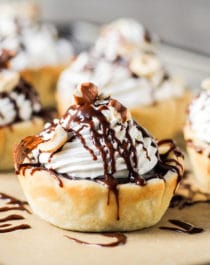 Ingredients:
Crusts:
1 Ready-to-Bake Rolled Pie Crust (I used Immaculate Baking Co.)
Filling:
6½ tbs Canned Unsweetened Coconut Cream, warmed**
2oz Semi-Sweet Chocolate Chips, melted
⅓ cup Rigoni di Asiago® Nocciolata Dairy Free
½ tsp Vanilla Extract
Directions:
For the Crust:
Preheat your oven to 350 degrees Fahrenheit.
Bring the rolled pie crust out of the fridge and let it sit at room temp for about 20 minutes, or until slightly softened (if you unroll it cold, it could tear).
Unroll the pie crust onto a clean surface. Use a 4″ circle cookie cutter to punch circles out of the crust.
Firmly press the pie crust circles into ungreased muffin tin cups. Bake for ~12 minutes, or until golden brown.  Let cool completely.
For the Filling:
In a large bowl, whisk together the coconut cream and melted chocolate. Whisk until completely smooth.
Whisk in the Nocciolata, then whisk in the vanilla extract.  Scoop the "batter" into the baked pie crust cups and transfer the pan to the fridge.  Refrigerate overnight.
Serve with coconut whipped cream, a healthy dose of melted chocolate drizzled on top, and a generous sprinkle of chopped hazelnuts.  Enjoy!
Notes:
**Or, refrigerate an unshaken can of full fat coconut milk and scoop out a heaping ½ cup of the cream.
Thanks to Marina from A Dancer's Live-It for this recipe's inspiration!
All images and text © .
Watch me make these pies on camera!

Enjoy!
.
– Jess
.