Healthy Mocha Almond Krispy Treats
You know, I never understood the appeal of coffee until I went to college.  As a freshman with 8am classes every morning, I was always out the door by 7:30am.  I walked the mile-long walk to class from my dorm in the hot Arizona sun every. single. day.  I'd walk through the center of campus, which had the bookstore, food court, and coffee shops.  I'd usually stop in a convenience store to get water or a snack.
After a couple months of school, insomnia started to kick in.  I was super stressed, didn't want to be in school in the first place, yet was taking on a full-time course load with math and science classes — the bane of my existence, but also the prerequisites for all the nutrition courses.  I was across the country from my family and friends, didn't go out and socialize like normal college kids, was struggling with severe depression, and on top of that, had a terrible roommate.
After a few weeks of barely any sleep, I was exhausted.  I needed caffeine.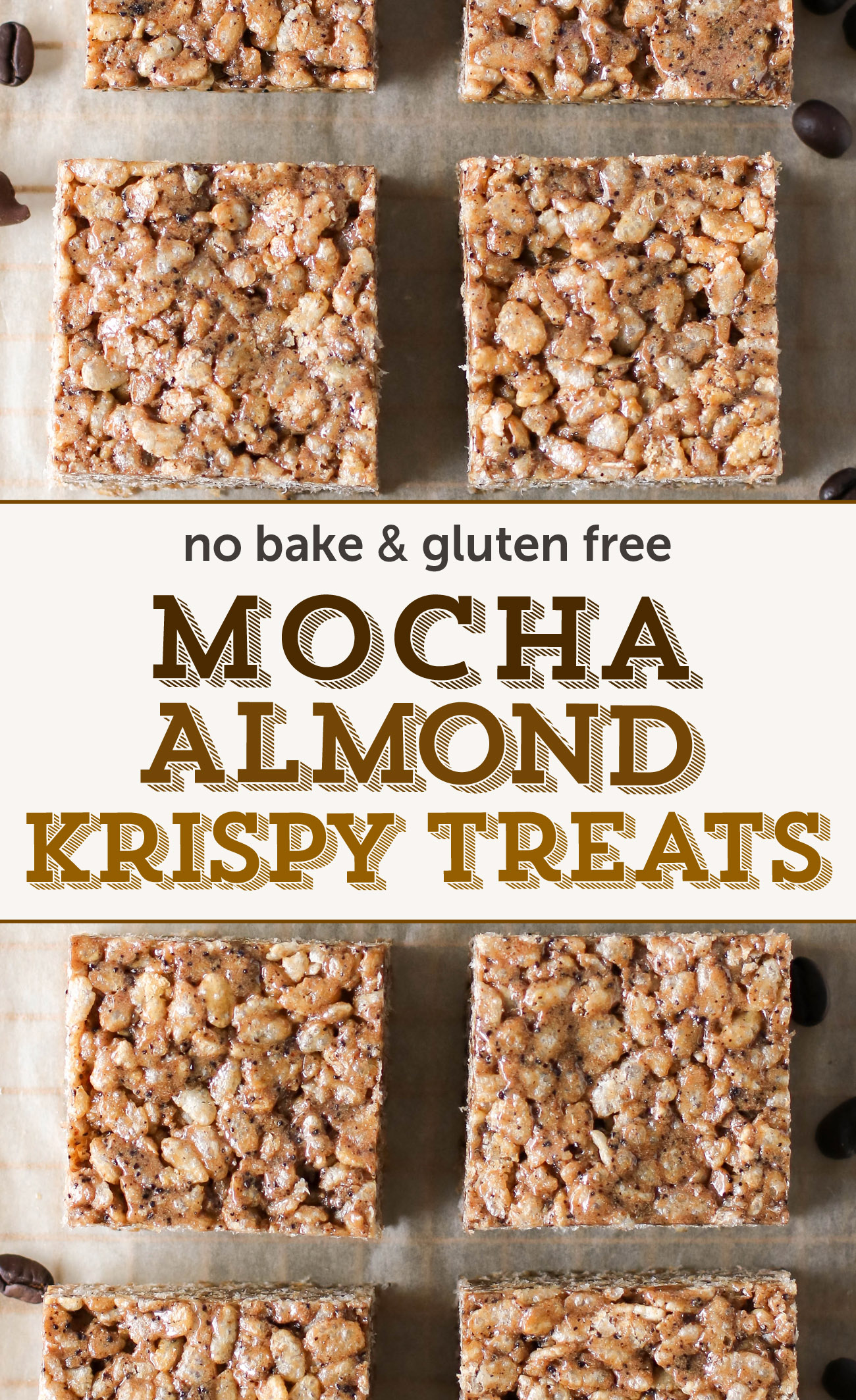 I tried energy drinks first because they're sweet and bubbly like soda, but hated the fact that they were packed with sugar and weird chemicals.
So, I tried coffee for the first time.  I went up to the self-serve carafes of coffee and poured myself a cup, making sure to leave a bunch of room for milk and sugar.  I had had a sip of black coffee once.  ONCE.  And I say once because after that one sip I vowed to never drink black coffee again.  Still haven't to this day.  Anyways, I dumped in a bunch of sweetener packets and stirred in what seemed like a pint of milk.  I took a sip…
Damn, it was goooooood.  How did I wait this long to try coffee??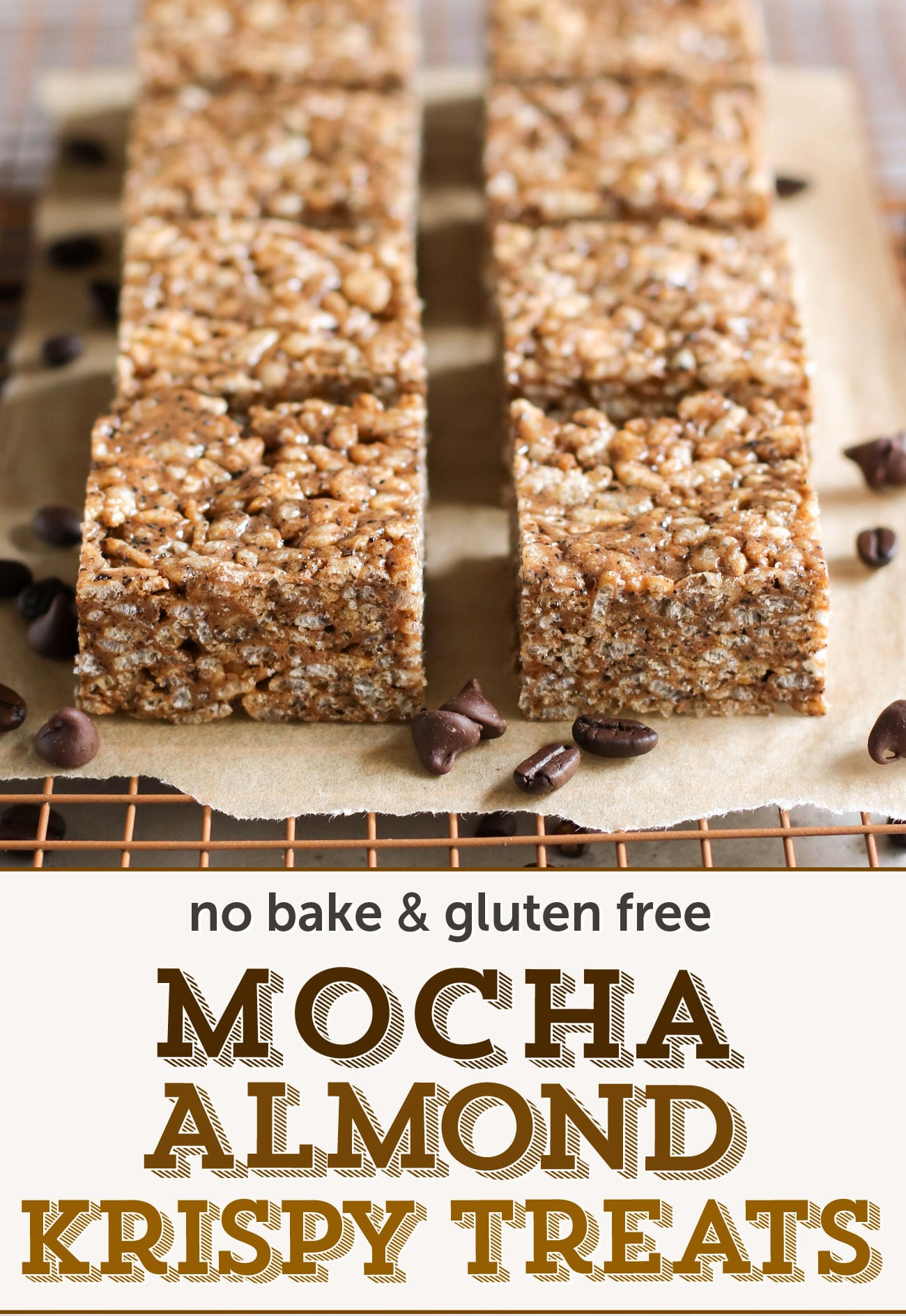 For the record, I was (and still am) an absolute psycho with my coffee add-ins.  I like it SWEET, SWEET, SWEET.  Coffee is just so bitter, I need a bunch of sweetener and milk to drink.  I used to use 9 Splenda packets for a large cup of coffee, plus about a cup or more of whole milk.  I've gotten a lot better (aka, I use 6 packets of Truvia and about a cup of unsweetened vanilla almond milk or cashew milk).
ANYWAYS.
😉
I made this dessert because I may or may not have bought a bulk pack of 12 natural, sugar free milk chocolate bars at Whole Foods (hey, don't judge).  To prevent myself from eating the entire 12-packet, I needed use some bars in a dessert.  Krispy Treats came to my mind.  And, naturally, so did chocolate.  And then coffee.
Mocha Almond Krispy Treats it is!  And oh so delicious they were — soft, crunchy, and chewy, decadent and satisfying, and totally healthy and guilt free!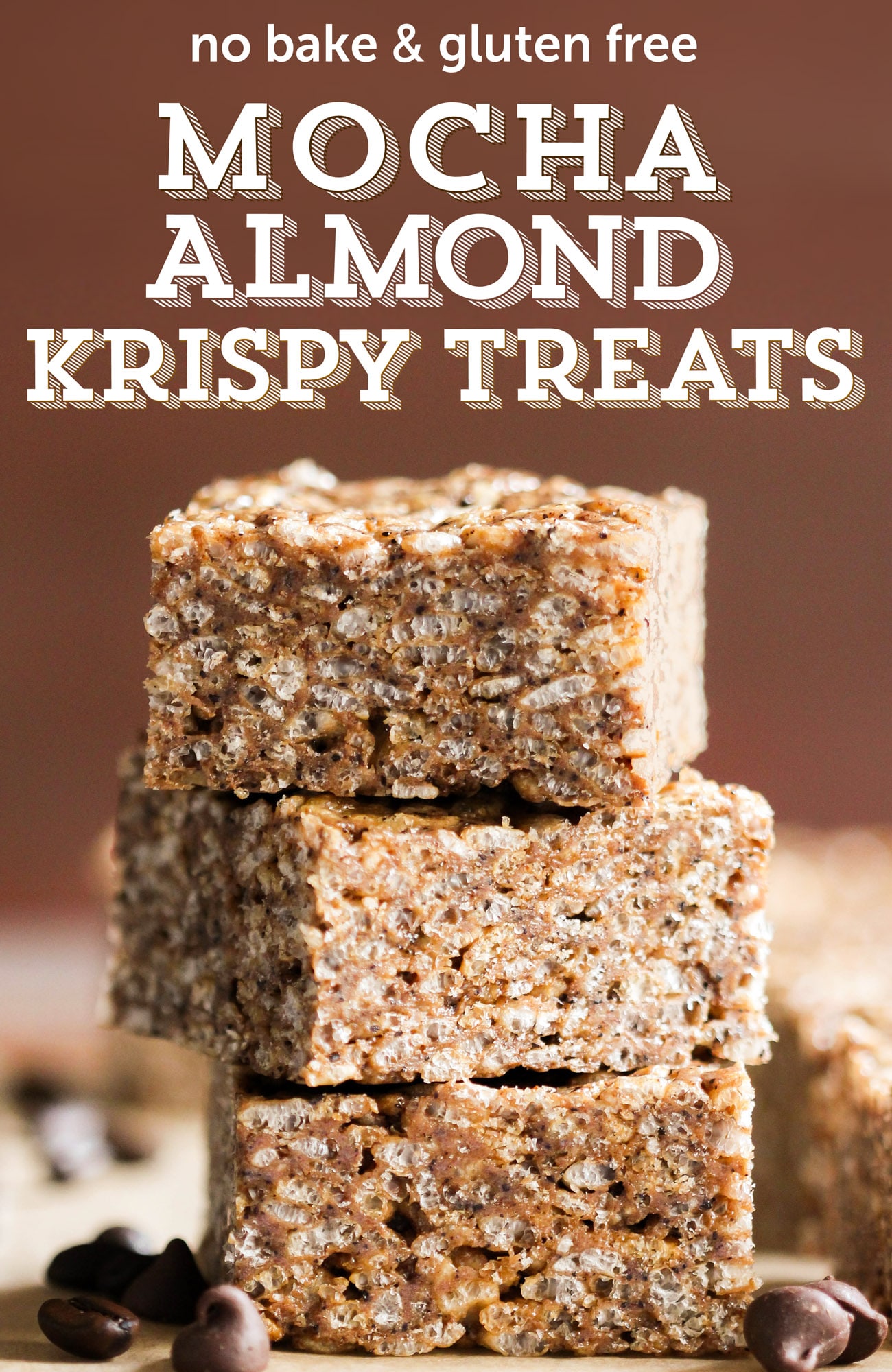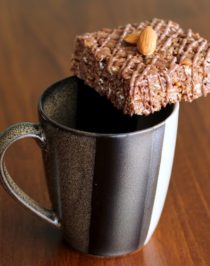 Print Recipe
Pin Recipe
Healthy Mocha Almond Krispy Treats
These Mocha Almond Krispy Treats are crunchy, chewy, decadent, and satisfying. You'd never know they're totally healthy and guilt free! Made with gluten free crispy brown rice cereal, almond butter, a chocolate drizzle, and a hit of protein too!
Ingredients
5½

cups

Crispy Brown Rice Cereal

231g

(½ cup + 3 tbs)

Brown Rice Syrup

128g

(½ cup)

Roasted Almond Butter

(the drippy kind)

1

tsp

Liquid Stevia Extract

1

tsp 

Vanilla Extract

¾

tsp

Almond Extract

64g

(⅔ cup)

Chocolate Whey Protein Powder

2

tbs

Ground Coffee

or 1 tsp Instant Coffee

⅛

tsp

Salt
Instructions
Line an 8x8" brownie pan with parchment paper both ways.

In a large, microwave-safe bowl, stir together the brown rice syrup, almond butter, and extracts. Microwave at 20-second intervals, stirring between each one, until warm and runny. Stir in the protein powder, coffee, and salt until smooth.

Fold in the crispy rice cereal. Scoop the mixture into prepared pan and flatten it out. Refrigerate for 2+ hours, then slice.

Feel free to serve with a drizzle of melted chocolate! Serve and enjoy!
Nutrition Facts
Healthy Mocha Almond Krispy Treats
Amount Per Serving (1 Krispy Treat)
Calories 140
Calories from Fat 36
% Daily Value*
Fat 4g6%
Cholesterol 10mg3%
Sodium 90mg4%
Potassium 100mg3%
Carbohydrates 20g7%
Protein 5.5g11%
Calcium 5mg1%
* Percent Daily Values are based on a 2000 calorie diet.
As a college graduate, naturally, I still have a major slight obsession with coffee…
As a normal human being, I have a profound addiction taste for chocolate, and all things chocolate.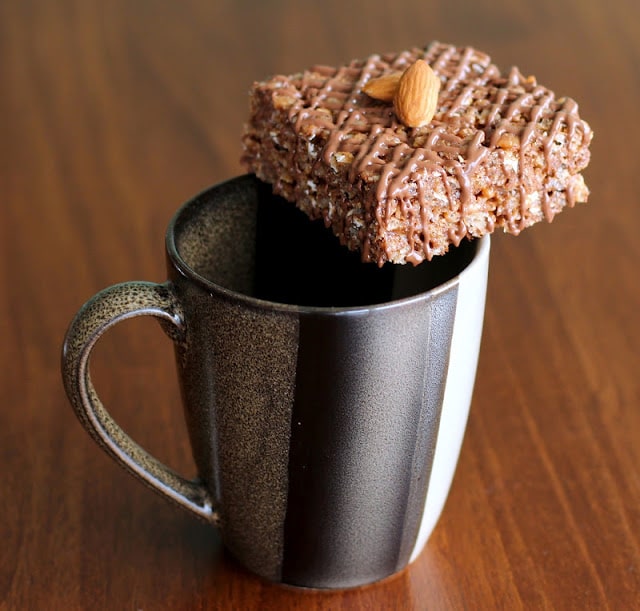 TELL ME:  What was your first coffee experience like?  Did you like it right off the bat or did it take some getting used to?
.
With love and good eats,
.
– Jess
.