Healthy Peanut Butter Chocolate Popcorn Fudge
This no-bake Healthy Peanut Butter Chocolate Popcorn Fudge is soft, chewy, AND crunchy.  You'd never know it's sugar free, high protein, and gluten free too!
Chocolate.
Peanut Butter.
Popcorn!
Hey, take that back!  That isn't a weird combo of ingredients!  Okay, maybe it is… but let me tell you, it's delicious.  It's salty, it's sweet, it's crunchy, it's chewy, it's satisfying, it's healthy.  Wait, what?!?
This Peanut Butter Chocolate Popcorn Fudge is… healthy?
Oh, you bet  🙂
So, I was a little over-excited when I found a healthy popcorn at the grocery store (the majority of microwaveable popcorn have partially hydrogenated oils, trans fats, preservatives, excessive salt, and the list goes on…), so naturally, I had to make a dessert out of it.
Yes, a dessert out of popcorn.  And it was a success.  Even though most of the popcorn didn't stay whole, it still provided that familiar, airy crunch to the salty-sweet fudge.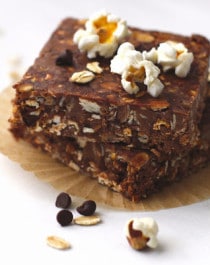 Print Recipe
Pin Recipe
Healthy Peanut Butter Chocolate Popcorn Fudge
Instructions
Line a 9" brownie pan (or 8" brownie pan for thicker fudge) with parchment paper.

In a large bowl, stir together the popcorn, oats, and salt.

In a large microwave-safe bowl, add the chocolate and peanut butter. Microwave at 30-second intervals, stirring between each one, until melted. Whisk in the protein powder one scoop at a time (it should look like frosting). Whisk in the almond milk and stevia extract.

Dump the popcorn mixture into the chocolate/PB mixture and fold together. Scoop into the prepared pan and flatten it out (I used a pastry roller). Refrigerate for 2+ hours to firm up, then slice with a sharp knife. Serve and enjoy!
Recipe Notes
**I used organic popcorn with the ingredients: organic popcorn, organic palm oil, salt. Beware of what popcorn you use! The majority of popcorn products contain partially hydrogenated oils (harmful trans fats)
Enjoy!
.
With love and good eats,
.
– Jess
.