Healthy Peanut Butter and Jelly Granola Squares
I have always loved Quaker's granola bars, Nature's Valley's honey oat bars and obviously, candy bars.  Unfortunately, after eating any of those I would feel guilty and then get hungry again in no time.  I wanted to make my own healthy snack to have on hand, one that was as sweet as a candy bar, yet keep me full all morning.
First, I thought: oats.
Then I thought: peanut butter.
Peanut Butter Granola Bars!  Sounded pretty good to me  😉
But then I thought: sugar.
Peanut Butter & Jelly Granola Bars!  The sound of that made my sugar-obsessed body jump with joy.
I didn't have any jelly on hand, so I just added a bunch of raisins and dried cranberries.  It's a funny thing, I always used to hate dried fruit but now I'm starting to love them.  Raisins taste like mini orbs of concentrated sugar and cranberries taste like those Welch's fruit gummy snacks I always used to buy.  So I added those super sweet (yet healthy) fruits to the mixing bowl so I could omit any other forms of sugar.
And what did I get?  Granola squares with outstanding peanut butter flavor and the sweetness level of jelly.  A delicious, comforting, portable snack that will remind you of your childhood PB&Js.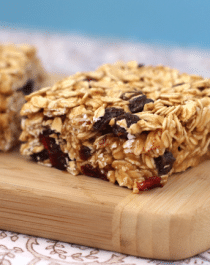 Print Recipe
Pin Recipe
Healthy Peanut Butter and Jelly Granola Squares
Instructions
Line an 8x8" brownie pan with parchment paper both ways.

In a medium-sized mixing bowl, stir together the oats, raisins, cranberries, and salt.

In a large mixing bowl, whisk together almond milk, peanut butter, and stevia extract. Then, whisk in the erythritol, then the protein powder.

Dump the dry ingredients into the wet ingredients and fold together. Scoop the mixture into the prepared pan and flatten it out.

Freeze overnight and slice the next day. Store in a tightly sealed container in the fridge.
Nutrition Facts
Healthy Peanut Butter and Jelly Granola Squares
Amount Per Serving (1 Granola Square)
Calories 310
Calories from Fat 81
% Daily Value*
Fat 9g14%
Sodium 150mg7%
Carbohydrates 39g13%
Protein 19g38%
* Percent Daily Values are based on a 2000 calorie diet.
Whoa, 19g of protein??  That's sure something you'll never see on a Quaker's bar!  Perfect as a healthy breakfast, a lunch box treat, a yummy snack and a guiltless dessert.
Enjoy!
.
With love and good eats,
.
– Jess
.